Other features:
A TCU Coup! | Talking History
Recollections of Dorm Life
University bigwigs call them residence halls. Oh please, they're dorms! You know, weird roommates, sneaked-in boyfriends and leftover pizza -- college life at its finest. These are some of the best dorm life memories The TCU Magazine readers recalled, and probably none known by the RA. For the complete list, see www.magazine.tcu.edu.
Some enterprising PhikeIas (Phi Delts) decided to erect a slingshot catapult. Surgical rubber tubing was run from the third floor down to the second floor and fashioned through a dog dish. Some 500 water balloons were immediately concocted. Just about dusk, as all began to ease over to their favorite sorority to pick up the apple of their eye, the balloons began to fly from the Phi Delt house clear across to the Chi Omega, Tri Delt, and Kappa houses. As the love birds exited the house a well-placed balloon would wing its way across the Greek pastures, landing right in front of the preoccupied couple, wetting them just like rain. Our distance made it hard for anyone to see us launch or know the culprits involved. It became a labored task for a couple to avoid the wetting. But all came to an abrupt end when one of our fraternity brothers, Phil Worth and his future-wife Karen, walked straight into the oncoming balloon, breaking his glasses and knocking him down. Dorm mothers began to prowl like a fire ant mound. You can imagine the mayhem of those trying to dispose of the remaining evidence -- hundreds of balloons filled with water inside the fraternity house. Thank God for our kind fraternity brother and his appreciation of our humor.
David Ely '68, aka Bullwinkle Frog
Hearne
Living as a freshman on the third floor of that venerable old concrete block house known as Goode Hall in the early '40s was to always expect the unexpected. To traverse from the third floor down the stairs to the front entrance, or vice versa, without being stopped by a lower floor student and directed to perform in some uncomfortable way or undergo some painful physical application with various devices was ever challenging. Today, it is called hazing. Back then it was just a ritual necessary to the right of passage. Goode Hall was mercifully razed, but it will remain an indelible memory.
Chuck Fraley '49
Fort Worth
Second semester, 1980, Pete Wright dorm: Thirty degrees outside during a horrible cold spell. Pete Wright interior was 100 degrees as the heat would not shut off. This went on for 10 days. All the windows were open. I wrote a letter to Chancellor Tucker to complain. We had a weekly beer bash in my room with several friends at 1 a.m. Knock-knock on the door. "Come in!" Standing there was Chancellor Tucker who stopped by after a late evening at the office. But we were not busted for the beer and the heat was fixed. We were mortified. Tucker was cool.
Scott Vernon '84
Arlington
I lived in Waits Hall in a room facing the street. Rules: No food in dorm rooms, and despite no air-conditioning, Venetian blinds were to be closed after dark. At one point, I realized I wasn't going to get my cat dissected on time to get a passing grade in comparative anatomy. So I snuck that cat, stiff and reeking of formalyn, into my dorm room where I hid it under the bed to work on. Dean Shelburne made one of her surprise room inspections and found the blinds open, a mouse swimming in a glass of lemonade and a dead cat under my bed!
Roberta Faulkner Sund '55
Wichita Falls
Back in the late 60's, when panty raids were popular with the men, our Jarvis dorm mother, Mama K, called a dorm meeting. We expected a talk about which dorms had been raided and how not to open our windows and encourage the guys. Instead Mama K noted that Jarvis was, so far, unaffected by the raids. Then she said, "What's the matter with you girls? Don't you have any SA [sex appeal]?!"
Harriet McCleary '70
Northfield, Minn.
I was in Army ROTC and had many early mornings of physical training. One morning while all of Jarvis was sleeping, I decided to make some Pop Tarts for breakfast. I left the toaster unattended briefly and returned to the second-floor kitchen to find the toaster, the cabinets and even the wall on fire. The alarms sounded and all of us were awakened and evacuated. I "confessed" my "crime" to the firemen and even managed to make the Skiff in an article about it. And strangely enough, I received many boxes of Pop Tarts by unknown senders the rest of the year. Kelli Deacon Ewert '97 Englewood, Colo. Playing touch football on the lawn in front of Clark Dorm then watching NFL games in the TV room with friends. We always finished up by watching Battlestar Galactica. I remember cheers breaking out in the dorm when the U.S. Hockey Team beat the USSR in 1980. My roommate created bunk beds in our room by nailing a bed to the wall (neither bed was safe!).
Tom Houk '82
Arlington
As a walk-on to the TCU freshman football team in 1969, I was assigned to a three man, corner room in Milton Daniel. I moved my paltry wardrobe into one of the closets and left the door unlocked. The next thing I know, I see other freshmen walking down the dorm hallway wearing what looks like my shirts. After asking, they told me that some guy in the three-man room in the corner was selling them -- real cheap. I confronted my roommate, whom I was meeting for the first time, about the shirts and he said with his head bowed, looking from beneath huge bushy eyebrows and with a sheepish grin, "I guess I just needed some spendin' money and I thought somebody forgot these shirts." That's how I met my roommate, Wild Bill Woolard, the "Alvarado Flash." It cost me $6.00 to get my shirts back. Bill Woolard and I became good friends thereafter, and he taught me how to throw dice and took me to a cockfight in the back woods of Alvarado.
Richard W. Wiseman '73
Fort Worth
It was the year of the panty raid. It was such fun to "peek" out the door and see the guys running, trying to see what they could capture and the dean of men right in the "thick of it" having as much fun trying to get them out.
Greta Mankins Phillips '53
Dallas
The letter read "You have been assigned to Pete Wright Dormitory. Since it is still quite hot, we suggest you bring a fan." Pete's Palace was my home for a year and we all survived the conditions. Hockey games on floors with soapy water; fire battles with lighter fluid and deodorant; flooding our head resident's apartment; small black and white TVs with foil on the antennas; BB gun battles between floors; 22-cent burgers from Burger Chef.
Paul Jones '73
Richmond, Va.
In 1950, I was "written up" in Waits dorm for having a pile of clean clothes on my bed. I had done laundry in the dorm basement and hadn't had time to fold them and put them away before class. We had monitors inspecting rooms for neatness in those days. I also remember leaving the dorm to go roller skating wearing rolled up dungarees under a full skirt, as women could not wear slacks or jeans on campus!
Elvina Smith Bristol, '51
Burleson
In 1948 the male freshmen didn't have dorm life, we had "barracks life." Most of the freshmen were housed in four barracks, named Barracks W, X, Y and Z. Many of the freshmen were 17 years old, like me, mixed in with World War II veterans. I remember our "old man freshman," Ed Estes, who was 30 years old. The veterans taught us "youngsters" many things, some good and some bad (not really bad), but the fellowship and camaraderie of that freshman year are wonderful memories.
Marlin Smith '52
San Antonio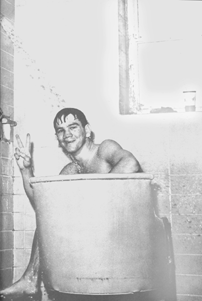 Charles White and I were denizens of the Milton Daniel section known as J 200. Our room was known as a hub for horseplay, so I remember posting a sign that announced that our room was "an area of intense study and limited leisure." That didn't do much good. But some of my great TCU moments from J 200 included igniting Vitalis hair oil, one of the free product samples in the College Pak given to students every year, in various pranks. We'd ring the commode in the bathrooms and leave a little trail away from the stalls. Then we'd light it when someone went in to use the toilet. It created a nice blue flame but didn't hurt anyone. Other times, we'd line the hallways with it and have a nice long blue-flame path. Another great memory was riding in the dryers in the basement. It cost us a quarter to ride, but we'd get in there and tumble a dozen times, coming out all bruised. Of course, you had to have somebody you could trust that would open the door. Another guy that had a great dorm moment was Tommy Craig. He was a freshman in Milton Daniel, and I guess he wanted to do something people would remember. So he decided he would try to take a shower for 24 consecutive hours. He got in there with some food and made a little place to sit down. At first people thought it was pretty odd, but eventually they got into it and supported him. The Skiff and the yearbook even covered it. When he was finished, he came out with a towel around his waist and another for a cape. We fashioned him a scepter out of toilet paper rolls, and as he triumphantly walked out of the bathroom, we played the Hallelujah Chorus. He was so wrinkled. But in the end, it was just pure college fun.
Jim Stuart '71
Fort Worth
The new chilled-water loop system was being installed around 1977 to 1981. Almost every piece of the TCU grounds was dug up to lay big, BIG pipes to carry the chilled loop. Contractors digging around Clark Dorm apparently forgot to check their map, and after digging a two-foot wide trench around 95 percent of the dorm, they hit a water main. Voila! -- instant moat around Clark. Now imagine you wake up late for class, throw on your clothes and run out the door to make class before it's really too late and end up in the moat. Not fun!
Capt. Mark D. Montague '81, USAF
Kuwait City International Airport
The ladies of my hall in Wiggins are my fondest and dearest memories. I am still close friends with one lady, and the others hold a special place in my heart. We always let each other know when our rooms were going to be inspected.
Mandy R. Morris '99
Chicago, Ill.
Pete's Derelicts '67-'70. The 2nd floor west steam baths. Trash can fires with a FSFD response. Muser, Bogle, Pustic, Billy Mac, H.B. and J.R. Doors Pennied shut. Mouse catching competitions. ROTC building fire with cut hoses. Road trips to every away game for B-Ball season of '67-'68 (five rabid TCU fans at A&M). Pete's Beach. The elimination of a perfectly good intramural field with the Potishman courts. Pantie raids at the first snow -- oh, youth. On UT weekend in Dallas -- beer, jail and bail. The best years.
Doug Exon '71
Redondo Beach, Ca.
It was fraternity bid night, very late, and I was one of the freshman wing RAs in Clark Hall. Two freshman siblings on my wing had joined different fraternities. After parties, they came home to call mom and tell her the news. Inter-fraternal conflicts arose and a bona-fide melee broke out. My 4 a.m. call to fellow RA Tim Schomp '86 brought him running up the stairs to see the "huge spider" I had reported. It took only a moment for him to realize I had said "huge fight" up here!
Joe Jordan '87
Alpharetta, Ga.
I remember smoking cigars while studying after dorm hours with my roomie, Gail Hicks. I injured my back and was in a body cast. At night I was often in too much pain to sleep. Smoking cigars as a rebellion helped. One night while walking the hall because I could not sleep, Ms. Harris, the housemother, caught me. My punishment? A relaxing back rub and sympathy. Only at TCU would that happen.
Carol Ann Jones '62
Santa Fe, N.M.
Brachman Hall was a wonderful family to me during my stay at TCU. One favorite memory is Valentine's day at Brachman Hall. It was movie and chocolate night in the TV room. Those of us who didn't have dates would pile in for a night of movies and chocolate fondue. It wasn't just "single" people, several couples joined us for the fun after their dinner out. As an RA, I really enjoyed living in Brachman. Planning events, making friends and yes, duty nights and weekends made for wonderful experiences at TCU.
Erica Dye Dyeson '94
Baton Rouge, La.
My first two years at TCU I lived in Milton Daniel (which at the time was the athletic dorm). Living with football players is always interesting, like the time I walked down the hall and boxing gloves flew out of a room at me because a lineman needed a sparing partner, or when a defensive back worked on his judo by kicking my wall late into the night. However the highlight was when we had a foosball table in our lounge area and a crowd had gathered to watch our champion play a game against the champion of another dorm. Our player lost and after the match we all went back to our rooms. After a while we heard strange noises from the lounge and discovered our champion (a defensive lineman) had taken the table and thrown it out the third floor window. The nice thing was that since we lost our foosball table the university was nice enough to give us a pool table (they figured it was too heavy to throw out a window).
Eric Josephson '79
Burleson
I lived in both Waits and Foster, year around from June, 1952 until May, 1954 when I got married. What memories of those impromptu "room inspections" by the dorm "mothers." We were positive that one of them managed to lean against the furniture, checking to see if it was dusted. We learned that if we heard the housemother coming for her inspection and we had not made the bed we would run and jump into it. And those early curfews! They were quite early, a little later on the weekend. There was a kitchen on each floor that we could use in a limited way. I can still remember those wonderful meals of bologna sandwiches, accompanied by grapefruit juice. There were the roommates with strange pets -- one had some kind of small jumping fish in a bowl. They refused to stay in the water so they usually got walked on as they landed on the floor. Their life span was short. Another roommate had a canary. Some of the girls threatened to put a nail file through the bird's throat if it did not stop making so much noise. The bird lasted longer than the fish. We would gather in the lounge at night to watch "I Love Lucy" on the black and white television. The telephones at each end of the halls were busy spots. And the anticipation of all those nighttime panty raids -- 'those were the days!
Violet Colvin Heath '55
Surrey, British Columbia, Canada

Back in 1965 or 1966, the boys of good old Milton Hilton got on a rampage about one of their members that resided in the old basement. This irritant had reached his peak and was due for an adjustment of one type or another. Heads went together, equipment was procured, and a plan went before the group for fine-tuning. Various M-80 cherry bombs were placed on the victim's closet door, behind clothes that were to be worn for the weekend. After much trial and error, the detonation cord was run from an upper floor, all the way down to the basement, under his door, and then connected to the cherry bombs. Lookouts were posted for the ever-present dorm monitors, and when all was ready, we retired to our rooms to listen and watch for the commotion. The lit fuse traveled three floors, down to the basement, around the corner, and up under the recipient's door. Then all havoc broke loose. The explosions were monstrous, clothes were in threads all over the room, and all silently tried to control their emotion and laughter so as not to attract attention. To say the least, this action was punctual, effective, and lasting.
Name held by request
My roommate, Susan Westbrook and I were both in the marching band. As we lived on the first floor of Waits Hall on the side nearest Ed Landreth Hall, we were frequently awakened very early on game days by members of KKY (the band fraternity) serenading us with the fight song. It is amazing just how loud a sousaphone can be when it is right next to your window.
Dr. Laura J. Peralta '79
Weston, Fla.
I'll never forget the time a particularly larcenous friend and I went to the third floor kitchen, which is the girls' floor, and threw everything in the refrigerator out the window onto the lawn behind Brachman. We decided some of it had not sufficiently broken, so we carted it back up and threw it out again. Needless to say, when the RA caught us, she was not as impressed as we were. I think some of it had been hers.
Nicholas Parks '01
Every Christmas I have a vision: Me and Laurie Olson Jackson, in 1987, in sweats and under blankets, Domino's box on our laps, watching "Rudolph the Red-Nosed Reindeer" on what seemed like a six-inch TV. The wild adventures Laurie and I had would fill a book, but that half-hour on the third floor of Colby Hall was one of the sweetest in my college career.
Susan Besze Wallace '91
Denver, Colo.

I was a freshman at TCU in the fall of '47. Miss Sheldon was our dorm mother at newly opened Waits Hall -- all women at the time. One night she called a special meeting and announced, "Girls, you have been leaving the kitchen in an awful mess! The kitchen door has been locked and will remain so for an indefinite period of time. Remove anything you've left in the refrigerator." How, we wondered, with the door locked? Oh, well.
Marie Davis Otto '51
Fountain Valley, Calif.

My freshman year (1948) and my brother Ernie's sophomore year, we were roommates in the army barracks, which were moved onto the campus to provide temporary housing until money could be raised to build dormitories. They were behind what was then Brite College. They were actual wooden barracks the army used, just one layer of wood between each room. No sound proofing! They were not too warm in the winter. We certainly got to know our neighbors quickly. Sometimes studying was hard with all the noise up and down the hall but we managed. Little did we know that we were getting prepared for army barracks for real. When each of us graduated we were drafted during the Korean war. We have many fond memories of those TCU barracks days.
Morris Repass '52
Woodland Hills, Calif.
Ernest Repass '51
Hurst
When we started college as freshmen in 1995, we girls had many things to get used to, one being our new living arrangements. As you probably know, Shirley Hall has long corridors which all look alike no matter which floor you are on. One particularly sleepy freshman sleep walked through the hall trying to get to the bathroom. Because every door looks the same, she figured she had reached the restroom. She entered the door, slid off her pajama bottoms and squatted on my neighbor's dorm room floor.
Ann Crassons '99
Metairie, La.
I lived in the ADPi House for two years and the two girls down the hall got the biggest kick out of bursting into our room in the middle of the night and making the horned frog hand gesture/symbol while making a high pitched squealing noise. It makes me laugh to think of Tina and Brooke getting such a kick out of it and my roommate Emily and I laughing as we sat up in bed stunned at what had awoken us.
Natalie Bourgeois '99
Baton Rouge, La.
My roommate and I would get together with our suitemates in Waits and toast marshmallows over the electric stove top at midnight! Taryn Glivinski '88 Dallas I was rooming with Thomas Ting '89. His girlfriend Sehila Golden was a fashion designer for Calvin Klein. I came in late one night and she had been working on a pantyhose for men product. Thomas was serving as a pantyhose model and after two bottles of wine things got carried away and before you knew it, he was wearing her skirt and lipstick.
John McCalla '89
Chicago, Ill.
One year our wing had a door decorating contest. My roommate and I decorated ours as a castle, turrets and all. The purple castle showed the wing that we were the TCU princesses and it stayed up all semester. We even decorated it with lights for Christmas! After class it was always fun to come back to our castle.
Heather Killeen '00
Fort Worth
Playing "slam" hackey sack with four people squeezed into a four-room area in the hall of Milton Daniel. The object was to play regular hackey sack while the other three monsters tried to take the sack away by whatever means possible. Games could get bloody and loud, but were a blast to play.
Grady Cunningham '82
Odessa
Watching "wrestling" as well as Monty Python's Flying Circus with Keith Williams, Carl Zerwick, Lee Haney, Dave Shemwell and others. We collectively "memorized" all the words to Monty Python and the Holy Grail off a record that Keith bought. I still quote╔Exploiting the works by hanging on to outdated imperialistic dogma. Boy, what a bunch of characters.
James D. Rhodes '78
Kerrville
Joe Dugger and I poured alcohol on the terraza floor of our room and lighted it to keep warm. We stopped doing that when papers on the floor caught fire and made a real mess.
Hugh Cox '56
I got up the guts to got to the bathroom at the Alpha Delta Phi dorm in the middle of the night and when I closed the door I screamed because the Horned Frog mask and costume was hanging on the back of the door! My sorority sister was the mascot and had left it in there. It was quite a sight!
Lolly Yacona '70
West Long Branch, N.J.
My favorite memory is of late-night gatherings of a close-knit group of friends sharing snacks, experiences of the day and discussing our views and philosophies on life, capped off with sporadic bursts of songs sung in the dorm's showers as we prepared for the night's rest. Thank you Paulette, Clara, Beth, Carolyn, Mary, Virginia, Maralyn et al. Whereever you are, love to each of you!
Patricia Sabol Behson '64
Newton, N.J.
It was late in the first semester of my freshman year, December 1970. It was the last night before my last final exam in Clark Dormitory, and it was cold and clear outside. We all had gotten pretty weary being inside for so long. Brainstorm! We decided to build and launch miniature hot air balloons. All it took was a plastic coat cover from the cleanser, four straws, some tape, a cotton ball and some rubbing alcohol for fuel. I remember seeing two lift off in front of Sadler Hall into the night skies╔ and never to be seen again.
Byron Barnes '74
Houston
One night a group of us Waits Hall girls decided to visit Colonial Country Club, though none of us were members. Among us was Mary Hanna, from Amman, Jordan, who certainly did not understand American slang. However, she quickly picked up that we were on to something! To ease her distress, we told her just to pretend her father "owned the place." As we entered the lush clubhouse an employee approached us, probably realizing that we were strangers. Before we could say anything, Mary, in her heavy Arab accent said, "It's okay, my father, he own this place."
Geri Sue Morgan Hudson '62
Dallas
Top