Related Articles:
The Washington Center: Creating leaders for 25 years
Capital Success
For 25 years, the nation's capital has been a learning lab for Frogs who landed internships through The Washington Center, a nonprofit group that provides an academic framework for students working a semester inside the Beltway.
This is a story about the power of one semester.
It is a tale with more than 350 chapters, each written by a different TCU student who took a chance and left the campus for four months to go exploring in the nation's capital.
The adventures began in fall 1978. In Washington terms, that's several well-publicized scandals, thousands of diplomatic decisions, millions of tourists, 13 elections and five presidents ago.
But for Brad Kiley '83, it was a starting point -- the semester that set his career in politics in motion and would lead him to become the business manager for the 1996 Democratic National Convention in Chicago.
For Susan Besze '91 and Todd Wallace '91, Washington was the venue where they would meet as interns, become friends, fall in love and later marry.
Alum after alum of TCU's Washington semester can share a story about changed lives.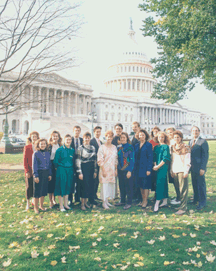 Besze still calls it her "semester of personal revolution." And it began on Day One. She walked in the door of the Fort Worth Star-Telegram's Washington bureau ready to make introductions, learn her way around and acclimate to her new position. Instead, she got a real taste of what her semester would be like.
Her editor didn't give her an office tour or take her to lunch. He sent her on assignment to Baltimore-Washington International Airport. Her mission: Find out whether any of the American hostages making their way home from Kuwait that day were from Texas and write about their release. Her lesson: A career in journalism must be driven both by passion and ingenuity.
Besze had never lived in the Beltway, but when her boss told her to rent a car, drive to the airport and file the story, that's what she did. Armed with hand-typed press credentials, confusing directions, keys to a rental car and more adrenaline than she could measure, she raced to the airport, parked the car, sprinted to a press conference, spent the day wrapped up in the chaos of the event, filed her story by pay phone and finally searched the parking lot for 30 minutes for the car she had abandoned in haste hours earlier. Luckily, the license plate number was on her key, and she went home after midnight exhausted but accomplished.
"The next day, my story was FedEx'ed to the bureau from Fort Worth," she recalls. "That's when it hit me, even more than it had the night before -- I was in for the experience of a lifetime."
The chance to feel so alive has forever lured philosophers, businessmen, activists and big-picture dreamers to the nation's capital, each seeking inspiration for public or private revolutions of their own. So it was no surprise when three TCU political science professors returned from a conference near the Capitol in 1977 toting a yellow legal pad filled with ideas for a program that would revolutionize the educational experience of hundreds of TCU's brightest students.
Professor Donald Jackson and colleagues V.C. Brewer and Gene Alpert envisioned a partnership with The Washington Center, a D.C.-based educational program that blended internships with academics. The living-classroom experience of working in America's most power city added exponentially to the appeal.
Jackson, who also helped establish TCU's London Centre in 1998, says that long before someone came to TCU to discuss what was then called The Washington Center for Learning Alternatives, he knew he wanted students to "escape and explore beyond the borders of the campus." Alpert adds that people who have lived in Washington know that the experiences there are unlike those anywhere else in the world. "And any of us who have spent any time with students," he says, "know what an amazing chance we can offer when we give them an opportunity to step outside the classroom and see the world around them with new eyes."
In the beginning
Transforming this vision into reality was not easy. Alpert, Jackson and others spent weeks organizing curriculum requirements and recruiting students, and in fall 1978 nine undergraduates left familiar Fort Worth for the capital. In the years since, nearly 350 students have followed, and another 250 have participated in the affiliated Republican and Democratic National Convention Program.
"For most of the students, this semester is the first time in their lives that they are entirely independent," says Alpert, who left TCU to head The Washington Center in 1992. "Washington is a city that is in many ways run by interns and young professionals, and our students often get an opportunity to make a significant contribution in their jobs."
Those first students, all political science majors, shared apartments at Rhode Island Avenue and 14th Street. The living quarters weren't ideal, but they were comfortable and located in the heart of the District.
Besze and husband-to-be Wallace had never met before they went to Washington in the fall of 1990. TCU's intern group took the Metro out to dinner one night, and Wallace remarked that it was a shame all the female interns had boyfriends.
"Without a thought in my head, I blurted out, 'I don't.' It's a white lie I will never regret," Susan says from the couple's home in Highland Ranch, Colo. "Washington is where we met and fell in love. It is the most romantic place in the world I can think of to fall in love." She says she and Todd will forever be grateful for the experiences of that semester. "Both of us will tell you, our semester there holds a dear, dear place in our hearts. Our entire experience is as vivid today as it was then."
The couple saw everything there was to see in the city. They shared all the excitement of their work. They wrinkled their noses as they coped with the curry powder that wafted through the apartment complex. They took weekend trips to surrounding cities. They marveled at the glow of the national Christmas tree, and they still get goosebumps when they remember singing Christmas carols from the rotunda of a museum on the Mall.
"I might have been an adult when I went away to college at TCU, but I truly grew up in Washington," Besze says. "Todd and I cannot wait to take our son there and show him all of the places we love."
The more, the merrier
Word about the Washington internships has spread across campus through the years, with interest on the rise recently. Valerie Martinez-Ebers, a professor of political science and TCU's current Washington Center coordinator, cites word-of-mouth enthusiasm and an increased awareness of the value of an internship.
Twelve to 15 juniors and seniors participate each fall. Students from any discipline may apply. Those selected must maintain a 3.0 grade average. Unlike other schools that work with The Washington Center, TCU selects students for the program a year before they leave Fort Worth. This gives them time to meet past interns, prepare submission materials and learn from group discussions on issues such as internship placements.
"We want our students to be prepared for their internships, and we want them to get to know each other," Martinez-Ebers says.
TCU's long-term selection process and 25-year association with The Washington Center make its class one of the most prepared and cohesive groups each year. "TCU students make an impact in Washington every fall, no question," Alpert says, adding that he has seen how students from other universities admire both the connectivity and professionalism displayed by TCU's interns.
Once the students reach Washington, the work begins in earnest. In addition to maintaining a full-time internship, everyone must attend one weekly class, with topics ranging from "Peace Studies" to "The History of the Women's Movement in America." The Washington Center coordinates seminars presented by some of the city's most influential people. The students also must do a comprehensive final project, complete with work samples and regular journal entries.
Before The Washington Center required a journal, Alpert had the students submit a journal entry every week. "Reading what the students wrote gave me an opportunity to share in the discoveries that were taking place for each of them. Over and over I read the words, 'I don't think I will be the same after this semester.' There's something so valuable in giving students a chance to learn by asking questions and by doing rather than learn by telling them what we think is important."
A review of recent final projects indicates how distinct one experience is from the next. At the same time, the journal entries blur the line between last-minute required generalities and true coming-of-age revelations. Whether intentionally or not, the undergraduates-becoming-professionals chorus a sort of confused certainty. In the words of one, "I know for a fact I learned a lot. I'm just not sure yet what I learned."
Wallace, who sold the first car he ever owned outright to pay for his trip to Washington, interned with Interpol. The experiences he had outside the office are the ones he cherishes the most. "When I spent Veteran's Day at the Tomb of the Unknown Soldier, my heart swelled with such patriotism and pride," says the Marine Corps reservist. His time in Washington was also important because it brought to life many of the stories his father, a Secret Service agent, had shared with him.
A place in the world
The students have an opportunity to breathe life into their history and civics lessons by immersing themselves in America's heritage, some of it as it is being made. Protests are seen first-hand in Lafayette Park. The White House is discussed not only for its historic importance, but in terms of the policies being developed there on any given day.
Attire is dictated by whether Congress is in session. Saturday afternoon excursions become tours of the Smithsonian. Road trips involve subways and trains. Dinner parties and receptions are galas and fund-raisers. Translation: free food, potentially famous people and networking opportunities.
Beware of sensory overload. Alpert describes the District as 69 square miles surrounded by reality.
"Washington is a place where students can work hand-in-hand with the policy makers who are shaping our republic," he explains. "It's a place where the newscasters that students watch on the evening news become teachers."
Interns are encouraged to travel as many learning paths as possible, and they often make significant contributions in the workplace. "We tend not to have trouble placing our students," Martinez-Ebers says. "We even have some congressmen or government agencies that have called us or The Washington Center headquarters requesting future students."
When it comes to placement, there are no limits. TCU students have worked in every branch of the federal government -- congressional offices, the White House, the judiciary, agencies, nonprofit organizations, political action committees, news groups, even the coroner's office.
"There's a little bit of everything in Washington," notes political science professor Jim Riddlesperger, a former internship coordinator. "It's a place where students can feel free to explore a different career interest and expand their understanding of culture, history, politics and international relations, all without leaving the United States."
Kim Reasoner '01 worked for Rep. Kay Granger during her semester in Washington. Now a law school student at Texas Tech, Reasoner says the internship helped her establish a network of professional and personal relationships she will carry into her career.
"I had such a positive, wonderful and memorable experience, it encouraged me to return to Washington for another internship this past summer," she says. "Working on the Hill that semester was a remarkable opportunity to make a difference for our constituents in Texas. As someone who was born and raised in Texas, that was really special."
Leap of faith
TCU senior Karen Luong grew up in Arlington. Until August she had never lived anywhere else. Now she can say that she has lived in a high-rise apartment building in Arlington, Va., too. As a member of the most recent class of Horned Frogs in Washington, Luong isn't sure how to describe the four months she spent at Civicus, a nonprofit organization that champions groups dedicated to civic participation worldwide. She will say that the experience was one of total independence.
"I really had no idea what to expect. I packed my bags and showed up at the apartment all by myself," she says. "Living in Washington is the first time in my life I have lived away from my family. It was an adjustment, but one I needed to prove I could do. I came to D.C. ready for everything but not really prepared for all that I experienced."
The internship taught her how to apply her interests in international affairs without the encumbrances of textbooks or lectures. She had hoped it would open her eyes to a career path she couldn't seem to find in Fort Worth.
"I came to Washington because I knew I needed out of academe," she says. "In Washington I seem to have found the direction I was hunting for. I have discovered an applicable way to focus my education."
From the moment she woke up in the morning and hurried to catch a crowded train to work, to the times she would pass the Russian Embassy on her lunch hour, the experience was overwhelming. She had to pinch herself every day to know it wasn't a dream. One incident still stands out.
"My boss asked me to go to this seminar and take notes and report back. I sat down and started talking to this very nice man before the lecture started. A few minutes into the event he excused himself by saying, 'Sorry to leave, but I have to give a talk now.' I watched him leave the seat next to me and walk up to the podium just as he was being introduced as the keynote speaker. I had been carrying on a totally normal, ordinary conversation with the former president of Bolivia."
Not all of the students who go to Washington return this upbeat, but for most a positive thread does link their Beltway days. The experience fundamentally changed their career path and, they say, for the better.
"Whether you discover a new passion, make a lifelong friend or just reaffirm certain things you already knew … or the semester proves to be not quite what you hoped … that place, the atmosphere and your time there shape who you become," Reasoner says. "I'm just glad that in my case I have nothing but great memories."
Jaime Walker is 2002 journalism graduate who said her semester as a Washington intern was the most memorable, entertaining and life-changing semester of her college career. It's also where she learned to drive her motorized scooter with the precision of a NASCAR pro. E-mail her at jwalker@nctcog.org.