Notables
Going Big Time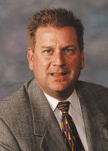 Chris Curtis '83 and his business are on the move -- literally. Last fall, Curtis and Keller-based GoVison introduced a new large-format event promotion technology in the form of a custom-built truck with a jumbo television screen that plays videos and advertisements. He calls it Go Big 1.
The point is simple. Curtis and his crew drive the truck around an event as a sort of high-tech billboard on wheels. It is equipped with a 16-by-9-foot screen, which also can be removed from the truck and displayed indoors.
There's hardly been a major event in the Metroplex without it since. Go Big 1's first gig was at the TCU-Southern Miss football game. Other venues that tested out GoVision's technology have been the Dallas Cowboys kickoff luncheon, the United Way September 11 Commemorative Event in Sundance Square, Billy Graham's Metroplex Mission and Governor Perry's inauguration in Austin. In the spring, it'll make an appearance at the Texas Motor Speedway.
And GoVision is just getting rolling. Curtis is going even bigger: Go Big 2 is currently under construction, and he plans to expand the company to other cities. "We want to be a national company with a local focus in each market, so that our clients can use this equipment at an affordable rental price," he says.

The Good Doctor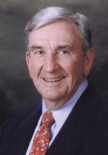 The Gold-Headed Cane Award, presented every year by the Tarrant County Medical Society to one of its 2,200 members, is one of the highest honors bestowed on a Fort Worth area physician. This year it went to retired radiologist Thomas Lipscomb '61.
Lipscomb comes from a long line of physicians. He planned to follow his father into the field of orthopedics when he came to TCU in 1957. But during his internship at the University of Iowa, he discovered radiology.
"I fell in love with it," he says, "and I haven't looked back." Lipscomb kept up with emerging technology, and became a leader in the field. "I enjoyed being a consultant to physicians. They would tell me about their difficult cases, and I would help them solve problems. I really got to dabble in all fields," he explains.
At the conclusion of his 31-year medical career, Lipscomb left a superior radiology department at Cook Children's Medical Center, which he had helped establish. "There are so many good doctors who do wonderful jobs. Itās a high honor to know that your peers think highly of you," he says.

Frogs on Reality TV

For two former Horned Frogs, reality TV is real life. Kristin Holt '03, a semi-finalist on last summer's "American Idol," has joined the talent-search show in its second season -- this time as a co-host.
The former Dallas Cowboys cheerleader joined the program after hearing the show was without a co-host for Ryan Seacrest. So she called the producers who remembered her from the first season and asked for the job. A couple of tryouts later, she was on the show.
And Holt sees her job as more than giving introductions. "I can be there to give advice and perspective, or just be a shoulder to cry on."
For Brian Ching '96, reality TV has turned out to be less rosy. After starting as

one of 25 bachelors vying for the heart of 29-year-old Trista Rehn on ABC's "The Bachelorette," Ching made the cut the first night and enjoyed a group date on the second episode. But it didn't last long, as Trista passed him over at the end of the second show.
But no hurt feelings, Ching says. "I believe you have to experience life, and this is a unique experience to meet a potential soul mate, as well as a chance to travel, be on national TV and add a new chapter to my life."
New Guy in Waco
Guy Morriss '73 has lots of green in his future. And gold.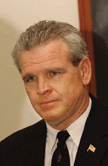 The former TCU all-conference lineman learned college football as a Frog, but today his heart is with Baylor, after signing on in December to coach the Bears and return the program to national prominence.
"I know there is a lot of work ahead and the challenges are great," Morris said of the program that has gone 9-36 in its last four seasons.
"But I have confidence that I can help Baylor win again. Football is important to the state of Texas and to people who love Baylor. Those are two good ingredients for success."
Baylor has reason to believe Morriss is the man to turn the Bears around. He was 12-7 at Kentucky after two seasons and coached 10 players to all-conference honors.
But his purple roots will always remain, he says. "I'll always be a fan of the Frogs, except when they're playing the Baylor Bears."
Earning his stripes
When Greg Meyer '81 pitched for the Frogs in the late '70s and early '80s, umpires knew who he was -- the guy who yelled a lot. "I was pretty hard on some of those Southwest Conference umpires," he admits.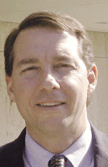 Today, Meyer is the one hearing flak from the fans, players and coaches. But he's hearing it in the National Football League.
Meyer, who started refereeing pee-wee football after work as a way to pick up some extra cash in the early '80s, was a rookie field judge in the NFL this past fall. If you caught the Colts-Steelers Monday night game in October, you probably saw him. He's number 78.
"It's been quite a thrill with all the new stadiums. I consider it a privilege to work for the NFL," says Meyer, who worked his way up through the high school, college (Division I and II) and NFL Europe ranks. "NFL athletes do unbelievable things and the action is extremely quick. It requires complete concentration and focus. You can never relax."
On the day before a game, Meyer and his fellow crew members spend at least four hours preparing. Come game day, he and fellow officials meet with the head coaches of each team, the replay officials and the network television crew three hours before kickoff. "It's quite a choreographed effort," he says.
While the travel can be taxing, Meyer has managed it thanks to his family (wife Debby, daughter Morgan and son Reid) and support from co-workers at his day job as a vice president for TexasBank in Fort Worth.
"I enjoy it," he says. "The weekends can be challenging, but football officiating has provided many great opportunities for me."
Club queen
Monica Landers '91 rarely had a dull moment as a producer for ABC's "Good Morning America." Her unpredictable and exhilarating job often found her reporting breaking news stories as they happened.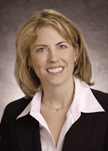 "I kept a packed bag in the trunk of my car, and I would have to catch a plane at a moment's notice," she says. Landers was on the scene at the Oklahoma City bombing and covered the 1996 Olympics in Atlanta. "That job was really challenging, and I loved working for ABC. But I think my adrenaline started to burn out after a while," she says.
Her newest post, as director of communications for Schlotzsky's, Inc. keeps her on the ground, but is not lacking in excitement. She is responsible for website strategy, online marketing, and part of the team that manages media relations and franchise communications, as the corporate headquarters also serves as a home office for the independent operators of Schlotzsky's Deli.
The online newsletter she manages still gives her a chance to report the news, except now, "a breaking news story would be that the price of cheese is up," she says.
Top