More in academe
Downward Spiral | Outside writing assignments | TCU turns to Red

Starring role in twilight years
After years of too much city light, Ames Observatory heads for the hills.
By Rick Waters '95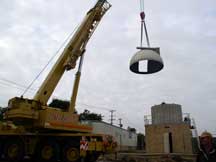 Held together with nothing more than tar and rusted bolts, TCU's Ames Observatory has had a mostly disappointing existence.
For four decades it sat anonymously on the corner of Bellaire Drive North and Stadium Drive as a scaled-back version of the university's original vision -- a two story astronomical center near the library. Fund-raising efforts to build it in the 1950s were only partly successful.
Only when wealthy Houston businessman C.B. Ames donated $50,000 -- a tenth of the original goal -- was it built in the late 1950s. Even then, it was set in an alternate location.
From the beginning, Ames' dome was deemed too heavy and wouldn't rotate properly. Over time its 12-inch compound telescope and clock drive mechanism became inoperable and the classroom was turned into storage space.
Worst of all, the stars were practically invisible to it as multi-story apartments, maturing trees, campus buildings and athletic venues have risen up to block its view of the sky.
"But the real death of the thing came with the tennis court lights," Richard J. Lysiak, former chair of the physics and astronomy department, told the TCU Daily Skiff in April 1973. "They caused so much light pollution that there was almost nothing worth observing. We were better off taking portable equipment out into the country."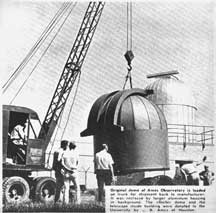 Those conditions existed for 30 years.
In 2003, almost as if to put Ames out of its misery, the university decided that the small tract of land it took up would be better used as additional stadium parking. So in January 2004 Ames was scheduled for the trash heap -- forgotten, obsolete and unusable.
But not by everyone.
Physics alumnus Harry Portwood '69 remembers Ames Observatory. He took Barbara Worcester's astronomy lab class there as an undergraduate, setting him on a career track to teach the subject.
Now an endowed physics instructor at St. John's School, a preparatory academy in Houston, Portwood says astronomy remains his passion. Through the years, he's developed paper astronomy projects and mixed in outdoor telescope assignments to build a course that rivals college laboratory work. But his dream has always been to expand it and have his own observatory.
All he's really ever needed are a dome and a secluded place to put it.
Hunt, Texas, is that kind of place. It's just a dot on the map in the Hill Country about 90 minutes northwest of San Antonio, but it's known for star-filled skies.
For the past three summers, Portwood has taken his two daughters there to attend Camp Honey Creek for Girls. Run by retired educators, it emphasizes nature enrichment programs, such as wildlife appreciation, English and Western horseback riding and riflery. When the summer is over, the camp opens its doors to school children and special needs groups.
"But I felt all along that it really needed an astronomy program," Portwood said. "Astronomy would fit in very well with the other programs. So I told the camp directors and asked if I could run it."
The directors agreed. If he could deliver the technology, they'd give him space on a hillside for his observatory.
Portwood's first thought was his alma mater. Over the years, he and TCU physics and astronomy Professor C.A. Quarles had kept in touch at meetings of the American Association of Physics Teachers. Occasionally Portwood would ask under what circumstances would TCU ever donate Ames.
"He knew its condition and that it wasn't being used," Quarles recalled, "but the university wasn't in a position to give it away at that time."
Portwood persisted.
In November 2003 he received an e-mail from Magnus Rittby, chair of the physics and astronomy department, informing him that the observatory site was scheduled for demolition. If he was still interested, he could have the dome and telescope.
Getting the University to say 'yes' was the easy part.
"I didn't have any idea how I was going to move a half-ton telescope and 20-foot aluminum dome 400 miles, but I knew the opportunity wasn't going to come twice," Portwood said. "I was willing to put anyone's name in brass, bronze, marble or gold if they would help me."
Help did come, and it didn't even cost much.
After tracking down a couple of trucks and flatbed trailers to move the building, Portwood turned to Will Stallworth, director of the TCU Physical Plant, who arranged for construction contractor Linbeck, already on campus for another project, to loan one to the effort.
In only a couple of hours, Portwood and crew removed the dome, disassembled the cylindrical base and hoisted the half-ton telescope -- all for the price of a few tanks of gas. Ames was headed for its new home.
Ames Observatory now sits at the top of a hill accessible only by a gravel road. Nightly the skies above become a black canvas with millions of dots of light.
It has already hosted a couple of star parties, even though it sits on the grass with no base. Eventually, Portwood will pour a concrete slab and erect a series of concrete posts around the outside to mount portable telescopes.
"The view is perfect there. It's just so breath-taking, but this is only the beginning," he said. "When all this is finished, we'll have something no other camp in the country has."
In the future, a digital camera and spectrometer, which analyzes light wavelengths, will make impressive accessories.
But now he needs $30,000 to finish and equip Ames.
He is off to a good start. Two portable telescopes have been donated already, and Portwood's own telescope makes three.
He'll have a fourth when Ames' old 12-inch compound telescope arrives. Currently, its working observational parts are being refurbished and its mirrors re-silvered.
Portwood also plans to replace the clock drive with a computer-controlled system, which will synchronize the telescope with the slot in the dome and make it possible to track stars from a remote location via the Internet.
A dark hillside will do for now, even on chilly nights. The stars, like his dream, seem closer than ever.
To donate to the observatory or contact Portwood, e-mail him at hportwood@sjs.org.
Comment at tcumagazine@tcu.edu.
Originally, the idea of a TCU observatory was part of a much grander plan.
Looking toward record enrollments in the mid-1950s, the university was in the midst of a construction boom. It had just broken ground on three dormitories and a new building for the School of Business and was completing a $1.2 million project for an upper deck and press box for Amon Carter Stadium.
Sensing the moment was right, Robert J. Ferguson, an ambitious Fort Worth oil man, proposed an astronomical center at TCU to increase scientific study in the United States. He believed the center, with an observatory dome on the roof, would excite students and steer them into fields of science and mathematics.
The idea enthralled then-chancellor M.E. Sadler, who commissioned architectural sketches and brochures to raise $500,000 for the center.
Tentative plans called for the structure to be constructed just south of the library as part of a new academic quadrangle. The center would be adjoined to the present science building and feature new laboratories and classrooms, a planetarium and a 20-foot aluminum dome on the roof with a 12-inch compound telescope.
The center was never built. Poor response to fund-raising efforts led the university to abandon the plan and concentrate on other projects.
But the idea didn't die. TCU continued to seek donors for a scaled-back version, and in 1959, prompted by his son's "enthusiasm for the university," Houston businessman C.B. Ames donated $50,000 to build a dome and buy telescope equipment. With plans for other buildings on east campus, the Stadium Drive location was