More in academe
Downward Spiral | Starring role in twilight years | Outside writing assignments

TCU turns to Red
A young filmmaker adds his alma mater to his client list -- before graduation.
By Allison F. Speer '91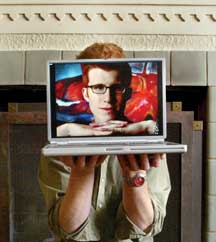 No, TCU's not changing its school colors. But when the TCU Communications Department needed a production company to shoot the school's institutional video, it was Justin "Red" Sanders '04 who got the call.
TCU's Office of Communications first worked with Sanders during Chancellor Boschini's inauguration ceremony. The student had been identified as a go-getter with loads of talent and some major clients -- including Coca Cola -- on his resume.
"It's exciting because this enabled us to showcase one of our student's outstanding abilities," Director of Communications Tracy Syler-Jones said. "This project was one of those real-life applications."
The video was shot over the summer at various campus locations and at MSNBC News in London.
"I was excited that this was a national TV spot," Sanders said of the commercial that aired during football games on ESPN, FOX Sports and ESPN2.
Sanders is the epitome of a young entrepreneur, and it seems everyone agrees. In March the M.J. Neeley School of Business' entrepreneurship program named him a regional winner of the Global Student Entrepreneur Award (GSEA) sponsored by the Entrepreneur Center of St. Louis University. In early November, Sanders traveled to Chicago to compete for the GSEA's National Global Award.
The Grapevine native began his entrepreneurial career at age 12 when he started Red's DJ & Creative Video Productions (www.redsdj.com), a disc jockey business in the Dallas area, after successfully hosting a school district luncheon where he secured nearly $800 in future work from the event. He furthered his entrepreneurial talents by teaching himself video production and pursuing an internship with Dallas-based ReelFX, a post-production and special effects shop. Sanders transferred the experience he acquired to become the head of video production at the Fellowship Church youth ministry in Grapevine.
Sanders' first big break came when he landed a summer internship during high school with Miramax Films in Los Angeles that lead him to TCU's radio-TV-film academic program and eventually to video production work for TCU's Neeley entrepreneurship program.
In fact it was TCU alum Mike Heard '92, a movie executive with 20th Century Fox, who pointed Sanders in the right direction. The two met at a freshman alumni conference and since then they have collaborated on a short film, Delusion, as well as meeting in L.A. on a monthly basis.
Like most film majors, Sanders had visions of Hollywood -- until recently. He returned from the Chicago awards ceremony sans award, but carrying a heavy dose of clarity. Instead of jet setting, (he's already turned down offers from MTV and ABC), Sanders will stay true to Texas for now.
"There's a lot of good work to be had here," he explained. "I like the area and I like the work that I've done here. The opportunities for me to expand both sides of the business are best here.
"I've appreciated how you give to the school," he added. "And then the school gives back to you."
We'll look for your name in lights, Red.
To view Red's TCU video, visit www.magazine.tcu.edu.
Comment at tcumagazine@tcu.edu.