More in academe
Downward Spiral | Starring role in twilight years | TCU turns to Red

Outside writing assignments
English undergrads create for the real world.
By Jaime Walker '02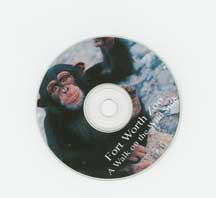 The Fort Worth second and third graders who'll learn about historical preservation from curriculum developed for the National Cowgirl Museum, won't care about how the lesson plan was developed. All that matters is that the unit's interactive activities provide an entertaining way to study the past.
But for the TCU undergraduates whose semester toil lead to the creation of the unique lesson plans, the curriculum stands as a testament to what can be achieved when a college course is designed to provide real world experience.
Ron Pitcock, associate professor of English, wanted to teach the students in his Professional Writing class more than the basic template-to-build-proposals and how to compose a resume. Lessons should have more substance than tired case studies, he thought.
So Pitcock rebuffed tradition and enlisted community leaders and professionals who genuinely needed professionally written material for their organizations.
The result? Two educational curricula for the Cowgirl Museum, one tour script for the Fort Worth Zoo, one speech that zoo employees can use during Career Day at local schools, a newsletter for the English Department, and several very valuable reality checks.
For the students, the class was tough but rewarding; a challenge worth the effort.
"Many typical professional writing courses simply focus on providing students with codes and templates for specific types of writing," Pitcock said. "In this case, instruction shifts to real application of skill, and we all know that's really how the world works. "
When grades are based on the quality of work produced for local organizations, students and the community leaders who serve as their clients take huge risks, Pitcock says. Student teams were asked to develop three proposals to fill the need outlined by each client. They then presented their solution and worked with the client throughout the semester until a final product was approved.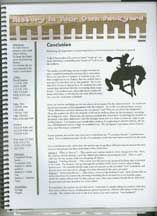 "When students are filling a true need for a real client, a sense of urgency and importance is added to the work," he says. With each project, students tackled challenges that would have never have been as aptly portrayed in textbooks. And unlike case studies, the solutions developed had true value, Pitcock said.
"There's no better lesson than reality," he said. "We worked with organizations that simply didn't have the resources or time to devote to these projects, but today they have workable products that address a need that would have gone unmet."
Lisa Davis, former director of education for the Cowgirl Museum, said having access
to creative, motivated students with the time to devote to curriculum development was ideal.
"The students did all the research and came through with incredible products," she says. "These curricula were a pie in the sky dream for me, and the students helped lay the foundation for that dream to be realized."
She not only praises the university/museum collaboration, but touts the premise of the professional writing course as one of the smartest things TCU can do for the community.
"I am firm believer that nothing but benefit can come from collaboration," she says. "We all benefit from dialogue. In this case students gained invaluable life experience and got to look beyond the university culture. The museum benefited because it now has an educational tool to reach out to the youth of Fort Worth."
Pitcock said the experience-based premise could also easily transform many classes on campus.
"Every discipline at this university has a real world value," he said. "When we can find ways to articulate that civic value, and we combine academic study with it, we do our students, ourselves and the community a great service."
Contact Pitcock at r.pitcock@tcu.edu.
Comment at tcumagazine@tcu.edu.