Schieffer School of Journalism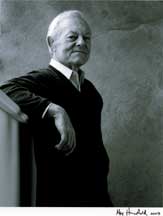 After 77 years of training newsmen and women, the TCU department of journalism becomes the Schieffer School of Journalism, a move its namesake said is, "an honor far beyond anything I could have imagined."
News veteran Bob Schieffer '59, most recognized for his position as moderator of the CBS News broadcast "Face the Nation" and as the network's chief Washington correspondent, proffered his appreciation and support in December when the announcement was made.
"The technology of journalism has changed dramatically," Schieffer said, "but its purpose and core values remain the same, to find the truth and report it. In an increasingly complicated world, the need for good journalism has never been greater. I look forward to playing an active role in helping TCU attract and develop the kind of young reporters who will be needed to meet the challenges of the coming years."
A day of activities will take place March 8, when Schieffer, his wife Pat, and many notable guests from the field of journalism will be on campus for the dedication ceremony.
Schieffer's illustrious career began as a student reporter for TCU's Daily Skiff. He continued his rise to the upper echelons of journalism, working as a reporter for the Fort Worth Star-Telegram and then WBAP-TV (now KXAS -TV) before settling at CBS News in 1969. He has covered Washington for CBS News for more than 30 years and is one of the few broadcast or print journalists to have worked all four major beats in the capital — the White House, the Pentagon, the State Department and Capitol Hill. He also recently served as moderator of the last televised presidential debate between President George W. Bush and Senator John Kerry.
Schieffer has won six Emmy awards and, in 2002, was inducted into the Broadcasting and Cable Hall of Fame and named Broadcaster of the Year by the National Press Foundation. He also has authored two best sellers, This Just In: What I Couldn't Tell You on TV and Face the Nation: My Favorite Stories from the First 50 Years of the Award-Winning News Broadcast.

TCU's $300 million man retires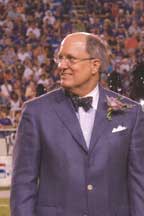 January marks the end of an era when TCU's multimillion-dollar man, Bronson C. Davis, steps down as vice president of advancement, a position he has held for 14 years — longer than anyone in TCU's history.
Davis attributes his longevity in the role to leaders who were willing to invest in the program so he could add talented staff and provide needed tools.
"We had a clear idea of where we were going, what we were going to do, and there was a lot of momentum," he said. "Everyone agreed we needed to do more in fund raising and we were able to bring on a lot of good people."
Known for his extraordinary ability to add green to the Purple and White, Davis' responsibilities have included advancement research, alumni relations, the annual fund, athletic fund raising, donor relations and leadership gifts. Under his deft leadership, TCU has raised $300 million since 1990.
"He is regarded as one of the most knowledgeable people in the advancement profession and well respected by his peers," said Larry Lauer, vice chancellor for marketing and communication.
In 2002, Region IV of the Council for the Advancement and Support of Education (CASE) tapped Davis for its Distinguished Achievement Award — its highest honor.
Though plentiful, Davis' successes have not come easily. TCU's small size — a definite plus in the classroom — is a formidable hurdle in fund-raising. Plus, alumni did not realize how important giving back was.
"We had to develop a mind-set that as part of their role as alumni, each person needs to make a gift every year," Davis said. "We've built our participation, which has gone from 18 percent to 31 percent, to second best in Texas. We'd like to be the best and go over 40 percent."
In addition, when he came into the job he had to develop a stronger culture of philanthropy. The Next Frontier Campaign helped accomplish that.
With The Next Frontier, launched in 1994, Davis and team completed the first comprehensive campaign in TCU's history. "We started out to raise $100 million, and we raised $126 million." A parallel campaign secured another $16 million in bequest expectancies.
"I think we've kind of changed the face of TCU advancement and developed a complete program with all constituencies covered pretty well," Davis said.
The professionalism of the organization Davis is leaving behind will be his legacy.
"I think there are a lot of talented people here and I'm proud to have been the leader of this group for this period of time," he said. "Whoever comes in will inherent a strong program and build on it."
Davis will miss the people the most —the staff, faculty, students and many people he meets on the job. "It's a wonderful community to be part of and I'll miss that. And the hurly-burly of the activity of fund raising — I'm sure I'll miss that."
Davis will stay on as consultant for a year, before retiring officially in January 2006.
"It's a nice opportunity for me to work on a writing project I've always wanted to do and to test some things out," said Davis, 61, adding that he would like to do more fund-raising work with his church, write on a regular basis and travel with his wife. The couple will be grandparents in January, "so this fits perfectly with that."

Trustee answers governor's call
TCU Trustee Roger Williams '72 will soon move to Austin to be Texas' 105th secretary of state. Gov. Rick Perry announced Williams' appointment in November. "I am excited about this and performing the job and its duties, one of which will be selling Texas to America and bringing business in," Williams said. Williams, who runs a car dealership in Weatherford, began his political career in 1994 as then-Gov. George W. Bush's state finance chairman. In the recent election, Williams served as President Bush's national grass-roots fund-raising chairman. He will begin his new position following the presidential inauguration in late January. As for moving to the city of burnt orange, Williams quipped: "I'm also going to remind everyone that I'm a TCU Horned Frog when I'm in the area."

Journalism Hall of Fame
The halls of the Moudy Building's second floor are donning some excellent new faces — six, to be precise. The TCU School of Journalism welcomes the following to the inaugural class of the Journalism Hall of Excellence:
- Dan Jenkins, sportswriter and sports novelist
- Warren Agee, dean emeritus, Univ. of Georgia
journalism department
- Ken Bunting, executive editor of the Seattle Post-Intelligencer
- Bob Schieffer, CBS newsman and host of Face the Nation
- J. Willard Ridings (posthumously), founder of the TCU journalism department
- Johnny Livengood (posthumously) former night news editor of the Washington Post

An eye on art
Sister Wendy Beckett, a British nun known for her PBS series on art, explored the treasures of American Art in the Amon Carter Museum with the TCU community in November as the keynote speaker of the Third Roman Catholic Lecture Series, sponsored by Brite Divinity School.

Politics & Principles
TCU's first-ever themed semester "Politics & Principles" brought an unprecedented series of special classes, workshops, discussion groups and lectures by prominent political commentators and historians. Here are the highlights, in case you missed it:
- Kay Bailey Hutchison, U.S. Senator, (book signing): "Societies that repress women and do not educate women, suffer."
- David Boren, Former U.S. Senator, (Jim Wright Symposium): "We are at one of those defining moments. We need to put the national interest back on the agenda and launch a bipartisan approach to problems."
- Mary Matalin, GOP operative; and James Carville, Democratic operative, (Fogelson): "This is a historic election because these are historic times and we are in the midst of historic transition." -- Matalin
- Thomas Cahill, author and historian, (Gates of Chai): "Most of our best words … are gifts of the Jews. The Western world begins with the Jews, great-grandparents of the
Western World."
- Susan McDougal, Convicted in Whitewater investigation, (lecture): "Never before in my life, before all this, did I have to fight for anything."

Garden of Honor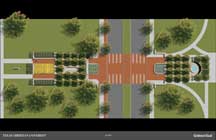 One of the prettiest spots on campus will soon become an even more beautiful plaza with an important purpose: to commemorate all TCU veterans. Architectural plans for the TCU Veterans Plaza are being completed by Fort Worth's Gideon Toal architecture firm. The memorial plaza, which will include garden and sitting areas, will begin at Reed Hall, cross University Drive and end at a new fountain southwest of the Chapel. It will commemorate all TCU graduates who served in any war and incorporate the existing memorial arches that recognize 67 TCU servicemen who died in WWII. Horned Frog alumni have stepped up to the plate in support of this important venture. Friends of the University have already committed more than $75,000 of the $150,000 construction cost. "We honor so may people at TCU but we don't have something to honor those who gave it all," Trustee Roger Williams said. "Right now when were fighting for freedom and liberty, we all need to be reminded." Contributions may be sent to TCU Veterans Plaza Project, TCU Box 297044, Fort Worth, Texas 76129.

A star-spangled evening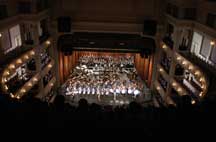 TCU's College of Fine Arts rang in the month of November with a patriotic celebration — and grossed about $150,000 for the School of Music. Nationally renowned composer Peter Boyer conducted the Southwest premiere of "Ellis Island: The Dream of America," which was performed by the TCU orchestra, wind symphony, chorus and the Horned Frog Band at Bass Hall.
The school held the first event of this kind in 2002. This year, the event was taken to new heights with a $175-per-plate dinner seating 280 guests. Following the dinner, the doors to the auditorium opened to 1,100 guests who enjoyed a star-spangled evening.
Boyer's stirring orchestral work, written in 2001-2002, celebrates the American immigrant experience and adds elements of the theater and multimedia to the concert hall. Against a background of projected historical images from the Ellis Island archives, actors delivered short monologues, which the 34-year-old composer created from the stories and actual words of immigrants. Also, Boyer approved the inclusion of a dance vignette by TCU students.
The performance also included "Overture to Candide" by Leonard Bernstein, "Song of Democracy" by Howard Hanson and "Memories of America" by Carmen Dragon.
The 2002 gala's success served as a catalyst for more showcasing venues. Days after the first gala, a committee set out to find a composition with patriotic themes. "We explored existing works that spoke to American traditions and this one sounded fascinating," said Honorary Committee Chairperson Ann Koonsman. "Boyer is a creative genius, and this is the perfect showcase to show off the talents of these 400 students."
Scott Sullivan, dean of the College of Fine Arts, said they hope to rally forces to plan another musical gala.
"We would like to do this work because it showcases the talent of our students to a broader audience," he said. Once post-gala bills are paid, the committee allocates the profits as gift money to each of the College of Fine Arts' four academic units, based on their level of participation in the musical tribute.

Starpoint makeover
After 38 years of extraordinary service, TCU's Starpoint School received a much-needed facelift and expansion that includes adding a first-ever sixth-grade class. The $450,000 project expanded five older classrooms and enhanced areas throughout the building.
"This renovation allows us to serve an increased number of students with learning disabilities as well as provide additional opportunities for TCU students campus-wide to observe, volunteer and train in a hands-on environment," said TCU Starpoint Director Marilyn Tolbert. The renovation is in honor of Dr. Kathleen Spencer Cooter, past director of Starpoint School. Established in 1966, TCU's Starpoint School is a laboratory school that serves children ages six to 12 with learning differences and/or attention deficits. For information: www.sofe.tcu.edu or call 817-257-7141.

A way with words ... and music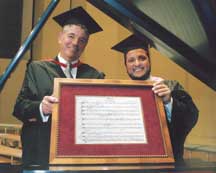 So inspired was Professor Blaise Ferrandino, associate professor of music theory and composition, by a reading given by Provost Nowell Donovan that he decided to put the words to music. September Convocation provided the perfect setting for two occasions: to honor Nowell Donovan as he began his first academic year (2004) as Provost and Vice Chancellor for Academic Affairs, and to debut Ferrandino's Memoir, performed by TCU Choir and music department faculty members. "I knew of the provost's great love of music and also his love of things Scottish," Ferrandino said of his composition, which makes use of the Scottish folk song, "Baron O' Brackley." It was scored for choir, baritone soloist, organ and piano. "After I wrote it, I knew that it would be an ideal piece for the choir to perform at Convocation, so I took the idea to Ron Shirey, and then the chancellor." The three faculty members that took part in "Memoir" were Shirey, Janet Pummel and Richard Estes. Ferrandino's plan included adapting Donovan's reading (after persistent pestering for a copy), taken from the diary of natural scientist John Playfair, into a poem.

Celebrating in the chamber
Half of the TCU School of Music's new chamber music series has come and gone. But if you're a fan of stunning music set in a cozy atmosphere, then mark your calendar to attend the rest of the season. TCU's Jesus Castro-Balbi, assistant professor of cello, is the mastermind behind the "Faculty and Friends Chamber Music Series: Celebrating Collegiality and Excellence." The free concerts are preceded by a pre-concert talk from a faculty member, and the music begins to wind its way through PepsiCo Hall at 8 p.m. during each event. Up next: 20th century chamber music, scheduled for Monday, Feb. 21. Faculty members/musicians Karen Adrian (flute), David Brock (baritone), Castro-Balbi (cello), Gloria Lin (pianist and Castro-Balbi's wife), Harold Martina (piano) and Curt Thompson (violin) will collaborate. The February concert will include "Duo for violin and cello" by Kodaly, "Chansons Madecasses" by Ravel and "Scaramouche" by Milhaud.

She's not an Apprentice anymore
Amy Henry, finalist on the first season of hit reality show "The Apprentice," returned to campus in October to promote her new book, What It Takes: Speak Up, Step Up, Move Up. But she also managed to share her experiences in the business world and regale students and curious on-lookers with some tales from the show. "Competency is not enough for women in business," said Henry, who received her MBA from TCU in 1997. "You have to be willing to be aggressive in networking and stealthily make your accomplishments known. Confidence is not arrogance. You have to speak assertively."
Henry said she was successful on the show because she stayed out of petty disagreements and used her teamwork skills and positive attitude to rally people to her side. But does her former TV boss Donald Trump's famously messy coif look that bad in real life? With a sheepish grin, Henry quipped, "Well, yeah, it really does."

Read all about it!
The only thing SuperFrog likes as much as TCU victories are kids who read.
In October, it felt like TCU had crashed the BCS when more than 5,000 Fort Worth and Irving students signed up to participate in the inaugural SuperFrog's Reading Challenge presented by Cash America. The program urged third- through fifth-grade children in seven area elementary schools to improve their reading during the fall. Those who met certain reading achievements earned tickets to TCU games and SuperFrog clothing. Horned Frog student-athletes from all 19 athletic programs also visited the schools to keep the momentum going.
"I'm very proud of all these excellent readers," SuperFrog said. "Because when you read, you succeed!"The only thing SuperFrog likes as much as TCU victories are kids who read.
In October, it felt like TCU had crashed the BCS when more than 5,000 Fort Worth and Irving students signed up to participate in the inaugural SuperFrog's Reading Challenge presented by Cash America. The program urged third- through fifth-grade children in seven area elementary schools to improve their reading during the fall.
Those who met certain reading achievements earned tickets to TCU games and SuperFrog clothing. Horned Frog student-athletes from all 19 athletic programs also visited the schools to keep the momentum going. "I'm very proud of all these excellent readers," SuperFrog said. "Because when you read, you succeed!"

Top teachers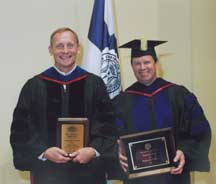 Cheers from students filled Ed Landreth as two faculty favorites were recognized for their excellence in the classroom. Noted as one of the most productive and popular scholars on campus, Ray Drenner, biology department chair, received the $20,000 Chancellor's Award for Distinguished Teaching. With 11 extramural grants and more than 40 papers in scientific journals, Drenner's accomplishments are even more impressive because nearly half of his papers include graduate or undergraduate students as co-authors.
"This masterful teacher is abundantly aware that most non-majors arrive in class lacking his enthusiasm for his subject," Chancellor Victor Boschini said of Drenner, "and he has the ability to kindle that interest.
Geology Professor John Breyer, known for his warm and supportive teaching style, was the recipient of the Wassenich Award for Mentoring in the TCU Community. Students described Breyer as "not only an excellent teacher, but also a mentor and friend" who is "a staunch supporter of countless student and faculty organizations." Other finalists for the award were Lynn K. Flahive, communication sciences and disorders; Mary Margaret Patton, early childhood education and Carrie Zimmerman, student development services.
The Wassenich Award recognizes a member of the faculty and staff who has made a significant difference as a mentor in the lives of students and carries a cash value of $2,500.

Chance meeting nets international olive branch
Irish Fest last spring found Tom Bonjour '72 manning a booth next to Shannon Kinkaid '01, both of whom were featured in the Fall 2004 issue of this magazine. They had never met but soon discovered they had not only TCU, but a love of things Irish in common. Bonjour, the president of the Arlington chapter of the Ulster Project, told Kinkaid, a Dallas-based painter, that he wanted the Ulster teens to create a painting that might close historical rifts between religious groups in Ireland. Kincaid created a small version of the project, which the teens then recreated on two 36-inch by 48-inch canvases. The paintings were displayed at the Arlington Museum of Art before touring area churches. One of the paintings is slated to be shipped to a permanent home in Belfast and the other will stay in the States. In other news, Kincaid's first CD, Fools, released this fall, is a Grammy contender in three categories: Best female pop vocal performance, Best pop vocal album and Song of the Year.

TCU Opera gets new home
Professor Richard Estes can't stop grinning. His students, his props, his music and his office finally have a home in the new music annex on Rogers Avenue. After storing scenery under stairwells and on top of band hall lockers, the TCU Opera finally has a space where they can rehearse and produce under one roof.
"It's hard to establish visibility on campus when there's no home [for a department]," said Estes, associate professor of music and director of the opera studio. "Now there's a visible sign of our value here. For the first time we can rehearse, do blocking and production in the same playing space."
Estes can also build scenery and props in the new Music Building South, something he used to tackle in his residential garage. The new space, he added, will save him some six hours a week in set-up and break-down time.
The 33 members of the opera program are currently tuning up for their upcoming April 2005 production of "Cosi fan Tutte" by Mozart.

A life remembered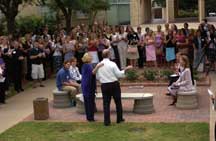 Alumni, students and faculty gathered on a recent October afternoon to memorialize Kim Jones '98. Jones was one of seven people murdered in the Wedgwood Baptist Church shooting on Sept. 15, 1999. The memorial was initiated by her fellow students following the shooting. Attending the ceremony were Kim's parents, members of Delta Gamma sorority (of which Kim was a member) and TCU Minister Angela Kaufman. "Kim's spirit of adventure, her curiosity and zeal for life are not distant memories but realities carried on by those here," the Rev. Kaufman said. TCU constructed the memorial just behind the Delta Gamma house. Also, His Way Ministries set up a scholarship in Jones' name at Hopkinsville Community College in Kentucky. The scholarship will be awarded to a single parent attempting to continue his or her education.

Over there - Horned Frogs serving overseas
Following a call to find Frogs involved in the armed conflicts, we received the following names. If you know of other Frogs serving our country in this war against terrorism, let us know by calling 817-257-7807 or by e-mail at tcumagazine@tcu.edu.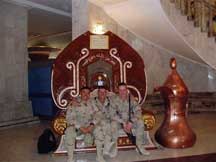 Capt. Chris Knight-Sheen '92, Maj. Michael Gill '92 and Capt. Charles Hornick '93 bumped into each other at Camp Victory, near Baghdad, Iraq, in January. The chair they are sitting in is in one of Uday Hussein's former recreational palaces. Capt. Knight-Sheen is the Aide de Camp to Major General Gary D. Speer, Army Forces Central Command. Maj. Gill is the Coalition Forces Land Component Command Logistics Maintenance Deputy on the General Staff. Capt. Hornick is the Corps' Engineer Liaison Officer to the British-led multinational division in Southern Iraq.
J. Brendan Tiernan-Lang '82, Lieutenant Colonel, USAFR, writes that as a member of the AF Reserve, he is serving as CJCS Exercise/Contingency Director, Global Readiness, C-17 Intra-theater Mission Cell, Al-Udeid Planning, which he says, "just means that I warm a chair." (We doubt that, Brendan). He hopes to be home soon.
Brittany Crook '03 is serving in Mosul, Iraq, in the Intermediate Care Ward, which is basically Med/Surg. She writes: "We mainly take care of patients after surgery from gunshot or shrapnel wounds and amputations. We have had quite a few cases of gastroenteritis as well. We occasionally see other things for a few days before they are air lifted to Germany, but we don't really do too much for them besides a few basics. Most of those are orthopedic cases that can't be adequately fixed down here. We have also had some psych patients as well. They are usually very young and either witnessed something traumatic or had something wrong with a loved one back home. They are typically on suicide precautions with a person from their unit at the bedside 24/7 until they are air lifted to Landstuhl. We have had about half American and half Iraqi patients, and of the Iraqi patients about half of them have been enemy prisoners who have an MP at their bedside 24/7. So, it can get pretty crowded in here at times. We have very old equipment and almost every patient has different IV tubing. Patient safety also takes on a new meaning here because when mortars go off we typically have to forfeit our body armor to protect them.

Fresh faces
Nancy Jean Ramsay, professor of pastoral theology at Louisville Presbyterian Theological Seminary in Louisville, Ky., was named the executive vice president and dean of Brite Divinity School at TCU, effective June 15, 2005. A native of Salisbury, Md., Ramsay received a BA degree in English from the University of North Carolina at Greensboro, a DMin. from Union Theological Seminary in Virginia and a PhD in religion and personality from Vanderbilt University. Ramsay has written books and articles on pastoral care and counseling from the perspectives of racial diversity, family violence and sexual misconduct.
Dan Powell '74 returned to TCU this fall as associate professor of leadership education/administration. Powell served for the past seven years as superintendent of schools for the Everman school district and held leadership posts for almost 20 years with the Fort Worth school district, including assistant superintendent for business/financial services. On campus, Powell is active with TCU's School of Education Board of Visitors and the board of advisors for TCU's joint MBA/EdD program. Powell and his wife, Debbie Ellison Powell '78, a teacher with the Fort Worth ISD, live in Fort Worth.
Bob Ray Sanders, well-known columnist for the Fort Worth Star-Telegram, joined TCU's journalism department as a part time lecturer. In addition to the newspaper, Sanders has worked as a reporter, producer, station manager and vice president for KERA-TV. Throughout his career, Sanders has garnered prestigious awards including five Dallas Press Club Katie Awards, five awards from the Houston, New York and Chicago film festivals, three Corporation for Public Broadcasting awards, a regional Emmy Award, a National Association of Black Journalists (NABJ) award and a National Headliner Award.

In brief
WSJ ranking
In September, The Wall Street Journal ranked the M.J. Neeley School of Business's MBA program as the nation's sixth-best regional program, based on a survey of corporate recruiters.
Hispanic Alumni Association
A new Hispanic Alumni Association will provide opportunities for mentoring current and prospective students, community service and enhance cultural awareness on the TCU campus, says Greg Trevino '95, assistant director of intercultural educational services at TCU, and member of the new group. Hispanic students represent 6 percent of the current undergraduate population, a number that has consistently risen since 1999. Association members have already sponsored a series of activities. Call Celestina Phillips '02 at 817-437-1093 for more information.
Gift to Ranch Management
The TCU Ranch Management Scholarship Fund recently received a $10,000 contribution in the name of former President Ronald Reagan. The gift was made possible through the efforts of Red Stegal and Mike Stevens of Heartland Alliance of America.

Kudos

The National Council for Geographic Education recognized TCU School of Education instructor Margaret "Taddie" Hamilton with the 2004 Distinguished Teacher Achievement Award for her accomplishments while serving as department chair for Trinity High School and an officer with the Texas Council for the Social Studies. Hamilton was nominated for the award for being instrumental in making world geography a required subject for all high school students in Texas.
The U.S. Army Nurse Corps recognized nurse reservist and TCU Harris School of Nursing instructor Linda Niebes-Grabel with the Meritorious Service Medal after serving at Fort Campbell for two years where she was director of the Soldier/Family Health Readiness Team Program. As director, she deployed an innovative screening process and support program that served the soldiers deployed to Iraq from Fort Campbell. The program serviced 30,000 deploying and 6,000 re-deploying soldiers. The program set the standard for the Southeastern Regional Medical Command (SERMC) and the Army during Operation Iraqi Freedom. It is still running and has been modeled by other military medical facilities.
The TCU University Recreation Center received the 2004 Facility of Merit Award from Athletic Business in November. The Center was one of 10 winners out of 98 architectural entries. The 200,000 square-foot facility is more than twice the national average of space in terms of square feet per student. It includes five basketball courts, a climbing wall, six racquetball courts, an indoor track, a cardio bridge, and indoor and outdoor pools.
Amersand chapter of Mortar Board recently selected 33 members of the TCU faculty for their scholarship, leadership and service, and for making a special contribution to the life of an individual student. Those chosen are: Jimmie Borum, John Breyer, David Cross, Richard Enos, Sharon Fairchild, Andrew Fort, Bob Frye, Mary Anne Gorman, Bill Bustashaw, Phil Hartman, Gina Hill, Linda Hughes, Ron Pitcock, Karyn Purvis, Stuart Johnston, Joe Lipscomb, Greg Mansur, Darren Middleton, Jean-Luc Montchamp, Dianna Newburn, Allison Owen, Adam Schiffer, Sara Sohmer, Ranae Stetson, Pamela Stuntz, Mark Thistlethwaite, Carol Thompson, John Thompson, John Tisdale, Lisa Vanderlinden, Mary Volcansek, Walt Williamson and Gary Whitman.

TCU Tomes
The Moses Riddle
By Hunt Kingsbury '89
Bimini Road Publishing

The first in a series of 10 Thomas McAllister Treasure Hunter Adventures, The Moses Riddle finds Egyptologist McAllister following a perplexing riddle Moses carved inside the oldest temple in Egypt. The riddle leads McAllister and his partner to a treasure so powerful that both government and religious factions will stop at nothing to confiscate it The book's selling point: an encrypted riddle worth $5,000 to whoever can solve it. www.huntkingsbury.com.
Texas Road Trip: Storiees from Across the Great State and a Few Personal Reflections
By Bryan Woolley '63
TCU Press

In this collection of stories previously published in the Dallas Morning News, author, journalist and TCU alum Bryan Woolley takes the reader to dusty Texas roads to meet characters in the state's smallest corners. "I think of this book as the story of my own life as I have roamed the land I love," he writes. This homage to Texas includes more than 40 stories about the state's history, people and culture. Write tcupress@tcu.edu to order.