Conventional wisdom
Every four years presidential conventions take the national stage for a week. And every four years TCU students charge into the media fray.

By Nancy Bartosek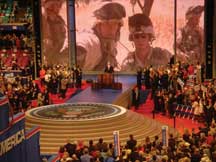 Rachel Cox shadowed reporters, edited news packages for Eurovision and volunteered with MTV's Rock the Vote.
Janelle Stecklein landed a position with Cox Newspapers and got a byline on a story about demonstrations posted to the Cox news service.
Trevor Smith headed to New York without a job but still found his way to the convention floor as a volunteer.
The students are among 24 Frogs who in two fast-paced weeks received a crash course (and three hours credit) in politics, media coverage and putting on a really big show when they participated in the Washington Center's Campaign 2004, The National Political Conventions Seminars.
The budding journalists came home enlightened and somewhat awed by their immersion in a major political party's quadrennial gathering.
"They get to see the national media up close and personal," said Tommy Thomason, journalism chair and adviser to the students who worked the Democratic National Convention in Boston. "The media and the politicians are all concentrated into a few blocks and a few days."
Brushing shoulders with the famous meant days that started at 5 a.m. and ended around midnight. But the chance to work for CNN, Bloomberg News, the Detroit Free Press or NY1, among others, made the intensive learning experience worth the effort.
Cox, a broadcast journalism sophomore, assisted international reporters for Eurovision and helped edit footage from the day into sound bites. Often she wanted to stop and watch the finished broadcasts to learn what was going on elsewhere. "You don't get the big picture when you're just doing a piece of it."
The ordered chaos of the press tent -- it housed reporters from 52 countries -- was exhilarating.
"The cameramen would shoot all day, then we'd edit packages together. It had to be done really fast so foreign correspondents could get it and put their voice to it," Cox said. "And it was really noisy because they are all talking in all these languages, but I really liked to be in the center of it. It was fun."
Working behind the scenes takes politics and media coverage out of the realm of the abstract, Thomason said. "They see the event and then the immediate depiction, and they're amazed sometimes to see that the media got it so wrong. It could pop your bubble."
Cox was on the floor at the DNC when a man came in and yelled for everyone to move back.
"Then P. Diddy walks in and just stands there," she recalled. "It was really strange and kind of dumb. The press made it out to be something big, but it was all a publicity stunt."
For junior Janelle Stecklein, a journalism and political science double major, her experiences writing for Cox Newspapers in Boston only cemented her desire to be involved in the political process, either as a journalist or lawyer. But one of her fellow students changed her major, Stecklein said, "because she didn't like her placement and decided it wasn't her thing."
John Tisdale, journalism assistant professor who escorted 14 Frogs to New York for the Republican National Convention, called the conventions the media's Super Bowl. He was "literally turning sideways in the hall" so he wouldn't bump into Larry King, Dan Rather or Jeff Greenfield. "All the stars come out. It's really a big two-week party."
But what struck Tisdale and some of the students most were the demonstrations. At the RNC, Tisdale, a Democrat, was mistaken for a Republican as he left the event and was heckled and spit on by the protesters.
Stecklein was surprised to find that protesters at the DNC were corralled into a "cage" surrounded by razor wire under a freeway. Organizers "were predicting all these demonstrations, but they mostly fizzled out, maybe because of the 'cage.' I don't really know."
Trevor Smith, an entrepreneurial management sophomore, arrived in New York without a job assignment, so he volunteered with a state delegation. He made signs and helped register delegates. Then he was delighted to be given a floor pass.
The experience reinforced his Republican views and opened his eyes to the possibilities that come with participation.
"I was amazed that I could go in as a volunteer and work my way up to doing the things I wanted to do," he said. "My goal was to get inside the hall, and that wasn't promised from the beginning.
"I know now that the process is open to people. You don't have to be an insider, just come in and help. Your good work pays off."
Comment at tcumagazine@tcu.edu.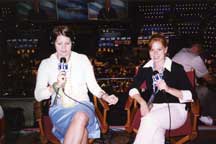 On camera. Ashley Moore, left, and Gabe Wickland with NY1 at the DNC. The students applied to the Washington Center program a year ago and had to get security clearances as part of the acceptance process. (photo courtesy Ashley Moore)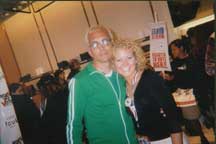 Star struck. Rachel Cox gets a hug from Art Alexakis, lead singer for the rock band Everclear, at a party sponsored by MTV's Rock the Vote at the French Connection, a store in Boston. Alexakis was a delegate to the Democratic National Convention who performed with Rock the Vote. (photo courtesy Rachel Cox)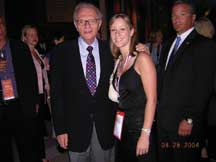 Seeing stars. Ashley Chapman, a news/editorial junior, shadowed reporters from Roll Call, a newspaper that covers Capitol Hill. The experience, she said, "taught me a ton about
politics," and offered her the chance to meet some
journalistic big-leaguers
like Larry King. (photo courtesy Ashley Chapman)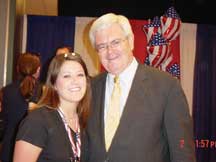 Famous faces. Jessica Reddick found a moment during the Republican Convention to meet Newt Gingrich. She said, "it was really neat to meet him because my parents had been such a fan of him when I was younger and I'd always hear them talk about how great a person he was." (photo courtesy Jessica Reddick)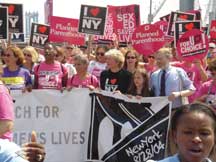 Famous faces. Jessica Reddick found a moment during the Republican Convention to meet Newt Gingrich. She said, "it was really neat to meet him
because my parents had been such a fan of him when I was younger and I'd always hear them talk about how great a person he was." (photo courtesy Jessica Reddick)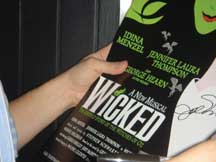 Not all work. Students in New York had time to visit the sights and see a show if they wanted. In Boston, several headed to the ballpark to watch the Red Sox in the early stages of becoming the World Series Champions. (photo by Trevor Smith)