Selling the academy
Sometimes we need to look at the past to understand the present. This advertisement for TCU, found in the 1920 Horned Frog yearbook, is a case in point.
Today, marketing higher education is a buzzword, something all universities are scrambling to do, though several decades ago, "selling" a school was considered almost heretical, akin to "selling out."
But in its early days, TCU was actively marketing itself to prospective students. This ad, like others archived in the library, was likely printed on flyers and handed out, and may have appeared in newspapers or magazines.
It's also worthy to note much of what made TCU a good choice in 1920 is still part of our culture, such as professors who, "take a personal interest in the welfare of their students." Today we call that the teacher/scholar model, and it continues to be one of TCU's greatest strengths.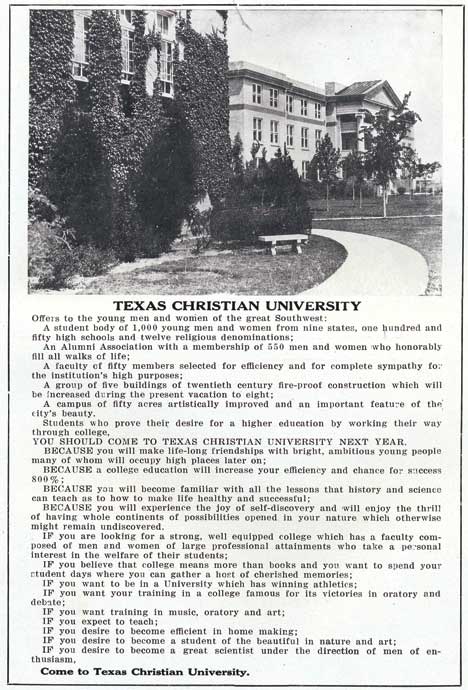 From the 1920 Horned Frog: Cobby deStivers, yell leader and and girl voted "Cleverest" with our mystery alum. This Horned Frog pitcher became a TCU legend. Know who it is? Send us your best guess at tcumagazine@tcu.edu, or TCU Box 298940, Fort Worth TX 76129.