Presenting 100 years of the Horned Frog Band

When a small group of amateur musicians gathered in Waco in 1904 to "blow a horn," or "beat a drum," the TCU band was born. By 1910, one of those early horn players, B.A. Kirkpatrick, was a medical student at the temporary TCU buildings in downtown Fort Worth. He gathered some others to play for the main building's cornerstone laying on the current campus in 1910. In 1921, the first official band was organized, and by 1925 had 25 members.
The '30s saw a move to swing and jazz, and the band continued to grow. In the 1950s, under the direction of James "Prof" Jacobsen, the band appeared on national television and gained fame for introducing a new marching technique invented by Jacobsen called the Moving Diamond Drills. Photos from Horned Frog yearbooks.
Come enjoy a 1947 brochure on the band at http://staff.tcu.edu/sswain/band
And here is James Jacoben's thumbnail sketch of the history of the band.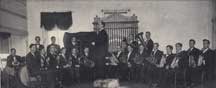 1908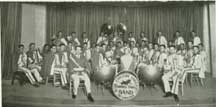 1928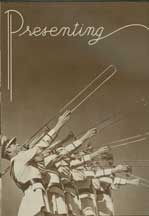 1938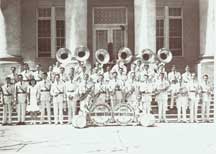 1941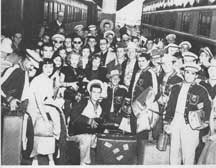 1952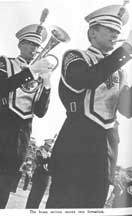 1963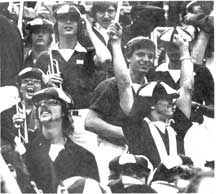 1978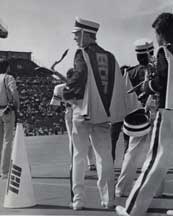 1987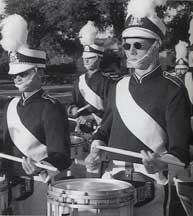 1997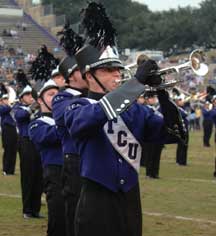 2004

James Jacobsen's thumbnail sketch of the history of the TCU Band
1904 The Beginning -- Pep band, and not too good. Went on for years in that capacity with two or three different directors enlisting any student who knew what a drum or trumpet was.
Early 1930's Claude Sammis -- Took over band after years of haphazard existence. Was Chairman of Music Dept., orchestra director, then band director. Incidentally, he wrote TCU Fight Song in 1928.
1935-1942 Don Gillis -- (A). Gillis was one of Sammis's students, who immediately upon graduation from TCU in spring of 1935,became band director.
(B). About 1934 & 1935 "swing era" began with such notables as Glen Miller, Tommy Dorsey, Benny Goodman, Artie Shaw, and others.
(C). Dr. Gillis was an outstanding composer/arranger. Arranged all popular tunes of the day ala swing which really put the TCU Band on the map in the 7 years he was its director. He established the 60 piece all-male band which was a tradition until the early 50's, which was also about the time females began to be included. Gillis went on to even greater heights in New York as one of NBC's music directors. He was right hand man to the immortal Arturo Toscanini conductor of famous NBC Symphony Orchestra. Also, composed many fine pieces for band.
(D). Amon Carter was a great benefactor of the band. He bought various instruments for the band, and he literally sent the band wherever the football team went. Since this was long before the advent of airline travel, he would charter trains with Pullman cars for the band and football team. For the edification of younger folks Pullman cars consisted of private compartments, each of which had upper and lower bunk beds. Occasionally, as the band boarded the train, Mr. Carter met them with one of his specially designed Western Shady Oaks Stetson hats,and a $20 bill with the promise, "And there's more where that came from, Boys! Have a good time!" One such trip was to New York's Madison Square Garden. The crowd enjoyed the band so much that when the game was over, and the band went out on the court to give a little post-game concert, the entire audience remained and kept them playing for more than an hour.
1942-43 Naomi Whitehurst -- Director of Bands one year
1943-44 John Woldt -- Director of Bands one year
1944-49 Leon Breeden -- Band was made up largely of veterans of WWII who were impossible to control. One year, arriving back on campus after the Fat Stock Show Parade, the band guys somehow acquired a big white horse. Then they proceeded to ride the horse through the old Ad Building marching behind it and jamming "Onward Christian Soldiers. Another year the football team and band went by train to Kansas City for the Kansas game. As the game started so did a real bad rain storm Part of the band's show was to spell out "HELLO." The drum major took the band down behind the stadium during the second quarter and changed the show slightly. First, they spelled "O HELL," then the "O" ran to the other end of the formation spelling "HELLO."
1949-50 Lawrence Intravia -- Director of Bands one year
1950-55 Lew Gillis -- Was mascot of band under brother Don. He graduated TCU and next day was Director of Bands. He was a wonderful musician, but had no experience directing a marching band. The band dwindled to 35 in fall of 1954, including 7 majorettes and drum major. Didn't have enough musicians to have aconcert band, spring of 1955.
1955-81 James A. "Jim" Jacobsen -- His first year, TCU won conference and went to Cotton Bowl with much less than a good band. The next year was much better. The third year the band was very good and made history by introducing a new marching technique called Peeloffs or Moving Diamond Drills. The original Moving Diamond Drill was done on national TV twice in 1958, including Cotton Bowl. Over the years this technique became widely used nationally. The concert band had begun to do well, also.
1981-82 Curtis Wilson -- Interim Director one year.
1982-92 Bob Blanton -- Developed outstanding wind ensemble.
1992-93 Dave Henning -- Interim Director one year. Did outstanding job with marching band.
1993-99 Greg Clemons -- Director of Bands 6 years.
1999-00 Fred Velez -- Interim Director one year
2000-current Bobby Francis -- He is beginning his fourth year as Director of Bands and is doing doing a terrific job.