Why TCU is the "hot school" | The Face of TCU
Making the class
Though applications flood into TCU in record-breaking numbers -- more than 8,000 this year -- the Office of Admission makes sure each one gets personal consideration. Here's how they do it.

By Rick Waters '95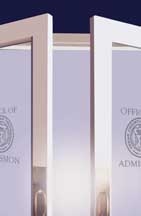 The first application Brooke Vining '03 evaluated as a TCU admission counselor was strikingly similar to her own five years earlier.
An SAT score within points of hers. Same high school grade point average. A few advanced placement courses at a respected public high school. Ambitious load of courses after junior year. Senior class president, honor society, homecoming court, leader in her church group, strong teacher recommendations. Even hundreds of hours of community service.
It was a solid -- if not impressive -- package of accomplishments. Except this new applicant was in the lower half of TCU's prospect pool. Vining's had been near the top.
"It was definitely a humbling experience," she recalled. "On paper, this student was essentially me five years ago -- similar scores, similar transcript, same level of involvement. But their acceptance wasn't an automatic. I was really going to have to spend some time with the essay and the application to distinguish it from others.
"I guess people say it every year, but it's true: Each incoming freshman class gets smarter and smarter."
It is true.
In the last five years, TCU has experienced unprecedented success in admissions. Applications are up 59.4 percent. The percentage of students admitted (the selectivity rate) is down to 63.9 percent (remember, lower is better). Average SAT score has hit 1174, up from 1151. Average rank in class is in the upper 20.32 percentile, down from 21.07. All are records.
Why?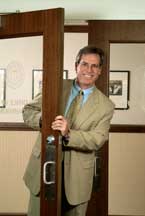 "It's the explosion of applications," said Ray Brown, TCU's dean of admission. "It's a nationwide trend, a reflection of our society. A generation ago students applied to one or two schools and they got in. Admission was rarely in question, except for a few highly selective schools."
The sheer number of applications is "staggering -- nothing like it used to be," said Jim Atwood, associate dean and professor of religion. He joined the admission staff in 1983 when the office was processing slightly more than 3,000 applications for the year. "Now we get that many before Thanksgiving."
According to census data, the United States has half a million more 17-year-olds than it did 10 years ago, and more are applying to college than ever before. By 2009, an additional 400,000 students will graduate from high school, bringing the total to 3.3 million, highest since the baby boomers.
As this population surge hits college admissions offices, students hedge their bets by applying to more schools. A U.S. News & World Report study showed that only 9 percent of high schoolers applied to more than six colleges in 1993; a decade later, almost one in four did. Not surprisingly, 76 percent of universities reported jumps in applications.
But few have had the success of TCU.
The university reviewed a record 8,061 applications in 2004, compared to 5,028 in 1999 and 4,233 in 1995. "That's almost double in 10 years. Very few have done that," Brown said.
Meanwhile, TCU has improved its selectivity, an all-important criterion that indicates prestige. As recently as 1997, TCU admitted nearly eight of every 10 applicants. Last year, TCU turned away more than a third of its pool, many of them excellent prospects.
Add to that the record highs in class rank and SAT performance -- both factors in class profile, another measure of prestige -- and it is fair to say the Office of Admission has been on a roll.
But with this success, there is some head-scratching news as well. For all the new records, the profile of each new class has only slightly improved from year to year.
Brown puts it this way: "The good news is that we're probably the second most selective school in the state behind Rice. We are really developing a niche as one of the best universities a notch below them. In some cases, the in-state students whom Rice doesn't admit are looking at us next.
"The bad news is that we're still probably no better than seventh or eighth in Texas when measured by profile (grades, class rank, test scores). But I think we'll continue to inch up."
Where we really stand
Essentially, TCU is getting a lot more of the best above-average students and a few more of the top performers.
Imagine the university's applicant pool five years ago as a circle: a few elite students at the top, a majority of solid performers in the middle and a few late-bloomers and promising candidates at the bottom.
Now that circle is more like an oval.
Make no mistake. TCU is still considered "the hot school," to use admission parlance, because of strong word-of-mouth from alumni, parents, high school guidance counselors and current students.
There is no single answer why:
- Not just successful athletics, although admission counselors who travel the country say the TV exposure has helped, especially with name recognition, even if they can't quantify it.
- Not just the completion of new buildings, although nearly every prospect who steps foot on campus seems awestruck, particularly by the recreation center and Tucker and Smith buildings.
- Not just faculty or academic programs, although national recognition for fine arts, business and nursing has not gone unnoticed.
Admission counselors say it's a combination of all these factors, and report that students and parents frequently mention one or more.
This recent success, Brown says, also has vaulted TCU to among the top of its peer institutions, such as Baylor, SMU, Trinity, Austin College and Tulane. A dozen years ago, the university was near the bottom.
"Now we're even beginning to knock on the door of the aspirant group of schools north of us, such as Vanderbilt, Emory, Wake Forest and Richmond," Brown said.
SMU and Baylor are the schools TCU is most compared to, but Brown contends that they are not the biggest rivals. "Our main competition is UT and A&M. They are numbers one and two, particularly before students apply."
More often than not, TCU dukes it out with those two for high-achieving Texas high schoolers. "We lose so many students to Texas and Texas A&M who never even apply to us," Brown said. "They think, 'I can't afford TCU' or 'I can't afford that type of education.' But once we get them to apply, we hold our own. We lose an awful lot more to UT than I like, but we're starting to beat A&M more consistently."
Once prospects are convinced about going to a private university, then SMU and Baylor enter the picture, and Brown reports that "we're winning more frequently against them than in the past."
How it comes together
The TCU admission process starts with roughly 300,000 names, most of them on lists purchased from the National Research Center for College and University Admis-sions, the ACT Assessment and the College Board, which sponsors the PSAT and SAT.
These names become part of "Search" mailings used to target certain types of students, such as high scorers on the PSAT, those with strong high school grades or members of the Disciples of Christ Church.
The lists are getting longer as TCU has begun in recent years to target high-achieving sophomores and freshmen.
"We have to send materials to even younger students now," said Ben Alexander, marketing director for the admission office. "Research shows that most students have a short list of schools by their junior year, and we need to get their attention before they make that list."
"Search" letters aren't fancy, but they are effective. From the 300,000 names, which Brown calls suspects "because they're not even prospects yet," more than 40,000 reply, roughly 14 percent, which is remarkably good. In direct mail circles, anything above 2 or 3 percent is considered a huge response.
The letters translate into enrollment. Last year, more than 200 of the 1,600 incoming freshmen learned of TCU for the first time through "Search."
Whether they return a card from the mailing, meet an admission counselor at a college fair, respond to an ad or click on the Office of Admission Web site, the respondents become part of the prospect pool of about 75,000.
The next mailing goes to "rising seniors," students who are completing their junior year of high school. These prospects get information about areas of study, campus life and housing, an application and making an official visit. This group makes up more than 70 percent of the pool, or about 55,000.
Much of the communication is done throught the Internet, which has changed how the university reaches prospects. The admission Web site allows prospects to take a virtual tour, view videos, ask SuperFrog questions and meet their counselor. And they can apply online, which nearly half of them did last year.
Each year, TCU receives thousands of electronic messages with questions about grades, advanced placement courses and financial aid. The university sends more than 250,000 responses, reminding of approaching deadlines and admission events in a prospect's hometown and giving tips on easing the admission process.
On the road
Every fall, travel season starts and TCU's 13 admission counselors hit the road. Most are responsible for a few high schools in the Metroplex, a geographic region in Texas and a region outside the state.
"When I travel, I visit as many as four high schools a day," said admission counselor John-Mark Day '02, whose out-of-state region includes Kansas and Missouri. "Some have very complicated class schedules, so it can be difficult to see students and guidance counselors. But those are the two goals: Make a significant connection with the counselor and spend time with any students or parents interested in TCU."
At night, travel team members may have a booth at a college fair or set up individual interview appointments. From crack-of-dawn mornings to late nights, the routine is anything but glamorous.
And at times, it can be downright frustrating. "No pass, no play" legislation enacted in the 1990s has made it difficult for many high school students to get out of class, even to meet college representatives. "Many high schools are very inflexible," said Brown. "They allow us to come before school, during the lunch hour or after school. Do you know how many students are willing or able to come early or stay after? Not many."
Further complicating the job, guidance counselors at large public high schools must juggle as many as 600 college-bound students. "Many days, they don't have a lot of time for us," Brown said. "They have other worries, like getting students into their own school's classes or handling substance abuse issues, absenteeism, pregnancies."
For the relationship to work, it must be symbiotic. The counselors are selling their students to TCU, and the travel team is selling TCU.
"Over time, you establish a trust," Atwood said. "With several high school counselors, I can pick up the phone and ask about their students, and they are very insightful."
When travel counselors do get to see students, what do they look for? "I want to see how engaging students are in conversation," Day said. "It's a good way to assess their needs and ambitions, but it's also good for seeing who the real stars are."
Atwood wants to experience a student and a person. "I look for character, leadership potential, academic achievement and a sense of curiosity about the world. I tell them now is not the time to be shy."
Providing answers
When it comes to questions about application deadlines, financial aid and scholarships, students and their parents aren't bashful about asking. So TCU has developed a series of seminars on college admission called Public Service Programs. The emphasis is light on TCU and heavy on the basics, but the result has been tremendous marketing for the university.
"Students and parents see TCU as being dedicated to helping them through this process," said Karen Lind Scott '83, admission counselor for international students and a regular presenter with her husband, Mike '83 (MS '92), who is director of financial aid and scholarships. "As a result, they really take an interest in us. I know these have been effective because other universities are developing their own programs like it."
TCU-specific questions are answered in programs called Sneak Previews, where students watch the university video and get information on all things TCU.
For example, many prospects outside Texas often ask about the C in TCU. "I get that question a lot," said Vining. "Many of them wonder if we require attendance at weekly chapel services like Baylor or Oral Roberts do."
Those concerns don't trouble Brown. "Students who want regular religious affirmation can find it at TCU, but that is not our culture," he said. "Once they understand that our church relationship is blended with our core value of welcoming other viewpoints, it becomes a real selling point."
While admission counselors are on the road, students and their parents are visiting campus. TCU schedules eight or nine "Monday at TCU" events per year, with 100 to 150 students attending. With parents, crowds routinely swell to 450.
Almost any other day of the week, the Office of Admission sees students for special visits, where they can sit in on classes, talk with faculty members or spend the night in a residence hall.
"We call it test driving," Atwood said. "And when applicants take us out for a spin, we do very well. They see the grounds and the buildings and meet people and get to make their own inspection. Ultimately, they see how user-friendly we are, and that makes a lasting impression."
Making hard decisions
From the 55,000 "rising senior" prospects, TCU receives more than 8,000 completed applications, which include an official application, high school transcript, test scores, activities résumé, essay, evaluations from a teacher and guidance counselor and the application fee. A unique feature of the TCU application is the optional page on which students can submit a creative expression of some kind.
Applications are classified two ways: administrative, which are very strong applications that do not require a counselor review, and referral, which is thoroughly inspected. The vast majority fit the latter category.
Counselors then begin the review process, and each has his or her own style. Some read the essay first. Some look at test scores or biographical information. But most begin with the transcript -- grades, rigor of high school curriculum and class rank.
"It tells the story the best," Brown said. "It's the most accurate snapshot of students and their work and is the best predictor of success in college. Those three, and standardized test scores, make up about 70 percent of the admission decision. So it is largely academic. The other 30 percent comes from factors such as teacher recommendation, counselor recommendation, essay, activities résumés, creative page, personal interview."
Other important intangibles: the way a student writes; diversity factors, such as ethnicity; legacy status; and life experience.
Not only are applicants reviewed against their peers, they also are compared to applicants who came from their high school over the last three or four years.
"We like to use that historical data to measure a student against his or her class," Atwood said, "but also against students who came from the same school. We try to be a little more selective each year."
But what TCU doesn't do is formulaic admission. There are no GPA or test score minimums. Counselors consider everything sent to them. Vining asks applicants to send a picture, which she clips to the transcript. "It helps personalize the application during review," she said. Day places a lot of weight on honors and advanced placement courses. "The first thing I look at is what classes students took and what grade they got."
A rule of thumb: Above-average grades in tougher courses often are more impressive than stellar grades in a general curriculum. "We have parents and students asking if we know how tough a certain school is and if that fact will be considered, and the answer is yes," Day said. "We know, and it is part of the equation."
Personal interviews over the phone or in person help counselors answer questions about low test scores or a semester of mediocre grades. "Sometimes that background on an applicant's story can be valuable when we are faced with tough choices between similar applications," said admission counselor Victoria Herrera, who focuses on minority applicants and urban high schools.
The review process culminates in a counselor's recommendation to Brown and Atwood. The two discuss the application with the counselor and make a decision: admit, deny, wait list or defer, often to look at senior-year grades or fresh test scores. Ultimately, about 5,200 are admitted to create a class of 1,600.
The final decision-making differs from fall to spring. Early in the process --November through January -- more spots are up for grabs and theoretically it is easier to enter the class. But admission's goal is to snap up as many elite applicants as it can first and build up its profile. For the above average student, applying early generally gets more consideration.
"We are more open-minded early, but we keep an eye on the bottom line," Brown said.
Admission counselors focus on a couple of key questions: "Can an applicant do the work?" and "How does one student compare to past students from the same high school?"
A fundamental concern is how will an individual fit in with the rest of the class.
Later on -- February through April -- when fewer spots are available, the admission staff is more selective and competition heats up. Even great prospects are not guaranteed a place in the class at that point.
Brown puts it this way: "Early on, the admissions team has a good idea of whether an admitted student will be one of the stars of our class, somewhere in the middle or at the bottom.
"We often think about what a student will do to the university, as in, 'If we admit this student with these grades and scores, we'll have to admit these others.' How far down we go at a particular high school, that becomes the bottom. We don't want to go down too far too early.
"Toward the end, it becomes a matter of making tough choices. 'Do we want to extend a precious spot in the class to this student?' "
The vast majority of applicants fit the description of being well-rounded, but occasionally Brown and Atwood make decisions based on instinct and admit a few wild cards.
"We do not at all disparage the student with a singular passion, such as the computer genius or world-class musician who spends all her time in the practice room," Brown said. "We're admitting a class, not just an individual. So we are willing to take calculated risks. Some of your most notable and famous alumni are those monodimensional individuals."
Then there is the relatively new phenomenon of "demonstrated interest."
In an era of electronic applications, some students do not think twice about applying to more than a dozen schools simply because it is not difficult.
Universities, deluged with applications and faced with making hairline, tie-breaking decisions between equally strong prospects, are averse to wasting an acceptance on "ghost" applicants with little or no intention of accepting an offer.
These "ghosts" adversely affect a school's yield, which is the percentage of offers that are actually accepted, a measure that has been a part of the annual U.S. News rankings.
So TCU now considers an applicant's contact with the university. Did a prospect visit campus? Was there an interview with an admission counselor? Or did the student simply send in an application or make contact one time at a college fair?
As for those essays, yes, someone is really reading them, and agonizing over them. "Do they use correct grammar? Do they have a point? Is it being told well? These are the main points I'm looking for," Atwood said.
Day gives credit to essay writers who take chances. "I get a lot of essays on church mission trips, so when I came across one that argued that tiramisu was the best dessert ever, it stuck in my mind. Plus, the student wrote it well. It was very clever."
SAT scores don't mean everything, but they are an important measuring stick, Brown said. Extracurricular activities count, but not if they are résumé fillers. "I hate seeing a grocery list of accomplishments," Vining said. "We're looking for well-rounded students with leadership potential. Marginal membership in many clubs is not as impressive as demonstrated leadership in a few."
After we say "yes"
After being admitted, the decision to enroll is in the student's hands, and the decision is often based on the relationship built between student and school. In other words: Are the two a good match?
"For a 17-year-old student, deciding where to attend college is emotional and personal," Atwood said. "That's why in the spring we begin hosting receptions and making more phone calls, especially to the students we've admitted.
"But mostly, our job as counselors is to help students find their best match. It may be at TCU. It may not be."
After most of the admission decisions have been made, the scholarship and financial aid process begins. Scholarships are awarded in a kind of competition, with counselors meeting together and re-evaluating admitted students' profiles.
Academic success counts most, accomplishments and honors rank second, and activities and leadership are third.
In the last two years, TCU has increased its scholarship offerings by $2 million to about $3.8 million per year, mostly because "the applicant pool has been better," said Mike Scott, director of financial aid and scholarships. "And we saw another jump in test scores."
Still room to improve
With the momentum of recent success, the Office of Admission is more confident than ever in having a good applicant pool annually, and it can base more decisions on class makeup.
Race matters. So does legacy status. So does geography. All are criteria TCU considers in making its class. But none is a guaranteed ticket.
TCU will continue to make extra efforts to recruit and enroll students of color, international students and males, but not just to make its numbers look better. But diversity in class is not limited to race or ethnicity. "It has to do with different ideas, different ways of doing things, different faith traditions, geography," Brown said. "Ultimately, we want to be closer to being reflective of the society in which we find ourselves."
There's plenty of room for improvement. Non-white students account for less than 18 percent of the class entering in 2004. Females continue to outnumber males 62 percent to 38 percent.
But there are encouraging signs. The university has expanded its Community Scholars Program by adding three more urban high schools with minority populations to bring the total to nine, including one in Dallas and one in Arlington. The number of minority applicants has more than doubled from 829 in 2000 to more than 1,900 in 2004.
"The main message we're sending is that college is a choice for them," said Herrera.
With international students, TCU is seeing the number of foreign applicants begin to return to levels before 9-11.
"There is still a lot of fear about safety in the U.S.," said Karen Scott. "But they still see the value of an American education, and TCU's global mission is resonating with them."
Brown says the ultimate goal is to find students who will succeed at TCU. "To admit someone who is not likely to succeed isn't good for anyone involved," he said.
How long can TCU remain the hot school? How long can admissions continue to improve class profile and bring in applications in even greater numbers? In the cyclical world of college admissions, nothing is guaranteed.
"The only way we'll continue our success is getting the best students," Brown said. "That's our top priority."
E-mail comments about this story to tcumagazine@tcu.edu.