More in Riff Ram
A winner with class | First Person ... Lance Broadway | Spring roundup |

A comeback complete
Healthy for the first time in two years, senior pitcher Tim McGough has been an unexpected contributor for the Frogs.

By Rick Waters '95
Lots of numbers stand out from Tim McGough's senior year on the mound for the Horned Frogs.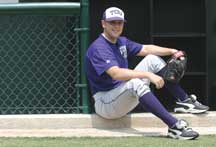 The right-hander is second on the team in wins with six and second in earned run average with 2.64. But perhaps most important, he has made 12 starts and thrown more than 60 innings.
Last season, he barely threw 60 pitches.
It's been more than two years since Tim McGough transferred to TCU from University of Texas, blew out his arm and had Tommy John surgery on his pitching elbow. Doctors extracted a tendon from his left arm and used it to replace the torn ligament in his right, weaving the healthy tendon through holes drilled above and below his elbow.
The following season, McGough attempted a comeback. "I started the year feeling halfway decent," he recalled "I thought I would just end up getting stronger throughout the year."
It didn't turn out that way. He pitched only 12 1⁄3 innings before sitting out to rest. "I think I might have come back a little too early and one problem led to another."
Now, for the first time, he's been healthy for a whole season as a Frog and has developed into one of the team's most consistent starters.
"Certainly, his performance has exceeded expectations," Coach Jim Schlossnagle said. "He's exhibited great mound presence. At times, he's had dominating stuff, and at times, just average stuff. But he's still able to compete with what he has on that day, which is the sign of an experienced pitcher."
Early in the season McGough even had a streak of 25 scoreless innings, rolling up wins against Oklahoma and Texas Tech.
"He was huge for us early in the year with wins against good teams," fellow pitcher Lance Broadway said.
But it was a grueling road back. McGough spent the summer and fall focused on getting his body and arm in shape for his final season, and trying not to overdo it.
But in the process he dropped 15 pounds, impressing the coaching staff with his commitment to fitness.
"The knock on Tim has always been that he's not in great shape," Schlossnagle said. "In the off-season, he really dedicated himself and it's paid off."
McGough began the season as a starter, but on a limited pitch count. He made his first start in the season opening series against Utah but threw only 60 pitches and went 3 1⁄3 innings.
Still, he felt a sense of relief after the start -- his arm felt good. "It had been a year and a half or two years since I had thrown 60 straight pitches," McGough said. "It was a building block for me."
A former standout at Nolan Catholic High School in Fort Worth, McGough has gradually increased his pitch count as the season has progressed.
He spent the first half of the season as the midweek starter, which allowed him to build his confidence.
"Most of the times, our midweek games have a lot more riding on them than our weekend games," Schlossnagle said. "I threw him in the midweek games because he was as good a pitcher as we had. He's a fifth-year senior. I trust him to tell me how his arm feels."
Schlossnagle said he moved McGough to the weekend rotation midway through the season so the Frogs would have more bullpen help. With McGough's past arm problems, Schlossnagle has only used him once a week.
The change has not had any negative effects on McGough, who has kept on cruising.
"He's got great numbers, and he's kept us in games," Schlossnagle said. "I would like to see him go deeper in games, but just having him healthy has been a great story for our team this year. We're glad he made it back for his senior year."
McGough is too.
"I'm just glad to have contributed. This was a good way to end my career here."

Take me out with the crowd
Lupton Stadium and large crowds were synonymous this season. The ballpark, home to Williams-Reilly Field, drew seven of its 10 largest crowds this season, including the biggest ever of 3,251 in April when TCU welcomed academic and attendance stars from Fort Worth schools. "The support by our fans and the community starts and ends with the success of Coach Schlossnagle and the excitement he and his staff brought into the season," said promotions director Wes Livesay.
Date Opponent Attendance
04/27/05 Texas-Pan American 3,251
02/02/03 Texas-Arlington 3,105
02/15/05 Texas Tech 2,502
05/15/05 Louisville 2,217
04/27/04 Baylor 2,113
04/19/05 Baylor 2,013
02/22/03 Texas Tech 1,938
03/23/05 Oklahoma 1,864
03/19/05 Southern Miss 1,851
03/08/05 Texas Tech 1,848
-- Keith Bunch, HornedFrogBaseball.com