More in Riff Ram
A winner with class | A comeback complete | First Person ... Lance Broadway |

A pioneer and a trainer
Elmer Brown 1914-2005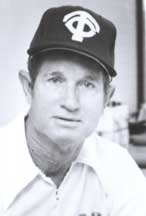 Elmer Brown, a pioneering athletic trainer at TCU from 1951-1977, died in March at age 90.
Brown was a charter member of the National Athletic Trainers Assocation and is in that organization's Hall of Fame. He also is a member of the Southwest Athletic Trainers Association and was head trainer for the 1956 U.S. Olympic team.
Brown is known for several innovations. In 1961, he invented a steel rib pad that was the precursor of protectors worn by quarterbacks today. He also introduced the fitted mouthpiece and extensive taping of athletes.
Former head trainer Ross Bailey, (below) now Associate Athletics Director for Operations, considered Brown to be his mentor.
"Everything I know in this profession -- and a lot about life -- I owe to him," Bailey said. "He loved TCU dearly."
Before achieving success as a trainer, Brown was an accomplished athlete at the University of North Texas. He and his twin, Delmer, were half of a four-man mile relay team (above) that set an indoor record at the Milrose Games in New York in 1938. He is in the UNT Athletic Hall of Fame.

TRACK & FIELD
Ending Conference USA on a run
Kip Kangogo continued his Conference USA undefeated streak and the Horned Frogs brought home seven event titles at the Conference USA Outdoor Track & Field Championships in May. The TCU men earned runner-up honors in the team standings, while the women placed sixth in their final C-USA competition.
Kangogo, a junior from Kabarnet, Kenya, was the winner in both the 1,500 and 5,000 meters, giving him six gold medals at meet. Earlier this year, he won four titles at the C-USA indoor meet, winning the mile, 3,000, 5,000 and the distance medley relay. Kangogo set a meet and two stadium records, capturing the 1,500 meters with a time of 3:43.82 and taking the 5,000 meters in of 14:29.48.
TCU continued its tradition in the relay events, passing the stick to a winning time in three events. The women's 4x100 meter squad of Nathandra John, Deborah Jones, Jamee Jones and Donita Harmon, turned in a season-best time of 44.59 seconds to start it off.
The Frogs finished the day strong by sweeping the 4x400 meter relays. The Frogs' foursome of Marquita Davis, Deborah Jones, Donita Harmon and Nathandra John broke the meet and stadium record with a time of 3:34.82, while the men's quartet of Quincy Butler, Jacob Hernandez, Jackson Langat and Brett Wilson coasted home to victory in a season-best time of 3:05.70.
Senior Cleavon Dillon earned a silver medal in the long jump competition but suffered a knee injury on his final attempt.
Freshman Bradley Reed continued another TCU tradition by capturing his the C-USA crown in the 100 meter dash.
As expected, the Frogs ran away with the top two spots in the men's 800 meter run. Junior Jackson Langat, the 2003 C-USA champion who was unable to compete last year due to injury, held off freshman teammate Jacob Hernandez to take the title. Langat finished in a meet and stadium record time of 1:47.38, while Hernandez, who was named the C-USA Freshman of the Meet, was second in a season-best time 1:47.96.

GOLF
Swingin' for a national championship
The Horned Frogs, ranked ninth in the nation according to the Golfweek/Sagarin rankings, are dominating again.
Led by an award-winning lineup of senior J.J. Killeen, senior David Schultz, junior Colby Beckstrom, sophomore Drew Stoltz and freshman James Sacheck, the men captured their school-record fifth consecutive league title in April and are seeded third among 27 teams at the NCAA Central Regional, set for mid-May.
This marks the 16th straight regional appearance for the Frogs under head coach Bill Montigel.
Following the 54-hole event, the top 10 squads and the top two individuals on non-qualifying teams will advance to the NCAA Championships, held June 1-4 in Owings Mills, Md.
TCU enters the Regionals on a hot streak, having won its last two tournaments, the National Invitational Tournament and the Conference USA Championships.
"We're excited to be representing TCU at regionals again," Montigel said. "Our guys enjoyed playing the Warren Golf Course last month and are eager to play in another tournament. This is a strong region with a lot of really quality teams. We'll have to play very well all three days in order to advance."
TCU has advanced to the NCAA Championships 13 times in school history, including 10 of the past 14 seasons. Last year, the Horned Frogs tied for 20th at the NCAA Championships after advancing with a fifth-place finish at regionals.

FIVE QUESTIONS WITH ...
Dan Abdalla
head track coach
Former head women's soccer coach at UNLV, Dan Abdalla was named the Lady Frogs' top man in March. He posted a 54-38-8 record with the Lady Rebels the last five years.
Q: What attracted you to TCU?
A: The academics, the talent in the Texas area and the commitment that the university has to be successful in women's soccer all presented itself to winning championships. I saw an environment to do some unbelievable things and put the program in position to be on the national playing field.
Q: What can be expected in the Mountain West in women's soccer?
A: You're going to see a lot of great athletes with a lot of speed and we're going to have to adjust to that very quickly. The parity within the conference is great, so every game is winnable. It is a conference that is on the rise as in the last couple of years there have been three or four teams that have been able to make solid arguments into getting into the NCAA Tournament.
Q: How would you describe your coaching style?
A: I believe in playing to the strength of the players. We're going to recruit the best players and the best athletes that we can get and then we'll simply adapt a system to what makes sense. I am very a possession-oriented coach but I also believe in playing to win rather than playing not to lose.
Q: How do you sign talented kids here?
A: We want them to come here so they can be a part of building a championship tradition at TCU. That opportunity to be able to come in and make an impact is a unique option for these local players. I will knock on everybody's door. I don't care if they are a national team player and North Carolina is knocking on their door.
Q: What's been your biggest adjustment?
A: The change that I am looking forward to most is the academic reputation of TCU. That will be a big change for me and will open the doors to a lot of kids I have never recruited heavily. I've talked to these types of players, but I have never had them play for me. Having these academic standards will be absolutely tremendous and a huge asset.