More in Riff Ram
A winner with class | A comeback complete | Spring roundup |

First person ... Lance Broadway
Junior pitcher Lance Broadway (14-1 1.67 ERA) set TCU records this spring for victories and strikeouts (144) in a season.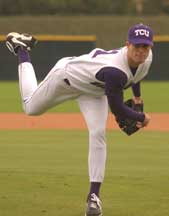 ON HIS EXPECTATIONS FOR HIMSELF WHEN THE SEASON BEGAN
I always expect to do well, but my success extends from being on a good team. And this is a good team.
ON WHAT IT IS LIKE TO TRANSFER TO TCU
The team jelled early in the process. It's not like we had a lot of returnees. We had a lot of new guys and young guys, so it was easy for everyone to get to know one another and feel they fit in. My main focus was to make sure I belonged and for my teammates to feel I would do well.
ON SETTING SCHOOL RECORDS
Before the season, I didn't even know any TCU records. My focus was on helping the team win games. Now, if I reach those records, it will be special after the season is over. I'll know I had a good year.
ON HOW FAR HE THINKS THE FROGS WILL GO THIS SEASON IN THE POST-SEASON
When we play our best, we can play with anyone in the country. We haven't swept anyone lately because we haven't shown our best. But right now, we're just focused on getting in a regional. If we do that, I like our chances.
ON WHETHER HE'LL GO PRO OR RETURN TO TCU FOR A SENIOR SEASON
I'm going to do what makes me happiest. My dream has always been to be a Major League Baseball pitcher. But [my decision] will depend on how high I get drafted.
ON HOW HE WILL MAKE THE DECISION
I'll have conversations with my parents and Coach Schlossnagle, but it's my decision.
ON PLAYING FOR COACH SCHLOSSNAGLE
[Because I'm a transfer,] my relationship with him is a little different. He's just told me to continue what I do. It's much like a business relationship.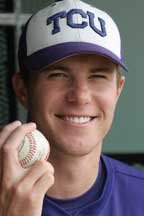 ON SCHLOSSNAGLE'S BEST TIP
Throw strikes.
ON HIS BEST PITCH
A strike. A pitcher's best pitch is his fastball. But my 'out' pitch is my curveball. When I need an out that's what I throw.
ON THE MAJOR LEAGUE PITCHER THAT HE MOST ADMIRES
I watch a lot, but I would say Clemens. I don't consider myself a power pitcher like he is. I have to work on location and finesse, like Greg Maddux, who is another guy I like. Why not start with the best?
ON HOW HE PREPARES BEFORE A GAME
I try to keep my mind on something besides baseball -- TV, newspaper, a book -- until I get to the ballpark. At the ballpark, what I try to do is mentally repeat three things: throw strikes, keep the ball down, and move in and out of the [strike] zone. I just keep repeating it and try to visualize doing that.