50 Years of Greek Life
A half-century of Horned Frog brotherhood and sisterhood.
By Allison Fisher Speer '91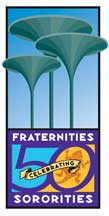 In the dust-covered history books that document TCU, Sept, 11 was tagged as tumultuous long before 2001. On that day in 1954 the Board of Trustees voted to establish national Greek fraternities and sororities on campus.
Heated debate, petitions, even a blue-jean clad effigy that hung from a tree in front of Clark Hall followed the decision.
The storm slowly settled, and a year later 150 men and 250 women endured the school's first Rush and pledged one of eight sororities and eight fraternities.
Fast forward 50 years. TCU's Panhellenic (meaning "all Greek") population has grown to 40 percent of the student body. Some fraternities and sororities have come and gone, and come back again, but the majority of the original 16 remain.
And to fit the needs of the campus' ever-changing population, a number of historically black Greek groups as well as the Multicultural Greek Council, which formed this year, now call TCU their home.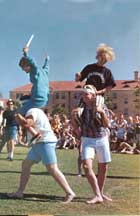 The story of TCU Greek life includes all the trappings of a good documentary: controversy, success, discrimination, change and evolution, trouble in paradise, rip-roaring good times and an everlasting impact on most who participated. The happy endings that come to many are due to a common thread that has kept the Greek system on campus: Community.
"The groups work well together because we truly are a community (in Worth Hills)" said Susan Adams, Campus Life Dean. "We eat together, study, live next door to each other. All those things promote a close community. In times of great joy, it's a way to share that joy and in times of tragedy, brother and sisterhoods quickly rally around each other."
From Alpha to Omega, sororities and fraternities are involved in just as many philanthropic activities as they are social events. While the Tri Delta/Kappa Sig's Western party, the Fiji Islander and the Sigma Chi Graffiti may be the hot topic of conversation on Monday mornings, Greeks have always put fund raising on their annual priority lists. It started with Greek Review, a musical extravaganza that benefitted local non-profits from 1957 until the mid-70s.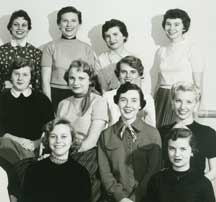 Individual groups then began adopting community organizations and providing thousands of dollars of aid each year. For example, the Delta Gammas have raised money for the Alexander Vision Clinic at Cook Children's Medical Center since the sorority's first meeting. Since the mid-1980s, the Tri Deltas have invited the community to decorate gingerbread houses and raise money for Cook Children's Hospital. And the men of Pi Kappa Phi support Push America, helping those with disabilities.
The variety of service projects is part of the fun: The Phi Kappa Sigmas host Phi Kap Man Day and the Sigma Chis take hats off for Derby Day for inter-fraternity competition.
According to Adams, these fund-raising efforts have become one of the strongest links in the TCU Greek system.
"The system is still here, still strong and healthy, because we do those things -- service, philanthropy, mentors and mentorship."
All this makes it hard to believe there was ever a controversy about Panhellenic groups on campus.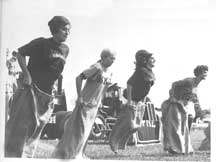 The idea that brought sororities and fraternities to TCU centered around declining enrollment. President M.E. Sadler reported to the Board of Trustees in 1954 that North Texas State University and Texas Tech had recently established these Greek groups, so why shouldn't TCU?
Just seven days after that report, Board Chairman Milton Daniel gave the go-ahead for several men to research, report and recommend whether or not these groups should become part of the fabric of TCU.
The issue stirred up a several months of heated debate on a campus previously void of real controversy. Student Dave Allred '55, sparked the anti-Greek movement at TCU, circulating petitions and garnering hundreds of signatures in hopes that TCU would listen to his reasoning. After all, TCU offered an abundance of social organizations, from the Bryson Club and the Parabola Club to the Rodeo Association and the Singing Seminarians. Why follow suit with other colleges -- first those in the Northeast, then trickling to Texas?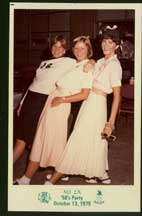 He wasn't the only protester; some 120 names on a Dallas TCU Women's Club petition was sent to Sadler, confirming that not all faces smiled upon the idea of Greek organizations.
But when it came to a vote, most men came out smiling. Six months after the first Greek letters were worn on campus, board members approved bringing Greek societies to TCU, although it wasn't unanimous -- 16 gave the thumbs-up, seven opposed.
History doesn't reveal who voted yay or nay, or why, but Vice President D. Ray Lindley's proactive opinion of Greeks at TCU proved to hold a lot of weight. Although he listened to teary-eyed students who protested the idea, he also campaigned on the advantages of the fraternal groups on campus, citing their scholarship plans and the worthy charities they supported.
No one is certain who hung the first effigy from a tree in front of Sadler hall that read, "Democracy at TCU was tortured to death at 11 o'clock Thursday, Sept.23 (the date of the board's final decision). But a group of prospective fraternity men who assumed it was Allred hung a life-size doll of Allred by Clark Hall with a sign that read, "Dave 'Die-Hard' Allred." On the back: "Dave You Name It, I'm Against It Allred."
Young Richard D. Duckworth '55 had buddies from his hometown of St. Louis, Mo., who pledged Phi Delta Theta at other universities. He was a senior when the Greek issue began to brew.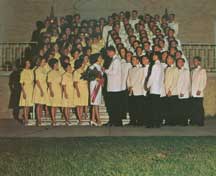 "I thought, 'I'll be a Phi Delt for the rest of my life even though I'll only be in the chapter a few months before I graduate.' I thought this was a great way to do it," he recalled.
"Mr. [M.J.] Neeley was my rush man. He called me down to the Fort Worth Club for an interview, so I put on my best suit -- the only one I had -- and went down and told him all about myself. I convinced a bunch of other athletes to join, and they had the original 16 chosen by November or October."
Today Duckworth lives across the street from his initiation ceremony site, St. Stephens Presbyterian Church on Merida, near campus. He recalls the the pastor praying over the 16 boys (four from each class), saying a few words about Phi Delta Theta, and presto! Duckworth was in one of TCU's first fraternities.
The 1950s and '60s were times of trial and error for the Greek system. Greek Review was inaugurated in 1957. In 1965, ground was broken for Worth Hills. Since the Board of Trustees would not allow fraternity and sorority housing off campus, the former golf course became home for sorority and fraternity dorms, complete with a cafeteria.
Rush was slow to find its place on the school calendar; for a while an informal spring event was held to accompany the fall parties. Greeks raised money during Campus Chest week, which featured a faculty/fraternity basketball game, Greek Review and now-politically incorrect "slave auctions" where each sorority put up two members as candidates . Fraternities collected coins through the Ugly Man Contest, in which students voted by dropping coins in the jar with the ugliest candidate's picture attached.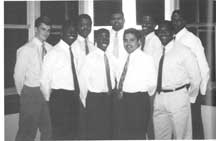 Historically Black fraternities, part of the National Pan Hellenic Council (NPHC), became a part of the Greek system in 1970, as Alpha Phi Alpha, Omega Psi Phi and Kappa Alpha Phi were officially recognized. The first NPHC sororities, Delta Sigma Theta and Alpha Kappa Alpha, followed suit five years later.
As the Greek system grew during the '70s, leaders began wrangling with hazing issues. The Skiff reported in 1975 that the Student Organizations Committee passed a resolution saying any social fraternity found guilty of hazing would be banned from campus. Fraternity paddles, once used as a right of passage, are now just symbolic.
"The problems students face today are the same as in the past -- alcohol and drugs, balancing freedom and academic success, hazing issues," Adams said. "College is about balancing a culture and making sure you have your priorities right."
In the '80s TCU said hello to the Fijis and goodbye to the Kappa Deltas and Alpha Phis, which withdrew their chapters due to low numbers. The sisters of Chi Omega were hosting annual Apple Polishing parties, and the Tri Deltas could always be seen -- as they still can -- wearing yellow aprons and selling programs at football games.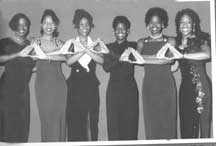 Girls who pledged sororities since the early '90s remember running across the hill that leads to Worth Hills. Connecting the Rickel building and the bright awnings of Greek houses was a long, hallway-like stretch of frat boys, through which each girl had to run to be greeted by her new sisterhood on the other side.
Many remember the days of Ribbon Dances, where sororities introduced their ribbon-bedecked pledges to the student body and faculty. Pledge lines, where pledges walked through a line-up of active sorority girls before receiving their bids, have faded into the grasses that front Colby Hall. Hazing, which, for some, was just part of the process, is now a serious legal matter.
What does the next half-century hold for TCU's Greek system? Fraternities and sorority chapters will change as cultural and individual needs of society demands. TCU must remain on the cutting edge of the nation's fraternities and sororities, said Campus Life Assistant Dean James Parker.
"The notion that one size fits all is dated and excludes smaller and newer fraternities and sororities from obtaining housing," he said, adding that the future may bring a new look to Worth Hills. A cluster of different-sized chapter rooms and houses might be grouped to accommodate the needs of the entire Greek community on campus. Whatever it takes, Parker said, to give students a vested interest in TCU.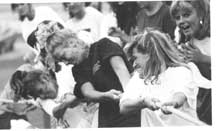 One thing is certain; with 50 years of history and still going strong, the TCU Greek system is still offering students many reasons to participate.
Tradition, said SAE Dak Hatfield '97, is the cornerstone of Greek life of TCU.
"During pledgeship, we bonded with our class of pledges in ways you could never bond with anyone else," he said. "It's great to be a part of something where everything you do is based on tradition."
Comment at tcumagazine@tcu.edu.

First person
Gail Martin '56
Zeta Tau Alpha
My Greek experience, like that of the other women who pledged in the first classes of 1955, was quite unique. Since there were no social clubs to petition the national organizations for admission, the women's groups at TCU were literally started from scratch.
Rush Week was run by active members of chapters from other universities and local alumni. When Rush was over, the actives returned to their respective campuses, and we were more or less on our own.
Since there were no Greek dorms either, the Rush parties were held in rooms in the Student Center and in the lounges of the women's dorms. Later, our chapter meetings were in rooms in the Student Center that were also used for other functions, so we had no place that we could call our own.
I pledged Zeta Tau Alpha and became the pledge class president, and, therefore, the first chapter president. Fort Worth alumni acted as advisors and big sisters, and in late spring we were initiated and became full-fledged members of the first Zeta chapter on campus.
One of my favorite memories of as chapter president was the time I was "invited" to Dean Shelburne's office for a little chat after some Zetas were caught leaving the campus wearing shorts (or maybe jeans -- it's been a long time) which was a big no-no in those days. Most of the women on campus solved the problem by wearing skirts over the shorts or rolled up jeans. Apparently, these Zetas forgot the skirt. I don't remember the threatened punishment now, but I will never forget that experience!
I know that we, like the other Greeks, worked hard to get our chapter started and to leave a legacy for the women to follow us. I remember those days as fun, exciting, and lots of hard work!
Jay Langhammer '66
Delta Tau Delta
In the fall of 1961 when I pledged Delta Tau Delta, I had no idea of the lifelong commitment I would make to my fraternity and the Greek world as a whole. The opportunity to get involved in the Delt chapter (intramurals, rush chairman, vice-president) and in campus activities gave me a chance to mature and improve my people skills.
The friendships formed with Delts such as John Jackson, Kenneth Barr, Jim Lane, Jerry Ray, Luther King, Jim Garner, Travis Vanderpool, Kent Nix and hundreds of others are still in effect today and I take pride in all the things accomplished by my brothers since our college days at TCU.
By the time I graduated and joined the Air Force, I had established a relationship with Delt headquarters through attending conferences, contributing chapter reports to our magazine and submitting a few sports features. In 1967, the Delt magazine editor asked me to write a sports column in each issue. Thirty-eight years later, I am still writing the column and (since the early 1990's) have also covered Delts in the entertainment world.
The opportunity to write for my own magazine later expanded to writing features for more than 30 other national fraternities and covering Greeks in sports and entertainment for the National Interfraternity Conference website.
Because of my involvement in research and writing on a national level for other fraternities (and a few sororities) over the last three decades, I feel like I'm a part of those groups in a small way and continue to appreciate the role of Greek organizations at TCU and on campuses all over the nation.
Jeff Layne '91
Lambda Chi Alpha
Looking back on my days as a Lambda Chi at TCU, I confess that many of the specifics have faded from memory. What's left are more general, but lasting, impressions.
I remember that we took the business of fraternity seriously. We strived to achieve in academics and athletics, and we set the bar high for both every year.. We worked hard to contribute to our university and our community. Even our "partying" exhibited a level of intensity. (I think it was the main job of our social chairmen to make the fraternity president shudder in horror at least once a month.)
I also remember the easy camaraderie. Some of the best times I had were relaxing on a couch somewhere, talking or listening to football, not doing much of anything. I remember the atmosphere of mutual trust and the ease and comfort that simple activity brought to so many of us.
I remember the challenge of a group of young men, organized around a common set of values, leading themselves and each other toward a common goal. Learning how to lead (and follow) one's peers is difficult, and the lessons have stuck with me throughout my life.
I also remember criticism -- of the Greek system, our fraternity, and our leadership. At the time, I always reacted in a reflexively defensive manner, but much of the criticism stuck with me through the years, and I have learned from it, even if after the fact.
And I remember as a new associate that the seniors seemed so old and wise. Now I look at the fraternity and wonder -- who are all these kids? The truth is that 20-year-old men are not kids, and they have the capacity for true wisdom. It is the challenge of fraternity to nurture that wisdom. I am proud to say that at Lambda Chi Alpha, circa 1990, we were up to that challenge.
Allison Fisher Speer '91
Delta Delta Delta
A co-worker recently asked, "What does it mean to be Greek?" I thought the words would eloquently roll off my tongue, but they stopped midway up my throat.
"Ahhh, let me get back to you," I replied.
I knew long before I got to TCU that I would go through Rush. There were four of us from Abilene -- four friends since grade school -- who all pledged. Whether it was a decision our TCU Greek mothers helped us make or not, I don't recall. But I'm sure glad we did.
So many good things came from it. I found instant friends. I learned the value of community service. I reaped the rewards of a family of sisters to challenge me and help me grow into a responsible adult.
Of course meeting lots of cute boys and going to parties was certainly a plus. As was living in the sorority house with 50 sisters who shared clothes, food, sob stories and giggles.
That's what it meant to me then. But here's what it means to me now.
After more than a decade away from all things TCU and Tri Delta, I signed up, err, was bribed into volunteering as a Rush advisor last year. I reestablished old friendships with sorority sisters and alums who were advisors when I was but a pledge. Although I had long forgotten the rules of Rush, the faces I had not.
During the first Rush party (it's called Recruitment now), as the explosion of kenetic female conversation buzzed like bumblebees and girls grabbed hands to sing (loudly) about their sisterhood, I stood with the other alumni, my hands cupping my ears and wondered, How in the world was I chosen to be in this sorority?
Then I looked at these gleaming girls and had a mini-revelation: Whether you were in the Tri Delta house, the Zeta house, the Kappa house or even a fraternity house, the same thing was happening. The ideals, standards, songs and bonds that I learned were taught to every TCU Tri Delta before me.
And girls now and in the future will have the same kinds of experiences I had because a key element connects people in the Greek system: The sense of family.
Referring to someone as a fraternity brother or sorority sister evokes validity. To me, it's like as saying, "She's my cousin." Or better yet, "She's my sister." There is an inherent connection between people who are members of a Greek association, whether they are strangers or soul mates.
Belonging for a lifetime -- that's what being Greek at TCU means to me.
Ellyn Shields Morgan '89
Chi Omega
When I remember Greek Life at TCU, I think of a home away from home, new friends from all over the country, a chance to grow personally, to serve others and to develop leadership skills. As a member of Chi Omega, I felt challenged to achieve high personal goals and to represent our group with integrity.
A special photo on my shelf for almost 17 years reminds me of a favorite time at TCU. I spent the summer of 1988 preparing for Rush Week as Rush Chair for Panhellenic Council. The picture shows the group of PRCs (Panhellenic Rush Counselors) which represented each women's sorority that participated. I loved being a part of this group. Our teamwork and camaraderie transcended the differences of each individual sorority. We had a blast!
I also remember that for the first time we used a computer program to help with the bidding process. We used an Apple computer with 6-inch floppy disks to record data. We thought we were so advanced! I know many things have changed since then, surely for the better.
Michelle A. Hillman '00
Kappa Kappa Gamma
I'm lucky that Greek life was a part of my life. I loved the dorm, a.k.a. sorority house, complete with micro-fridge. We didn't have to lock our doors in the Kappa house, we could daily raid at least 12 other closets and we even had 20 cats in the parking lot to call our own.
More importantly, an established weekly schedule never failed us. Tuesdays were "32's Days," where the Kappas played cards with the SAEs while enjoying our favorite 32-ounce beverage.
Wednesdays got us over the hump. Our favorite havens included Boomers, where the song "Come on Ride that Train" provided a reason to lower stress and "raise the roof." Thursday was most anticipated though, providing mixers with the fraternities. My favorite, for obvious reasons, was the Crush Mixer where each girl got to anonymously invite two secret, or not so secret, crushes.
Weekends were equally stimulating with theme parties such as Sigma Chi Graffiti, SAE Paddy Murphy or Phi Delt Chili Cook-Off. My sisters and I were armed and fabulous with permanent markers, flapper dresses and mysterious ground beef, respectively.
Slow or fast, Greek life put many fond memories and friends in my life, none I would ever give up.
Nancy O'Neall '71 and Marsha Beck Sparks '72
Delta Delta Delta
It seems strange to reflect on life at TCU in the late 60's/early 70's, when it seems like only yesterday that we were singing "Good Morning Starshine" at Songfest or gathering in the chapter room to learn who in our circle of friends had been "dropped" or "pinned"-- the terms used then for "going steady" or "almost engaged."
And it couldn't have been 35 years ago since we had weekday curfews of 10 p.m. and had to lower buckets from second floor windows to haul in hamburgers that our fraternity friends (who had no curfews) procured at the Jack in the Box on Berry St.
Of course the reason we needed food after 10 p.m. was because we were up late studying and had eaten dinner at 4:30, the minute "the Greek" cafeteria in Worth Hills opened for the evening meal. (Hmmm. It seems like of lot of these memories revolve around food.)
There were the social activities -- the mixers with fraternities, the formals with other sororities, the good-natured competition of Sigma Chi Derby Day, with its greased log and donut eating contests (separate, not simultaneous, events). There were the countless hours we spent stuffing tissue paper into chicken wire to build Homecoming floats that were actually stationary attractions that resided on the mall south of the student center and didn't float anywhere.
There were the philanthropic activities -- Tri Deltas selling programs at every home football game to raise money for scholarships, enduring with grace the drunken Arkansas fans arriving in Winnebagos, speakers blaring, pig hats waving! We developed special bonds with the kids at Lena Pope Home, taking them to a semi-pro ice hockey game at Will Rogers Coliseum, hosting a Christmas party for them with a fraternity and much more. We often found ourselves involved with the entire Greek community in campus philanthropy events like the blood drive or in other Greek organizations' philanthropic projects.
And then there were expanded leadership opportunities afforded us by being part of a smaller group within the larger university community.
The diversity of our experiences and associations provided tangible and immediate benefits while on campus, but also shaped our lives for the future. In the circle of sisterhood we came of age, finding our way within the affirmation and acceptance of true friends -- free to be ourselves, yet challenged by academic and social standards to be our best.
We came to understand the value of participating in something larger than ourselves, the importance of teamwork over self, of accountability to ourselves and our community. Living together as a group taught us about sharing, compromise, and negotiation. Our perspectives and horizons were challenged and expanded. We learned what leadership was --and wasn't. Fun and laughter seasoned everything.
And, although we didn't know it then, the friendships sprouting in those halcyon days would grow to bless us beyond measure throughout our lives. Our life tapestry became richly shaded by the love, inspiration, and sustenance of those enduring friendships. Opportunity, challenge, skills, and lifelong friends -- we would not be the same without Greek life. We are far richer for it.
Horatio Porter '91
Alpha Phi Alpha
Like most freshmen that arriving on campus, I was naïve and reticent about the college experience, in particular Greek life. Having heard about fraternities in high school, I was extremely curious. At the time, there were only two African American fraternities on campus. Alpha Phi Alpha and Kappa Alpha Psi both offered the opportunity to further develop, but the service and academic focus led me to seriously consider Alpha Phi Alpha. Additionally, individuals from my local community served as gatekeepers to that organization. While apprehensive about the process, I had some confidence in the guys who were "guarding the door."
Without a doubt my Greek experience was not only enriching but also necessary for my progression. Raised in a single-parent home with four younger sisters, I didn't have the opportunity to develop "brotherly" relationships growing up. Of course, I had teammates from my athletic endeavors but those bonds were not always fulfilling. The fraternity allowed me to forge even deeper friendships. Ironically, or better yet coincidentally after more than 15 years of membership, those same guys are my good friends. Thanks to those guys for being brothers then but more important, for being brothers now.
In addition to lifetime friends, I also developed lifetime skills from the Greek experience. The leadership, teambuilding and communicating skills that were honed in college are fundamental assets in my professional toolkit. I credit Alpha Phi Alpha and TCU with my ability to lead and manage people in the workforce and also in Board service.
As did all members in the Greek system, we partied hard and we stayed up late but our focus was to graduate and be a contributor to the greater community. Thanks to TCU and Alpha Phi Alpha, I am trying to do my part.

Through the years
March 19, 1954 Milton Daniel, TCU Board President, forms a committee to investigate allowing Greek societies at TCU
September 11, 1954 Board approves (16-7-1) to establish Greek societies on campus
September 27, 1954 Effigy hangs from tree near administration building announcing "the end of TCU's democracy" as part of student protest
September 1955 TCU's eight fraternities and eight sororities hold first official fall Rush
March 1956 Talk of building dormitories for fraternities and sororities begins
1957 The first Greek Review.
1965 Ground broken for Worth Hills dorms
January 1966 Sorority Rush rules revised. Informal rush in spring still allowed
1969 Rush is changed to begin five days after classes start in fall
1970 -71 TCU welcomes its first African-American (now known as NPHC) fraternities; TCU chapter of Pi Beta Phi named No. 1 in the nation
1972 Delta Sigma Theta, NPHC sorority, establishes chapter at TCU
January 1975 Resolution passed to ban fraternities found guilty of hazing
1976 Alpha Kappa Alpha, TCU's second NPHC sorority, established
September 1976 Sig Eps National office closes TCU chapter
1980 Sigma Alpha Epsilon (SAE) chapter suspended on hazing charges; New chapter of Phi Gamma Delta (Fiji) is installed
1981 Spring sorority rush abolished; Kappa Deltas withdraw from campus
1988 Two NPC national sororities accept African-American pledges for the first time; Kappa Alpha Psi, NPHC fraternity, recognized
1989 Alpha Phi sorority disbands
1990 Alpha Chi Omega forms chapter; bid day rules change for the following year, men no longer allowed to participate in women's bid day activities
1992 Phi Kappa Sigma fraternity recharters after three years off campus
1995 An all-day seminar called Greek 101 is held for new members of all Greek organizations. Topics include sexual assault, stereotypes and alcohol.
1997 Latino social groups begin forming on campus
2003 The Princeton Review ranks TCU the 15th biggest major fraternity and sorority scene in the country. Greeks obtain one of the largest pledging classes ever at TCU. More than $121,000 is donated by TCU's Greek organizations to charities like Muscular Dystrophy Association, Children's Miracle Network and the Tarrant County Food Bank. Chi Upsilon Sigma, TCU's first national Latin sorority, is established.

2005 The Multicultural Greek Council officially forms; Phi Beta Sigma is recognized on campus

Greeks then and now
The Originals
Established in 1954:
Alpha Delta Pi
Alpha Gamma Delta
Chi Omega
Delta Gamma
Kappa Alpha Theta
Kappa Delta
Kappa Kappa Gamma
Zeta Tau Alpha
Added 1956:
Pi Beta Phi
Delta Delta Delta
Fraternities in 1954:
Delta Tau Delta
Kappa Sigma
Phi Delta Theta
Phi Kappa Sigma
Sigma Alpha Epsilon
Sigma Chi
Sigma Phi Epsilon
Added 1956:
Lambda Chi Alpha
Today
National Panhellenic Conference (NPC) sororities:
Alphi Chi Omega
Alpha Delta Pi
Chi Omega
Delta Delta Delta
Delta Gamma
Kappa Alpha Theta
Kappa Kappa Gamma
Pi Beta Phi
Sigma Kappa
Zeta Tau Alpha
Interfraternity Council (IFC) fraternities:
Delta Tau Delta
Fiji
Kappa Sigma
Lambda Chi Alpha
Phi Delta Theta
Phi Kappa Sigma
Pi Kappa Phi
Sigma Alpha Epsilon
Sigma Chi
Sigma Phi Epsilon
National Pan Hellenic Council (NPHC) -- [African-American]
Sororities:
Alpha Kappa Alpha
Delta Sigma Theta
Zeta Phi Beta
Fraternities:
Alpha Phi Alpha
Phi Beta Sigma
Multicultural Greek Council (MCG) -- [Latino]
Sororities:
Sigma Lambda Alpha
Chi Upsilon Sigma
Fraternity:
Lambda Theta Phi

Four principals of sorority and fraternity life
The Greek Life Celebration Committee will recognize the four principles of fraternity and sorority life with an activity highlighting each one during Homecoming Weeks:
-- Service
Saturday, September 24
Students, parents, and alumni are invited to participate in TCU LEAPS, a day of service projects across Fort Worth. The program will begin at 9am. For information, contact Fernando Vasquez at 817.257.7855.
-- Education
Friday, October 14
During homecoming weekend
The Delta Gamma Martin Lectureship presents, "Fraternity and Sorority Ethics, Uncensored," featuring a panel of experts from around the country to discuss ethics and values within fraternity and sorority life. For information, contact Cyndi Walsh at 817.257.7855.
-- Social
Celebrity Party
Saturday, October 14
During homecoming weekend
A party that can happen just once in a half-century, following the TCU vs. Army football game, 9 p.m. to midnight; live band, food, memorabilia, panoramic party picture, and much more. For information, go to www.alumni.tcu.edu/homecoming, or contact Kristi Hoban at 817.257.7803.
-- Philanthropy
Circle of Excellence
A beautifully landscaped plaza adjacent to Daniel-Meyer Coliseum will be crowned with a Horned Frog Sculpture. The Circle will recognize outstanding Frogs who have achieved distinction in TCU's classrooms and on its playing fields. For more information, contact Kristi Hoban at 817.257.7803