The real Icky Twerp was neither

Remembering Bill Camfield '57
By Tracy Sterling Bristol '80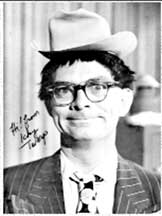 Hey, kids! It's time for fun and laughs with all your favorite cartoon characters and slapstick comedy right here on Channel 11's "Slam Bang Theater"!
If you grew up in the Fort Worth-Dallas area in the pre-Watergate years, chances are you spent at least a portion of your day belly-laughing in front of a crazy-quilt television show called "Slam Bang Theater" and its bespectacled host, Icky Twerp.
The man behind the Coke-bottle lenses of "Ickamore Twerpwhistle" was mild-mannered Horned Frog Bill Camfield. Camfield died of brain cancer in 1991, but he left wonderful memories for those who recall the days when you could count the number of channel choices on one hand.
The man behind the Coke-bottle lenses of "Ickamore Twerpwhistle" was mild-mannered Horned Frog Bill Camfield. Camfield died of brain cancer in 1991, but he left wonderful memories for those who recall the days when you could count the number of channel choices on one hand.
The unrivaled show of shows for the pre-puberty set in North Texas during the 1960s began simply. In 1959, KTVT bought the rights to the old Three Stooges comedies and a library of various cartoons. A format to present the films was needed, so station Promotions Director (also writer) Bill Camfield filled the bill -- and an undersized cowboy hat -- by becoming Icky Twerp, goofy philosopher and purveyor of vintage slapstick. For two hours every day, "Slam Bang Theater" provided a showcase of comedies, some old, some new, with lots of original material in-between.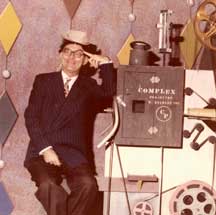 A typical show included pratfalls and high jinx from Icky's ape-masked sidekicks, Ajax and Delphinium. Fellow Horned Frog Phil Crow '59, then a KTVT-TV cameraman and lighting technician, often played Lavender Louie, a slow-witted janitor in colorful overalls whose job was to clean up the show's myriad messes (it wasn't called "slam bang" for nothing; there were plenty of pie fights and crashing objects). Icky would jump aboard the giant Slam Bang Projector and "pedal power" the next film. Musical mayhem came from the Slam Bang Orchestra or a bevy of characters Camfield would dream up as he cruised Harris Costumes for ideas. (When Camfield spied a floor-length English bobbie uniform, Crow was assigned the new role of "Constable Cavandish.") Gorilla suits were abundant, and most of the talent was recruited from station employees, with an occasional pretty girl as part of the mix. The shows were loosely scripted, sometimes on the back of an envelope, by Camfield, resulting in improvisational gems captured on the earliest form of videotape.
Another member of the Slam Bang team, TCU broadcast major Clem Candelaria '61, worked for the station from 1958 until his retirement in 1996. Candelaria played Mr. Blotz of the Blitz and Blotz department store, sometimes firing bumbling employee Twerp or reselling him his own hat after encouraging him to try on all the store's loony offerings.
The unspoken pledge during a show's taping was to "always end on a mishap," Candelaria says, remembering a gag that went awry. "The prop guy made a phony pie from flour and water one afternoon, and we were taping at 7 that evening. Icky yelled, 'Quiet out there, you're makin' too much noise!' and hurled the pie at the sheet of glass protecting the camera. Well, the pie had set up and turned hard, breaking the glass into a million pieces. So of course that was the take we used!"
***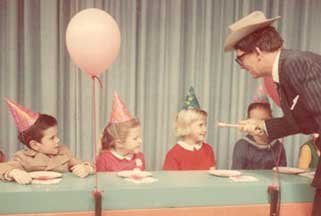 Bill Camfield knew he wanted to be a writer when he graduated from Fort Worth's Riverside High School in 1947. Leonard's Department Store offered him a copywriting position, and he quickly rose to director of radio/TV. Television was the hot new ad medium, and Camfield created and performed in five programs sponsored by the store.
He had studied slapstick comedy with famed Ringling Brothers clown Paul Jung and briefly considered a professional circus career. But television was the next big thing, and when Sid Richardson started up a station in 1955, Camfield's skills put him at the right place at the right time. The day KFJZ-TV went on the air, he stood at the ribbon-cutting alongside Richardson and station attorney John Connally, who would later be governor of Texas. By the time the call letters changed to KTVT-TV in 1960, the station was one of the most successful independent TV outlets in the nation.
The '50s were a busy period in Camfield's life. He attended TCU on a scholarship, juggling marriage and the birth of a son while working at KTVT. He even managed to join the newly formed chapter of SAE fraternity.
***
"Slam Bang Theater" was an underground phenomenon with kids, even those whose parents were dismayed by the physical comedy of the Three Stooges. The show expanded to 90 minutes in the mornings before school, so kids could start their days with a dose of eye pokes and "nyuk nyuk nyuks." In 1965, the remaining Three Stooges were so grateful to Camfield for creating a new generation of young fans that they invited him to Hollywood to play Wyatt Earp in their final feature film, The Outlaws Is Coming.
Icky Twerp became a well-loved regional celebrity, making appearances at parades, parties and other area events, but he wasn't the only character Camfield had up his sleeve.
When KTVT client Texas Consumer Finance asked the station for advertising ideas, Camfield wrote nearly 30 commercials featuring a character named Mortimer Moolah, played by -- who else? -- Camfield. He would always pronounce the client's name emphasizing the "CON" in "consumer," which would then have to be corrected by an announcer.
Few viewers recognized another character named Gorgon as Camfield. In 1957 when Channel 11 acquired the rights to classic horror films to be presented as part of a show called "Nightmare," Camfield donned spooky makeup and taped a lavaliere microphone directly onto his Adam's apple to enhance a creepy reverb effect. Gorgon hosted these shows live in the studio every Saturday night.
Now that's a dedicated promotions director.
"Slam Bang Theater" ran until 1972, after more than 5,000 shows. For the last taping, Camfield threw a shovel over his shoulder and literally walked off into the sunset to "You'll Never Walk Alone." A job as promotions director at a Denver TV station awaited, so Icky Twerp hung up his small, bent hat for good.
***
For 13 wacky years, Icky Twerp wore his trademark rumpled striped suit and tiny cowboy hat atop tousled hair. But the thick glasses were Camfield's own.
"Bill couldn't see a thing without his glasses," Crow says with a laugh. "He'd perform as Gorgon blind as a bat." Crow, now retired after 36 years in broadcasting, recalls Camfield fondly and "can proudly say that Icky Twerp was the best man at my wedding."
Camfield attended TCU with the help of a writing scholarship, and after his death his family established a scholarship for humor and satire writing in his name. "What people don't know about Bill is that his real talent was writing," Crow notes.
Thirty-three years after "Slam Bang Theater's" final broadcast, cult followers still giggle at the mention of Icky Twerp. Camfield's son, Paul, created a nostalgia-filled web site where fans share recollections. "Slam Bang Theater" videotapes preserve the memories of entertainment from a simpler time.
In May 2002, Bill Camfield was posthumously awarded the Dallas Video Festival's Kovacs Award for "slapstick genius."
Would Mr. Twerp be pleased?
Soy-tenly!
www.ickytwerp.net