Notables

Getting under foot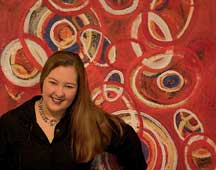 Fort Worth artist Jane Helslander '99 made a big splash at DFW Airport this summer. A splash of color, that is, in the form of a mosaic medallion at the new Terminal D, which is designed to appeal to the eye and is filled with work from living artists -- mosaics, sculpture, paintings and tile. Helslander's is more utilitarian than some since you have to look down to see it -- it's in the floor in front of gates 25 and 26.
Helslander was one of 12 artists chosen to submit a design for the dozen 20-foot diameter mosaic medallions for the gates on the departure concourse.
If the name sounds familiar, it's because the Helslander art is sprinkled all over town. Her work is displayed in both private and corporate collections, such as the eight-by-eight-foot painting in the ladies shoe department at the Fort Worth Neiman-Marcus store. She also teaches drawing at her Horned Frog alma mater, works for William Campbell Contemporary Art gallery and in her own studio. The mixture of activity keeps ideas fresh and flowing. "If I have too narrow a view of what I want to do, it can be stifling," Helslander said.
The medallion is her first display of public art. Although this piece is functional, she said it is important for some things to be enjoyed. "There are so many pressures today that it's nice that there are things like art where the main purpose is to enjoy it."

Kicking up their heels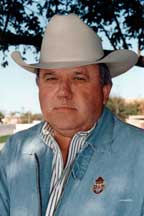 It's life on the fast track for Ben Hudson '67, and it couldn't be better. The owner/publisher of Track Magazine -- the nation's oldest and largest independently owned publication serving the running Quarter horse business -- was inducted into the Texas Horse Racing Hall of Fame in October. Hudson took the Texas-size honor in stride, telling the induction audience: "I guess that means I've reached a certain age and haven't made everybody mad."
But Hudson isn't content to quietly observe from the sidelines. In 1998 he and his wife, Christine, packed up Track, trading Fort Worth digs for a ranch in Morgan Mill, north of Stephenville. In addition to Track, the two raise Quarter horses to sell and race. A big win came on Labor Day, though not from a horse they bred. His wife's horse -- which she bought with nine of her women friends in 2003 -- took third in the $2 million All American Futurity at Ruidoso Downs. The horse has won $160,000 and is ready to hit the track again come May.
After graduating from TCU with a journalism degree, Hudson spent four years in the Navy before going to work for a horse-racing magazine in Fort Worth. He launched Track in 1975 with Jerry McAdams '73. Though the two didn't meet until after graduation, they shared horse backgrounds and both served as sports editors for the Skiff. Hudson bought out his friend's interest in Track when McAdams bought the Hico News Review.
"I've done this for 30 years and we had a guy out filming a TV piece on us yesterday and I told him I have the best job in the world," Hudson said, noting the show spotlights Quarter horse racing for the RFD Channel.
Hudson runs Track from the comforts of his ranch: "I just sit here and watch all those horses play right in front of me, and the staff comes out here and we put out the magazine."

He shoots, he scores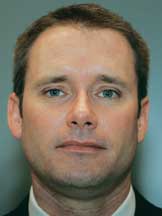 Mike Berry '89 is at the top of his game. The sports marketer is president of Austin's new National Basketball Developmental League as well as COO of Southwest Basketball LLC, where he works with the presidents of the company's three other new NBA minor league teams in Fort Worth, Albuquerque and Tulsa. All four teams hit the NBDL courts this fall.
But Berry is no rookie to the game. The TCU finance major got hooked on sports marketing while working on his MBA at the University of Oregon. He worked with NBA teams in Indiana, Portland and San Antonio before joining ranks with the Pittsburgh Pirates baseball club in 2001. Last fall, his former boss -- former Indiana Pacers GM David Kahn -- began recruiting Berry to the NBA's sevelopmental league. "I just became more intrigued by it and it sounded like a great opportunity," Berry said. "I had never been a part of a startup, building something from the ground up."
It's a three-point swish for Berry: He gets to help build a program, Southwest's four vibrant downtown markets are ripe with opportunity, and the move brought the Berrys back to family and old friends in Texas.
Launching new teams in four markets simultaneously is "pretty rare in this day and age of ownership," and breaking into the hotly contested entertainment market is no easy feat, but the Southwest team is enjoying the challenge. "Through our new franchises, I think we can deliver a first-class basketball and entertainment product in a fun, affordable and intimate viewing atmosphere unlike other sports venues in our markets," Berry said.
Long term, he hopes individual franchises will become farm teams for specific NBA teams, enabling fans to follow players' careers as they advance to the next level.

Helping big brother keep watch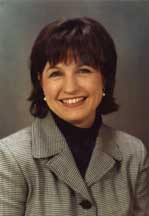 Carol Van Zandt Jones '83 believes that her 15 years as a stay-at-home mom may have been as much of an investment in her career as her time in TCU classrooms. While raising her children, she organized events at church, school and the community and gathered experience bringing multiple entities together for a common goal.
She put all that volunteer experience to use when she joined Virtual Surveillance two years ago and then saw a new angle for the cutting-edge security technology.
Her abstract idea for using the surveillance equipment gave birth to Community Links, and Virtual Surveillance made it happen. A web interface links surveillance systems in Deep Ellum with the police department, and businesses offer access to their cameras to the Dallas Police Department as a resource. Officers can view live or archived video remotely from their computer screens and PDAs. With live video, police can respond faster to a crime scene or anticipate a crime.
Last Jan. 1, Virtual Surveillance installed systems in three locations in Deep Ellum, and the crime rate was reduced 50 percent compared to the previous year. They're now working on broader options for application of the system.
"After being a stay at home mom, here I am working with some of the most cutting-edge technology in surveillance and for police departments," she said. "The guys in the office thought I was really nuts. The police thought it was a great idea."

A new mission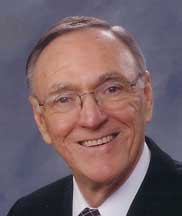 After completing a bachelor's of divinity degree at TCU, Wayne Long '67 created a new missionary society, the Hisportic Christian Mission, to meet the needs of the large Portuguese-speaking community in the United States, most concentrated in California or along the East Coast. "It's a word we coined -- His, is meaning pertaining to, Port is Portuguese, the language and culture, and the ic makes it an adjective, so it means pertaining to the language and culture of Portugal," he said.
From Providence, R.I., a strategic center of the Portuguese-speaking populations from Newark, N. J., to Lowell, Mass., Long shepherds the 41 churches that are now a part of the mission in the U. S., Brazil, and Africa. The mission has plans to start churches in Texas, Georgia, Florida, California and Illinois to meet the needs of the growing Portuguese-speaking population.
Long's job as a pastor has been watching lives change and families restored. "One of the things that motivates me in ministry is seeing the change in people's lives," Long said. One of his current mission pastors came from Brazil with some heavy baggage. Through his association with the mission, he got away from drugs and turned his life around.
The mission not only provides a church service, but also assists new immigrants learn to speak English and adjust to the new culture. Many of the immigrants are young and starting families. Churches are planted among those young families to assist in strengthening the bonds of family, social activity, and recreation.
"What we're doing is a critical thing for the church to step back and take a wider perspective. America is becoming a country where there will be no majority after 2050," he said. Long sees an urgent need to invest in these new immigrants as they assume a larger role in American society.
For his investment in so many lives, his other alma mater, Northwest Christian College in Eugene, Ore., awarded him an honorary doctorate in June, 2004.

Distant honor close to heart
A new $500,000 multi-sited children's research facility that opened in northern Mexico in June was named in honor of nursing grad Ruth Anderson '01 and her uncle and aunt, James and Jeanne Adams.
Made possible by an anonymous donor, the Adams/Anderson Children's Laboratory -- located principally in Monclova, Coahuila -- allows physicians from across the United States and elsewhere to study the latest international clinical techniques to treat major childhood diseases such as cancer, heart disease, severe trauma, diabetes and viral disorders. Some of the cutting-edge techniques utilized at the facility include ultra-violet blood irradiation, hemolytic perfusion and laser strand light therapy.
Anderson works in the neonatal intensive care unit/Help Flight team at St. Vincent Healthcare in Billings, Mont. She also facilitates shipments of advanced U.S. neonatal equipment to hospitals in Monclova, and she plans to visit the lab bearing her name in the coming months. "I am looking forward to going to Monclova and working in some of the neonatal hospital facilities associated with this new multi-site laboratory," Anderson said. "It is exciting."