More in academe
Command performance | Frog entrepreneurs | Belief in the Constitution | Mapping the future | Hear here | Home for discovery | Fulbright scholars | Where in the world | Rating the ratings

Artistic Journey
Greg Mansur has traveled the globe to create a film on artist Rockwell Kent.
By Saedra Pinkerton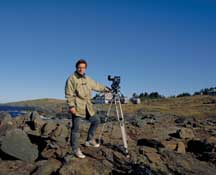 Sweeping vistas. Uninhabited terrain. An unquenchable thirst for adventure.
Three wives, many mistresses.
Fame. Controversy. Obscurity.
Such was the life of Rockwell Kent, 1882-1971, painter, author and political activist who mesmerized RTVF Instructor Greg Mansur (on right) for 13 intense years. Today the TCU filmmaker is back in the classroom and ready to debut the Kent documentary that he and director Fredrick Lewis completed in the spring.
Kent was a contemporary of George Bellows and Edward Hooper and was often confused with the more celebrated Rockwell of his time, Norman. He's best known for his illustrations of literary masterpieces such as Moby Dick, but he also was a prolific painter whose work later fell into obscurity.
"He was a man who filmed his own ship sinking," Mansur said. "It was a huge odyssey for me to travel and meet people who knew him or lived where he traveled. It broadened my world."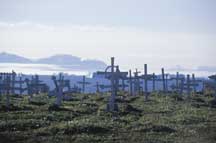 Kent's wanderlust drew him to the desolate places -- from Greenland to the southernmost city in the world, Ushuaia, in Argentina's Tierra del Fuego -- as he fled a conflicted home life seeking fuel for the soul. In 1998, Mansur and Lewis headed to the rugged outpost in Alaska where Kent spent a winter.
Above, a graveyard on an Ubekenkt Island cliff.
Kent lived on a little island off the coast for eight months with his young son, Rocky. His marriage was failing, and he asked his wife to join him but she said no. Then he asked his mistress, but she said no. He finally persuaded his wife to let Rocky come with him.
There, Kent befriended a fox trapper who allowed him to renovate an old goat house for shelter. The eight months on the island were productive. Kent wrote his first book there, Wilderness: A Journal of Quiet Adventure in Alaska.
"I think Wilderness is his finest piece," Mansur said. "He discovers himself, his art, his true passion. We arrived on Fox Island on a beautiful June day. It is an amazing place -- eagles are like crows up there. Going to Alaska just fired me up. It was for me much the same as for Kent, rediscovering his passion. He found his bliss, and I sort of found my bliss again."
Mansur's film focuses on the landscapes and people of Kent's muse, but the artist himself is perfect fodder for documentary because he seemed to never live a dull moment. While staying on Monhegan Island off the coast of Maine, he was a sought-after bachelor whose marital status invigorated the town.
"He told everyone that he was finally ready to be married, announcing that he would go off-island to find a wife," Mansur said. "When he returned a few days later, the women of the town greeted him at port with red paper hearts pinned to their chests. Kent stood proudly next to his rather large-boned bride, who towered over him, and received congratulations from the town. It was revealed the next day that the ewife' was actually his friend John Putnam."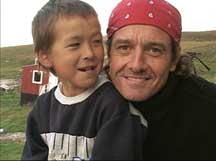 Right: Mansur with an Ubekenkt Islander
Kent's political leanings just fueled the intrigue. A Utopian socialist, he believed in the equal distribution of wealth at a time when such thinking was considered "communist." He was called before the infamous McCarthy hearings and even fought a battle over freedom to travel that went all the way to the Supreme Court -- where he won.
Always a friend of the Soviet Union, Kent angered many when he decided to donate some of his art collection to the people of Russia. The decision would one day mean the trip of a lifetime for Mansur to world-renowned museums in a country still struggling with its independence.
In re-creating the journey, it took Mansur and Lewis a day and half just to get through customs.
"They confiscated all of our equipment, thinking we planned to sell it on the black market. We had letters, but not the right letters; signatures, but not the right signatures. Finally, after paying a lot of money, we got our equipment back and made our way to the Pushkin."
Once inside the Pushkin Museum in Moscow, Kent's paintings were brought out of storage, dusty and neglected, and propped against a wall in the basement for filming. The artist's work was better preserved at the Hermitage Museum in St. Petersburg.
Throughout his visit, Mansur was surprised by the contrast between the bureaucratic wrangling necessary for simple tasks, like checking into a hotel, compared to open access in other areas.
"They have an archive of all the Russian film used in propaganda, reels and reels of news footage. We requested the film from Kent's award of the Lenin Peace Prize, so we drove to the archive, were escorted into a room and then left alone for six hours looking at all this footage. It was heaven, getting to see the core of the Russian media machine."
While he looks back on his Russian trip as exciting, Mansur's favorite excursion for the project was a bit more remote. Flying into Copenhagen, then to Iceland, then to Greenland and finally making two helicopter hops, he landed on a tiny island inhabited by about 100 people.
"I would never have chosen to go there, and I'll probably never go back," Mansur said, "but it gave me a look at life 200 miles above the Arctic Circle that I will never forget. I would wake up to see icebergs as big as football stadiums floating by. The sun never set and I took the most extraordinary photographs of my life."
Mansur was fascinated by the people of Greenland -- plagued with drug problems and alcoholism, struggling to maintain an old way of life now obsolete since the villagers receive copious amounts of outside media through internet connections, satellite phones and TV. Mansur taught the children to use his cameras and helped them make minidocumentaries about themselves.
"We were the only visitors on the island, and the kids were all over us," he said with a laugh. "It is barren up there, no green, and their days flow with the rhythms of the water and ice. While I was there, a huge boulder demolished a building and just missed the schoolhouse. It's a way of life for them. Before I got there, another boulder had crashed onto the ice where some of the men were fishing. No one even learns to swim -- there's no point."
Such images of diverse cultures and human spirit provide a stunning backdrop for the documentary's tale of a lost artist who longed to discover peace and inspiration in the remote corners of the globe.
With Kent's exotic life now captured on film, Mansur trains budding filmmakers in the art of the documentary at TCU while partner Lewis, a professor at Ohio University, shows the film at festivals and museums. It is scheduled to be shown both at the Amon Carter Museum in Fort Worth and at the National Gallery of Art in Washington, D.C. Meanwhile, Mansur is working on new projects and speaking out about the need for filmmakers to be free from corporate pressure.
"We were lucky because we had the equipment and editing facilities, which were very expensive," he said. "We wanted the artistic freedom that an artist would have without pandering to commerce, which is why it took us 13 years."
Unfortunately even PBS is not free from political influence -- a reality that may keep their film from public access.
"Our portrayal of the life of Rockwell Kent is detailed in its honesty of presenting the facts of someone's life, but it may not make it [on TV] because he was a socialist," Mansur said. "PBS is under tremendous pressure to market more conservative programming."
Political considerations aside, Mansur is happily teaching classes and diving into his next projects.
"To do a documentary is an obsession," he said. "I'm interested in people -- what it is to be a human being. I function from a completely emotional place where everything is intuitive and emotional to me. I was recently offered a job for more money but I turned it down because TCU feels right to me. I am in a great place in life."

Comment at tcumagazine@tcu.edu.