More in Riff Ram

Opportunity knocks
TCU's new athletics director, Danny Morrison, is all smiles. He knows we have to adapt to a new conference while adjusting to his leadership, but all this former coach and conference commissioner sees is possibility.
By Rick Waters '95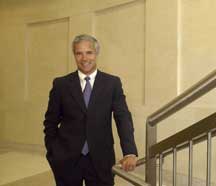 Q: You've been here since June. What stands out so far?
A: I had heard how wonderful Fort Worth is, how it feels like a small town in a metropolitan area. I've found all of that to be true. It really is a warm and inviting place. And I've been impressed with the momentum of TCU and the city of Fort Worth. It's obvious that there is such great vision here in the city and at TCU. If there's one constant I've noticed, it's the pride people in Fort Worth have in their city and in TCU. What has impressed me about the campus is harmony, which is so important in organizations. There seems to be great harmony in the athletics department. Our coaches get along well. The staff gets along well. People pull for one another. I've heard numerous comments from some of the Olympic sports coaches that Gary Patterson and Neil Dougherty always go out of their way if a recruit comes in. That speaks volumes.
Q: This is our inaugural year in the Mountain West. How can we smooth the transition and make the most of it?
A: I think it was an excellent move that will provide a lot of stability. Nine schools in a conference is a great number. It works perfectly for football with four home games and four road games. And it affords the flexibility to schedule three to four non-conference games that best suits our program. It works for basketball, too. It enables the member schools to play a double round robin with eight home and eight away games. In August and September, I'm planning to visit Texas, Baylor, Texas A&M, SMU and Texas Tech. And then I'll be visiting the Mountain West schools in conjunction with our football road trips. So when we play Air Force in October, I'll visit there and then swing up to Colorado State and get to the Mountain West office.
Q: What are you going to be looking for on these visits? What do you hope to learn?
A: I think it's important to get to know our Mountain West colleagues and benchmark what they're doing compared to our situation. It's important to have good relationships with them, as well as with our fellow Texas schools. If you look at scheduling, we have a great opportunity. It's a conference that is poised at the doorstep of a BCS berth. It's probably made more progress as a conference in a short period of time than any conference since 1998. I have great respect for [MWC Commissioner] Craig Thompson and the job he's done. Having come out of a conference office, I know that you're only as good as your member institutions. I think we'll be fierce competitors with everybody in our conference, but we'll be cooperating with one another under the Mountain West banner.
Q: Alright, you mentioned it. What's your scheduling philosophy?
A: It's important to play traditional rivals in our non-conference schedule. This year's football schedule is a good example. We play a strong regional opponent in Oklahoma. We play a traditional rival in SMU. And then we play a national opponent in Army. That's a good balance for us. When we schedule in the future, that's the pattern we want to follow.
Q: What about Texas and Texas A&M?
A: We have Texas Tech, Baylor, Oklahoma and Arkansas on future schedules already. That's pretty attractive. Jack Hesselbrock has done a great job at that. But we understand the fan interest with those two schools and that will definitely be on our radar. We have great respect for those programs, and we want to see them do well. We want all Texas schools to do well, except when they play us and Mountain West teams.
Q: How long will it take to create new rivalries in the Mountain West?
A: One game. Utah. September 15. ESPN. Everybody knows how good Utah has been. We're going to measure ourselves against the best of the Mountain West early. So I think that will be a rivalry from Day 1. We live in an age in which people know who the good teams are, and there are a lot of good teams in the Mountain West, so I think we'll have a lot of rivals in our conference.
Q: Do you see the Mountain West being included in the Bowl Championship Series?
A: Well, Utah certainly made a good case for us last year. I think the caliber of play in the Mountain West is excellent. I think TCU will contribute. I really do feel like we're knocking on the door. That's why we want our other Mountain West brothers to do well. In fact, we want them to do really well, except when they play us. Then, we want to beat them when they're doing really well.
Q: You've spoken about how refreshing it is to come to a place that is not "broken." But surely Eric Hyman pointed out some areas for improvement. What advice did he give you?
A: Eric has great affinity for TCU. Great love actually. He conveyed that this is a special place. The people are top-notch. People like Ross Bailey and Jack Hesselbrock and those put in place under Frank Windegger (whom I spoke to and enjoyed very much) are so important because they provide institutional memory and continuity. It's nice to come into a situation that is so well run and has a culture of right values established. The emphasis is on the student-athletes. The challenge is to continue that.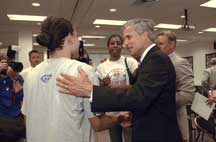 Q: You met with four TCU student-athletes when you interviewed. What did you get from that conversation?
A: That had a powerful impact on me. Tye Gunn, Nile Murry, Ashley Davis and Kewa Nichols were very impressive. They are what TCU is all about: young people competing at the highest level who are also quality individuals. They appreciate the opportunity they have here and recognize that they're getting a quality education. All of the student-athletes I've met have been equally impressive. When I was flying out here, I was reading through some information, including the grade point averages of every student-athlete on every team. I was so impressed with the overall average for the spring. I think it was 2.83. There were 28 that had 4.0 GPAs. There were several that had GPAs as a team of 3.4 or better. That said a lot to me. Usually, players take on how important the coach feels about the academic program. So it's a credit to the coaches and the academic services program. The norm here is that you're supposed to do well academically.
Q: What's on your agenda as the school year starts?
A: My agenda is to listen, learn and thank. I want to listen and learn about TCU traditions and what's worked and not worked here. Then I want to thank people who are doing wonderful things for the student-athletes. Organizations that are doing well can keep improving. Usually it doesn't come in some quantum leap, magic bullet way. It usually comes in a step-by-step, block-by-block way. We'll do that here. We'll look back in five years and say maybe we did get some good things accomplished.
Q: You are following after a very successful AD with a vision. What is your vision and how will you build a program that reflects it?
A: I really think there is a significant difference between a winning program and a winning team. Winning programs are all about the long-term health of the program. Sometimes it's easy to get consumed with a winning team and go for a quick fix. Maybe you get a hit and have a winning team, but the following year you're in the same position and you have to get another quick fix. Then it's hard to break out of that cycle. But in a winning program, if you have a player than needs to be disciplined and he or she needs to be held out of one game, you do it. That's going to be the best thing for the program over the long haul. That seems to be the emphasis here. A winning program encompasses that and much more: winning games, having quality young people in the program, doing the right things, getting young people to graduate. I say all that in the framework that we want to win. Winning is very, very important. If we're all about the student-athlete, we need to understand that student-athletes have better experiences when they win.
Q: You've worn a lot of hats: started out as a high school basketball coach then became AD at your alma mater, Wofford College, in South Carolina. Then you shifted to senior VP over administration at Wofford before moving to the commissioner's seat at the Southern Conference. As you return to the AD role, what are the lessons you take from being a commissioner?
A: Conferences are complex organizations because you have institutions that compete with each other on one side and then have to cooperate on the other. That's one axis. The other is you ask them to be as efficient as possible on one end and build community on the other. So there is all this tension, but it's healthy tension if it's all held together by trust.
Conferences run into trouble when the trust erodes and the tension becomes more pronounced as problems arise. An understanding of conference dynamics is helpful in an AD's role. It gives you a macro view rather than just a micro view. The other positive from being a conference commissioner is that you get a national view. You have a national network of colleagues and friends. You have very strong dialogue with the NCAA. You also realize you're only as good as your member institutions. If everyone works for the betterment of the conference, it pulls all the schools up.
Q: One of the biggest challenges TCU always faces is rallying community support in a market driven by professional sports. How will you tackle that?
A: What I hear is that there is already great connectivity to the community with Frog Alley and the tailgating. Those provide a great game day experience for fans and alumni. I also like the concept of TCU being regarded as the hometown team.
Q: Some think our stadium needs updating if we want to draw better crowds. Do you agree? And if so, what changes come to mind?
A: I love the charm and location of Amon Carter Stadium. It has great tradition and great history. The biggest challenge we're going to face in doing remodeling is preserving the charm and character, while bringing in the amenities of a new stadium. I don't think they're mutually exclusive. Boxes. Suites. Press box. Maybe it could all be combined into some kind of conference center for other uses on campus. You have something that has seven uses a year, but it has the potential for 365. Likewise, I love the size of Daniel-Meyer Coliseum. The things we need to do there is to bring amenities. Both projects will have big price tags. But I think they're pretty important and we'll have to see how they're incorporated in the new university campaign.
Q: I know your family is very important to you. Tell us about them.
A: My wife Peggy and I have been married 27 years. Our son Trey has one more year at South Carolina. He's studying advertising. And our daughter Meg is a rising junior at Wofford, where she's into business economics. They're both working this summer. He's in Columbia, S.C., and she's working at the beach. But they're excited about our move to Fort Worth. Growing up in the Carolinas, they're excited about a new part of the country and a large metropolitan area.