Comic Phenomenon
It's a mother's nightmare: your son abandons his expensive suits and flash law practice - to sell comic books.
By Nancy Allison
Ben Trujillo '94 blames it on his wife A.J. (Amy) Jablonski '95, a graphic artist and comic book fiend. A "comix" lover since childhood, A.J. was "a Marvel girl in college," she said, referring to the veteran publisher that brought the world Spider-man and Batman. She recalls her weekly trek to the 7-Eleven on Berry Street to see what her favorite superheros, the X-Men, had gotten into. She still has those books, and still gets excited about new issues - but these days, she doesn't have much time to read. Now, she's on the other side of the cash register, ringing up comics for other diehard fans of the genre, in her very own comic book store.
After Ben passed the bar exam in 1997, the couple moved from Washington, D.C., to St. Louis. A friend told A.J. about the best place in town to indulge her comic book passion, and when she went to check out the Star Clipper she saw that they were hiring. Shazam! One minute A.J. was a customer; the next she was managing a comic book shop. After two years she became part-owner, and two years after that the couple bought out the store.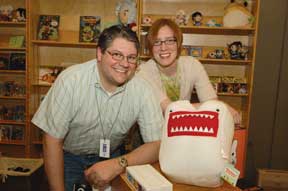 Meanwhile, Ben earned a master's degree in law and taxation and was working long hours in a top firm. A.J. was employed full-time as a graphic artist at the St. Louis Science Center. In addition to all that, they managed to keep the store going. But in 2004, they had a chance to expand the Star Clipper and move it into "the loop," St. Louis' funky gallery and restaurant district. Ben volunteered to "stop practicing law and become a full-time funny-book purveyor.
"I've never looked back," he says. Neither has A.J., who has kept her "stable, 9-to-5 job" as a graphic designer, and puts in nights and weekends at the store. Their dedication has paid off: the former $150,000-a-year operation is now "the largest comic book store in the Midwest," Ben said.
A.J. is still smitten by the product she sells, which is probably what makes the job so much fun. "I'm happy the Star Clipper is such a success, but it feels more like a hobby to me. Running a small business can be very creative: we try new ideas, and if those don't work we try others. We're never locked into doing one thing. Overall, it's been the best experience of our lives."
With revenue in excess of $1 million, the Star Clipper is obviously filling a need. But who has the craving? Males aged 20 to 40 who buy traditional superhero comic books are the most frequent customers, Ben said.
Nothing like the stereotypical dark warren of alien intrigue, the well-lit, spacious Star Clipper also stocks art books, "coffee table books of spectacular quality," graphic novels, and anime (animated manga), A.J. said.
Manga, the Japanese word for comics, pull in a more varied demographic: more teens, twentysomethings and girls. "There is more balance in manga," A.J. said, "in that there are many lines aimed strictly at females. There are more female creators in Japan, too, and maybe that explains it. I can easily find manga on the shelves for girls who are 15, or 20, or 25. It's a great time for girls these days in comics. Manga are so accessible now."
The newest trend, "urban vinyl," toy figures crafted by famous artists, is also showing up on Star Clipper's shelves. "The toy phenomenon is big now," A.J. said, referring to the figures that look a bit like comic book characters come to life. A.J. describes them as: "little works of art, affordable and accessible to the public." Regular folk can indulge in urban vinyl by buying Munny dolls, which come with "four mystery accessories" for about $25 a pop. People paint them, accessorize them and then show them off. The Star Clipper hosted the first Munny show in St. Louis last April and had a huge turnout.
Voted by the local paper "one of the best place 25 places to take a first date," the Star Clipper has a lot more than reading going on. Twice a month they host an anime group and figure drawing classes, and this summer they're running a week long camp for budding artists. The Star Clipper has hired local comics creator Matt Kindt to teach kids what makes a good comic book, and how to draw their own.
All these activities, as well as the stock and a knowledgeable staff (the assistant manager even has a BFA in Comics), have garnered the Star Clipper kudos from the local arts paper. Voted " best comic book store" in St. Louis two years in a row, one reviewer applauded: "˙ Star Clipper's collective, unabashed love for the endless possibility of what makes a good comic book."
But what is the attraction to comic books? "I always say they are words and pictures - not so different from film, really," A.J. said. "They are beautiful, legitimate works of art on the printed page - with beautiful production value and outstanding craftsmanship. To me, they are appealing little treasures."
With revenue in excess of $1 million, the couple needed better inventory software to monitor customers and sales. So they worked with a software developer to create MOBY, a point-of-sale inventory control system that works specifically for comic/game/book retailers. It worked so well that they created a company, bitterendsystems.com, to market and sell MOBY, and now comix stores all over the country use their software.
See Mom, you worried for nothing. The only downside to the comic book business seems to be not having enough time to read them. But A.J. still gets a thrill when ordering the stock, and when she sees the new stuff coming in. Just as she did years ago, when she found the X-Men on Berry Street.
Comment at tcumagazine@tcu.edu