Horse Power | The TCU You May Not Know Quiz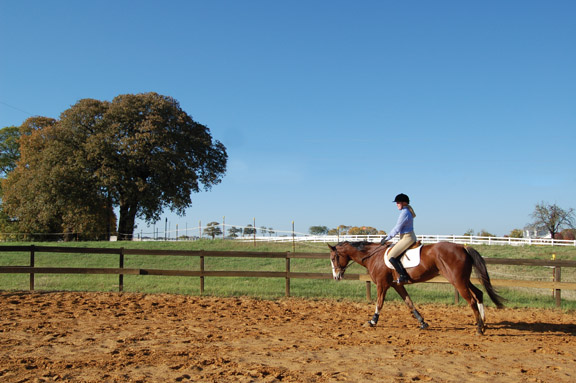 Horse Power
TCU's newest sports team is saddled up and ready to ride.
By Tracy Sterling Bristol '80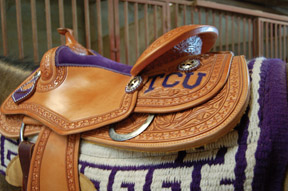 It's an unseasonably warm autumn afternoon at a large, dusty barn on the outskirts of Fort Worth. Horses swish their tails in their stalls and peer curiously into the aisles. The scent of sweet summer hay and new leather complement the laughter of coeds industriously organizing and marking a table-load of new riding equipment, still in its shipping plastic.
Hanging on the freshly painted tack room walls are neat rows of bridles, soft purple and white saddle pads and an impressive set of custom-tooled Western saddles sporting purple suede trim and the TCU logo. The mood is convivial, though there is work to be done. The dozen or so girls, clad in breeches and boots, look like they would be right at home in a Ralph Lauren ad. But don't be fooled by their demure stature and polish. These young women are fit and seasoned athletes.
Erin Sciacca climbs aboard Moonie, an enormous gray mare standing at least 17 hands high (meaning this horse's back is a good bit higher than Erin is tall). Clearly in charge, Erin puts the horse "on the bit" for a warm up and a series of practice jumps. Moonie gets down to business and follows Erin's invisible signals, willingly sailing over each obstacle. It's a lovely picture.
"This isn't about just getting on a horse and looking pretty," TCU Equestrian Head Coach Gary Reynolds says. "You have to really know what you're doing. This is truly a test of athletic skill and horsemanship."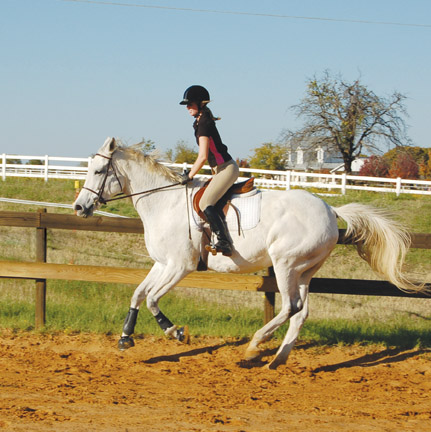 Two riders practice riding English style in one arena, while two others work on Western disciplines in a covered practice area. The team has settled nicely into its home base at Fieldstone Park, a sprawling facility complete with a contingent of leased horses for the team's varied practice purposes. "The reining horses are the hardest to find," says Reynolds, a lifelong horseman from Canyon, Texas. "We got real lucky."
The team is lucky, too, that the TCU Equestrian Board, which was established to set up the program, found Reynolds. An experienced horse show judge and equine businessman, Reynolds has been invaluable developing the inaugural team. Recruiting student-athletes has been an obvious success; five members of this first team have garnered "world champion" status in equine competitions.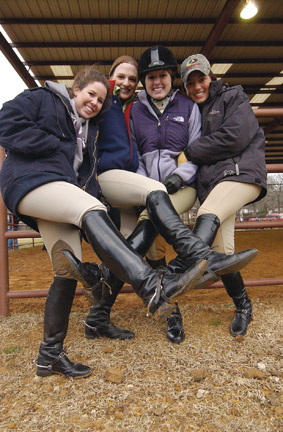 How does a collegiate equestrian program work? Events are sanctioned by the NCAA division called Varsity Equestrian. There are meets, matches and scrimmages, and an MVP is named at each competition. Riders compete in four events: equitation over fences, equitation on the flat, Western horsemanship and reining. Points are awarded for winning individual events, and the team acquiring the most points wins.
At a meet, riders compete using the host school's horses. This is vastly different from the traditional horse show circuit, where a horse and rider team train together for extended periods of time. This system of "catch riding" a strange horse means the skill of the rider -- rather than the quality of the horse -- is evaluated. Riders draw lots to determine which horse they will ride and have only five minutes to warm up before competing. There are also one-on-one matches where riders from different teams compete using the same horse.
A few weeks into the practice season the 18 teammates have bonded well, and the team is poised to grow as Reynolds looks down the trail to even more recruiting. When asked if TCU's Fort Worth location is a boon, Reynolds visibly brightens. "Oh, yeah," he says, grinning broadly. "Every breed and horse association has a championship at Will Rogers (arena in Fort Worth). It's gonna be great."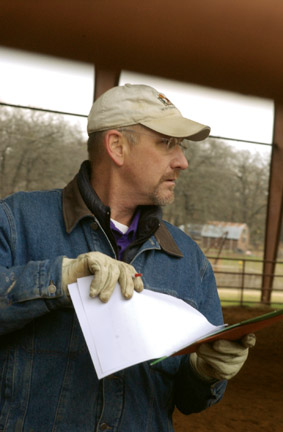 The team has already had a busy year, practicing three to four times a week to prepare for the rest of the season, which concludes this spring. But today there are chores to be done.
" 'Scuse me a second," Reynolds says politely, ducking around a sweet-faced quarter horse whose back is damp with saddle marks. "Somebody check on Trucker!" he booms down the aisle.
There is a scurrying of leather boots on concrete. A rattling box of curry combs and brushes appears. With a team member quickly on the job, Trucker blinks appreciatively.
Beyond the barn, Erin and Moonie head over a hill with another English rider to cool down. Tired, sweaty and smiling, the teammates working in the Western arena make their way back in, their shadows long in the still-hot Texas sun.
You won't find these girls in a Ralph Lauren ad.
But you might on a box of Wheaties.
Visit: www.varsityequestrian.com
Comment about this story at tcumagazine@tcu.edu