Social Work | Nursing | Brite | Music | Honors Week | Neeley business |
The Environment| School of Education | Noteworthy
Clearing the Air
Building vented ovens in Guanajuato helps erase international stereotypes.
By Nancy Allison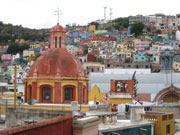 Walk inside Doña Aurelia Moran's tiny home, and even when the fire's out you feel like coughing. Like every woman in the mountains above Guanajuato, Mexico, Aurelia cooks for her family over an open wood stove. She and daughter Felicitas spar with ash, flames and smoke six hours a day, breathing in the particles that blacken walls and irreparably damage lungs. Watch Aurelia and Felicitas prepare one meal, and you'll never joke again about slaving over a hot stove.

According to the World Health Organization, making meals in the Third World is a deadly occupation: Lung disease caused by cooking on indoor wood stoves kills 1.6 million people (mainly women) per year. TCU social work Professor Tracy Dietz isn't willing to let that statistic stand. This spring break, she and eight TCU students helped a Mexican conservation group, Cuerpos de Conservación, rebuild ovens in seven houses in Hacienda de Arriba, equipping them with chimneys to divert the smoke outdoors.

Now in its third year, the spring break program in Guana-juato has become synonymous with hard work: shoveling dirt, sand and cement and mixing and making adobe bricks, the kind of labor that results in structures you can sit inside of or cook a meal on when you're done. But the more important labor, Dietz says, is the invisible work of hearts and minds.

"Students gain through immersion in another culture an opportunity to really appreciate diversity and difference. On their part, the students are faced with stereotypical views that others may have of them. They are ambassadors for TCU but more importantly for the U.S.A., and they change negative perceptions that Mexicans may have about Americans."

At the same time, the students gain firsthand knowledge of the Mexican people, shattering stereotypes of their own. They see how close-knit families are, and how impoverished. They begin to understand why Mexicans might migrate for jobs so they can send money home.

"These people really don't want to leave their loved ones or take something from us," Dietz said. "However, they don't want to see their families suffer, either."

The students ask questions. For example: Could something other than a border wall solve the problem of illegal immigration? "They begin to investigate issues far from their own experience, working alongside people, not just observing, communicating even when language is a barrier," Dietz said. This kind of intellectual stretching can be of inestimable value, in any field of study.

On the oven-building trip to Guanajuato, students hailed from a mix of disciplines, from graduate speech pathology to undergraduate interior design, RTVF and political science.

Hunter Shelburne, a senior in political science/Spanish and third-time veteran of the spring break service-learning program, took it all in: "The things we've done create impressions and memories that will extend far beyond this trip, and give us an opportunity to think critically about how we live our day-to-day lives and how we can think and act more globally."

After his first stint in Guanajuato in 2005, Shelburne returned to Texas ready to engage the world. He immediately knew that he would go abroad again during the summers to improve his Spanish and teach English; as a senior, he began studying French and Arabic.

"I think international experience should be mandatory for all students. There is an education that you get working outside your own culture that you simply cannot get while within your own comfort zone," he said. "The experience in Guanajuato is not one that many TCU students will have in their time in college. Participating in social improvement in another country really helps students connect to the global community. Many students come back from these trips and see the world differently."

RTVF major Jacob Bloch was eager to do that before he even left Texas. Prior to the trip, he commented: "I'm from an exceedingly normal town in the suburbs, ended up at TCU, and just recently decided I wanted to try and make better use of my time. This [week in Guanajuato] is just a start. I'm incredibly excited about the trip, ready to leave the atmosphere of TCU and be immersed in a vastly different culture. I hope to change, and be changed, and see an entirely different side of things.

Seeing poverty up close is something the students brace themselves for, but it still affects them. Of even greater impact is the fact that people who have so little are so happy to give. Maggie Thiesen wrote from Guanajuato, on the second day of the trip:

Work began on the first stove. The people of the community were incredibly friendly and excited that we were there. It was amazing that with such little they had, they were still eager to share with us. They practically force-fed us before we left!

Dietz has taught a five-week TCU summer study abroad course in social work in Guanajuato for nearly 10 years. Students study the Spanish language and culture, live with host families and volunteer with social service agencies, all while learning to work together across borders, seeking collaborative solutions.

This summer, students will spend five weeks in El Monte de San Nicolas, a rural community of 250 people. Mostly social work students will attend, working with an elementary school and investigating interdisciplinary issues with the women in the village. The women have expressed interest in self-development courses in nutrition and exercise. At present they help their children and husbands, but they would like to learn how to help themselves.

The summer study abroad course involves community development rather than the demanding physical labor of spring break. Course work reflects an emphasis on bigger social issues and learning how to address them.
Of course, there's also time for the sights. The students visit churches, museums and theaters in Guanajuato and nearby Dolores Hildalgo and San Miguel de Allende, and they gain an appreciation of Mexican history, art and culture. They also attend intensive Spanish language classes and study Mexican and Latin American culture.

Since the program's inception, TCU has built meaningful relationships with nongovernmental organizations and local and state government officials. The projects have been so successful that Dietz has proposed the idea of a TCU interdisciplinary center in Guanajuato, where international service-learning programs and curricula, internships, research and faculty/student exchanges would take place.

She is convinced that TCU should become a leader in international service learning. She calls it a "logical fit" with TCU's mission statement and dedication to international education. This fall, she will teach a service-learning course on helping communities here at home. Issues surrounding the Mexican-American community in Fort Worth and connecting with the local Hispanic community will be the focus.

See student video clips from Mexico and read their journal at www.newsevents.tcu.edu/770.asp
Contact Dietz at t.dietz@tcu.edu.
Comment at tcumagazine@tcu.edu.