Power Players | Environmental Defense Fund | Energy shortage in 1979

Q & A with Eddie Bernice Johnson '72
Mess with Texas too much, and you may tangle with Eddie Bernice Johnson '72 too. And that's not necessarily a bad thing. Amid TXU buyout headlines this past spring, Congresswoman Johnson, chair woman of the Subcommittee on Water Resources and Environment, solicited expert testimony assessing the overall impact of energy production in Texas and other states. Topics covered current and future pollution created by Texas power plants -- and brought Environmental Sciences Chair Mike Slattery before Congress on April 17. With energy questions in mind, The TCU Magazine caught up with Congresswoman Johnson in July.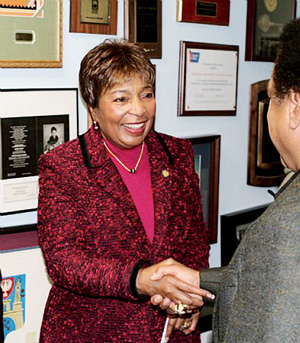 What insights did the subcommittee members gain from Dr. Slattery's research concerning plume drift and mercury deposition? I greatly appreciated Dr. Slattery's informative testimony, and I always welcome the opportunity to call on expertise from my alma mater. His testimony underscored the seriousness of the dangers posed by mercury pollution that is discharged into the air then collects in bodies of water and aquatic life. Since coal-fired plants are widely acknowledged as the largest single manmade source of mercury pollution, we have to be concerned about the concentration and proliferation of coal-fired plants throughout the state. Dr. Slattery also pointed out the need for concern in neighboring states, which can also suffer from airborne mercury deposition in their waterways and fish. In fact, 44 states currently have advisories warning people not to eat one species of fish or another. These regional and national effects argue for a continued federal role in regulating mercury emissions.
In your view, how will the proposed TXU buyout affect air quality in the state and beyond? I was pleased when the buyout proposal was announced to hear about its more environmentally friendly character. However, I think it's a false choice to say that those kinds of improvements come at the expense of higher energy prices. I think the potential buyers understand that it's possible to make green improvements and still maintain a successful business model, and that in fact, it's part of their corporate responsibility.
Do you believe Texas energy consumers will ultimately pay more for energy? As to consumer costs, Dallas' daily newspaper recently commissioned a study that concluded that despite a promised short-term rate cut, customers were unlikely to benefit in the long run. The paper also reported that TXU's current energy prices are at the top of the range for North Texas. . . . I'd especially like to see an examination of the practice of setting wholesale prices based on the most expensive plant running at any given time. As for supply . . . our state will have to continue wrestling with it and constantly recalibrating. It's always difficult to predict the future, but Texans will have to consider both environmental conditions and market factors as the landscape changes and develops.
Your environmental clout is clear; the Water Resources and Environment Subcommittee you lead holds jurisdiction over water conservation, pollution control, infrastructure, and hazardous waste cleanup. Why did you aspire to this post to begin with? This particular committee gives me the flexibility to address a range of environmental concerns and hazards. I have always represented an urban area that suffers from poor air quality. As a former nurse, I've seen the toll that asthma and other respiratory illnesses take on our area's children. Just last year, Children's Hospital treated nearly 14,000 local children for asthma and other respiratory illnesses. I also look at my grandchildren and I want to leave them and their children a world that's cleaner than my generation found it. To get there, we have to preserve the strides we've made toward a cleaner environment and work to reverse the damage we have inflicted as well.
Is there the right mix of environmental legislation that can help the nation preserve ground gained in the environment and begin to reverse damage done? The right bill for the environment would be one that addresses the urgent need for clean air and water -- one that reduces our dependence on fossil fuels and foreign sources, increases conservation, encourages innovative use of renewable energy sources and protects our environment and sensitive natural ecosystems.
After earning bachelor's and master's degrees from TCU and SMU, respectively, Johnson served as the chief psychiatric nurse at the Veterans' Administration Hospital in Dallas. After election to the Texas House and Senate beginning in 1982, she was elected to her first seat in the U.S. House in 1992. Eight terms later, the Congresswoman has quietly become one of Washington's difference makers, especially when it comes to her latest post -- Chairwoman of the Subcommittee on Water Resources and Environment.

More at www.house.gov/ebjohnson
Comment at tcumagazine@tcu.edu.