Journalism | Brite Divinity School | Upward Bound | Advertising |
History | Business | Art | Kudos & Research Notes

Creative positioning
Developing a marketing campaign for Coke only increased these students "Crave-ing" for success.
In advertising, it's not what you know, it's what you can do. And this year, a team of 18 Ad students in the Schieffer School of Journalism got the "do" part down quite well.
So well in fact, that they took first place in the toughest district in the nation during the annual National Student Advertising Competition, sponsored by the American Advertising Federation.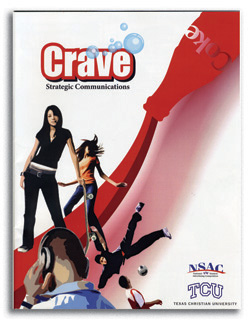 The Horned Frog team -- the first from TCU to win district -- then placed 8th place out of the 100 teams that made it to nationals.
In addition, they got a special invitation by Coca-Cola marketing pros to present the details of their campaign at the company's headquarters in Atlanta.
For this year's competition, students were asked to create an integrated campaign to "reposition Coca-Cola Classic among 13- to 24-year-olds." The TCU group narrowed their focus further, concentrating on the Hispanic marketplace in that age group.
Their team, which they named Crave Strategic Communications, developed a campaign that incorporated a slogan: Coke Side of Life -- "Mi Vida," into a wide range of media outlets, including an interactive Web site, advertisements, mall videos, cinemedia, concerts and TV ads for "Lateens" -- teenage Latinos.
Comment about this story at tcumagazine@tcu.edu

Did you know?

Here are some facts about the Hispanic teen market the Crave team included in their campaign book:

National LaTeen demographics:
Total population: 5,664,865
Male: 52.5 percent
Female: 47.5 percent
LaTeen Motivators:
Taste: Eighty-nine percent indicated that the most important factor when purchasing a beverage is taste.
Brand image: LaTeens are 60 percent more likely to consider brand image when making their beverage choices.
Advertising: LaTeens are 39 percent more likely to factor advertising into their beverage choices than their peers.

Insights into the LaTeen market:
Family is very important, and this includes extended family
LaTeens are eager to please their families, especially parents. Bonds between siblings are strong.
LaTeens are highly independent and "live for the moment."
Passions include academics (to please parents), music, art and athletics.
They are not into following the crowd -- in fact, they believe that people should not do things just because others are doing them.
They are confident in their future plans and 76 percent plan to attend college.
LaTeens are proud of their cultural heritage and emphasize that all Latinos are "not the same."