First Person | Football | Coachspeak | Brian Estridge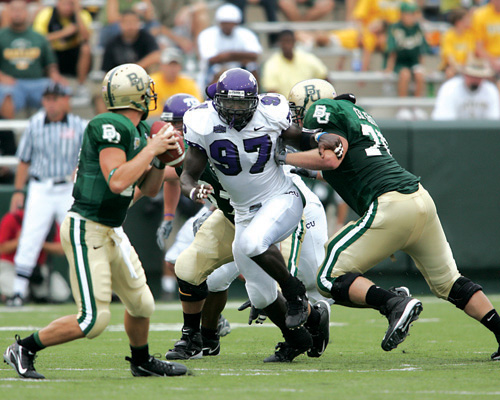 Unfinished business
Standout defensive end Tommy Blake returns to direct another BCS run.
By Mark Wright
Tommy Blake entered the season as the most hyped defensive player in the tenure of defensive-minded coach Gary Patterson.
Back-to-back seasons as a first team all-Mountain West Conference defensive end netted Blake All-America honors on four preseason award lists.
But ask the senior about his goals for 2007, and awards and statistics won't be a part of his answer.
"My individual goal is to make sure we finish on top," Blake said.
The converted running back, who rushed for 2,000-plus yards as a high school senior in Aransas Pass, swears he isn't just trying to say the right thing.
"The fact of the matter is it doesn't just take one person to make a good team," Blake said. "We have good players, and we've got great coaches taking care of us and teaching us what we need to do. We're just taking care of our business."
Taking care of business, for Blake, means swarming the opposing backfield. In his second career start, the 2005 season opener, he and defensive end mate Chase Ortiz shut down star tailback Adrian Peterson in a road win at Oklahoma.
Blake's legend grew from there. By the end of the last season, when he was named the most valuable player in the Poinsettia Bowl, Blake was being talked about as a possible high-round pick in the NFL Draft.
He considered turning pro a year early, but Blake, who was raised by his maternal grandmother, decided he had unfinished business at TCU -- on the field and in the classroom.
"I just thought about life and thought about what I need to do -- what's best for me and best for us as a team," said Blake, who is closing in on a degree in psychology with a minor in communications.
As Blake further cements his place in the Horned Frogs' record books, he is also solidifying his status as one of the best defensive player in Patterson's nine years at TCU.
But is he the best?
Patterson, who is partial to some of his past stars, isn't ready to answer that question.
"He's one of them," Patterson said. "But you also have to talk about Aaron Schobel, Bo Schobel, Bobby Pollard, Shawn Worthen. There's been some really good ones here in my time."
It's a conversation Blake also isn't interested in having. He's too busy taking care of business.
"We have a great program here," Blake said. "And I think if we just come out here and do things right that our team is going to get recognition. Just handling our business, as we say."
Comment at tcumagazine@tcu.edu.

A quarterback combo
History says TCU needs more than one capable QB. Good thing the team has two.
By Scott Blusiewicz
Marcus Jackson and Andy Dalton really aren't that much different.
Jackson, a sophomore, played the saxophone for two years as a teenager and now downloads "oldies music from the '70s and '80s" whenever he gets a break from football and the books.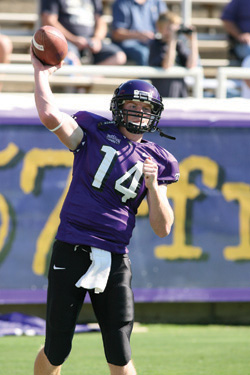 Dalton, a redshirt freshman, plays guitar as a "big hobby" and used to jam with a church youth band when he was in high school.
Both Frog quarterbacks are business majors. Both were successful signal-callers in the Houston area before coming to TCU. Jackson from Westside High; Dalton from Katy.
And most important to offensive coordinator Mike Schultz, both gained experience as Jeff Ballard's understudies last fall.
Jackson received his first taste of life as the Frogs' starting quarterback when a woozy Ballard was unable to return for the second half of the Baylor game last fall. He responded by completing 11 of 13 passes for 148 yards and two touchdowns as the Frogs rallied for a 17-7 victory in Waco.
Dalton was on the travel squad all season as the program's third quarterback and learned the offense from the sidelines.
"The pattern around here the last several years has been that we will need two good quarterbacks, and we have that," said Schultz, who named Dalton the starter in late August for the season opener against Baylor.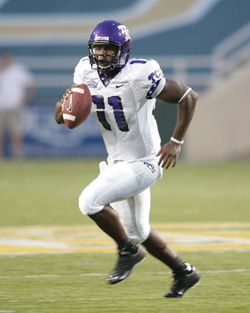 In each of the last six seasons, from Casey Printers to Ballard, TCU has lost its starter for at least one game.
"That's why we coach quarterbacks like linebackers," said head coach Gary Patterson. "You make practice tougher than ballgames, and that way they can handle the hard situations."
Both players say they're ready.
"I think my past experience mostly affects my teammates around me," Jackson said. "They know I came through for them last year at Baylor. I think that gives them a lot more confidence in me than I have in myself."
Dalton says his experience in practice, along with the pressure-packed environment surrounding his high school's march to the 5A state championship game in 2005, has prepared him for leading a TCU squad with lofty expectations.
"It definitely helps playing for a high school team like I had," Dalton said. "We enjoyed great success and the attitude we had has carried over here. The attitude of winning is expected."
And that just gives the Frogs two ways to win"
Comment at tcumagazine@tcu.edu.