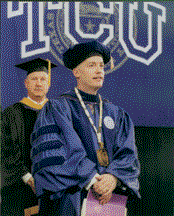 A new beginning
Though Victor J. Boschini, Jr., was the honored guest, the University was center stage in March when its 10th Chancellor was Inaugurated amidst plenty of pomp.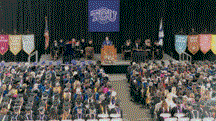 With a host of visitors from other universities and learned organizations looking on, Boschini outlined his plan for taking TCU to the next level.
Noting that his vision is one where "education transcends career preparation," he acknowledged the importance of the latter.
"I want TCU to be a place where the search for meaning is part of the academic fabric, where first principles matter," he said.
That evening Daniel-Meyer Coliseum was transformed into a softly lit ballroom where family and invited guests celebrated the formal installation of the new chancellor in style.
To read the addresses, go to: www.chancellor.tcu.edu/inauguration.
Hyman named top athletic director
Hyman named top athletic director TCU Director of Athletics Eric Hyman has been named the 2004 National Athletic Director of the Year by Street & Smith's Sports Business Journal. Under the leadership of Hyman, who is completing his seventh year directing TCU athletics, the Horned Frogs have become a nationally prominent program with improved visibility, personnel and facilities and nationally ranked Top 25 teams.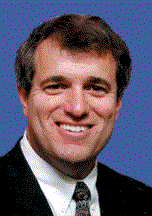 Hyman was selected for the national award after being chosen as the NCAA Division I-A West Region Athletic Director of the Year by the National Association of Collegiate Directors of Athletics (NACDA).
During the 2003-04 school year, TCU continued its recent success in collegiate athletics. The Frogs garnered four conference championships in baseball, men's golf, women's swimming and diving and women's indoor track and field. The Frogs also secured nine second-place league finishes. The conference championships in women's swimming and women's indoor track were the first in school history, while the TCU baseball and volleyball teams set school records for victories.
In addition, the TCU football team captivated the nation by reaching a Bowl Championship Series ranking of sixth in 2003, the highest ever for a school from a non-BCS conference. Six TCU teams -- men's indoor track and field (8th), men's golf (10th), men's tennis (18th), women's basketball (22nd), football (25th) and men's outdoor track and field (which placed fourth at the NCAA Championships)--finished their respective seasons rated among the nation's top 25.
Since Hyman's arrival in Fort Worth, the Horned Frogs have generated 29 conference titles. Since the 1999-00 campaign, TCU owns an impressive 26 league championships, an average of more than five per year. In addition, the Frogs are excelling in the classroom. In the latest report issued, TCU student-athletes have a higher graduation percentage rate -- 72 percent -- than the overall student graduation rate Ð 64 percent. Attendance figures have also increased. In 2003, TCU's home football attendance average of 36,155 was the second highest in school history, the Daniel-Meyer Coliseum single-game attendance record was broken by the men's basketball team and the women's basketball program set a TCU record for average home attendance at 3,470.
Under the direction of Hyman, the Horned Frogs transitioned to Conference USA during the 2001-02 school year and turned in the most successful overall season of any C-USA member. The Frogs' debut campaign in the league featured one regular season championship, five tournament championships and nine NCAA appearances, more than any other conference school. That season came on the heels of the 2000-01 athletic season, arguably the best in school history, when TCU registered a school-record eight Western Athletic Conference championships and had seven teams nationally ranked. TCU was one of only four schools to record 10 victories in football and 20 wins in both men's and women's basketball, and set a school record for football season tickets sold.
"TCU has achieved success because of a wide cross-section of support within and outside of the university," Hyman said. "From the chairman of the board to the faculty to the coaches, TCU is the most user-friendly school at which I have ever worked. What separates TCU from all other schools is the spirit and the cooperation of its people. Recognition like this is a reflection of a lot of people working together. It's not about one person; this is a group effort."
Bringing the whole family together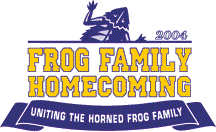 It might be the biggest Frog gathering ever this fall as Homecoming and Family Weekend are rolled into one giant event called Frog Family Homecoming. Organizers say the move unites the entire Horned Frog family on an unprecedented scale. "Our decision to combine Homecoming and Family Weekend was made after we realized game scheduling conflicts would make it impossible for us to offer both events successfully," said Chancellor Victor J. Boschini, Jr. While the events are merging, Homecoming traditions such as the Homecoming parade, reunions with old friends and a rousing football game, are still on tap. The Horned Frogs are scheduled to take on one of their bigger Conference USA rivals, the University of Houston, Saturday, Oct. 23. Be on the lookout for more information about Frog Family Homecoming.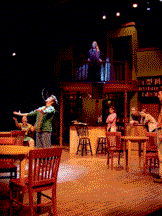 Melrose Stories
Theatre TCU performed T.J. Walsh's new romantic comedy Melrose Stories last February to appreciative audiences. Written and directed by Walsh, a theater assistant professor, the story features New York writer Tom Kellogg who inherits a bookstore on trendy Melrose Avenue in Los Angeles. Tom, visiting Los Angeles for the reading of the will, stops by the store and finds that he is pulled into the lives of those who work at the store and that the store itself has a life, and a mystery, of its own.
Minister to many Frogs
The Rev. Angela A. Kaufman '95 has returned home, this time to do what she came to TCU to learn to do -- minister. Kaufman will serve as the Minister to the University beginning in July. She succeeds the Rev. John L. Butler who retired this spring after 25 years in the position.
Kaufman returns to Fort Worth from DePaul University in Chicago where she has served as assistant director of University Ministry of the downtown campus since 2003 and chaplain for the College of Commerce and Kellstadt Graduate School of Business since 2002.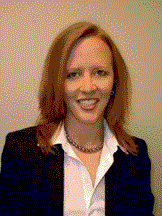 Reared in Richardson, she majored in philosophy and religion at TCU. She went on to receive a master's of divinity degree from the University of Chicago Divinity School in 1999 and continued her education with coursework in management, economics, human services and counseling at DePaul.
"The college years are a crucial time to support students as they explore their religious identity as well as critically and reflectively develop their faith," Kaufman said. "I am honored to be joining the TCU family in such an important role."
Kaufman's work in ministry began with summer internships with youth at Christian Churches in San Antonio and Brownfield. After graduating from TCU, she became student pastor at Christian Church of Arlington Heights, Ill., and began working at DePaul as residence hall minister in 1999. She also has taught computer software classes at Valcom Inc., and at Columbia College in Chicago.
By Jupiter! Look at that.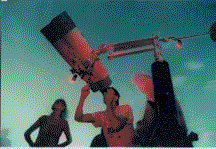 Nearly 600 stargazers took turns viewing one of the solar systems most unique planets from telescopes atop the roof of the Tucker Technology Center April 22. Jupiter Day, hosted by the Monnig Meteorite Gallery, also featured a presentation about the planet's features and gallery tours.
Etching a memory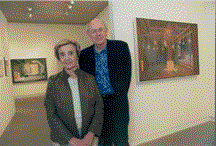 The University Art Gallery hosted a poignant Holocaust exhibit this spring. Tales of Slavery and Deliverance, featured 25 stories from the Holocaust and 13 accompanying etchings. The moving narratives are based on the vivid memories of Dr. Anna Ornstein, above left, who survived internment at Auschwitz as a teen, and later immigrated to America to become a respected professor of child psychiatry at the University of Cincinnati College of Medicine. The etchings, as well as four large-format paintings included in the show, are the work of Stewart Goldman, above right, emeritus professor of painting at the Art Academy of Cincinnati. TCU partnered with The Jewish Federation of Fort Worth and Tarrant County and The Herzstein Foundation of Houston to bring Ornstein and Goldman's Tales of Slavery and Deliverance exhibit to Fort Worth.
Yawning for a good cause
College students are notorious for staying up 'til dawn. But this time more than 200 students deprived themselves of precious weekend sleep for charity. From 5 p.m., Friday to 7 a.m. Saturday students ate, gamed, danced and even massaged their way through the hours without shuteye -- in an all-out effort to raise money for St. Jude Children's Research Hospital. This year's annual "Up 'Til Dawn" fundraiser netted an estimated $55,110 for the hospital, which offers care to children with cancer and their families, regardless if they can pay.
The world on campus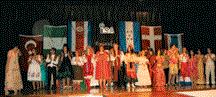 Current and former international students celebrated a world without borders through fest and fellowship at the banquet held in conjunction with International Week festivities this March. More than 40 alumni and dozens of current students enjoyed a fashion show featuring native dress from 60 countries and a variety of dance acts from around the globe. John Singleton, director of International Student Services, said alumni fly back to TCU from around the world to attend the week's festivities. He describes International Week as the equivalent of homecoming for (international students). "It gives them an opportunity to present their cultures and to show off."
Toot sweet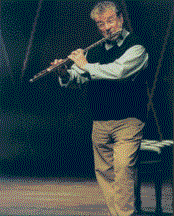 For fans of the flute, the chance to study with renowned flutist Sir James Galway was a once- in-a-lifetime music lesson. One of Ireland's most distinguished exports, Galway was on hand this March to teach a master class for the School of Music. More than 300 music students and members of the Texas Flute Society reveled in the opportunity to study with the entertainer, whose wide musical range has thrilled audiences worldwide. Galway has recorded more than 50 RCA albums and tours internationally throughout the year. Galway and his wife Lady Jeanne Galway, also a flutist, also performed together at Bass Performance Hall as part of the Cliburn Concerts series.
NAACP student chapter established
An omission on campus has been righted with the establishment of the first chapter of the National Association for the Advancement of Colored People at TCU. The turnout for the first meeting was about double the required 25 members necessary to establish the organization.
The founders of the group, as well as a few members from the UT-Arlington chapter, were ready to implement big changes on the TCU campus.
Chapter president Carmela Smith said that TCU's NAACP plans to host a voter registration drive and to start a mentor program with high school students. Reese said the group plans to celebrate Black History Month by creating a collage made of pictures of different people to spell out the word "unity" and to post the mural in the Student Center.
"The TCU Chapter wants to focus on integrating students," Smith said. "I feel that sometimes people tend to form cliques at TCU. However, NAACP seeks to bring unity among students."
Over there
Following a call to find Frogs involved in the armed conflicts, we received the following names. If you know of other Frogs serving our country in this war against terrorism, let us know by calling 817-257-7807 or by e-mail at tcumagazine@tcu.edu.
Capt. Starr-Renee Corbin '00 Starr-Renee serves with the 13th Signal Battalion, 1st Cavalry Division in Baghdad. She wrote recently that she was startled to see a co-worker reading The TCU Magazine, then discovering he was a fellow Frog. She also sent this picture of son James, who was born at Fort Hood, where she had been stationed. When James was 5 1/2 months old, below, Corbin was deployed. "It was the hardest thing I have ever had to do. But I have an extremely supportive husband who sends me photos and video over the internet of all my son's firsts since I have left Texas: him crawling, him eating solid foods and him chasing our dogs around the living room! "Did I like to leave my son so young? Of course not! But I am one in an Army of many parents who have had to do the same. I do this job for many reasons, but I also believe in Karma. I believe that the good Lord will take my service as credit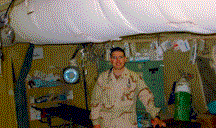 so that my children will not have to go to war one day. It may sound sappy, but honestly, one of the reasons I do this job is for my children and for people like you."
Capt. Ruben Salinas, Jr. '95 Ruben is deployed to Balad, Iraq. He is part of the 31st Combat Support Hospital in which he's providing excellent medical care to our soldiers serving in the Middle East.
On the homefront: Comic relief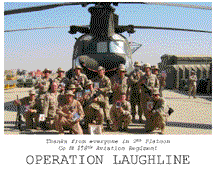 Concerned about depression in her husband's recently deployed Army Reserve platoon, Tracy Sterling Bristol '80 (designer of The TCU Magazine) started Operation Laughline, a collection drive for comedy DVDs to send to troops overseas. Syndicated radio personality Kidd Kraddick launched the program nationally and fellow horned frogs Robin Maness Thayer '80 and Robin Young '80 provided marketing support. David Bristol's platoon is shown at right with some of the comedies. Over three thousand DVDs were collected and shipped in the first two weeks of the drive. For more information visit operationlaughline.org.
Congregating for a Cure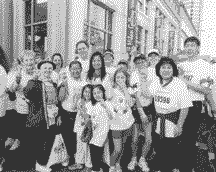 More than 25 faculty, staff members and their families ran in this spring's Fort Worth Race For the Cure, benefiting the Susan G. Komen Breast Cancer Foundation in April. "For faculty and staff it's a great chance to socialize outside of work," said Hao Tran, associate vice chancellor for administrative services. "It's wonderful we can all come together with one goal--bettering our community."
Puttin' on the Frog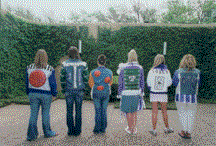 You might see a few alumni sporting some eclectic Frog attire at upcoming sporting events. Two one-of-a-kind Horned Frog jackets were auctioned off at this year's women's basketball banquet. And four more unique creations will be hitting the auction block at the upcoming football banquet and a Frog Club online auction. The six specially themed jackets were handcrafted by a group of design, merchandising and textiles students as part of a class project. Alumni couple Augie Shilling '72 and Suzanne Huffman '73, a TCU journalism professor, helped get the class's creative juices flowing by soliciting jerseys and other Frog attire as material for the jackets. They also provided the group with some funds for the project. All proceeds from jacket sales go to support TCU athletics.
Top prof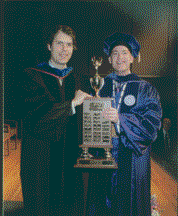 When assistant philosophy Professor Blake Hestir (shown below, left, with Chancellor) heard his name, his jaw sagged and he appeared confused. Hestir had just been named Honors Professor of the Year, a recognition given for outstanding contributions to the intellectual life of the University. Hestir rose and stumbled over words as he expressed his appreciation to the Honors students, who choose the award winner by vote. Hestir's animated, engaging teaching style that successfully presents "abstract, seemingly impenetrable concepts in simple, digestible terms," was cited as one of many reasons he was selected. "This professor changes the way students think about the world," said Greg Beauchamp, chair of the Honors Cabinet as he introduced Hestir. "He encourages us not only to learn the course material thoroughly, but also to develop into articulate and impassioned human beings."

Picture this
Photojournalists now have a space to call their own. As part of an initiative to further the study and appreciation of photojournalists and their craft, several walls of the second floor of the J.M. Moudy Building-South have been designated a gallery. The new Photojournalism Gallery will showcase the work of local photojournalists, alumni and other artists dedicated to bringing us the news in pictures. The display, which also offers space for current students to show off their work, is expected to rotate in fall and spring semester. The gallery's first exhibit is the thought-provoking work of Tom Pennington, renowned photojournalist for the Fort Worth Star-Telegram. Pennington, who spent several months in the war zones of Afghanistan and Iraqi, provides a unique look at what it's like for civilians struggling with daily life in the midst of the War on Terror. "Images of War" will be on display until August.
Middle Eastern visitors enjoy Frog hospitality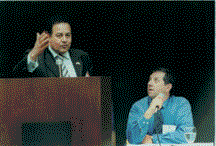 When TCU played host to 20 Middle Eastern leaders, opinion shapers and journalists as they passed through Texas on a tour of the U.S. this spring, goodwill was plentiful, discussions candid and learning certain. The group, media personalities and academics from throughout the Middle East and North Africa, visited campus as part of a citizen ambassadors tour organized by the Secretary of State. For many, the expedition marked their first time to America. While on campus, professors and Fort Worth community leaders joined members of the group for an enlightening panel discussion about the differences between cultures. The forum offered an opportunity for open debate about the perceptions each region has about the other. Manochehr Dorraj, professor of political science, served as moderator. He said the discussion, and the entire visit "helped build goodwill beyond political relations." "On other tour stops, these visitors sat passively learning about western culture and the U.S. economy," he said. "Here they not only experienced Fort Worth hospitality, but they also got the chance to actively participate with us, without fear of retribution, and help our countries build a bridge of understanding between the Western and the Arab worlds."
In brief
Accelerated nursing degree
TCU's Harris School of Nursing received a $286,000 grant from The Texas Higher Education Coordinating Board (THECB) for implementation of the first accelerated bachelor of nursing degree (BSN) in Texas. The degree and grant are a direct response to the growing shortage of nurses in Texas.
Designed for college graduates with degrees other than nursing, students in the accelerated BSN will advance to a nursing degree in 15 months. Twenty students with varied backgrounds, such as a Ph.D. in applied mathematics, public health and law, began the program in May 2004. For information, call 817-257-7520 or e-mail c.walker@tcu.edu.
Kudos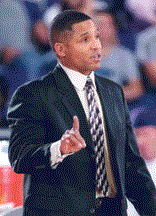 Head men's basketball coach Neil Dougherty was named "Best Dressed Coach" by CollegeInsider.com.
Stacey M. Floyd-Thomas, assistant professor of Ethics and Black Church Studies at Brite Divinity School, was the recipient of the Catherine Saylor Hill Endowed Faculty Excellence Award, and the Louise Clark Brittan Endowed Teaching Award given by the Brite student body to recognize superlative teaching performance. Each award carries a $3,000 stipend.
Junior Adam Jackson swept the 20th Annual Entergy Young Texas Artists Music Competition Finalists' Concert in March. Jackson was Young Texas Artist of the Year for 2004. In addition to a $1,000 prize, Jackson was invited to perform with the Laredo Philharmonic Orchestra. He also won the $1,000 first place prize in the Piano Division and the $500 Audience Choice Award. Recently, Jackson was also honored with first prize from the Fort Worth Music Teachers Association.
Entrepreneur Magazine has ranked TCU's James A. Ryffel Center for Entrepreneurial Studies at the M. J. Neeley School of Business one of the Top 100 Entrepreneurial Colleges and Universities for 2004. The rankings, which appear in the magazine's May issue, put TCU in the top two percent of more than 825 entrepreneurship programs nationwide and distinguish the program as tops in Texas. David Minor, the Center's director, was also recognized. His peers voted him as number seven in the top 10 list of entrepreneurship program directors in the U.S.
TCU's student publications, The Daily Skiff and Image magazine won a combined 29 awards from College Newspaper Business and Advertising Managers (CNBAM) and the Texas Intercollegiate Press Association (TIPA) for work done during 2003. Skiff advertising staff took home top national honors from CNBAM for Best Special Section and Best Training Program. At TIPA, number of Skiff and Image staff members took home individual honors, and Image snagged the Sweepstakes Prize for most honors won with 16.
The TCU University Recreation Center received the Outstanding Sports Facilities Award by the National Intramural-Recreational Sports Association. The award recognizes TCU's 232,500 square foot facility for excellence in design, efficient use of space and resources and ability to meet the unique needs of patrons.
TCU Tomes
Texas in Poetry 2
Edited by Billy Bob Hill
TCU Press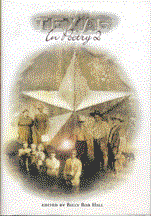 Texans have long used poetry to extol the virtues of the nation's most independent state and chronicle its turbulent history. In Texas in Poetry 2, readers can catch a glimpse of the Lone Star state from its sesquicentennial for state independence to the present. Revised from the acclaimed 1994 anthology Texas in Poetry: A 150-year Anthology, the collection includes well-known poets such as Walter McDonald and Vasser Miller. But it also includes verse from some who gained notoriety more for the roles they played in Texas history, such as infamous bank robber Bonnie Parker and the Republic's second president Mirabeau Lamar. Renowned as the definitive collection of Texas poetry to date, this anthology offers as much for the poetry enthusiast as it does for the state history buff. It is available at the TCU Bookstore and online.
Randolph Clark's Memoir Now Available in Paperback

Reminiscences Biographical and Historical, written by Randolph Clark and first published in 1919, is now available from TCU Press in a facsimile paperback edition. In response to many requests, Clark wrote this anecdotal account of the early days of TCU in Thorp Spring in the 1870s. In this edition, the grammar and syntax are unchanged to meet today's modern style, the type is as it was printed long years ago, and the errors, if any, are original. Order from the TCU Bookstore, 817-257-7844, or University Publishing, 1-800-826-8911.