Big man on the boards
From rebounding to corporate governance, James Cash '69 has always had the drive for a challenge -- and the wisdom to enjoy the journey.
By Rick Waters '95
Networking comes easily to James Ireland Cash Jr. '69. It's knowing people, their life situations and their dreams. Then it's connecting the dots.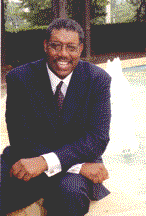 Cash has relationships nearly unmatched in American business. As a recently retired faculty member at Harvard Business School, a former dean of the MBA program and the school's first tenured black professor, there are a lot of dots in his life. He has served on more than a dozen major corporate boards and nonprofit institutions, and two of the biggest companies in the world -- Microsoft and General Electric -- currently seek his advice. An electronic address book stashed inside his jacket contains almost 4,000 names, from undergraduates to CEOs.
For all his connections, the 6-foot-6 former Horned Frog basketball star shuns the limelight. "My definition of power and influence is the ability to make things happen without people knowing that you are responsible," he says as if it's a part of a personal motto.
But a public profile has proven unavoidable. Late in 2002, he was asked to chair the committee created by federal court to ensure that Microsoft complies with antitrust rules after the historic litigation between the company, nine states and the U.S. Justice Department. And last year he became a part-owner of the NBA's Boston Celtics, a decision, he says, that took half a second to make.
Cash's place in life is all the more intriguing because of his beginnings -- at segregated I.M. Terrell High School in Fort Worth. The son of a railroad mechanic and a teacher, young James developed an interest in computers during a summer internship with the National Weather Service while in high school.
"I fell in love with computers that summer," he recalls. "It was my second love, after basketball."
Those basketball skills earned him a TCU scholarship in 1965, making him the first black player in the Southwest Conference. It would be an early introduction to a lifelong practice of crossing racial barriers. Although his white teammates accepted Cash, he sometimes needed a police escort to enter and leave hostile arenas in some parts of the South.
Cash finished his three-year varsity career as TCU's sixth all-time scorer. Now he's down to 24th on the list, but he remains the Frogs' fourth-leading rebounder in history, averaging 11.6 boards a game. His senior year he was named all-SWC.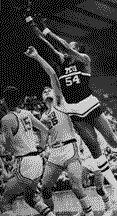 He also was a standout in the classroom, earning Academic All-America honors in 1968 and 1969.
"I knew there was more to life than basketball," he says.
After graduating from TCU, Cash worked in data processing, starting a few small, not particularly noteworthy software companies. Eventually, he returned to school and earned a doctorate in management information systems at Purdue.
In 1976, he was recruited to join the Harvard faculty, and he quickly made an impact by introducing computer-based systems and technology into the curriculum. By 1985, he was a full professor and settled in suburban Boston with wife Clemmie and their two children.
Along the way, he developed a reputation as a thorough, process-oriented manager and administrator, eventually chairing the school's MBA program during a period when it was completely redesigned.
Daniel Bricklin, co-inventor of the first electronic spreadsheet, VisiCalc, worked with Cash as a Harvard student in the late 1970s, when he was hatching the concept. "I described my idea to a few of my professors, and Jim was the only one who encouraged me," Bricklin told The Boston Globe. "He recognized that it was an improvement in human interface."
As he rose through the ranks at Harvard, Cash spent more time on corporate boards. Besides Microsoft and GE, he serves or has served on the boards of Knight Ridder, Tandy, Alcon Laboratories, Scientific-Atlanta, Winstar Communications, Chubb Group and State Street Bank and Trust.
He's aware that some corporate board recruiters regard him as a demographic bonus: an information technologist who can also bring diversity to the traditionally white world of corporate governance. But Cash makes an effort to assure that his appointment will work for the right reasons.
"Before I join a board, I always make sure that I will make a contribution separate from just the diversity issue. The diversity issue is very important to me, it's not that I'm running away from that. But I find that the best way for me to help a company with its diversity issue is to make a substantial contribution in another category, and that's usually information technology or corporate governance.
"The minute I get a hint that the only contribution I'm making is on the diversity dimension, then it's time for me to move on. In some cases it's pure tokenism, and I have no room for that."
At Harvard, Cash served as a tireless recruiter and adviser to minority students and faculty. By 2000, his commitment to diversity broadened to include the status of young African-American males in the United States, something he eventually decided would be his "next mountain to climb."
"It's such a big problem. Our system really starts with some sort of aspiration, the belief that our country gives young people a better chance of achieving their dreams than any other place they could be. But I think we're looking at a generation of people who have grown up without the ability to be inspired."
Recently, Cash made a major career shift, retiring from Harvard at age 55 to climb that mountain and devote himself to "the plight of young African-American males." He set his focus on contributing to the board of the Harlem Children's Zone Project, a New York-area truancy-prevention program that has grown into a wide-ranging social service net for children. The group sponsors workshops for parents, holds pre-kindergarten classes, runs an employment and technology center and provides a dropout prevention program.
"Jim is very conscious of how much he's been able to do because he's connected to good people," says David Thomas, a professor at Harvard Business School who studies the forces that contribute to the rise of minority executives. "His relationships range across the status spectrum, across race, across institutions, across technologies."
Cash also continues personal speaking engagements. One recent trip brought him back to TCU to discuss corporate governance and the importance of serving on public boards.
It was the largest crowd of the year at the Charles Tandy Executive Speaker Series and included several members of his family and his former high school coach, Robert Hughes.
Cash couldn't help but share a few stories of his hometown and college days. "For me, achieving my dreams began here, in this town and at this university," he said. "It holds a special place in my heart. My mother earned her master's degree in education here. I earned my first degree here. It's a place that helped shape and change my life."
Then, as if determined to spend as little time as possible in front of the room, he left the podium to thunderous applause and soon was back in his element -- shaking hands, introducing himself, making connections, networking.
Connecting more dots.
To comment on this article, e-mail tcumagazine@tcu.edu