Notables
Hollywood dreams come true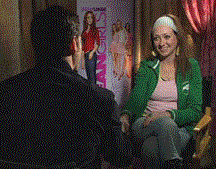 For Kelly Marino '02, a child of the MTV generation, getting a chance to work for the nation's longest-running cable entertainment network isn't a dream.
But she did pinch herself the morning she left the West Hollywood home she shares with roommates, drove to her job as a production assistant for MTV's L.A. studios, and heard she'd be interviewing "Saturday Night Live" star Tina Fey. Marino, who spends most of her time helping MTV's producers research and prepare material for on-air entertainment news, was asked to interview Fey as the actress promoted her summer hit, "Mean Girls."
Since the piece went out on the MTV airwaves and was added to its Web site, Marino's role has stepped up a bit. She now regularly covers press junkets for upcoming movies and helps out with a number of the special events MTV hosts from Hollywood.
"I took a leap when I came out here two years ago," Marino said. "I lived with friends and banked on the fact that I had an internship with MTV while I was in school. I just kept pestering my contacts there, and a few months later it paid off."
Marino says she's taking editing classes and improving her skills in hopes of some day transitioning to an on-air talent.
"I feel so blessed," she says. "I grew up dancing and being interested in working in the entertainment field, but being able to work on the cutting edge of the industry is incredible É A lot of credit goes to the time I spent at TCU learning about journalism beats and what it takes to do well in the business."
Star Alumnae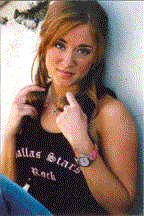 Attend a Dallas Stars hockey game next season and you'll likely be entertained by a Horned Frog.
Since the start of the 2002 season Hilary Kennedy '01 has been adding her commentary to those not-so-sporty antics for Stars prizes held at intermission.
Already a sports fan before she took the job, Kennedy said she gets a kick out of preparing contestents for their high-pressure, must-win-that-signed-puck moments on the ice.
"There's something really fun about prepping contestants who are about to go out on the ice and try to win a great prize at games where they might have to shot wieners out of slingshot and into the goal to win signed jerseys," she said. "And the up side for me is that I don't have to wear the wiener costume."
Kennedy also gets to prepare some pre-game entertainment. Her most memorable moment -- interviewing Willie O'Ree, the first black man to play successfully in the NHL.
During the off-season Kennedy focuses on acting. She recently completed a series of national television commercials, including one for J.C. Penney's department stores.
What's German for Horned Frog?
Jennifer Waddell '97 graduated with a degree in English, not German. But don't be fooled. Ask folks in Hof, Germany, and they will tell you she's the playwright for the area's hit murder mystery dinner theatre.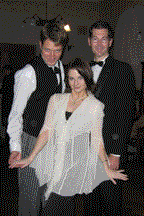 Waddell didn't speak German or even know much about the culture when she was commissioned to write the play. She had to write three endings before everyone in the production was satisfied with the outcome. Audiences don't seem to care.
The German press hyped the show before opening night, and hungry patrons turned murder mystery buffs have been selling out shows throughout the region every night since.
To add even more intrigue to the mix, the show's producer decided not to cast all characters, but rather to let a municipal official from each of the production's host towns take a stab at acting.
"The Mayor of Hof performed in my play on opening night," Waddell says with a bit of a laugh. Although the play has been a hit, Waddell said she expects either fiction writing or law school are more likely than a sequel.
"Long term, I would like to write fiction, and law school seems like as good a way as any to build business skills and a great mystery writing foundation at the same time," she says.
Gold Medalist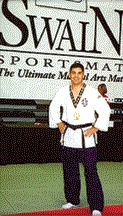 SAMBO is not a recognized TCU sport, but it has helped recent alumnus David Bonner '03 gain championship recognition.
An acronym for "self defense without weapons" in Russian, Sambo is a unique combination of martial arts. A cross between judo and freestyle wrestling, the sport offered Bonner a chance to combine athleticism, mental agility and personal strength -- all skills that will come in handy as he embarks on his career in the Air Force.
Now, a 2nd lieutenant with the 58th Fighter Squadron, on his way to Iraq, Bonner has traded his status as a top athlete for a chance to serve his country. Bonner became passionate for the sport when he was awarded a college scholarship for the study of Martial Arts, which included SAMBO, a sport he'd never heard of.
Passion and hard work earned Bonner the gold medal for Team USA at the 2003 World Cup Sambo Championships in France.
John Householder recruited Bonner for the ROTC program.
"David is a guy we want to watch. Alumni would be proud of him," he said.
Top