Other feature stories
Peace Corps Frogs
A Model Teacher-Scholar
After 35 years, TCU's first provost William H. Koehler retires, leaving behind a legacy of excellence and a deep love of university.

By Rick Waters '95

It's minutes before lunchtime late in the spring semester, and the provost is sitting in his third-floor Sadler Hall office, looking out the window. He has just been asked to think about his legacy.
But he'd rather not.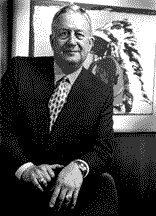 Analyzing personal achievements has never been his style. Tackle a project and results follow. That's his style. Even when he joined the TCU faculty 35 years ago as a tall, dark-suited, dark-tied chemistry professor -- the sort who stands in front of the class, pointer in hand, and goes about the day's business -- his style was to "work hard and the results speak for themselves." Basking in those results makes him uneasy.
But three-and-a-half decades is a long time to serve in one place, and the legacy question remains.
Silence.
Make no mistake, Dr. William H. Koehler has plenty to tell: How he oversaw multimillion-dollar renovations to classrooms, laboratories and residence halls. How he paved the way for computer science and engineering programs. How he fought to make the piano program an all-Steinway school. How he straightened out numerous student-athletes on the brink of academic failure (and then shook their hands at graduation semesters later).
Finally, the words come: "The good things that have happened during my tenure have happened during my tenure, not because of it."
University first. That's what you get from Bill Koehler.
"I look at the position of the institution, and nationally it's far better known and considered more prestigious than in any time in history," he says. "That's not because of me, but because a lot of people -- the governing board, chancellors, committed faculty and staff -- have worked to make it so."
But Koehler's colleagues know his impact. From athletics to academics to campus improvements, he has served the university through four administrations, influencing nearly every corner of TCU with a passion for excellence and a deep love of university. In May, his tenure comes to a close; 24 of his 35 years have been as chief academic officer.
"Dr. Koehler has been a major force for academic achievement at TCU," says Chancellor Victor Boschini. "He is widely recognized for championing the teacher-scholar model, stressing quality teaching coupled with discovery and publication of new knowledge. It's become the signature of the educational experience at TCU."
"Bill has held himself to a high standard, establishing a culture of excellence at TCU," adds Mike McCracken, dean of the College of Science and Engineering. "It's a reflection on his own personal style and his expectation of others. Consequently, it has become the standard."
The result has been a steady improvement in the quality of the university, from faculty hires to facility upgrades, with a constant focus on the education and care of students.
His shaping of the academic culture is a direct result of years in administration and the lecture hall. Koehler came to TCU in 1969 as an assistant professor of chemistry and became known as a tough but fair teacher. After seven years as a full-time faculty member, in 1976 he moved into administration as director of the Office of Research and Sponsored Projects, where he coordinated much of the faculty's scientific exploration. A year later, he became associate dean for graduate studies and research. Then in 1980, he was named president of the TCU Research Foundation and vice chancellor for academic affairs. In 1994, he received the additional title of provost.
In each administration, Koehler adapted well to the new chancellor. He helped smooth the academic expansion of the Jim Moudy era, raised funds to drive the fiscal growth of the William Tucker era, championed technological improvements to existing facilities and advocated the construction of new ones during the Ferrari era. And as TCU's newest chancellor settles into office, "no one has been more gracious to me and helped me avoid more pitfalls than Bill Koehler," Boschini said during Fall Convocation in September.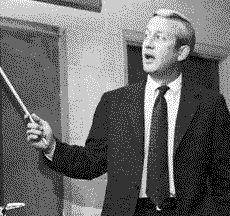 "Certainly one of his strengths is in putting together and keeping together an excellent team," said Tucker, whom Koehler credits for his career in administration. "You can see that through his relationships with the deans and faculty. He had some exceptional people as colleagues. And all of them working together played a major role in the size and quality of TCU."
Koehler's loyalty to the institution is unparalleled, says Leo Munson, associate vice chancellor for academic support.
"Every decision he's made has been for the best of the institution for today and tomorrow," Munson said. "From the '80s to today, TCU's respectability has increased, its selectivity has increased, its size is larger. And he was doing this all the way back in the '80s when other schools were mired in economic woes. Not TCU. We grew a little bit every year."
Koehler impresses his colleagues with his ability to manage the daily rigors of academic life. He saw TCU as a research institution but as an undergraduate institution first. Therefore, nearly every faculty member teaches undergraduate classes, a fact that sets TCU apart in higher education.
His mastery of details made him an expert monitor of technology enhancements around campus, including a $30 million upgrade to classrooms and laboratories in every academic building in 2002-03.
"He championed that classroom renovation," Munson said. "He was the driving force behind modernizing our campus, and annually his No. 1 goal in budget discussions is to add full-time faculty positions."
Fittingly, the university announced in May that it will add Koehler's name to the Center for Teaching Excellence.
When Ferrari charged him with restructuring the university's schools and colleges to better organize academic programs, Koehler suggested expanding from five to seven, allowing each to develop its own uniqueness. Then he hired new deans to run them.
Tucker recalls when Koehler entered his office one morning in the mid-'80s, closed the door and said he wanted to close undergraduate admission for a year.
"Well, I gulped," Tucker recalls. "By then we were growing as a university but admissions in the late '70s and early '80s had languished a bit, and what he was suggesting had never been done before in the modern history of the university. But his argument was extraordinarily convincing. We already had a splendid class in hand, and by closing admission he believed we would make TCU even more desirable. So we discussed it and took the leap, and it served TCU very well for many years. We saw a jump in the number and quality of applications, particularly in SAT score, after that. It was a move that showed daring and wisdom on his part."
Koehler also played a major role in strengthening the management and effectiveness of TCU athletics, almost unheard of among university academic officers. When the Southwest Conference disbanded in 1995, he was a leader in charting a plan to revitalize the athletic program, hiring key administrators and helping attract top-notch coaches.
"We have some outstanding administrators and coaches because Bill Koehler had a vision of a nationally respected Division I-A athletics program and worked to fulfill it," says Athletics Director Eric Hyman.
Koehler was the bridge between the academic and athletic communities. "TCU doesn't have two campuses -- one for athletics and one for academics," Munson says. "We have one campus. That's special. Not everybody has that, and Bill Koehler accomplished that."
The work speaks for itself.
And now...to the school board
Why would Bill Koehler want to be the president of the Fort Worth school board now?
"I'm too young at heart to go home and plant tomatoes," he joked. "I'd go stir crazy."
In interviews this spring with the Star-Telegram and Fort Worth Business Press, both of whom endorsed him, Koehler spoke passionately about the position as an opportunity to improve the community and give back to a city that has afforded him a comfortable life.
"I believe people have an obligation to make their communities better when opportunities come along," he said before the election. "This is an opportunity to contribute something to the place I've lived for 35 years."
And his nearly four decades in education make his leadership and administrative skills valuable to the district, which is recovering from construction scandals and financial blunders.
Voters thought so too, electing him on May 15 with a whopping 79.9 percent of the vote. He begins his school board duties this summer. "I am excited about the opportunity to be a part of making the community better and affecting the lives of its young people for the better," he said.
That tomato garden can wait.
Top