Remembering not to forget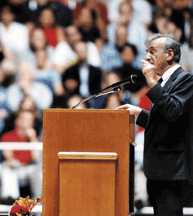 "And God created heaven and earth. And God created at one point, man and woman. "And the reason is very beautiful. It's the reason that we should give any fanatic so that he or she would understand that there is no way to humiliate another human being simply because that being is not what they are. So, our commentaries say, God created one man Adam and one woman Eve, so that at no point in time and space, any person could say, 'I am superior to you.' Because we all have the same grandparents. "That is beautiful -- if we all have the same grandparents -- and believe me, Adam and Eve were not Jewish. I always felt sorry for Adam, the only person who never suffered from an Oedipus complex."
As a crowd of 3,000 waited to see and hear the third annual Gates of Chai speaker in September, Brite Prof. Toni Cravens asked all the 15-year-olds in the crowd to raise their hands. Hundreds lifted them -- and learned that was the age the speaker -- Holocaust survivor Elie Wiesel -- was taken along with his family to Auschwitz Concentration Camp in 1945. He was the only family member to survive. A half-century later, the Nobel Peace Prize laureate warned the Fort Worth crowd of the "dangers of fanaticism." "I believe that if there is anything that could disarm fanaticism, it is learning. It's education. Whatever the essential answer to urgent and dangerous problems is, surely education is a major component. Without it, nothing is possible. Without it, there is no culture, no civilization, no compassion, no humanity," he said. "And so, when we are together, teachers and students, and we are involved in the same endeavor, to learn what ancient sources have kept for us, individually and collectively, is something that we should be grateful for."

Good speech
The annual Fogelson Honors Forum brought popular presidential pundit Doris Kearns Goodwin to campus in October. As she told her Ed Landreth Hall crowd, "No president I've studied offers a better case study in leadership than Franklin Roosevelt; probably his greatest gift as a leader was his absolute confidence in himself and, more important, in the American people." It's a trait, she added, that she saw lacking in the presidential candidates during the campaigns. "I regret that they only talk about their specific programs rather than something larger," she said. "Underneath, I think they both have a difference of opinion, there's no question about that, but they both go to the same voting booths, they both go to the same pollsters, and they both learn that their only real obstacle is the swing voters. As a result, we lose interest in them."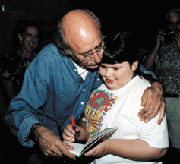 Still blowin' in the wind.
It felt more like a dozen friends around a campfire than a packed Ed Landreth Auditorium when one-third of the Peter, Paul and Mary singing trio graced the stage in July. Here for a benefit concert for the Camp Fire Boys and Girls, Peter Yarrow's two-hour concert included a rousing rendition of Puff, the Magic Dragon, as well as the theme song for a new program he is promoting, Don't Laugh at Me. Among the awestruck at an after-concert visit was Abby Womack, 11, above, who attended the concert with her parents, Stephanie and John Womack '77 (the beaming father holding the camera in the background).

Rock-n-run.
Eight TCU students and alumni laced up their shoes and ran the San Diego Rock N' Roll Marathon in June, each raising $3,000 for the Leukemia and Lymphoma Society. The purple pack also raised enough money for their honored leukemia patient to travel to San Diego for the race. From left to right are James Mick, Carlo Capua '00, Joyce Heckman, Jamie Evans '00, Jule Covert, Kelly Boyington '00, Amy Boulware '00 and Nikki Pellicciotti. "Fund-raising with a purpose put life into perspective for all of us," Capua said.

Day of the dancers
In the spirit of the Day of the Dead Mexican holiday, dance faculty and students revive the memory of one of their own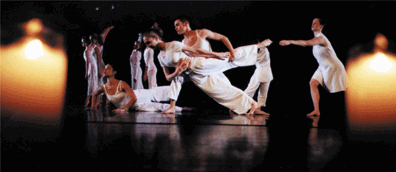 Ballet and Modern Dance Associate Prof. Susan Douglas Roberts was in a cyber cafˇ in Spain last winter when she read the e-mail. Tamara Barrington '97 had been killed in an automobile accident on Jan. 21, leaving behind her husband of three weeks, Chris.
She had received the "most outstanding choreographer" award her senior year at TCU. At the time she died, she was the artistic director and master teacher of Believe in Me, an organization using the arts to engage and motivate children to succeed.
"We don't just teach our kids, they become part of our family," said Douglas Roberts, still moved by the event nearly a year later.
"We see them every single day, and often for hours at a time. Tamara was serenely beautiful and at the same time mysterious, mischievous and silly. "So we wanted to say goodbye in a way that would be meaningful to her 'dance' family. We were all her friends, and we all wanted to remember her."
Remember, they did. In October, a makeshift altar in the Ed Landreth Hall reception room was the first sign that this performance would be no ordinary dance concert. A young lady, smiling and laughing in picture after picture. A prom dress. A photo of a fiancˇ. A cross. A gingerbread brownie with chocolate chips. This ofrenda, a time-worn tradition in the Mexican D'a de los Muertos celebration, sought to revive the memory and spirit of a loved one, if only for an evening.
Choreographed by Douglas Roberts, the tribute piece opened before three full Ed Landreth Hall crowds, with dancers dressed in white setting candles at the front of the stage. Then, the troupe performed a series of "movement memories" based on conversations, dreams, letters, visions, improvisations, photography, videos, poetry and intuition. Two of the sections Barrington herself had choreographed.
At the conclusion, dancers blew out the candles, but the flames were replaced by "fireflies" lighting up the back stage. "Tamara was like a firefly," Douglas Roberts said. "It lights up for a moment and then it's gone, but for that brief moment it can spark a child's imagination, and they can ride it forever."
The event playbill may have summed up best the message that Douglas Roberts and company hoped to transmit to the audience -- and in the tradition of D'a de los Muertos, to Barrington: The creation of our ofrenda re-enlivens Tamara's presence in our lives and reaffirms for us that she is, was and will always be with us, entre azul y buenas noches, between blue and goodnight. And the message Tamara herself wrote to her class of young artists before a 1999 Believe in Me performance could have equally applied to the TCU dancers who remembered her:
You have affected my own heart and the hearts of others for all times and I shall never forget you. You are all birds -- some are doves, some are parrots, some are sparrows -- and you all shall take flight; you will never fall.
Tamara's parents, Carol and Irvin Barrington, capped the weekend tribute by announcing a one-time Tamara Barrington Scholarship Award, given to Nicole Meyers, a current dance student.
"During the performance, I wanted to curl up and get lost in my grief, but the joy kept coming up," Douglas Roberts said. "When you remember Tamara, you just can't be sad."

All that jazz.
While a street-side jazz concert in Budapest made for a picturesque concert for Music Prof. Curt Wilson and the TCU Jazz Band, it was the 34th Montreux Jazz Festival that brought them to Europe; TCU continues to be one of the few college bands invited to play. From the tunes of Duke Ellington and Glenn Miller to original compositions by the late Harvey Anderson '46, the band traveled and got "better and better" as they played side shows in Vienna and elsewhere. "European audiences really appreciate jazz," Wilson said. "Hitler forbid American music, so in a way jazz denotes freedom to a lot of people here."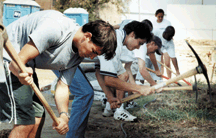 LEAPing to help others.
Nearly 600 students, including sophomore Grant Borer, showed up one September morning to make a few lives better. Beneficiaries included Tarrant County Food Bank, the Fort Worth Zoo's "Boo at the Zoo" and Habitat for Humanity. The LEAPS idea swelled out of the ground last spring, from students who "wanted to do more in the community," said Penny Woodcock, program coordinator for the TCU Leadership Center.

Something special in the air.
When the four students, below, set out in October for the Universidad de las Americas in Puebla, Mexico, they made history: They were the first to "graduate" from the "think tank" called the American Airlines Leadership of the Americas -- which will gather for at least two more years the top student minds from nine universities in nine countries. For the past year, the TCU delegation came together with other participants in person and over the Internet to discuss challenges common to all countries in the Western Hemisphere. From left to right below are Alonso Sanchez, Love Johnson, Leah Armstrong, Professor Anabella Acevedo-Leal, Chancellor Michael Ferrari and Caterina Lombardi.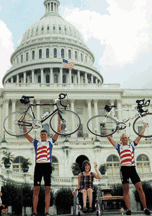 Four wheel drive.
Business students and Pi Kappa Phi brothers Dave Eaton, left, and Danny Mogolov began riding their bikes in San Francisco in June. They stopped on the steps of the nation's Capitol 4,000 miles later, where journalism senior Jaime Walker was there to greet them. The two riders raised $8,000 that will go toward Walker's education as part of the national fraternity's "Journey of Hope" event that raised $350,000 this year. Mogolov and Eaton rode half of each day and spent the other half helping youngsters with disabilities. Horseback riding, campfires and sing-alongs were the agenda for most stops, Mogolov said, and "helping children and teenagers with disabilities feel as normal as they can; we tried to take away their disability for a few hours. The experience made me certain that I always want part of my life to help show how amazing people with disabilities are."

College 101.
Leon Reed '97 grew up in the shadow of TCU, but few in his neighborhood dreamed of attending the nearby campus. That's why Reed -- who headed to law school this fall -- and eight other alumni spent one Saturday morning in July talking to kids about college during the TCU Black Alumni Alliance College Prep Event. The three-hour session drew nearly 20 high school students and their parents from the Como neighborhood in Fort Worth. Said event organizer Rosena Clarke-Turner '85: "We wanted to let them know that going to TCU is an attainable goal for them and other students of color."

Dedicated to athletics... and academics.
The October dedication of the John Justin Athletics Center -- which includes a special academic center designed for student athletes -- also unveiled an original seven-foot-by-four-foot mural, TCU Horned Frog Football, 1896-2000. Commissioned by Head Football Coach Dennis Franchione and wife Kim, left, the mural was produced by sports artist Ted Watts, at right with wife Angie. (Exclusive matted and signed prints of the mural are available through the Athletics office for $200 plus $10 shipping and handling. All proceeds will benefit the TCU Library and the TCU Band.)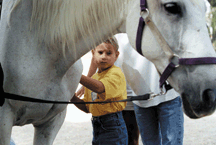 There's hope.
It seemed like horse play for little Julio and 24 other children in June, but it had much greater meaning for TCU faculty and students. Called Camp Hope Connection 2000, it is a vital part of TCU's Developmental Research Lab, a group that helps kids adopted from foreign orphanages. The second year of the unique camp enlisted 30 TCU students who volunteered during the month-long day camp. To prepare, they enrolled in a spring class where they learned how to relate to special-needs children. The children, most of whom spent at least the first three years of their life in a foreign orphanage, all have varying degrees of sensory deficit and attachment disorders, problems due to early neglect.

A new library.
The Jack B. Friedman Judaica Library was dedicated in September and will be housed in Mary Couts Burnett Library. The special collection will include extensive holdings in Jewish thought, theology, scholarship and literature, as well as ancient and modern commentaries. From left to right are Burt and Barbara Rakoover and Jack and Naomi Friedman. The facility is named in honor of Barbara by her father, Jack.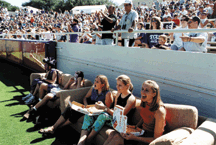 Couch potatoes.
To be picked, you had to know your Riff Ram Bah Zoo from your Give 'em Hell, TCU, as well as the precise time to say Roll those Chains! During each home game this season, a select few fired-up fans were given the most honored seats in Amon Carter Stadium -- beat-up sofas at the south end of the gridiron turf. Add to it all the Domino's pizza and soda one could eat. About the only thing missing was a remote control to fast forward scores by the opposition.

Horned Frogs on a Mission
"To educate individuals to think and act as ethical leaders and responsible citizens in the global community"
The new mission statement adopted by the University last spring was easy enough to learn. But to exemplify? The answer seemed to be a resounding yes at the start-of-school University luncheon in August as 12 "Horned Frogs on a Mission" were picked and honored from more than a hundred nominations -- faculty and staff who "educate us all by their attitude and by their example," Chancellor Michael Ferrari said.
Senior Design Lecturer Pat Walter has led seniors for the past five years in the "capstone" course that transforms them from students into professionals.
Music Prof. Germ‡n Gutiˇrrez has opened innumerable doors for students in performance venues, including the TCU's own Latin American Music Festival, established two years ago.
Groundskeepers David Yarbrough's and Escho Weatherspoon's efforts at Amon Carter Stadium and the academic lawns, respectively, may influence more people than any other one task.
Residential housekeepers Julie Graver, Janett McTaggart and Gail Truitt organized a campus car wash that raised nearly $900 for student Robbyn Kindle's four-organ transplant surgeries last spring.
Social Work Prof. Linda Moore's long-standing ability to inspire students led one of her classes to help change University policy (and earn an "A" in class) when they spearheaded the effort to make Martin Luther King Jr. Day a TCU holiday.
Campus Judicial Officer Mike Russell has a hard side in his disciplinary position, but he also exhibits a softer demeanor when dealing with student tragedies that has come to be known as the "Mike Russell treatment."
Mailing Services Manager Glen Hulme and Coordinator Judy Cartmill treat their 50 student employees with the same care they deliver thousands of pieces of mail, resulting in one of the most popular work-study destinations on campus.
Campus Crime Prevention Sergeant Connie Villela (absent due to a knee injury) brought new awareness and national attention to date rape and violence through an innovative Assault Prevention Theatre begun last year -- 15-minute vignettes performed by TCU theatre students trained by rape crisis counselors.

In brief:
EMBA. Thirty-two executives with professional backgrounds turned in their briefcases for backpacks for the inaugural class of the Neeley School of Business' new executive MBA (EMBA) program at the TCUglobalcenter at Alliance (Airport). The predominately male freshman class, consisting of executives from corporations like IBM, Delta Airlines, BNSF and TXU Electric, will take 17 courses ranging in subjects from business strategy and structure to financial reporting and analysis by the time they graduate in 2002. Students also will take one international trip between the summer of their first and second year to observe the business practices of an overseas company. For more information about the program, visit the EMBA Web site: www.neeley.tcu.edu.
Exceptional educators. Fall convocation brought recognition to Math Prof. Rhonda Hatcher, who was given the Chancellor's Award for Distinguished Teaching, and Biology Prof. Phil Hartman, honored with the Wassenich Award for Mentoring at TCU. Hatcher has also been selected in the past for the Dean's Teaching Award, Honors Professor of the Year, Texas Professor of the Year in Mathematics and Mortar Board Preferred Professor. She and fellow faculty member and Harvard Ph.D. husband George Gilbert recently collaborated on a math textbook for non-math majors. Hartman is the second recipient of the Wassenich Award. He was recognized for his commitment to mentoring more than 300 premed students. In her nomination letter, senior Megan Stuebner said of Hartman: "We tend to be high-strung (some might say 'neurotic'), competitive and demanding of our advisors. While some faculty would dread a lecture hall of premed students, Dr. Hartman wades into our sea of tension with bravado."
Internet 2. TCU faculty, staff and students now have access to a new, improved information superhighway -- the high-speed, education- and research-oriented Internet 2. TCU is one of only 180 colleges and universities working in partnerships with industry and government on the new "academic" web. Other schools around the country connected to Internet 2 include Stanford, MIT, Rice, SMU and the University of Texas. One primary benefit will be using interactive audio and video for off-site learning in other states and even other countries.
The Gates of education. Microsoft billionaire Bill Gates' influence has moved beyond TCU students' computers to the students themselves. Students Jonathan Banda, Rachael Fisher, Crystal Chantelle Jones, LaTorsha Oakley, Dora Suarez and Crista Williams were chosen from more than 62,000 nominees to be among the first Gates Millennium Scholars. Funded by a grant from the Bill & Melinda Gates Foundation, the scholarship program was created in September 1999. The education gifts are aimed at increasing the number of low-income, high-achieving African Americans, American Indians/Alaskan Natives, Hispanic and Asian Pacific Americans enrolling in and completing undergraduate and graduate degree programs.
Freshman flood. In what has become an recurring phenomena, freshman enrollment again broke records with a class of 1,493 students, an increase of five percent from1999. Male freshmen enrollment also increased by six percent from the previous fall numbers.