Additional Articles:
Business partners | Business ventures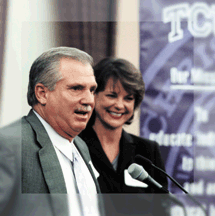 Sharing the business plan. At a luncheon and press conference announcing a $10.5 million gift from Steve and Sarah Smith, the couple expressed their joy in being part of the entrepreneurial push at TCU.
We sit smack in the middle of the richest entrepreneurial breeding ground in the nation. At least that's what Entrepreneur Magazine and Dun and Bradstreet said in October in their seventh annual ranking of the Best Cities in the Nation for Entrepreneurship.
This news hasn't been lost on the M. J. Neeley School of Business. Just one year ago, the Center for Entrepreneurial Studies was launched with a $2 million bequest from businessman William Dickey '33. Then Jim Ryffel '81 (MBA '84, RM '98) brought $5 million more to the table, followed only six months later by a $10.5 million gift from Steve and Sarah Smith to build a home for the center.
Is this a story about a couple who gave money to TCU? Yes. In fact they gave the largest gift ever to the University by a living donor. Yet, this is also a story about the spirit of entrepreneurship, about giving back, about building something wonderful. Simply put, it's a story about people who want to be part of something bigger than themselves.


Business Plan
By Nancy Bartosek
Put us in the top tier.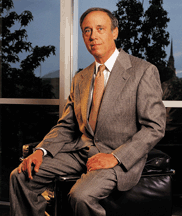 The charge to move the M.J. Neeley School of Business into the national top-50 rankings was clear to Robert Lusch when he agreed this summer to migrate from the University of Oklahoma to TCU.
The appointment of Lusch, one of the top-five marketing scholars in the nation, was considered a coup for the Neeley School, and he's taken the top spot in the school with confidence.
"Everything we do has to tie into the TCU mission, not only because it's right, but because it's critical to our future," the soft-spoken dean said.
"We feel that if we improve the quality of the business school -- and specifically put a lot of focus on the MBA program -- that will allow us to improve the stature of the overall university. If we invest in the business school, after awhile we'll become a cash cow. And that's fine, we ought to pay a tax when we become successful."
Chancellor Michael R. Ferrari agrees.
"Nearly one-fourth of our students are enrolled [in the business school], and if TCU is to gain greater national and international stature, it is imperative that the Neeley School be viewed among the leading business schools in the country. The increased visibility will also raise the level of recognition of other programs at TCU.
"I might also say that the future of Fort Worth is tied to the success of the Neeley School. For Fort Worth to achieve its aim to be attractive for economic and business development and to become a thriving global center, it is critical that there be a high-quality business school in the city. We aspire to be that kind of partner."
It is not a goal without challenges. While support from the trustees and administration is solid, Lusch knows there are many who find the prospect of funneling resources toward the business school less than appealing. And, he adds, the nation's top business schools aren't going to "roll over and play dead" while we try to catch up.
"Harvard's annual budget is $250 million, and that's for 1,700 students," Lusch said. "UT raised $50 million over the summer. I'm not saying we should try to duplicate that, but we hope to ratchet-up our operating budget and then increase the endowment."
While adding millions to the University's coffers is a long-term goal, Lusch knows you can't just buy your way into the fraternity of top schools. "It takes more than money," he said.
"It takes good ideas too, and that's where we think we can win."
Those bright notions start with the MBA program. The eight faculty who teach the core first-year courses of the graduate program meet together weekly to weave their syllabi together.
"They talk about what they each are covering, say in accounting, and see how someone else can put that together with what is covered in say, marketing or finance," Lusch said. "They're not separate disciplines, they work together overall." The undergraduate curriculum is now getting a thorough work-over to become more contemporary.
"It's not a bad curriculum; everything we talk about is correct," he said, "but we're not doing the job we need to of integrating that curriculum so it's a whole."
Integrating Neeley with the rest of the university is also being explored, perhaps developing dual-degree programs such as an MBA in conjunction with a graduate degree in education, health care administration, languages or environmental sciences.
Neeley, designated one of TCU's "centers of excellence" by Chancellor Ferrari, is also clarifying what its own high points will be. Three at the forefront are the Ryffel Center for Entrepreneurial Studies as well as the development of integrated centers in finance and supply management.
With those big ideas, Lusch knows he must add the faculty and facilities needed to attract top-notch students.
"The bottom line is that if within five years we don't have an additional four endowed chairs and an additional four endowed professorships, we won't be on track," he said.
The Neeley task force report for the Commission on the Future of TCU listed a new 50,000-square-foot facility as necessary if the school plans to reach its reputational goals.
It's all possible, Lusch said. "If we're successful at the Neeley School, it comes back many times over to the university because successful business leaders' interests move way beyond business.
"You look at virtually every [major] gift at TCU over the past 50 years and they come from people in industry."
Lusch knows he arrived at a pivotal point in Neeley's future. The Metroplex is exploding into this century -- and TCU needs to keep pace.
"I think there would be a big risk over the next 10 or 20 years, given the continued growth of Tarrant County, if we didn't really say 'Let's become prominent and recognized,' " Lusch said. "If a chancellor came in the year 2020 and said, 'Lets do it now,' it would be too late."

Business History
1884: Under some scrutiny and vocal concern, the Commercial School is established, offering such subjects as accounting, commercial arithmetic and commercial law.
1892: The school's enrollment reaches 110, and it becomes the College of Business.
1922: The department of business administration is added to AddRan College of Arts and Sciences, where bachelors of arts in business administration are offered.
1938: The department of business administration becomes the School of Business and the first MBA is offered. Certificates in accounting, general business and secretarial science were also offered.
1944: The School's first dean, E.M. Sowell, a Harvard Business School graduate, is appointed by President Sadler. The program offerings grow under Sowell to include advertising, personnel administration and industrial relations and marketing, to name a few. Sowell resigns in 1954.
1951: The Southwest Business Foundation (SWBF) is chartered as a nonprofit education and civic corporation, with Marion J. Neeley (appointed trustee in 1947) as president. Its goal is to encourage support for the school, establish scholarships and connect the school to the community. In 1953 the SWBF begins a fund to build a new home for the school.
1957: Dan D. Rogers Hall, named for a former trustee, is dedicated, replacing barrack quarters the school has been housed in. Several other departments share the new building, which cost $825,000.
1967: The School of Business is renamed the M.J. Neeley School of Business in honor of the man who, as trustee, led one of TCU's most aggressive building programs in history from 1951 to 1970.
1989: Tandy Hall dedicated. 1999: TCUglobalcenter at Alliance is opened, offering off-site executive education MBAs and seminars at Alliance Airport.

Be sure to read Business Partners and Business ventures