Realizing the possibilities
A special report on The Commission on the Future of TCU
By David Van Meter


Former Fort Worth Councilwoman Cathy Hirt may have said it best.
In 1995, when the Stripling & Cox department store on West Berry closed and left the future of the street in question, Hirt spearheaded what became the Berry Street Initiative -- 16 neighborhood groups, including TCU, and a bold $16 million redevelopment plan over the next 20 years.
Seated at the final report luncheon of The Commission on the Future of TCU in October, Hirt marveled at the 400-or-so members who had given a year to serve on one of 17 task forces that looked at everything from TCU's basic undergraduate experience to its strategic alliances in the community.
"It will be interesting to see what the different task forces came up with," Hirt said, "but to me, any time you can get this many people in one room, good things are bound to happen."
And quickly, Chancellor Michael R. Ferrari said. "I can assure you that it has been no small task to examine and reflect on each of the 500 or so recommendations that have resulted from this extensive process," Ferrari told the crowd of business, civic and campus leaders. "Nonetheless, the Board of Trustees and I are persuaded that there is a convergence of thinking on the most urgent and compelling priorities that warrant our vigorous and enthusiastic support in the months ahead."
Shoring up
In order to "move up" to the international stature it seeks, the Commission recommended that the University "shore up" certain areas of campus, Ferrari said.
With that comes a university-wide plan to spend up to $100 million in the next few years, with funding to come from gifts, student and user fees, endowment income and other institutional resources.
-- Upgrade and improve classrooms, science laboratories and studios across the University. Include equipment and technology used in instruction and research to benefit the learning process.
-- Expand campus parking facilities on both the east and west campuses.
-- Renovate and expand the Rickel Building, followed by the Brown-Lupton Student Center.
-- Renovate and refurbish Waits and Milton-Daniel residence halls. v Expand teaching and research facilities for the MBA program in the M.J. Neeley School of Business, in concert with gifts focused on the James Ryffel Center for Entrepreneurial Studies and the construction of the Sarah and Steve Smith Entrepreneurs Hall.
-- Complete the Tucker Technology Center.
Moving up
Across its subcommittees, the Commission strongly agreed that TCU's mission of "educating individuals to think and act as ethical leaders and responsible citizens in the global community" concurs with the University's heritage and its aspiration.
Committee members also affirmed that current enrollment of full-time students (about 7,500 total students) is optimal, that the personal faculty-student model is vital and that commitment to the teacher-scholar model and core values should fortify all future initiatives. But to "move up," the University must move ahead in a number of areas.
-- Enhance the undergraduate experience, with specific emphasis on revitalizing the core curriculum; expanding internships, service learning and student leadership opportunities; strengthening the Honors Program; and increasing interdisciplinary programs across the curriculum.
-- Strengthen the presence, visibility and support of graduate education -- increasing TCU's competitiveness to attract and retain top students, assessing opportunities for new graduate degrees and research institutes and providing funding vital to building respected graduate programs.
-- Increase the academic profile and diversity of our student body, especially undergraduate scholarship support, financial aid and graduate student support.
-- Enhance current distinctive programs, including the MBA program in the M.J. Neeley School of Business, piano and orchestral studies in the School of Music, the health professions (especially pre-medicine) and international and global education, especially the alliances with universities in Mexico, Latin and South America.
-- Target academic programs that could achieve regional, national and international distinction, including art history, mathematics, science and technology education, engineering, communication, journalism and radio-TV-film.
-- Assess feasibility of new graduate and professional degree programs, especially in pharmacy, law and new interdisciplinary doctoral programs related to our strengths.
-- Renovate or construct facilities that support TCU's mission and aspirations, with these top priorities being the expansion of Mary Couts Burnett Library, Ed Landreth Hall, the School of Education, communication studies, new residence halls, facility enhancements to Brite Divinity School, a multipurpose athletic facility and a learning facility that can benefit our entire campus, especially the humanities and social sciences.
-- Continue to implement a technology-rich learning environment at TCU, with specific emphasis on creative uses of technology in teaching and learning. v Enhance and support a high-quality and nationally respected Division I-A athletics program that complements TCU's academic goals and maintains its institutional integrity and vitality.
-- Establish an office of Community Relations to coordinate University and community initiatives; search for high-visibility programs that connect the needs and attributes of Fort Worth with the qualities and capacities of TCU, especially in regard to municipal projects, local governments and school districts; develop a distinguished speaker series.
-- Provide increased support for faculty and staff development, recognizing that the dedication, competencies and accomplishments of our human capital will largely determine the future reputation and pace of progress of TCU.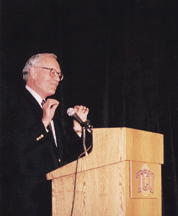 "We know of no other university that has involved so many people in a serious and substantive conversation about its future," said Executive Director Larry Lauer, vice chancellor for marketing and communication. "Half were from inside TCU, and the others were supporters and friends representing virtually all of our constituents. I am confident that everyone who participated came away feeling that the future of TCU is extremely bright."
Much work lies ahead -- including a likely fund-raising campaign that will exceed the $127 million raised by The Next Frontier Campaign that concluded three years ago. But Commission Chair Bob Schieffer '59 said the year-long think tank energized the campus community for the toil ahead.
"It's been years since I sat around and said, 'How can I make TCU a better place?' " Schieffer said. "But then I started to do just that É and so did a whole lot of other people."