In the land of the Buckeyes
By Carrie Cassell Reber '83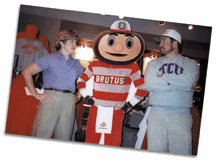 Our family looks ordinary enough.
Our daughters, with their Old Navy clothes and L.L. Bean backpacks, blend into any crowd of suburban kids. What most of our neighbors here in Columbus, Ohio, don't realize, however, is that we have a secret. We're TCU alumni with drawers full of purple T-shirts, sweatshirts -- even long-outgrown baby bibs with Future Frog emblazoned across the front.
No one would suspect it. My husband and I met in the TCU marching band, took romantic walks around the Quad, threw each other in Frog Fountain once or twice, and after graduation were married in Robert Carr Chapel.
It's a common enough story around the Fort Worth-Dallas area, but here in the home city of Ohio State University, we may as well be from Mars. Buckeye Fever runs strong and heavy here, with scarlet and gray the only socially acceptable colors to wear while watching football. When a streak of contrariness inspires us to proudly wear our purple TCU garb, we get questioning stares . . . "Isn't Tennessee orange?"
In my opinion, no school whose symbol is an inedible nut is in a position to laugh at our small but spunky reptilian mascot. And yet they do. "Horned frogs? Not really!" they chortle in disbelieving amusement.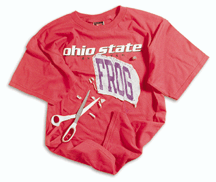 Before our relocation to Ohio a dozen years ago, I thought the peanut-butter-and-chocolate buckeye candy my mother-in-law (an Ohio native) made each Christmas was a unique family recipe. Now, having seen them at every church bake sale and party for years on end, I know better. They are tasty . . . but that's beside the point.
On those rare occasions when I've found myself attending an Ohio State football game, certain unavoidable questions come to mind. What does the song "Hang on Sloopy" have to do with either Ohio State or buckeye nuts? Who decided that should be the almost-official OSU fight song, played on any and all occasions?
Do they know how ridiculous they look doing those YMCA-style arm motions to spell out O-H-I-O just after the words "Sloopy hang on"? (Okay, I confess, I've done it. But I don't make a habit of it.) At least TCU's fight song sounds like a real fight song. Give me "Rah Rah, TCU!" any day of the week.
But my biggest complaint about Ohio State fans is that they don't know a good thing when they have it. The Buckeyes win a lot of games. But they only care about beating Michigan. They could have a 10-1 year, but if that one loss is to Michigan, the fans rise up as one to demand the firing of the coach.
My husband and I were at TCU during the lean years when the Southwest Conference had outgrown us but not yet released us -- the '79 to '82 football seasons. During those four years we cheered the Frogs on to a total of seven victories. But did we complain? Only a little. Instead, we looked on the bright side -- anticipating the Rice game each year, knowing that at least there we had a fighting chance. I know the real reason Buckeye fans pretend not to have heard of TCU.
They're still stinging from the 1957 season, when Ohio State won the national championship in all but one poll, yet lost their season opener. To TCU. So there. We have an entire set of commemorative glasses scoured from area antique shops, with the 1957 season schedule listed. If friends wearing scarlet and gray become too obnoxious, we quietly serve them beverages in those glasses and snicker to ourselves.
Or we leave open our copy of Sports Illustrated, in which the 2000 poll ranks TCU at number 15, OSU at 22. (And at No. 9 last time I looked!).
My message to you fellow alumni in more Frog-rich regions of the country is this: Appreciate what you have. Be thankful when you see another TCU bumper sticker in traffic, or a purple ball cap at the grocery store. Not everyone enjoys such a supportive environment. It can be lonely living in the Midwest, far from anyone who's ever shouted "Riff Ram Bah Zoo."
But it's also fun to be different -- to wear that purple sweatshirt -- even if no one who sees it acknowledges what it represents. I know what it means, and so do those Buckeyes.
They just won't admit it.

Carrie Cassell Reber and her husband Charles are both 1983 graduates of TCU -- Carrie in journalism and Charles in music education. They live in Worthington, a suburb of Columbus, Ohio.
Top