She's got game
We went into Coach Fran's locker room (sorta), and lived to tell about it
By Kelli Horst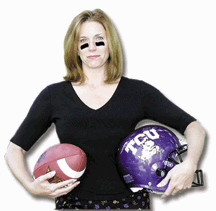 It was the first home game. TCU versus Northwestern. And I had my game face on.
I tied my TCU denim shirt tightly around my waist, reviewed my notes and ran through the plays in my mind. Head Coach Dennis Franchione was my professor.
I didn't want to let him down. Turn the play clock back to August. Coach Fran announced he would hold a football clinic for women only; his wife Kim first recruited her husband to begin holding the clinic at the University of New Mexico.
"I can ask Dennis if I don't understand something that happens on the field; I figured there must be lots of women who would enjoy learning more about the game, too," she said.
Event proceeds (more than $2,400 was raised) would go toward Project Purple, which provides transportation and tickets to TCU sporting events to disadvantaged youths. I jumped at the chance to study with the master -- and so did 160 other women who arrived at the new John Justin Athletic Center.
I met Faye Shepherd '43, who has sat on the 50-yard line for years and never understood the game. I saw Dr. Melissa Young, assistant professor of speech communication, surveying the crowd and coaches with a keen academic eye. Even Jan Ferrari, the first lady of TCU, was there to pick up a pointer or two.
Listening to Running Backs Coach Mike Schultz patiently answer our questions -- we were the "intermediate" group -- it occurred to me that football coaches are like professors. They teach during the week and give an exam every Saturday.
The "textbook" for the offense alone is four inches thick, and has a "gadgets" section full of trick plays. I'd wager most students wouldn't embrace the course syllabus we saw that day. We also learned that football isn't only about winning; it's also about fashion. Team captains choose which dark color jersey is worn at home (purple or black), said Coach Fran, noting that both "look good with the TCU helmet."
Those jerseys are tightly fitted thanks to the magic -- a la Jennifer Lopez at the Grammys -- of carpet tape. When several of the players modeled different uniforms, we whistled and howled.
Strong safety Cody Slinkard strutted and pranced down the aisle like a runway model. Offensive lineman Jeff Milliken simply looked afraid. And did you know the linemen on opposing teams inquire about the welfare of each other's mothers when they line up?
Finally, my moment of truth had come. TCU versus Northwestern.
During an offensive drive in the first half, Printers approached the line and shouted forcefully to his left and right.
"Casey's checking the play!" I exclaimed as I pointed wildly to the field. The men around me looked at me with surprise, then approval. I felt like I had scored a touchdown.
My husband Scott wasn't able to attend the home opener with me, but I dazzled him later with an explanation of why TCU fields five defensive backs instead of the dime package.
Next year, I plan to attend the "advanced" section of Coach Fran's Clinic. I think my husband secretly wants to go, but he'll simply have to stay behind.
Men aren't allowed in this locker room.
Kelli Horst is communications director for the University.

Best at the net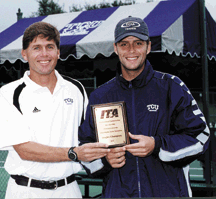 Senior Esteban Carril, right, seemed on the brink of defeat in October when he charged back to win the finals of the ITA Region VI Championships, the 102nd win of his TCU career.
The Frogs, who finished last season as WAC champs and ranked No. 9, have a difficult upcoming schedule that includes No. 9 Virginia Commonwealth, No. 5 Duke, No. 16 Texas, No. 36 California, No. 11 Pepperdine, No. 7 Baylor and No. 13 SMU.
Yet, new Head Coach Joey Rive (left) seems equipped for the task. The men's national coach for the United States Tennis Association since 1997, Rive served prior as the men's head tennis coach at the University of Alabama, where he revived a declining program.
After posting a 1-22 mark in his first season of 1995, his squad improved to 16-12 in 1996, and to 19-11 and an 18th place national ranking in 1997, advancing to the NCAA regionals the last two seasons.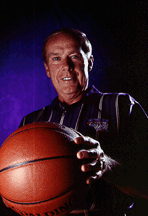 Two points
A quick glance at Billy Tubbs' TCU squad says the Frogs could be in for a conference championship year. The men, six seniors and four returning starters led by senior Ryan Carroll, may have the most experience and depth in Tubb's tenure. The fiery Tubbs also recruited UNLV transfer Greedy Daniels, who put up 17 points in his first collegiate start in a year, in a 108-44 rout over Angola. For the TCU women hoopsters, Head Coach Jeff Mittie pushed the women through a four-day-a-week offseason weight training program that culminated in "The Night of Champions," where senior center Karen Clayton broke the most prestigious record when she pressed 205 pounds, an all-time record for TCU women athletes. Overall, the team increased its strength by an average of 30 pounds per player.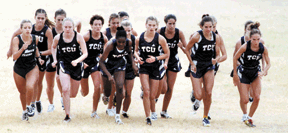 Runners' high
TCU's cross country women, shown above at a University of North Texas meet earlier this season, ran to a new school record -- captured their first-ever conference team title and individual title at the WAC cross country championships in Tulsa. In addition, the men's squad captured the individual crown. Junior Gladys Keitany, fourth from right, earned the individual crown in the 5000 meters, 18 seconds ahead of the closest pursuer. Junior Eliud Njubi won the same for the men.

Sydney Frogs
At least five former TCU sprinters -- and one current one -- ran for the gold at the Olympic games in Sydney, two of them among the seven fastest ranked runners in the world. Former TCU sprinter Jon Drummond '88 finished fifth in the 100-meter dash at the Games, crossing the finish line in 10.09 seconds. Current TCU relay man Kim Collins placed seventh with a time of 10.17.

Top