Alumni Profiles
Alumni Awards 2000

No borders
All in the TCU family. Despite his role in the Fox administration, Juan Hernandez launched his political career in 1996, campaigning vigorously for younger brother and attorney Francisco '86 in an unsuccessful bid for a seat in the Texas House. Fernandez' family is filled with additional purple blood: mother Mary Hernandez '85, sisters Nina '84 and Mary '97, brother Daniel '91 (a former TCU admissions counselor now working on a law degree and married to Evelyn Iglesias Hernandez '96) and niece Marjorie Martinez '98..
By David Van Meter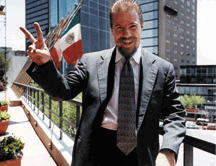 Juan Hernandez (MA '78, PhD '81) answered his cell phone in remote West Texas.
The 45-year-old U.S.-Mexico scholar -- the closest political advisor to Mexico President Vincente Fox -- had just cut the ribbon for a new highway linking Laredo with Columbia, Mexico.
Only two months earlier, the political strategist helped overthrow at the ballot box the political party that had ruled Mexico for 71 years.
The road, like Hernandez himself, points to a simple truth.
"There are no real borders," Hernandez said, letting the thought settle into silence. "I have a Mexican father and a U.S. mother; they always believed that, and I do, too. "I have this vision that Mexico and the United States can be better neighbors, that we can enrich our lives by learning more from one another. We've never had that opportunity until now."
The oldest of six children, Hernandez was born in Fort Worth but spent most of his early life in Guanajuato, Mexico. By his early teens, he was teaching English at his parents' language school and offering Bible classes and guitar lessons.
He would entertain tourists on the cobblestone streets of San Miguel de Allende. At 14, he also met his future wife, Estela. The couple is now celebrating 19 years of marriage.
The Hernandez family returned to the United States in 1973, with Hernandez earning a degree from Lawrence University in Appleton, Wis. He then enrolled at TCU, enroute to a master's degree and a doctorate both in English and in Spanish letters and culture. With classes by day -- he chuckles into the phone -- "I would flirt with other areas of life at night," he said, among them singing at Joe T. Garcia's restaurant in Fort Worth's historic Northside, recording four albums.
After TCU, Hernandez was hired as an associate professor at the University of Texas at Dallas. He then became the first director of the school's Center for U.S.-Mexico Studies in 1994. Yet, he always kept one foot in Guanajuato. He bought land from his former nanny and built a home known as Casa Poesia, complete with a chapel for the eventual wedding of his three daughters, Estela, Mariana and Laura, and son John. (Estela will come to TCU next year, Hernandez affirms, followed by her three siblings.)
Hernandez also joined some Guanajuato locals in retracing the revolutionary ride of Father Miguel Hidalgo y Costilla, who like a Mexican Paul Revere rode on horseback in the early hours of Sept. 16, 1810, issuing a call-to-arms against the Spanish, eventually sparking the Mexican Revolution.
Hernandez was about to help start a revolution of his own. He had met Vincente Fox several years earlier; Hernandez was searching for a dynamic speaker who could discuss Mexican culture, and found Fox, the new governor of Guanajuato known for his cowboy boots, hat and blunt business style. A meeting with Metroplex leaders went well, and Fox boarded a plane back to Guanajuato.
He then paused on the airplane steps. "He looked down at me and said, 'You got any other ideas?' " Hernandez recalled. And Hernandez did.
Though they shared a passion for transforming Mexico into a modern society, they seemed so different otherwise. Fox was the charging politician while Hernandez was the idealist romantic, the author of five books of poetry. "He has the soul of a poet," said his father, Francisco Hernandez Sr., a Fort Worth attorney.
"He still dreams. He's not doing things like a politician; he's doing things like a philosopher." Three years ago, the presidential bid officially began. Hernandez became the manager of Fox's time and agenda. His mantra was that more campaign money could always be found, tasks could be delegated, but Fox's time was gold.
To succeed, he would have to make every visit count. The Mexican news media had long been a puppet of the PRI party, and most voters lived in remote areas. Worse, with little opposition, outgoing PRI presidents typically chose their successors, a custom known as the dedazo, or the finger tap.
To compete, Fox and company shook hands in the thick of Mexico City as well as the jungles of Chiapas. Their campaign covered Mexico three times by plane, train, automobile and on foot; they met voters, literally and ideologically, where they were at. Hernandez advised Fox to treat Guanajuato as a country unto itself instead of a state dependent upon Mexico, and to nurture business pockets in Texas, New York, Chicago and California, which have large Hispanic populations.
With little investment, the exports of Guanajuato tripled in three years. "He's a poet and a cultural individual, and Mexican politics, like anywhere else, is an intensely human thing,"
Dallas political consultant Rob Allyn told the Fort Worth Star-Telegram. He worked on Fox's campaign and is a friend of Hernandez.
"Juan is rarely six inches away from Vicente's elbow," he said. "He is the one person who really knows Vicente Fox; he knows what's in his heart. He's the one who goes horseback riding with him on the weekends. They have quiet reflection time together."
The day before the election, Hernandez and Fox set out on a four-hour horsebacking trip around Mr. Fox's San Cristobal ranch outside Leon, Guanajuato. The solitude would not last ; 24 hours later, Fox would be the new leader of 100 million people.
Hernandez answered Mexican President Ernesto Zedillo's initial call to Mr. Fox, conceding that the electoral results were favoring him, that Mexico's Berlin Wall had cracked.
The Fox campaign by that time had run out of money, and Hernandez could no longer make calls from his cell phone. But he could receive them. Among the early well-wishers were President Bill Clinton, as well as George Bush and Al Gore.
With the new highway from Laredo to Mexico in his rearview mirror, Hernandez still insists he didn't do anything magical, except share in Vincente Fox's dream of a better Mexico, and to realize that goal.
"I was there," he explains. "I was simply there."
And Hernandez continues to serve as Fox's chief political aide. Hernandez arranged a meeting with Texas Governor Bush in August as well as a podium spot at a Fortune 500 convention in October.
He also leads the charge to implement NAFTA (North American Free Trade Agreement) more effectively in Mexico by promoting regional and local agreements with states and cities, and with small companies as well as larger ones.
And perhaps more important, Hernandez hopes to mend Mexico's relationship with her people now living in the United States. Like many Mexican-Americans, Hernandez shares their desire for greater respect in the United States.
But he also wants to show them what he believes: "Mexico's best days are still to come."


Top