Related Articles:
There's no place like home | Better than par | End of a great match | Advantage Scholten | Season of firsts
A pro in waiting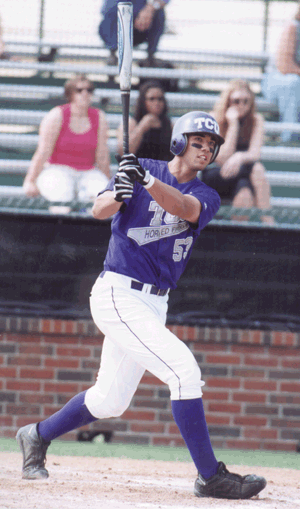 It's hard to believe Walter Olmstead is a late bloomer.
At 6-6 and 230 pounds, the Frogs' first baseman towers over teammates now, but he once was a scrawny utility player at San Antonio's MacArthur High School.
Always good enough to make the team but not to earn regular playing time, Olmstead, left, had to outwork his peers to carve out a place. By his senior year, he blossomed. His lanky frame filled out and he found a consistent power stroke.
It was nearly too late for colleges to notice. Only one did -- TCU -- and even the Frogs were uncertain of this one-season wonder. They invited him to join the squad as a walk-on and play his way into a scholarship. Three seasons later, Olmstead is one of the team's leading sluggers (.311, 12 HR, 53 RBI), and scouts are taking notice. (Fellow junior Terry Trofholz, who leads the team with a .463 average, also has turned heads.)
"[Olmstead] is a pretty versatile player," one American League scout said. "He's a switch hitter, hits for average and power. He's a decent fielder at first but could probably play third or in the outfield."
Now the question for Olmstead is should he return for his senior campaign in the new 2,200-seat Lupton Stadium, which opens next spring, or enter a professional career where he will have to work hard just to be noticed again.
Coach Lance Brown, who has seen a few dozen TCU players make the major league leap, thinks Olmstead would be an attractive player to draft because of his size and versatility, but he warns players not to get caught up in childhood dreams of stardom.
"Pro baseball doesn't last long if you don't do well," Brown said. "If a player isn't drafted by the third or fourth round, then he's a long shot."
Olmstead admits he has a lot to think about. "It will depend on how high I get taken [in the Major League Draft in June]," he said. "If I get drafted low, do I want to make $500-$600 a month and play rookie ball or come back to a team that will have a lot of guys coming back? It's really a win-win situation for me."
In the meantime, Olmstead wants to close out the Frogs' 40-year home -- TCU Diamond -- with a win streak. The draft can wait.
Editor's note: Olmstead was drafted June 4 in the 6th round by the Cincinnati Reds. Senior shortstop Levi Robinson was taken in the 34th round by the Baltimore Orioles.