Related Articles:
There's no place like home | A pro in waiting | Better than par | End of a great match | Season of firsts
Advantage Scholten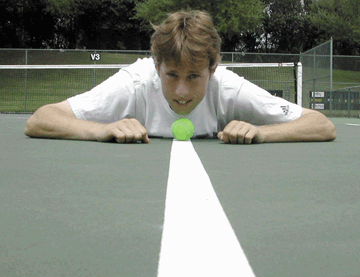 Freshman tennis player Daniel Scholten doesn't look like the army type. At 6-4, 170 pounds, he's more serve-and-volley than duck-and-cover.
But the 22-year-old right-hander actually is a military man.
As part of a 10-month mandatory service term, Scholten enlisted in the German infantry as a teen-ager and off he went to basic training, where he learned to toss hand grenades, not tennis balls. He even got adept at assembling weapons and blasting bazooka targets.
In his first season as a Horned Frog, he has shown the toughness and adaptability of an army vet. Despite shuffling among singles positions three, four, five and six, he has amassed 17 wins, third most on the squad.
Scholten has a lot of help in the trenches too. Fellow freshman Fabrizio Sestini, the Conference USA Freshman of the Year, and junior Toni Gordon were selected as all-conference players. All three will lead the No. 31 Horned Frogs (11-11) into the NCAA Men's Championships in May.
Top