Related Articles:
There's no place like home | A pro in waiting | Better than par | Advantage Scholten | Season of firsts
End of a great match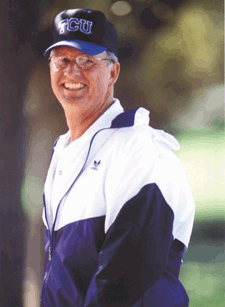 For nearly two decades, Roland Ingram has been the icon for TCU women's tennis. All-Americans have come and gone, but Ingram has remained through 19 seasons and 327 victories. After the NCAA Championships in May, he will step down, having announced in April that he's ready for a rest.
"I would like to say thanks to everyone for all of the memories -- the players who've played for me, the coaches I've coached against, the players we've played against and the fans," he said. "I would not have traded my career for any other profession."
Ingram is leaving on top. His current crop of Horned Frogs, ranked 31st in the nation with a 20-4 record, rewarded him with his third consecutive conference championship and fourth overall. He was also named Conference USA Coach of the Year.
Under Ingram, TCU women's tennis has become a consistent national force. During his 19 years, his squads have posted 16 winning seasons and produced titles in the Southwest Conference in 1991, the Western Athletic Conference in 2000 and 2001 and Conference USA this season. His teams have made six NCAA Regional appearances, and four of his Frogs earned All-America honors.
Ingram was named the Southwest Conference Coach of the Year in 1986 and 1991, then earned WAC Coach of the Year honors in 2000 and 2001, before earning the distinction again this season. He was inducted into the Texas Tennis Coaches Association Hall of Fame in 1995 and has served as a coach in several U.S. Olympic Festivals.
Top