A royal visit
Duchess of York Sarah Ferguson tells teens of her battles with weight and depression at the "Health is Wealth" Forum at TCU in October.
She lost her mother, two of her best friends and her marriage. As her spirits sank and her weight rose to 225 pounds, Sarah Ferguson, the Duchess of York, found herself fodder for the British tabloids, seeing her photograph along with headlines referring to her as the "Duchess of Pork."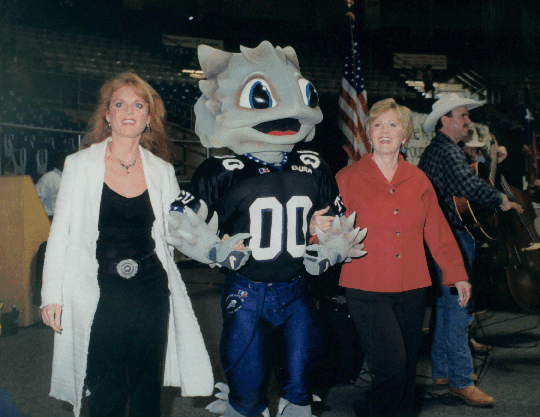 "I had done what everyone expected me to do, which is I failed -- and I'd done a really good job of it," she told an audience of more than 3,500 high school senior girls at Daniel-Meyer Coliseum in October.
"But seven years ago, the American people embraced this lost soul, and you welcomed me into your land," she said. "In the last seven years, you've made me have the strength to stand up on this stage today in front of you, and you've given my teen-age girls their Mommy back."
On her first visit to Fort Worth, the duchess returned the favor by trying to pump up her audience members' self-esteem, sharing stories of her own struggles and how she prevailed.
The event, called "Health Is Wealth," was hosted by the Women's Foundation of North Texas, and also featured U.S. Rep. Kay Granger, R-Fort Worth.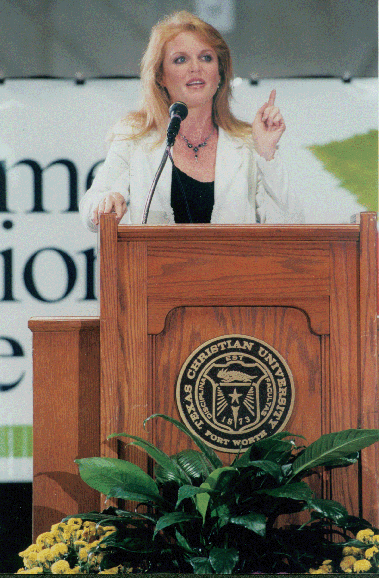 The duchess told the teen-agers not to strive to be perfect, but to view obstacles as something to jump over rather than run from.
During her speech, the duchess clutched a children's rag doll with red yarn hair and an orange and white checkered dress.
She designed the doll, named Little Red, as a logo for the charity she founded in 1994, Chances for Children, which helps children in crisis. One of the dolls was in her office window on the 101st floor of the World Trade Center on Sept. 11, 2001. The duchess was 20 minutes away when the terrorist attacks occurred. She later watched video taken by CNN of a firefighter finding the doll, placing it in his helmet and carrying it from the rubble.
"This little doll stands for the rights of all young women and children in the world to dream and grow," she said. "I couldn't believe that such a symbol had survived such dreadful devastation. It just proved to me that we must all fight on."
Fall Convocation -- Kicking off the year with awards
In his inaugural address to the university, Chancellor Victor Boschini, Jr., recognized two outstanding professors, touted the university's recent accomplishments in admissions and fund-raising and outlined challenges that lie ahead such as additional on-campus housing and renovations to the student center.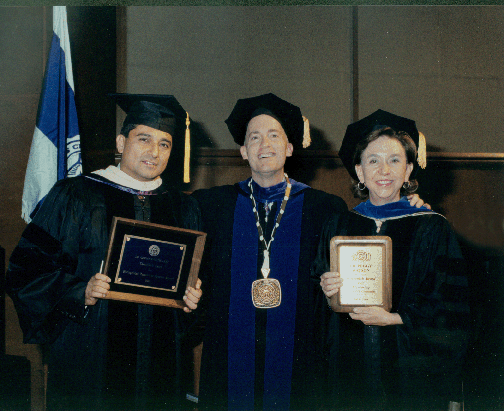 Boschini announced the formation of a strategic planning committee, which will review the suggestions made by the Commission on the Future of TCU task force. The committee will advise the administration on graduate education and capping undergraduate enrollment. This fall, the university welcomed a record 1,590 freshmen.
The chancellor also announced the completion of the first phase of the "Our Time, Our Future" fund-raising campaign. The effort, which began its quiet phase in June 2000, is currently at $100 million in pledges and gifts.
Boschini also presented German Gutierrez, professor of music, the Chancellor's Award for Distinguished Research and Creative Activity, and Peggy Watson, director of the Honors Program, the Wassenich Award for Mentoring in the TCU community.
Gutierrez, director of orchestral studies since 1996, was lauded for founding the Latin American Music Festival, which has drawn world-renowned musicians from South and Central America. After the first event, the TCU Symphony Orchestra was invited to take its first international trip, a series of performances in Mexico. The festival has since expanded to include all other arts disciplines, as well as the departments of Spanish and Latin American Studies, International Students Services, Radio-TV-Film and the Fort Worth school district.
Watson, associate professor of Spanish, was recognized by students for her work as the director of the TCU-in-Spain program, in which she guides students on a month-long trip to Seville. She also has earned kudos as director of the Honors program. Students mention her advice and encouragement, whether the topic is academic or life. Watson, they say, never appears "too busy" to see them, and is always upbeat.
A walk through Texas history
The Center for Texas Studies at TCU offers two great chances to experience a slice of history.
The Alamo, revisited
In a new Extended Education course, Remember the Alamo: The Texas Revolutionary Era, Dr. Gregg Cantrell, the Lowe Chair in Texas History, will take you on a historical trip of the mind, as well as an optional road trip to the site. The course will convene Tuesday nights, beginning in February. An optional trip to San Antonio and Austin begins Feb 27. Alamo historian and curator Bruce Winders '94 (PhD) will host a behind-the-scenes trip to Goliad, and Stephen Hardin '89 (PhD), author of best selling book Texas Iliad, will offer commentary. The group will also tour the battlefield at San Jacinto and visit the "Texas Flag" exhibit in Austin. Go to www.ced.tcu.edu to sign up, or call 817-257-7132.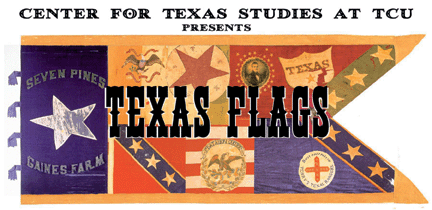 Thirty (or so) Flags over Texas
Tour Texas history through its flags at an exhibit sponsored by the Center for Texas Studies at TCU. Curated by Robert Maberry, Jr. '87 (PhD), the exhibit includes 30 rare flags, and brings together banners from the 1836 Battle of San Jacinto (carried under the leadership of Sam Houston) to Texas battalion flags from World War II. The flags will be on exhibit at the Bob Bullock Texas State History Museum from Feb. 28 to Aug. 22, 2004. The exhibit will then travel to El Paso and College Station before landing at the Cowgirl Museum & Hall of Fame in Fort Worth in 2006. For information, call 817-257-6295 or visit www.texasstudies.org.
The work of art
An artistic celebration of the entrepreneurial spirit -- that's how a new sculpture on campus, created by famed artist Marton Varo, is being described. Varo, best known for the magnificent angels that grace Bass Hall, created "15 Cubes" on site during a week in September. The 15 marble blocks, sculpted into a tall and elegant structure, now grace the lawn in front of the Steve and Sarah Smith Entrepreneurs Hall on the east campus.
"Entrepreneurs and artists are cut from the same cloth," said Dr. Robert Lusch, dean of the Neeley School of Business. "They are both creative and start with nothing. '15 Cubes' celebrates art and entrepreneurship because they both require phenomenal risk and are most often building something without knowing if there is a demand for it."
The sculpture was made possible by a gift from Frost Bank.
Pay for tomorrow's college education at today's rate
TCU joined more than 200 private universities this fall when it became part of the Independent 529 Plan, which allows parents to lock in future tuition costs at less than today's prices.
Through the plan, purchasers buy certificates that can be used to pay future tuition costs. When a student is later accepted at a member college, the certificate can be used to pay the percentage of tuition already pre-purchased.
Each university discounts prepaid tuition by a minimum of 0.5 percent. TCU offers a 1 percent discount. Other universities participating in the plan include SMU, Vanderbilt, Rice, Syracuse, Princeton, Notre Dame, Penn, Carnegie Mellon and Tulane. Parents can prepay as little as $25 a month, as long as their contribution totals $500 within the first two years. The plan does not include room and board or graduate school tuition.
Go to www.independent529plan.org or call 817-257-7858 for information.
Fogelson Honor's Forum - The new normal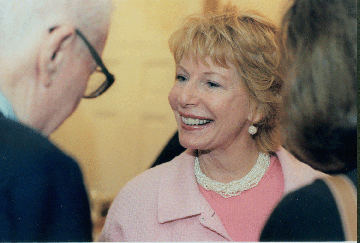 The attacks on September 11 were watched live by 60 percent of Americans. That was the introduction to the New Normal, said best-selling author Gail Sheehy, the Fogelson Honors Forum speaker in October.
"Those attacks fundamentally changed what it meant to be an American," Sheehy told a full house at Ed Landreth Auditorium. "We have to face the fact that we too are threatened with horror."
Sheehy shared stories from her latest book, Middletown, America, a chronicle of families from the New Jersey town, which lost nearly 50 people on 9-11.
The stories, Sheehy said, are an "enormous testament to the human spirit's ability to heal itself. It's a book about people putting their lives together after the worst happens."
Practice makes perfect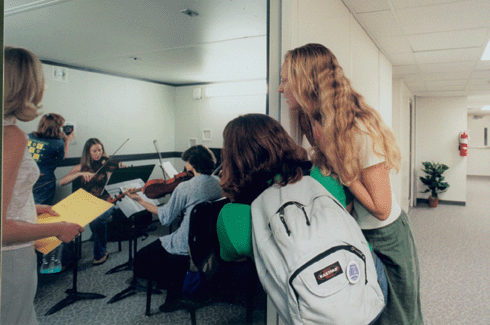 A sort of magic has descended on Waits Residence Hall. With the turn of a knob, formerly unused space in the basement becomes a symphony hall. Or an arena. Or a living room. Welcome to the new practice rooms for the School of Music (above), two of which are acoustically enhanced with microphones and speakers to allow musicians to hear how they will sound in a variety of performance venues.
Nine practice rooms in all were added to the Waits basement, nearly doubling the number of open-use practice rooms to 19.
"We have an unreal shortage of practice rooms," said Nick Scales, assistant to the director in the school. "These new rooms were desperately needed."
An inside track on being an outsider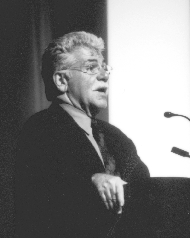 Joel Siegel, longtime film critic on ABC's "Good Morning America," impressed Gates of Chai lecture attendees with his knowledge of the intermingling histories of American Jews and American Cinema when he spoke at Ed Landreth Auditorium in October.
Siegel's perspective on the growth of American filmmaking and its concurrence with Jewish acclimation to American culture was the basis of his lecture, "Being Jewish in America." He explained that Jews were successful in the film industry because "Jews were outsiders. Being an outsider is a writer's best friend," he said. Immigrant Jews were able to observe that which they were not yet a part of, and their perspectives made for cultural expressions widely enjoyed by audiences.
In the second part of his lecture, Siegel showed clips from Citizen Kane, On the Town and Casablanca, warning the audience that he may "ruin" some favorite cinema moments by divulging behind-the-scenes secrets. Casablanca star Ingrid Bergman was about five inches taller than her co-star Humphrey Bogart. "In their scenes together, Bogart had to stand on a box," Siegel said.
Celebrating the liberal arts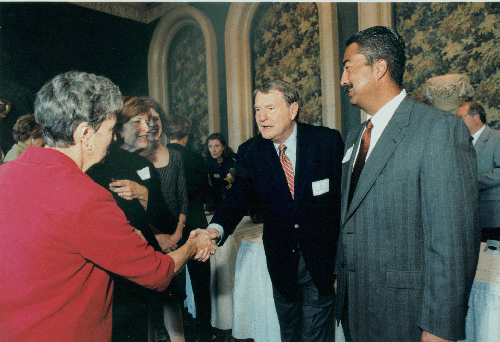 Newscaster Jim Lehrer and author Kate Lehrer '59 were honored guests of AddRan College of Humanities and Social Sciences in October for a celebration luncheon of the value of liberal arts. The PBS anchor regaled the Fort Worth Club audience with insights into current events, while talking about the challenges of writing.
Both Lehrers (second from left and second from right) were in town promoting their books. Jim's is a crime scene investigation novel called No Certain Rest, which is not your average CSI mystery. Kate's Out of Eden, now available in paperback, follows a widowed American woman who arrives in Paris to immure herself in the best social circles in the hopes of finding romance and her destiny.
Midnight madness - Fun on the court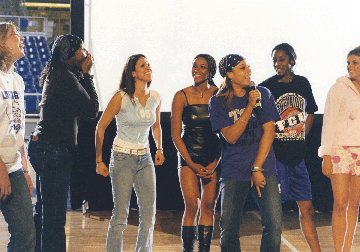 It was all fun, but no game, when the basketball teams gathered for their first practice and official tip-off event to the 2003-04 season, affectionately known as Midnight Madness. "Late Night With the Frogs," in its second year, drew nearly 1,000 fans, who came to watch the ball players get silly.
With skits and dance moves, players from both teams did their best to pump up the Daniel-Meyer crowd for the upcoming season. The TCU showgirls, cheerleaders and SuperFrog also got in on the dancing.
As a special treat this year, Kristin Holt, who appeared on the first season of "American Idol," acted as emcee of Frog Madness along with comedian Godfrey.
And the fans got in on the fun with a dunk competition (judged by players and coaches), followed by a free autograph session with the players.
Jim Wright Symposium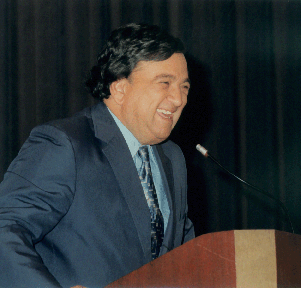 Government is not just for those who contribute to political campaigns, but for all peoples. That was the message New Mexico governor Bill Richardson offered at the second annual Jim Wright Symposium in October.
Richardson was part of a program featuring U.S. Reps. Kay Granger and Martin Frost and centered around obstacles to political representation. In a series of panel discussions, the symposium compared representation problems of today and those encountered by the nation's founding fathers, campaign contribution problems and solutions candidates can offer and still achieve election success.
A $30,000 grant from The Bernard and Audre Rapoport Foundation funded the symposium.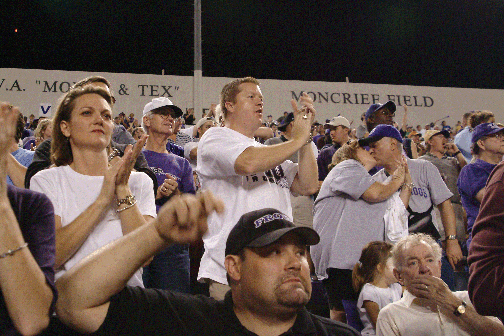 Dedication on the field
The playing surface at Amon G. Carter Stadium was officially dedicated the W.A. "Monty & Tex" Moncrief Field during halftime of the Horned Frogs victory over Vanderbilt on Sept. 20. The naming of the field follows a $3 million donation by "Tex" Moncrief to the TCU football program. The field is named in honor of the legendary oil family and one of Texas' first families of philanthropy.
Castro-Balbi joins music faculty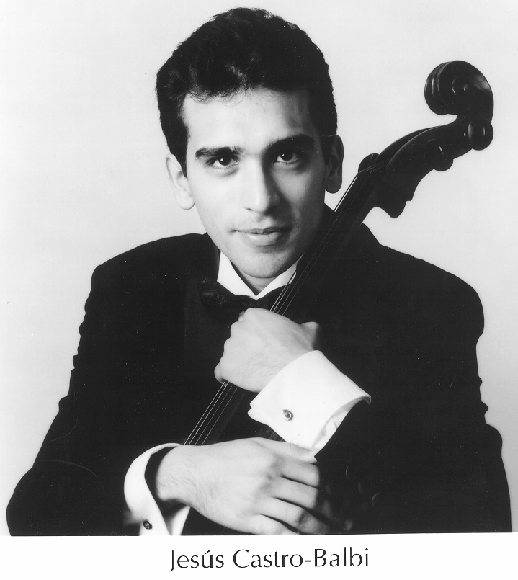 Award-winning cellist Jesus Castro-Balbi, who performs internationally as a soloist, recitalist and chamber musician, has been appointed to the faculty of the TCU School of Music.
Castro-Balbi regularly appears as a duo with pianist and wife, Gloria Yi-Chen Lin, who has joined TCU's music preparatory faculty.
Have you touched Mars yet?
When Mars tipped its hat at earth with the closest orbit in more than 60,000 years, nearly 700 onlookers gazed at the spectacle from campus, despite hazy, overcast skies.
The planet-watching party was a joint venture of TCU's Physics/Astronomy Department and the Oscar E. Monnig Meteorite Gallery.
Hundreds of sky-watchers waited patiently in one of three lines in between the library and Tucker Technology Center to peer through the department telescopes, which brought the red planet to about dime size, right in front of their eyes.
As crowds waited for Mars to rise in the southeastern sky, visitors toured the meteorite gallery, which offered a chance to touch an 800-million-year-old Martian meteorite, among the other several hundred space rocks.
A new degree on the horizon
Running the ranch these days takes more than good horse sense. It requires strong business and scientific knowledge as well. So once again the TCU Ranch Management program is leading the pack by offering a bachelor's of science degree in ranch management.
Beginning in Fall 2004, cowpokes with grand ambitions will be able to earn the new degree, which will be offered in addition to the program's one-year certificate program. The bachelor's degree will be granted by the TCU College of Science and Engineering, though students will be required to minor in business.
"We are excited about the new degree option because it allows students to incorporate the knowledge obtained in our program with business principles needed to manage a successful ranch," said James Link, director of TCU's Ranch Management program. For information on the bachelor's degree or certificate program, contact the TCU Ranch Management office toll-free at 1-800-828-3764 or 817-257-7145 or ranching@tcu.edu. On the web, go to www.ranch.tcu.edu.
Get holiday gift books at 20% off
TCU Press is now offering alumni a 20 percent discount on books by ordering through Texas A&M University Press Consortium. With an emphasis on Texana and western American literature and history, TCU Press offers some great books on local history, including two recent publications: Stories from the Barrio: A History of Mexican Fort Worth and Fort Worth & Tarrant County: An Historical Guide. Order online at www.prs.tcu.edu, or call 800-826-8911. Use the discount code TCUP. For more information call 817-257-7822 or send an e-mail to j.alter@tcu.edu.
Kudos
To Adam Golka, an Artist Diploma student of Jose Feghali of the TCU School of Music faculty, was awarded first prize in the Shanghai International Piano competition this week, as well as the "audience favorite" prize. Adam is only 16, but he has been studying at TCU for the past three years under Feghali, the Gold Medal winner of the Van Cliburn International Piano Competition in 1985.
To the Fort Worth Journalism Project, a cooperative venture led by the TCU journalism department, has been named one of the nation's most innovative university outreaches to secondary schools by the Scholastic Journalism Division of the Association for Education in Journalism and Mass Communication. The project supports high school journalism teachers and programs by offering workshops for teachers and students and organizing an awards program for student journalists.
To Larry Lauer (vice chancellor, marketing and communications) was honored with the Independent Colleges and Universities of Texas (ICUT) President's Award during the ICUT President's Dinner Sept. 6 in Dallas. The recognition is given for distinguished service in ICUT and independent higher education in the state. ICUT represents its 32 member institutions in Austin on legislative matters.
To the M.J. Neeley School of Business, who was listed in The Wall Street Journal's Guide to the Top Business Schools 2004 as among the top 100 business schools in the world and among the top 75 business schools in the country. It was the second year in a row the business school earned such a an honor. The school was also ranked 59th in Forbes magazine list of the best business graduate schools. The ranking is based on a survey of full-time MBA graduates which measures return on investment for the graduating class of 1998.
To the James A. Ryffel Center for Entrepreneurial Studies at the Neeley School of Business was awarded the NASDAQ Center of Entrepreneurial Excellence Award at the National Consortium of Entrepreneurship Center (NCEC) Directors conference, held at TCU in October.
In brief
Enrollment on a roll
Largest and smartest. Those are the words Chancellor Victor J. Boschini, Jr., is using to describe TCU's 2003 freshman class.
This year's class numbers 1,596, adding 145 to last year's freshmen roster of 1,451. The class also boasts the highest SAT scores of any entering class, averaging 1168. Overall, TCU's enrollment reached a record high for the third year in a row, with 8,278 students enrolled in the undergraduate and graduate programs for Fall 2003, an increase of 200 students over 2002. Brite Divinity School experienced its largest student enrollment ever: 281.
More about the 2003 freshman class:
- Minority student representation set a new record, making up 14 percent of the class.
- Competition was fierce, with more than 7,600 applicants competing for fewer than 1,600 places.
- Thirty-nine students representing 24 countries ranging from Bahrain to Vietnam enrolled as freshmen this year.
TCU Tomes
Fort Worth & Tarrant County
An Historical Guide
TCU Press
Edited and revised by Carol Roark

Fort Worth and Tarrant County were founded on a dividing line. East of the line, the land was fair game for American settlers. West of the line, the land was reserved for Native American tribes that had hunted, fished and camped there for generations. More than a century later, Cowtown and the surrounding area is home to scores of historical places, buildings and monuments. Carol Roark's guide tracks all of them in impressive detail -- from the Tarrant County Courthouse to the Fort Worth Laundry Company. Maps guide the reader to sites in Fort Worth and text offers insights not found on landmarks. Thematic tours group buildings and sites by subject matter or interest, including African-American history, cattle and livestock industry, early Tarrant County history, historic neighborhoods, Jewish history and railroad history. This is truly a must-read for Fort Worth history buffs or anyone curious about the city they live in.