Life in the fast lane
NASCAR rookie Larry Foyt '00, the son of the unequaled A.J., is fast proving that racing -- and winning -- are just a Foyt family tradition.
By David Van Meter
Larry Foyt '00 is uniquely qualified to know, but there's no big hurry on this lovely late-September day for the answer. He's on the phone from the Charlotte, N.C., practice track and garage that is headquarters to Foyt Racing -- a smaller operation than sponsor-laden powerhouses bearing names like Jeff Gordon or Rusty Wallace -- and he's talking cars, all facets of cars. Besides, the answer isn't that simple -- especially to those who drive these Thunder Road rods for a living.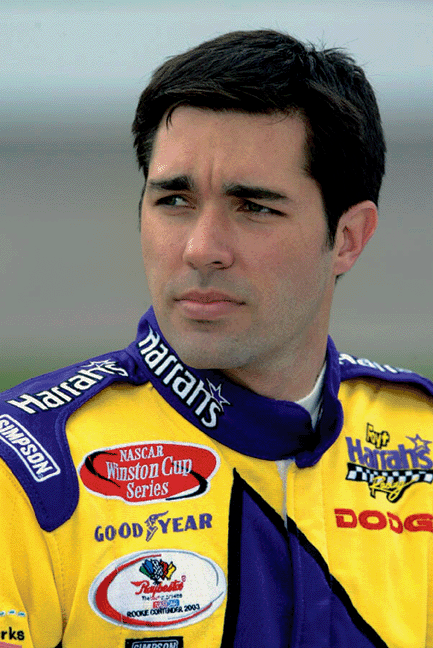 On top of that, he's hurting from bruised ribs and a two-week-old broken wrist -- remnants of a multi-car pileup in the EA Sports 500 at Alabama's Talladega Superspeedway, arguably the most difficult track in the country. Fellow racer Jeremy Mayfield blew a left rear tire, hitting and sending Foyt into a retaining wall just nine laps into the race.
A week later, still struggling to breathe without discomfort, Foyt tried to qualify for another race and barely missed the cut. "What I hated most about that wreck wasn't the pain," he said. "It was the fact that I was in eighth place at the time and the car was running so well. It seems like that's how my entire season has gone. ... I guess you'd call it the rookie blues."
Rookie or not, Foyt, 26, is no stranger to checkered-flag finishes. For two years, he excelled as the only driver-owner in the NASCAR Busch Series, making business decisions almost as crucial as negotiating quarter-turns at 200 miles per hour. Last year he shed the owner title and followed legendary dad A.J.'s advice to enter the NASCAR Winston Cup Series, the crown jewel of the stock car circuit.
Today, Larry is the sole driver of the No. 14 Harrah's Dodge Intrepid owned by his father. He raced it in 38 Winston Cup races last season, from the end of February through Thanksgiving. It makes for a work week most folks never experience. Monday means debriefing with his crew chief about what went well the day before. Tuesday starts a press junket for the team's sponsor, Harrah's Casinos. Thursday brings the team plane, with Foyt on board, to the latest race track. And Friday and Saturday? Running paces around the asphalt that will either qualify Foyt to race or detour him back to Charlotte.
Last year, Foyt qualified in the top 10 three times, with two starts in the top five. He finished in the top 10 twice with a best finish of eighth at Talladega in the spring. Overall, he posted five top-15 finishes and nine top-20s.
"Most people think driving NASCAR is some kind of adrenaline rush," he said. "But me, I've never been an adrenaline junkie. For me it's the competition. I grew up playing sports -- I used to play Junior Olympic volleyball. It's that level of competition I'm after. That's what racing for me is all about.
"I love being able to drive a car on the edge and do something others can't. When you drive anything 219 miles an hour, if you make a mistake, it's going to hurt."
It's a privilege Foyt clings to carefully. Maybe it's a little surprising he's behind the wheel at all, given his early years in a household where education was stressed more than carburetion. Though his father would one day be named the Associated Press Driver of the Century and remains the only driver to win the Indianapolis 500, Daytona 500 and the 24 Hours of LeMans, racing wasn't a career path he wished for his children.
"It's easy for my kids to look at the success I've had and think, yeah I'd like to do that," said A.J., Indy's first four-time winner. "But I look back at some of the accidents I've had, the scars I have now and the friends I've lost over the years, and I think, who would want that for their kids? I had to do it because I didn't know anything else. My success gave my kids choice -- like a college education. That's what I wanted for my kids, and I tried to insist on it."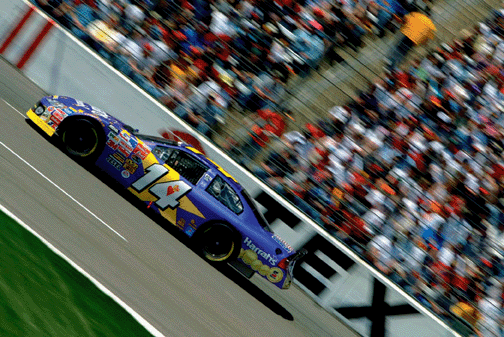 Still, Larry attended every Indianapolis 500 starting as a toddler, and it wasn't long before the fever began to warm him. In 1993, with mom Lucy's help, the eldest Foyt offspring got his first go-kart. Working as a janitor at a nearby speedway in Houston, he would tow his 'kart to the track to practice. He won the second race he entered. A year later, he advanced to the 125cc-shifter 'karts and won the Texas State Championship.
So A.J. relented on the driving, but not on the college education. Larry graduated TCU with a bachelor's degree in communications in 2000. "I'd say 99 percent of my profs understood I was chasing a dream. They worked with my schedule, and professors like Dr. (Will) Powers, Dr. (Paul) King and Dr. (Joyce) Allman were open to speeches in class about racing."
The year before Foyt's graduation came the deciding factor that put him in stock cars for good. Racing in the USAC Formula 2000 series -- where the cars offer less protection -- his wheel was hit as he challenged for a top-five finish, launching him into a horrifying flip. As his car landed, another car clipped him, igniting his car as it slid toward the wall.
"Right before it happened, I had a bad feeling. I said to myself, 'We're all not going to come out of this.' Afterward when I felt the heat, I got out of the car pretty quick and lay down. I remember lying there and seeing A.J. standing over me, and that's when I thought I might have been dead."
"I was scared," A.J. recalled. "It looked bad, and he was very lucky. After that, I started to think about getting Larry into something else."
And thus a lucky Larry Foyt finds himself behind the NASCAR wheel in a class of cars built virtually the same, yet separated by millions of dollars in terms of safety and their place in the winner's circle.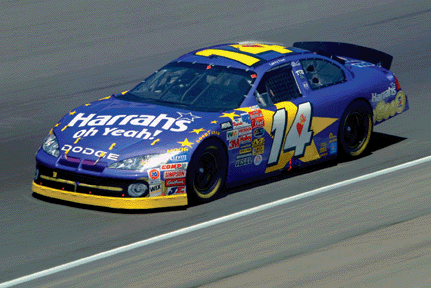 "There's a lot more to it than just 'race craft,' " he says. "Learning can only come through experience, or what we call 'seat time.' Right now, I'm catching up on that."
There's also a matter of sponsors. The No. 14 Intrepid lacks a hood sponsor and a quarter-panel benefactor, prime ad space on a race car. That makes finances a bit tight in the Foyt garage.
"When we started this year, we were operating on a third of what others were. You have to run well so people want to sponsor you and so you're on TV more. At the same time you need money to test, to do wind tunnels, engine development, you name it.
"In any race, there are 45 cars that all are within tenths [of a second] of each other. That's what has hurt us, not being able to test as much. If you're not within a couple of tenths, you go home."
And the question remains, for all those who watch from a television screen or the bleachers of speedways across the country: What's it really feel like to drive a NASCAR race car?
"The competition, the sport, it's what I've always wanted to do," Foyt said. "So many of my friends didn't know what they wanted to do. I watched them try and do different things, hoping it would flip a spark. I was very lucky at a young age -- I always knew what I wanted to do. How many people drive an 800-horse car and get paid to do it?
"It's the coolest job in the world."
To comment on this article, e-mail tcumagazine@tcu.edu