Notables
Star Rising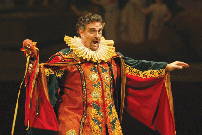 Baritone Stephen Kechulius '83 made a Bass Hall debut in September in the Fort Worth Opera's production of "Rigoletto," where he performed the title role of a deformed court jester. It was Kechulius' ninth reprisal of the role that has taken him all over North America and Europe. Even the arts-savvy The New York Times has noted his "elegant dark voice and strong dramatic instincts." He has also delighted audiences and impressed critics in the roles of Iago in "Otello," Baron Scarpia in "Tosca" and the title role of "Falstaff." Kechulius' rise to stardom came after years of small parts and bit roles. In 2001, he made his debut with the New York City Opera as Scarpia in "Tosca." Since then, he's performed with opera companies in Florida, Tennessee, Utah, Arizona, Ohio and recently in Germany and Great Britian. While in Fort Worth, Kechulius treated TCU opera students to a masters class, telling the budding performers, "There are many roads to success in opera. But there is no one right way to get there. It takes a passion. You have to discover that passion here at TCU."
Fast past 50

Nicknamed "Superman" by his track teammates, Bill Collins '75 really is faster than a speeding bullet. Speeding bullets over the age of 50, that is. Collins holds world records for age 50 and up in the 100 meters, 200 meters and indoor 60 meters. He has also taken titles at seven world masters track meets for runners 40 and up. In July, at the 2003 World Masters Track and Field Championships in Carolina, Puerto Rico, Collins defended his titles in the age 50-to-54 100 and 200 meters by healthy margins. "The 2003 season was one of my best in a few years," he said, proud to have broken five world records at the age of 52. He is on the list of athletes being considered for induction into the Masters Hall of Fame for USA track and field. Collins can be found on the the Rice University track three days a week with teammates from the Houston Elite Track Club (which he coaches on a voluntary basis). When he's not training, Collins lives in Missouri City. He works as a speed consultant for the Texas Southern University football program and an adviser for athletes in a variety of sports.
A punch in the face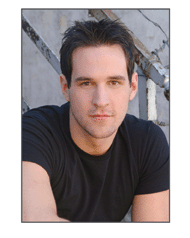 It didn't take long for Travis Willingham '03 to hit the "big time." Last spring he was on the stage at University Theater. This fall he appeared in the A-list productions of Secondhand Lions, starring Robert Duvall, Michael Caine and Haley Joel Osment. Willingham played a gang member who takes a beating from 72-year-old Duvall. "Being punched repeatedly in the face by Robert Duvall has been my favorite career experience so far," Willingham said. Throughout his four years at TCU, the Dallas native balanced academic demands with movie roles, local and national commercial work and TCU Theatre productions. Since his graduation in May, Willingham concentrated full-time on his acting career. He recently completed work on Unchain My Heart: The Ray Charles Story, scheduled for release next year.
Horned Frog presiding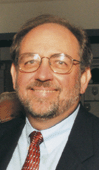 Twenty-five years of service to the Louisiana legal community recently garnered Maury Hicks '74 an appointment to the federal bench. Originally nominated by President Bush in September 2002, Hicks received Senate confirmation and, at a ceremony in Shreveport, was officially installed as a federal district judge in the Western District of Louisiana in July. Hicks' wife Glynda and children Christy '02, Tyler and Whitney along with associates and friends looked on as he swore his oath, accepting his new lifetime-term post. Experience as a law clerk and staff attorney for the Louisiana Legislative Council combined with a long stretch in private practice prepared Hicks for his appointment as a judge. He was appointed to the Louisiana State Bar Association Committee on Bar Admissions in early 2002, prior to receiving the judiciary nod. "I'm especially fascinated with the federal system, its procedures and authority," Hicks said. "Moving from 25 years of advocacy to being an adjudicator is a significant change, but one that I'm looking forward to."
Raising the bar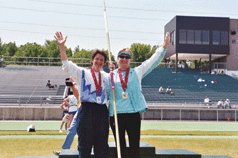 Martha Roberts Roper '70 (pictured at right) proved herself the best woman pole vaulter over age 50 at the National Senior Olympics in June. Her gold medal performance was the culmination of several years of training, brought about by a victory over breast cancer in 1994. She first tried the pole vault in the spring of 2002; the event allowed her to combine her love of athletic competition, running and gymnastics. "I had never pole vaulted before. Girls didn't have the opportunity to play competitive sports when I was school," Roper explained. So she sought advice from a colleague at the Manchester, Mo., high school where she teaches health. Once she had reached the age of 50, Roper began competing in local and state Senior Olympics. By age 55, she qualified for the biennial national competition, where she took gold. "I had never been so excited or nervous," she said of the national contest, while noting it allowed her to focus her energy in a positive direction. "It has given me so much confidence."
Mamma Mia!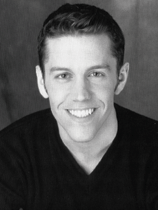 Another TCU peforming artist making his Bass Hall debut was ballet and modern dance alum Andrew Parkhurst '93, who served as dance captain of the traveling production of "Mamma Mia!," which made stops in Dallas and Fort Worth in October and November. "This is one of the highlights of my career because the music and dance is so much fun," Parkhurst says. "Those ABBA hits really get people dancing in the aisles, and that's when it is really enjoyable." As dance captain, Parkhurst covers all the male ensemble roles and teaches the show to new cast members. "I have to know all the movements and be ready to perform any role when cast members go on vacation or become ill," he says. Parkhurst has worked Broadway in productions of "Guys and Dolls" and "Cabaret," both to rave reviews. He also toured Europe extensively in Dracula in 1998. While he was in Fort Worth with "Mamma Mia!," Parkhurst returned to TCU one morning to lead a masters classin Studio B of the Ballet Building. "Teaching is my life. It's my job with the show, but it something I enjoy every day."
Top