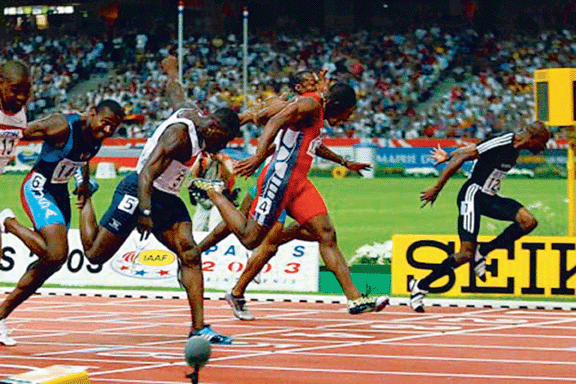 World-class speed
From the U.S. to the Caribbean to Europe, former TCU sprinters and their coaches are leading the pack in professional track.
By Greg Riddle '94
Kim Collins shouldn't have trouble remembering the date of the biggest race of his life. But if he forgets, the former TCU track star can just check a calendar on the islands of St. Kitts and Nevis, where Aug. 25 is now Kim Collins Day. That's the day this summer he took first place in the 100-meter sprint at the World Championships at Saint-Denis, France.
In one of the rare moments when he wasn't going anywhere fast, Collins, 27, took time recently to recount the ways the people of St. Kitts and Nevis have honored him since he returned home. The island federation in the Caribbean, with a population of about 38,000 (smaller than the University of Texas at Austin), even got the government involved.
In addition to having a day named for him, the two-time Olympian got a meeting with the prime minister. A company gave him an SUV. And an athletic facility will bear his name. Even before the race, Collins was a hero on the islands. The government gave him a house and graced his likeness on a postage stamp. Motorists also now drive on the Kim Collins Highway.
"The entire nation has come together to celebrate," Collins said. "This is the biggest thing that ever happened to the island."
But the victory that had people cheering in the streets happened by the thinnest of margins. Collins, a three-time NCAA champion at TCU in 2000-01, was clocked at 10.07 seconds in the 100-meter final at the World Championships. A lean at the last instant enabled him to edge three runners who finished in 10.08.
That one-hundredth of a second brought $60,000 in first-place prize money and made him the fifth man to win a World Championships 100-meter title (Carl Lewis and Maurice Greene did it three times). Not bad for a guy who started running track when he was about 14 to impress the girls.
The World Championships ended up being an informal TCU reunion. Those who were there:
- Darvis Patton (2000-01), a 10-time All-American during his two years at TCU. He took second place – missing first by a hundredth of a second – in the men's 200 with a time of 20.31. He did strike gold as part of the winning U.S. 4x100 relay team.
- TCU senior Michael Frater (2001-03), junior Brandon Simpson (2003) and former Frogs Jon Drummond (1990-91), Ricardo Williams (1999-00), Khadevis Robinson (1995-98) and Bev McDonald (1992-93). Simpson's third-place effort as part of Jamaica's 4x400 relay team was the best showing for the group.
- Former TCU coach Bubba Thornton (1982-94) was the head coach for the U.S. team, current TCU coach Monte Stratton (1995-03) was on hand as a personal coach for Collins, Patton and Williams, and former TCU sprint star Raymond Stewart (1985-89) coached McDonald – a two-time Olympian – and men's 400 winner Jerome Young.
"I don't know if they could have had the track meet without TCU," Stratton said. These days, it's hard to find a professional track meet that doesn't feature some Frog legs. And outside of Robinson in the 800, it's ex-TCU sprinters who are making a big impact.
"In the U.S., track is not that big. I can walk in the store and no one knows who I am," said Patton, who has been running professionally since leaving TCU in 2001. "But in Europe, I can be walking down the street and I'll get stopped by at least a dozen kids asking for an autograph. It's amazing to walk into a stadium and they go crazy when your name is called. I'm living the professional life that you see over here with football and baseball."
Patton never qualified for the Texas state track meet in high school, and he was recruited only as a long jumper and triple jumper when he started his college career. But he won a U.S. title in the 200 this year and ended his outdoor season ranked No. 1 in the world in the event.
Robinson took up track because his high school football coach thought it would help him get faster and because it might enhance a college application. Then he captured U.S. titles in the indoor and outdoor 800 in 1999 and missed qualifying for the Olympics by one spot in 2000.
Drummond, 35, has a hole in his spine, the result of being born with spina bifida. Still, he won a gold medal as part of the U.S. 4x100 relay team at the 2000 Olympics and a silver in the same event at the 1996 Olympics.
"I think having gone to TCU and having success prepared me to make decisions to further my career," said Drummond, who ran on TCU's national championship 4x100 relay in 1991. "The fact I had so much success at TCU motivated me to pursue my dream, and that was to go become an Olympian."
How good are the former Frogs? Only 12 runners in history have run faster than the 9.92 100 that Drummond ran in 1997. Based on times recognized by the International Association of Athletics Federations, only 49 runners have covered the 100 in 10.0 seconds or faster. Drummond is joined on that list by former Frogs Stewart (9.96), Percival Spencer (9.98), Collins (9.98) and Patton (10.00).
***
TCU owns seven NCAA titles in the 4x100 relay, and the school has had an All-American in one of the short sprints every year since 1985. But how did a program that didn't produce an individual national champion until 1987 become a hotbed for sprinters?
"It's like the guy who robs the bank knows where the money is … we know where the speed is," Stratton said. "We always have a connection to alert us to speed."
It helped that Stewart came to run for TCU after anchoring Jamaica's second-place 4x100 relay team and placing sixth in the 100 at the 1984 Olympics. The Jamaica native said he picked TCU to a large degree because the Fort Worth weather is similar to that on the island where he grew up.
Stewart won five NCAA titles at TCU, and his high school buddy, Andrew Smith, was on three national championship 4x100 relays. Since then, McDonald, Spencer and many others have come to TCU from Jamaica and earned All-America honors.
"Every year we were pretty much performing at a level like no other college in the U.S.," said Stewart, who was a four-time Olympian. "Most of the younger kids I know back home, all they could talk about was TCU. Getting recruits to TCU was pretty easy."
Thornton provided a big assist by helping design full-body suits that made TCU's sprinters the envy of the track community.
"I think that changed the whole track and field world," he said. "Once we wore it, everyone in the world wanted it. Now if you don't have them, you're not in tune. You're a PE program, not a track program."
It's not hard to tell which TCU is -- it's the track program leading the pack.
Greg Riddle '94, a former walk-on cross country and track runner, is a sports copy editor at The Dallas Morning News. Comment on this story at tcumagazine@tcu.edu.
Fall/Winter Roundup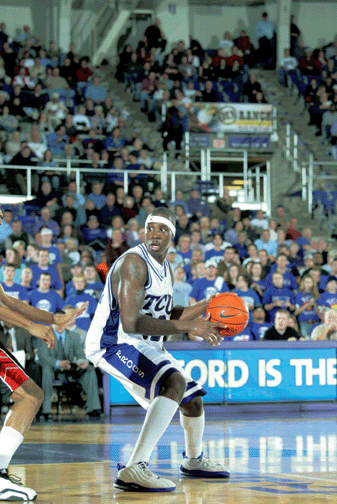 Men's basketball. With a recruiting class rated among the nation's top 30, the Frogs welcome promising players onto an already talented team. Veteran guards Nucleus Smith and Corey Santee should provide a steady hand in the backcourt, while Corey Valsin and Chudi Chinweze, right, provide muscle in the paint. Add newcomers Marcus Shropshire, Femi Ibikunkle, Aaron Curtis, Art Pierce, Blake Adams and Neil Dougherty Jr., and TCU has the makings of a dangerous team.
GoFrogs TV. GoFrogs TV, a weekly video magazine featuring behind-the-scenes coverage of Horned Frog athletics, launched in August. For $7 a month, subscribers receive documentary-type features via the Internet, and unlike steaming video, which can appear jerky, the program is much like watching a DVD on a computer screen. More than 120 Frog fans have signed on. To subscribe, visit www.gofrogstv.com.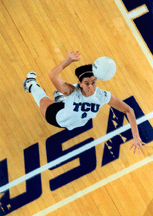 Volleyball. 2003 has been a record-breaking year. In October, the Frogs claimed their 16th victory, the most ever in a single season, and the wins keep coming. Led by juniors Dominika Szabo, left, and Ellen Rehme and senior Tori Barlow, the Frogs have also settled nicely into their new home, the University Recreation Center, where they have won nine of 13 matches. The team went on to win 20 games and reach the second round of the C-USA Tournament, the program's best finish ever.
Women's basketball. When last seen, the Lady Frogs were up on No. 1-ranked UConn at halftime on the Lady Huskies' home floor in the second round of the NCAA Tournament. The Frogs fought hard, but UConn's superior depth prevailed. That might not be the case if the matchup happens again this year. Coach Jeff Mittie has arguably his deepest team, entering the season ranked in the top 20 for the first time in school history. Led by junior post Sandora Irvin and senior captains Ebony Shaw and Tracy Wynn, the Lady Frogs will face one of the nation's toughest schedules, with home dates against Arkansas and Tennessee.
Top