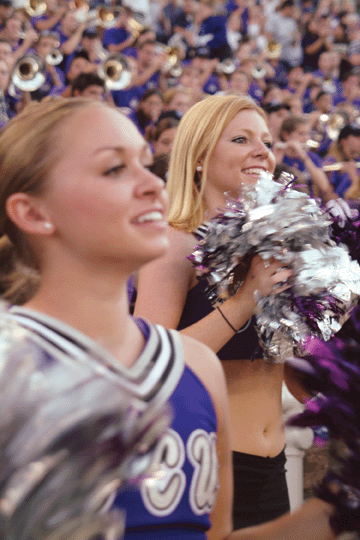 Riff Ram Bah Zoo!
How the Frogs brought the fans back.
By Rick Waters '95
It's been more than five seasons, but Eric Hyman still remembers The Conversation. Back before everybody started tailgating. Before Bleacher Creatures. Before the LT Campaign. Or Top 25 rankings. Or BCS talk. Yes, this was before talk of any bowl game.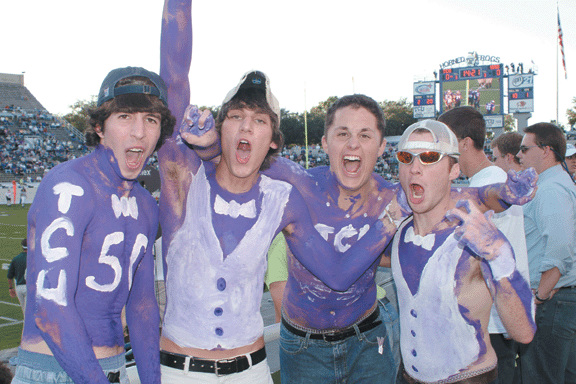 It was September 1998 and TCU was 2-1. The then-brand-new athletics director, on the job all of seven months, was standing in his driveway when a neighbor stopped to tell him how much he liked the Frogs' chances this year, especially with that new silver-haired coach, Dennis Franchione. This team might actually surprise some folks.
The encounter was encouraging because Hyman had spent all spring and summer scouring the city for fan support and talking up a new era for the Frogs. Heaven knows they needed it. Coming off a 1-10 season and the firing of its head coach, the program had practically hit rock bottom.
But brighter days were ahead. TCU had wonderful potential and Hyman knew it: good student-athletes, clean programs, decent facilities, all at a small private school located in a community of good people and in a state passionate about football. With some enhancements here and there, a fresh marketing campaign and a taste of winning, Horned Frog Football could be the talk of the town again.
But when the chat turned to attendance, Hyman wondered aloud why only 26,000 had come to see the Frogs beat No. 23 Air Force just days before. Gorgeous weather, a mid-evening kick-off time and a nationally ranked conference opponent in town -- why the poor turnout?
The neighbor's face wrinkled. "You've got a real great thing going, Eric," he began slowly. "But listen, there used to be a time when TCU Football really was a big Fort Worth social event. When that starts to happen again, then you'll really have something."
***
FIVE years later, Hyman sits in an office decorated with footballs from five straight bowl games and three conference championships and still thinks about that conversation. He has "something" now.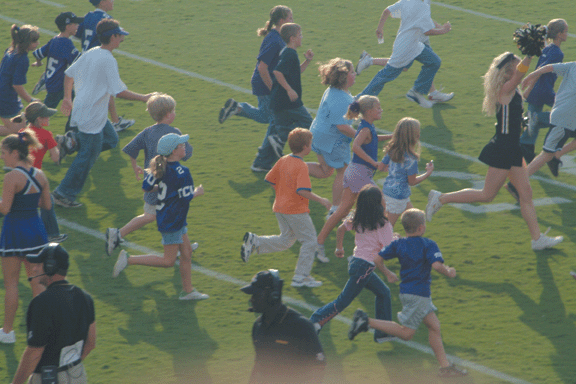 "Shhhh," he says covering a grin with a finger. "It's a big secret, but Fort Worth is catching on to TCU Football."
Hyman has earned that smile. It's been a historic season, almost six years in the making. Since 1998, TCU has orchestrated an all-out overhaul of athletics, from stadium atmosphere to facility upgrades to increased community presence. The result? Fort Worth and some wayward alums are supporting the Frogs now in near-record numbers. For the first time in school history, TCU attracted more than 35,000 fans in three consecutive home games in a single season, and it finished the six-game home schedule with the second highest average home attendance ever at 36,155, more than 8,000 above last year.
"I've been here since 1984, and I have never seen this much excitement week in and week out," says ticket manager Chip Heiss. "Fort Worth is beginning to see it's fun to go to TCU games and be a Horned Frog fan again."
And it's not all football either. With the men's and women's basketball programs playing several big-name national opponents at home this winter, the TCU ticket office expects heavy demand for season tickets. It also expects Year Two of Lupton Stadium and the addition of highly touted baseball coach Jim Schlossnagle to do equal wonders on the diamond.
But the turnstile count is only part of the story. Tailgating is up. Walk-up ticket sales have taken off. Frog Alley is attracting families who have never set foot on the campus before. Demand for merchandise has increased, as has the number of stores wanting to carry TCU apparel. New donors to the Frog Club have emerged, and old donors who stopped giving have returned.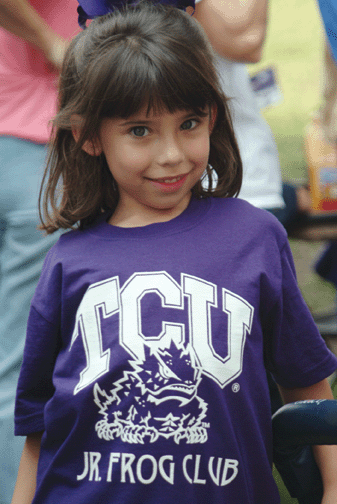 When the first Frog team in 65 years made a run at an undefeated season and a Bowl Championship Series berth, America took notice as well. In the final weeks of the season, athletics media relations handled interview requests by more than 40 national outlets, including Sports Illustrated, The New York Times, Washington Post and USA Today, all tracking the Cinderella Frogs. Internet site tcusports.com reported an increase in TCU-specific articles around the country of more than 350 percent.
And while those BCS dreams ended in late November in Hattiesburg, Miss., the national media exposure was worth tens of millions of dollars, according to a Fort Worth Business Press estimate.
"What TCU athletics has accomplished in such a brief time is nothing short of amazing," says Dutch Baughman, executive director of the Division I-A Athletic Directors Association and 1988 graduate of the ranch management program. "There is an axiom in our profession: If you have a good product on the field, people will come. But what TCU is really to be applauded for is creating an atmosphere and buzz that is getting the casual fan to come out to the stadium."
Home field advantage
Maybe the most important thing TCU did was design the road map for success. After the breakup of the Southwest Conference in 1995, athletics was in trouble. Disappointed to see the large state schools depart for the Big 12, TCU brokered itself into a 16-team, four-time zone Western Athletic Conference, which gave it a new home, one in which it could be among the elite teams. "We should be able to compete for championships in almost every sport from the get-go," former Athletics Director Frank Windegger said at the time.
But TCU would soon find that its new conference was not ideal. Sixteen teams were too many and too far apart. Travel costs doubled. Geographic rivalries fell apart. And fan interest began to wane as century-old foes Texas, Texas A&M, Baylor and Texas Tech no longer came calling.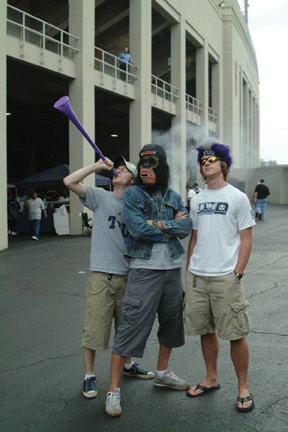 TCU's best chance for success -- under not great circumstances -- was to become the top team in the WAC and get as much media attention as possible. To achieve that, the university needed to make a financial commitment.
In November 1998, the Board of Trustees approved an $8 million package to make TCU "a nationally prominent athletics program." Facilities followed: The John Justin Center (housing an academic learning center and office space), a new track and field complex, a new soccer venue, retooled football practice fields and improvements to Amon Carter Stadium. Future phases brought about baseball's Lupton Stadium and a basketball practice facility, now underway.
"One of the assets TCU has always had is the financial support of its alumni and the Fort Worth community," Hyman says. "We could not have achieved the success we have now without these new facilities. And we wouldn't have had these facilities without our donors and extended TCU family."
Next, TCU had to reverse perceptions. By 1997, the football program had suffered 30 losing seasons in 38 years and had become loveable losers in the old Southwest Conference. Now the SWC was gone, and little-known teams from out west were traveling to Fort Worth without their fans. With a sparsely filled stadium, lesser known opponents and a downtrodden home team, Frog fans stayed away, disappointed one too many times.
"The truth is we lost a generation of fans because the product on the field was so bad," Hyman says. "When we started carrying out our plan, we knew they wouldn't be coming back right away. But we were going to work to get them back."
In the mean time, the fans had found other outlets: the Cowboys arrived in the 1960s, the Rangers in the '70s, the Mavericks in the '80s and the Stars in the '90s. Sometimes TCU was lucky to have its score mentioned at the end of a newscast.
In 1998 when Franchione guided his first Frog team to a 6-5 record and an unexpected Sun Bowl appearance, he was revered as the program's savior. It wasn't enough, though, to bring back the fans. Even when the Frogs won a share of the conference championship and another bowl berth the following year, small crowds continued.
Finally, in 2000, progress. Based largely on a preseason ranking for the first time in decades and an ambitious Heisman Trophy marketing campaign for running back LaDainian Tomlinson, TCU set a record for season ticket sales of 13,802. The Frogs averaged 31,620 in the stands for the season, the first time over 30,000 since the Southwest Conference Era ended. The team reached No. 9 in the rankings before losing a road game in November but still played in a third straight bowl and finished in the Top 25. Six weeks later, Coach Fran bolted for Alabama. Season ticket sales would fall 11 percent, but TCU spirits tumbled even farther.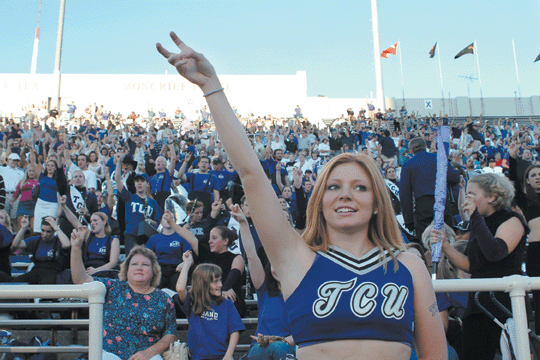 "TCU people were so hungry for success when Fran was here that they gave their whole soul to him," Hyman says. "And then when he left, TCU people were hurt, and we lost some support. Now, we're building that back and have built an infrastructure to stand the test of time no matter who the coach is."
The Frogs didn't break their consecutive bowl streak under new coach Gary Patterson either. Despite losing 28 seniors (including one Heisman Trophy finalist), Patterson coached the Frogs to a 6-5 record in TCU's first season in Conference USA, then faced Texas A&M in a new bowl game in the Houston Astrodome. The Frogs lost, but more than 15,000 went down Interstate 45 for the game.
In 2002, attendance and season ticket sales continued to slide despite a team that finished 10-2, was ranked No. 23 in the nation, won the Liberty Bowl and boasted the country's top defense.
"I think some people were not sure we could sustain success," says Brian Florko, general manager of ESPN Regional, TCU's broadcasting and marketing partner. "But now that we've been to five bowls in a row and had a couple of 10-win seasons, they know we're always going to be in the fight."
The downward trend surprised and disappointed athletics marketing, but it set the stage for 2003's quantum leap, when attendance skyrocketed 23 percent and season ticket sales totaled the second highest of all time.
"We're nowhere near where we want to be -- ideally, I'd like to get to 18,000 or 19,000 in season tickets and average more than 40,000 each Saturday," Hyman says. "But we've made some tremendous strides.
"When your biggest problem is alums calling to complain about sitting in traffic after the game, that's when you know you've turned the corner."
Winning off the field, too
There is no question that winning has been the biggest factor behind the bigger crowds. It was an undefeated record in November that got ESPN anchor Dan Patrick to wear a purple tie on "SportsCenter" as a sign of respect for the Frogs. It was a dramatic 31-28 win against Louisville on national television that had radio hosts telling Hyman that the Frogs are "America's new favorite team." It was a No. 6 Bowl Championship Series ranking that inspired front-page banner headlines in the Star-Telegram and had "College GameDay" considering a visit to Amon Carter Stadium.
But there have been other signs of progress, too. Every August concessions manager Ernie Perez projects how many nachos, sodas and bags of popcorn he will sell at every TCU game -- not just football -- during the year. For 2003, he ambitiously forecast $400,000 in business, which, for him, would be a very good year. But Perez surpassed that total by the end of the first quarter at Homecoming.
Heiss, TCU's ticket manager, doesn't keep handy numbers on walk-up ticket sales, but he confidently boasts that this season's sales have quadrupled. "What that tells us," says athletics marketing director Tim George, "is people are waking up Saturday morning and TCU Football is one of the things on their minds."
Tailgate parties are up. Churches, rotary clubs and civic organizations are clamoring for group tickets. "They are calling us now, instead of the other way around," says Jeff Crane, assistant director of athletics marketing. "That's never happened." And fans flock to Coach Gary Patterson's weekly call-in show. "If you're not there by 6 o'clock, you're not going to get a seat," says show host Brian Estridge. "When we first started it, we really had to get creative because we didn't have enough callers. Now we don't have that problem. We've got people calling from all over."
Corporate sponsors come from all over, too. Advertising and sponsorship revenues are 50 percent higher since 1999, with a 60 percent increase in the number of clients. It's just good business -- TCU is the biggest sports game in town, ranking behind only the Main Street Arts Festival and Stock Show in number of purchasers. But with TCU athletics, sponsors know that they have a captive audience for nine months, which means more chance for repetition.
"Our corporate sponsors are so attuned to TCU games as a key location to advertise now that they are tracking their competitors," says ESPN Regional account executive Willie McHargue. "We've seen a shift from heartfelt donations to it making very good business sense to advertise with TCU."
Frog Alley is supersized now. It still has the two hours of clowns, jugglers and face painting that families love, but now with karaoke, inflatable jungle gyms, live music and catered food added, it has exploded into a Saturday afternoon carnival for the whole city. And it's still free of charge. "We've really tried to make it something for everyone -- small children and families to high school and college students," says Jessica Burnham, who runs the show.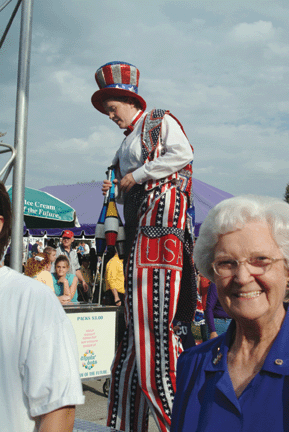 As if all that were not enough, Frog Alley has featured some special touches to make it a one-of-a-kind experience. For the Vanderbilt game, TCU welcomed a group of mariachi performers and Ballet Folklorico for what they billed as Fiesta de las Frogs. During the Army game, the military brought over an old Boeing CH-47D Chinook helicopter for kids to climb into. Popular punk band Riddlin Kids performed at the Louisville game, and Miss Texas and the Light Crust Doughboys performed when the Frogs crunched Cincinnati.
The result has been lots of new faces. When Michael McTier transferred to the Metroplex from Ohio, he figured he'd have to watch Top 25 caliber football on TV. Not only have the Frogs fed his college football cravings, but his three kids have fallen for SuperFrog. "We didn't have anything like this at the games we went to in Ohio," McTier says.
Don Targac, who brings sons Ryan and Brandon to Frog games, said fans can't beat the price of TCU's game day experience. "I'm really a Longhorn fan, but it's cheaper to go to all the TCU games than to take one trip to Austin," he says.
For the adults, there's tailgating. Fort Worth resident Charlie Geren and some other alums paid to install a brick patio on the west side of the stadium a few years back. Each home game since he's been joined by more than a dozen friends for shrimp cocktails and lamb chops. "Forget about a rebirth of Frog fans. This is the birth," noted Mary Lee Cruz '78, mingling with friends LeAnn Connally '73 and Kelly Royer '80. "When I was in school we never went to games." The old '70s-era cheer -- Two, four, six, eight, score before we graduate -- is long forgotten.
Coaching the community
Then there is the effect of the beloved blue-collar coach. Three things can be said about Gary Patterson: he is a brilliant defensive strategist, he has a soft spot for children and he's got an ear for country music. All three have helped build the TCU program. The former has elevated the Horned Frogs to near perennial Top 25 status on the field. The latter two have helped connect fans with the coach and his program.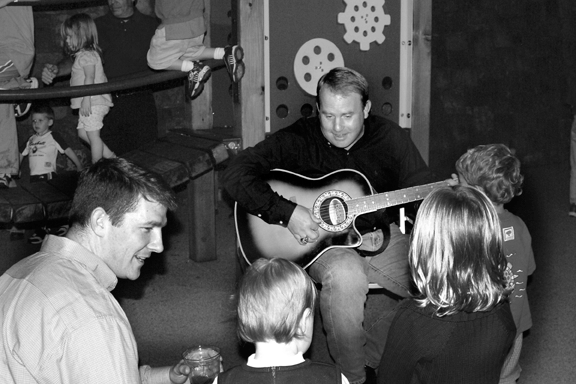 At the beginning of the 2002 season, Patterson suggested having children 12 and younger run the length of the field in the footsteps of their home team heroes. Marketing loved the idea, brainstormed a catchy name and Bleacher Creatures was born. But why would a coach with thousands of other details to worry about before kick-off be troubled with such a concept? The future. At some point, TCU is going to have to connect with its season ticket holders of tomorrow, and there's no better way to build loyalty than bringing them onto the field.
"And besides that, it's fun for them," Patterson says. "Nearly every kid I know doesn't just want to come to the games. They want to participate, too. You see the boys dressed up in mini uniforms, and the girls have cheerleading outfits. This was just a way to get them actively involved." Having mom and dad come along to supervise just means two extra tickets sold.
Patterson is 27-10 as the Frogs' head man, including a conference title, but his most impressive victories might be with Fort Worth. He has won over Cowtown with an aw-shucks persona and an occasional guitar-strumming performance at the popular Central Market.
The first gig drew some passing interest and some nice publicity in the paper, but the next time around it was standing room only. When the season is over, the store is anxious to have him back. And after an entertaining rendition of "Ol' MacDonald" last time out, the kids are, too.
"Coach Patterson is a hit in the community because people really identify with him," says Kevin O'Connell, assistant athletic director for external operations. "People know him and recognize him, but he doesn't present himself as a local celebrity. He did those concerts because he enjoys being a part of the community. He's really grown into the role of a head coach in generating fan interest."
Patterson also scores points for managing his team with class. He's made it routine for his players to stand respectfully behind the opposing team at the end of games as they sing their school's fight song with their fans. One high-ranking Navy official told Hyman after the Frogs beat the Midshipmen in September that Patterson's Posse was the most dignified group of players he's seen.
Those smooth vocals play well in Amon Carter Stadium, too. Patterson has continued a tradition -- reinstated by Franchione in 1998 -- of singing the alma mater and fight song with the student body after the game. Also important in drawing in more fans has been easier access to the stadium. TCU found it was onto something big when it started free parking and shuttle service from Paschal High School. By the season's third game, it had to double the number of buses picking up and dropping off fans.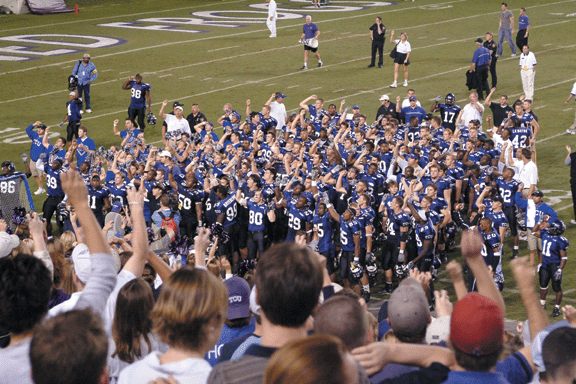 A supersized video board at the north end zone, donated in 2002 by the family of former Frog athlete Dave E. Bloxom, and a subsequent smaller one for the southwest corner of the stadium, gives fans dynamite instant replays, live statistics and scores from around the country. TCU has souped up its game day promos on the board as well. Add in enhancements to gofrogs.com, an award-winning radio broadcast and recognizable local television partner UPN 21, and TCU has big-time quality outside the stadium as well.
Finding a partner to enhance and manage radio, television and marketing was also crucial. So in 1999, TCU scored big with a multimedia agreement with ESPN Regional, which would help Frog athletics move to another level.
"Our connection with ESPN was probably the single most important thing we've done since I came here," Hyman says. "It was out of the box thinking, sort of a gamble, to let ESPN control your broadcasting and marketing. But it's been invaluable to have our name associated with them. It connects us to an entity that has respect in our marketplace and across the country."
TCU never would have played Nebraska in the Kick-off Classic in 2001 without being in Conference USA, and the Frogs never would have been in C-USA without ESPN Regional.
"In closed-door meetings, they're working for us, talking on our behalf," O'Connell says. "When the topic of TCU is on the table and TV executives are talking, ESPN Regional is in there fighting for us. That's what led to the creation of the Fort Worth Bowl."
TCU has also been a good neighbor. It's opened its facilities for special events for area high schools and all-star games, including hosting the basketball game in which Dunbar coach Robert Hughes set the all-time record for victories. Amon Carter Stadium drew kudos as the venue for the Texas High School All-Star Game this summer.
TCU student-athletes have made hundreds of appearances at charities, such as Reading Frogs and Score A Goal in the Classroom. Marketing staffers have given away thousands of posters and memorabilia.
"All these things help the community feel closer to the university," says O'Connell. "Small gestures we make help eliminate that stigma that we're closed off to the community. The more people we have on our campus, the more likely it is that they will come back for one of our games."
Winning the attendance game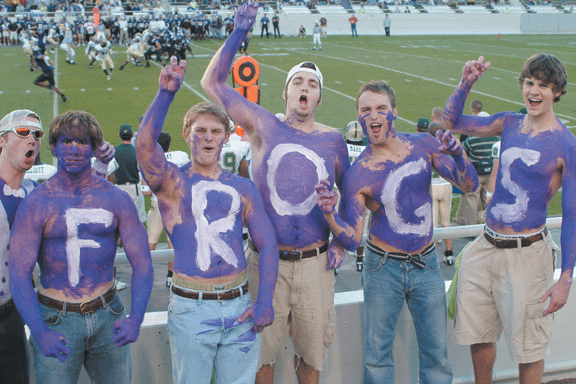 What has all the effort gotten athletics? It may seem like just a number, but the importance of attendance cannot be understated. Aside from wins and losses, no statistic is a bigger part of today's athletics equation. A fan following brings clout, national respect and a home field advantage. Big crowds influence bowl invitations, conference affiliation and television appearances.
Attendance equals status. The games of even the most successful teams wouldn't be much to shout about without the masses. And the ramifications even stretch beyond athletics. TCU's gridiron success correlates to admission applications, alumni giving and overall campus vitality.
"TCU's numerous television appearances helps the university's visibility nationally," says Larry Lauer, vice chancellor for marketing and communication. "We want to be known as a school that wins with class, and when viewers see us portrayed that way on television, it's very positive. Even people who are not sports-minded have heard of TCU because they see the name in the paper or on the news."
So what does the future hold? Hyman still hears criticism. Students don't come to games. The alumni base is too small. The schedule is too soft. The media doesn't promote the team enough.
"If you take an honest look at what we've accomplished, we are doing really good for a private school," he says. "Our student body is less than 8,000, and I bet we have gotten way more than half of them here this season. A lot of universities would love to have that percentage. And we have a very loyal core of alumni, we just don't have the numbers that a UT has. All of our living alumni in the area wouldn't fill up Amon Carter Stadium.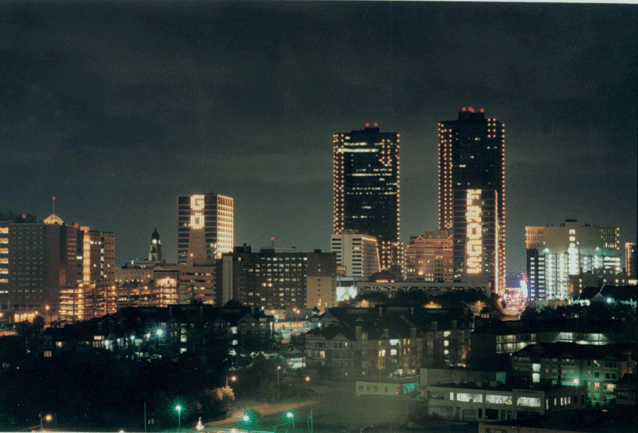 "Our future schedules feature Oklahoma, Stanford, Arkansas and Texas Tech, so we won't receive the criticism we did this year. And the print and electronic media, especially of late, has been very good to us."
But now, with all its success on the field and the growing potential to fill the stands, TCU faces one of the most crucial junctures in its history as it decides in which conference it will compete. The architect of TCU's plan to this point says TCU will be prepared for either course -- and Horned Frog fans will come along no matter the destination.
"It's an important decision, and we've studied every aspect of moving and staying, but I am confident that wherever we go, we'll continue to win with class," he says. "Our alumni and our fans are going to support us no matter who we play or what league we are in. We've all come so far together not to continue on."
***
BACK IN his office, Hyman has to make room for another football -- a sixth bowl game ball is coming. But thoughts of The Conversation still linger. With all the work TCU has done to change perceptions and improve game day atmosphere, have the games become the social event his neighbor talked about five years ago?
Fort Worth Chamber of Commerce president and former TCU assistant coach Bill Thornton thinks so. "TCU games have actually become a happening," he says. "The Frogs have established themselves as consistent winners with the five straight bowls and six winning seasons. Combine that with Frog Alley and Bleacher Creatures and the tailgaiting that's been so prevalent, and it's truly become a Fort Worth event."
Hyman can "shhh" and joke all he wants about secrets, but the word is out now. Fort Worth is TCU's hometown. And TCU will always be Fort Worth's home team.
Even after a tough loss at the end of the season, the Tandy Center Towers still reflected the city's feelings in multi-story-tall letters: "Go Frogs."
To comment on this story, send an e-mail to tcumagazine@tcu.edu.
Next stop ... Mountain West?
With its recent success on the field and in the stands, TCU faces one of the most crucial junctures in its history. Driven by competition for television revenue, NCAA conferences nationwide are realigning, with the domino effect reaching Fort Worth.
Here's a quick review: The Atlantic Coast Conference took Miami, Virginia Tech and Boston College from the Big East Conference, which nabbed Louisville, Cincinnati, South Florida, Marquette and DePaul from Conference USA, which in turn, grabbed Rice, Tulsa and SMU from the Western Athletic Conference and Marshall and Central Florida from the Mid-American Conference.
At the same time, rumors circulated that the Mountain West Conference, which has become a stable and potentially more competitive league than the new C-USA, may invite TCU, setting up a tough choice for the university:
- Remain in C-USA as the league's flagship program with geographically close competitors, but risk losing hard-earned national prestige by being associated with a weakened conference;
- Join the more respected Mountain West, but pay entrance fees (not to mention exit fees to C-USA) and face increased travel costs (estimated to be $200,000 more per year) and a lack of geographic rivals.
TCU officials have stated publically that the institution will remain a "prominent athletic entity on the national scene," but has not hinted which way it is leaning.
Should the Frogs stay and make the best of it in C-USA, perhaps dominating weaker rivals in games within a couple hours' drive? Or jump at the promise of more prestige in the Mountain West but face increased travel costs and games out of the Central time zone?
The argument has alums, Internet message board posters, sports radio talk show hosts and newspaper columnists divided. But Hyman assures that TCU will be ready for any direction.
"We're taking into account everything -- travel, game times, cost, competition, everything," he says. "I believe our alumni and our fans will show support no matter what league we are in."