Making a Marc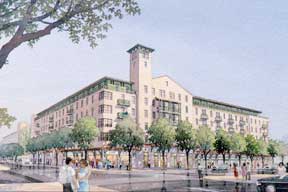 Student apartments, boutique shopping and a pedestrian-friendly place to grab a meal or meet friends will open Fall 2006 on the east campus.

Ground was broken in February for the GrandMarc at Westberry Place, a mixed-use complex with retail space on the first story, 200 luxury apartments on floors above and a 600-space interior parking garage. In a partnership between TCU and Phoenix Property Company, the complex is a privately owned enterprise on land leased from TCU that was designed to house university students.

Located on West Berry Street between Greene and Waits Streets, GrandMarc will help realize TCU's vision of a more residential campus while supporting Fort Worth's longtime goal of revitalizing the Berry Street corridor.

"TCU's identity has long been as a residential campus. But as enrollment has increased, fewer students have had the opportunity," said Chancellor Victor J. Boschini Jr. "This development will bring students back to campus and offer university-authorized housing that will allow them to gain the skills that come from living independently. But it will be independence within the context of the TCU Experience."

The complex will be the first significant project on Berry Street related to the city's newly designated neighborhood empowerment zone and multi-use zoning. Community leaders say it likely will spur other commercial and residential development along the street.
"I believe it will be a catalyst for more development," said Sandra Dennehy, chairwoman of the Berry Street Initiative. "This is the first of what I hope are many true mixed-use projects on the street."

Renovations on Berry Street from University Drive to McCart Avenue begins this spring. The five-block stretch will feature a median, narrower streets, wider sidewalks and improvements such as decorative lights, benches and landscaping.

Designed by Robert A.M. Stern Architects of New York, GrandMarc will feature distinct styles on its front and back sides. Facing Berry Street, it will be six stories tall and will complement the Spanish-style architecture common in the area. On Bowie Street, five stories will feature the characteristic buff brick used on many campus buildings. The parking garage's exits and entrances will be on Greene and Waits Avenue.
The apartments will be designed as suites, similar to the present campus Pete Wright/Tom Brown apartments, and will have full Internet connections.

And don't worry, Perrotti's fans. The longtime pizza-making landmark, which will be temporarily displaced across the street, will get a prime location when the complex opens. Other possible businesses could include boutique-style versions of larger retail stores, local retail outlets, services and restaurants.

Career leap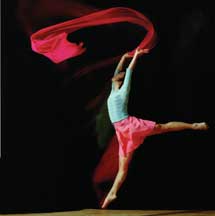 Bass Hall was Jenny Mendez' '01 stage in February when she came to town with Pilobolus Dance Theatre, a dance troupe widely recognized for its innovative and athletic performances.

The Bass Hall appearance was one of Jenny's first with Pilobolus. She is in her first year of touring with the six-person company after being chosen from some 600 dancers for the only female opening. While in town, Mendez made a stop on campus to lead a master class.

High praise for athletes
TCU Athletics has always placed high importance on classroom performance, but news in January put the Horned Frogs in impressively elite company.

According to 2004 data from the NCAA, TCU was one of only six Division I-A universities to graduate more than half of the scholarship student-athletes on the football, men's basketball and baseball teams. The other five with such academic performance are Boston College, Rice, Stanford, Vanderbilt and Virginia.

"This is substantial news for TCU," said Eric Hyman, athletics director. "It illustrates the importance we place on excellence in the classroom, not just on the playing field."
For the spring 2004 semester, 126 Horned Frog student-athletes had cumulative GPAs of 3.0 or higher, while 43 sported at least a 3.75.

The distinction means that TCU will not receive a letter of warning from the NCAA as will 111 other schools. If improvement is not shown, further penalties could include loss of scholarships. In 2006, the NCAA is expected to increase sanctions to include bans on postseason tournaments and bowls and even revocation of NCAA membership for habitual offenders.

Advancing TCU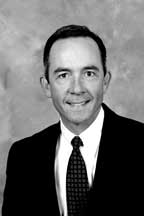 Donald J. Whelan, Jr., an 18-year advancement veteran, was named vice chancellor for university advancement in February. He will begin his duties at TCU in early April.
Whelan comes to TCU from Saint Louis University, St. Louis, Mo., where he served as vice president for development and university relations. There he developed The Campaign for Saint Louis University: Where Knowledge Touches Lives, a $300 million comprehensive campaign and the largest undertaken by that university to date. So far, $232 million has been raised.

Whelan also directed three successive years of record-breaking philanthropic support for Saint Louis and was key to securing funds for the university's previous comprehensive campaign, which raised $21 million more than its original $200 million goal. As part of The Campaign for Saint Louis University, he developed and executed a series of targeted campaigns for an $80 million Health Sciences Center research facility and renovation project, and a $70 million campus arena. He also has launched campaigns for 10 of Saint Louis' 12 schools and colleges.

Three cheers for a calendar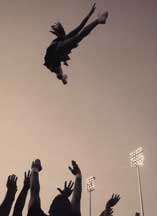 TCU Cheerleaders have added a little incentive to purchasing their inaugural 2005 calendar. Fifty percent of the proceeds will go toward fund-raising efforts for Paschal High School freshman Molly Hesselbrock, who is battling aplastic lymphoma. Molly, a cheerleader and dancer, is the daughter of former TCU Associate Athletic Director Jack Hesselbrock.

The calendar, which costs $12, includes candid shots of cheerleaders at games as well as some of TCU's finest athletes. To purchase a calendar, contact Cheerleader Coach Jeff Tucker at j.r.tucker@tcu.edu or mail a check directly to Jeff Tucker, TCU Box 292157, Fort Worth, 76129.

Mowed over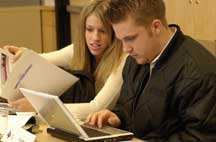 It took two tries, but Lake Dallas High School student Kyle Mann took home the TCU Texas Youth Entrepreneur of the Year award this year. He was one of 23 finalists who spent two days with TCU faculty and staff as part of TCU Young Entrepreneur Days in late January.

Mann, who was the winner of a $1,000 scholarship last year, owns Lawn Mann, a lawn maintenance company. This year he walked away with a $5,000 scholarship. He developed his selling skills at age 13 when he convinced neighbors to pay him to mow their lawns because his mother turned down his request for $20. Mann now has seven commercial accounts, 10 residential accounts, over $10,000 worth of equipment financed by the business and is an active member of the Lake Dallas Chamber of Commerce.
"These entrepreneurs are wonderful examples of the young business talent we have in Texas," said David Minor, director of the Neeley Entrepreneurship Program at TCU. "The award recognizes the innovation and successful business practices of some of the state's most impressive high school students."

Five other young entrepreneurs were recognized at the 2005 TCU Texas Youth Entrepreneur of the Year Award Banquet with $1,000 scholarships: Justin Anderson of Robert E. Lee High School in Houston (Anderson Trail); Grace Beck of All Saints Episcopal School in Fort Worth (Camp Kiddos); Clayton Ellis of Temple Christian School in Arlington (Clayton's Landscaping and Power Washing); Natin Paul of St. Michael's Academy in Austin (Natin Paul Enterprises); and Christian Pearson of Coronado High School in Lubbock (Texas Mobile Wash).

Ambassador to the stars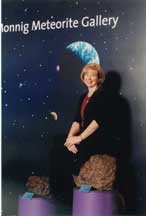 Teresa Moss, director of the Monnig Meteorite Gallery, has a really big job: she was recently selected as a solar system ambassador by The Jet Propulsion Laboratory (JPL), a division of NASA.

Moss joins 459 other ambassadors/space enthusiasts who will work as volunteers to promote JPL's space exploration missions and recent discoveries.

"I was thrilled to find out that I had been selected," she said. "The Ambassador program is closely aligned to the mission of the Monnig Meteorite Gallery's community outreach program."

Already in the works is a collaboration involving Janet Kelly, director of TCU's Institute of Math, Science, & Technology and Curtis Bradley, assistant professor of physics and astronomy. The three will partner with Lockheed Martin to host a Space Day event on the TCU campus set for May 5.

Moss' assignment will surely bring more publicity to the Monnig Meteorite Gallery. Not only is she listed on NASA's Web site as an ambassador, but a direct link to the gallery is included as well.

For information, visit www2.jpl.nasa.gov/ambassador.

First graduate strolls across KinderFrogs stage
TCU shined a spotlight on 6-year-old KinderFrogs graduate Marshall Howard in December as the program's first student to successfully be enrolled in a mainstream kindergarten class.

In 2000 Howard enrolled in the TCU KinderFrogs School, which provides early childhood educational services to children with Down syndrome and other developmental delays, as well as typically developing children. His mother Susan Howard, TCU alumna and elementary school teacher, said the program was the best possible early prevention program for Marshall.

"It is exciting to begin the next part of our journey and pass the torch to a new KinderFrog," she said.

KinderFrogs School also serves as an on-campus training site, providing research, training and service opportunities for TCU students and faculty in the School of Education and in other university programs. It is licensed through the Texas Department of Protective and Regulatory Services.

For information on TCU's KinderFrogs School, visit www.kinderfrogs.tcu.edu.

The came bearing gifts
A bunch of bears gathered in the foyer of Ed Landreth Auditorium just minutes before a December concert by the Fort Worth Civic Orchestra. Teddy bears, dump trucks and other toys made their way to the Teddy Bear Concert, held to collect toys for underprivileged families in early December.

"It was exciting to see the kids at the concert and really talk to them.," said TCU student Lauren Love, president of TCU's student chapter of the National Association of Social Workers (NASW). "It was amazing how their eyes lit up when they saw the toys."
The NASW chapter spent November and December collecting toys from students in the social work department and nursing school. The work paid off when 285 gifts were collected, many more than last year's drive.

The toys were donated to the Cowboy Santas Program, which distributes toys throughout Tarrant County.
Pictured right: Sophomores Katie Webb and Lauren Love.

The next "Apprentice"?
Wanna-be reality show stars began lining up outside the University Recreation Center before dawn one Saturday in February. Two opportunities awaited -- becoming the next "Apprentice" or landing a spot on Martha Stewart's new reality show. About 350 potential candidates were interviewed in that open casting. But the real "in" took place two days before when the shows' interviewers met with small groups of TCU business graduates and students who received invitations by e-mail. About 150 showed up.

The success of Amy Henry (MBA '97), a finalist on the inaugural "Apprentice," convinced producers to come to TCU for the interviews, said Kristina McGann, one of the show's casting directors.

New Frog in town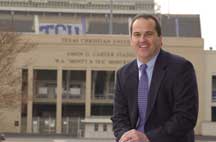 The new Frog Club Director has traded in racehorses to ride with the Horned Frogs. Formerly of Lone Star Park at Grand Prairie, Bill Brady joined the TCU Athletics Department in January and will be responsible for maintaining and generating scholarship support for Horned Frog student-athletes.

Brady joins TCU after four years as Director of Sales for Lone Star Park, where he organized and oversaw the sponsorship, group and corporate sales departments, as well as admissions. Prior to his stint at Lone Star Park, he has worked as sales director for SFW Sports Group, Octagon Marketing and the Cotton Bowl Athletic Association. Brady earned his bachelor's degree in sports administration from University of California at Long Beach in 1993 and a Master's of Sports Administration and Facility Management from Ohio University in 1997.

Transcripts available online
Current and former students (enrolled fall 1984 and later) can now order an official transcript online.

If you know your TCU ID number, sign into my.tcu.edu, click Academics, and select the Order Official Transcript option.

If you attended TCU Fall 1984 or later, and don't know your TCU ID number, you can get your TCU ID number at https://webadmin.is.tcu.edu/reg/site2001/alumni_getid.asp.
The fee is $5 per copy and can be paid by credit card. The transcript will be mailed or over-nighted to the street address provided.

E-mail regwww@tcu.edu for more information.


A yellow couch and a lost ring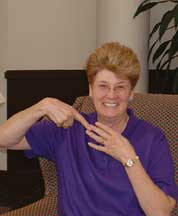 Last fall, Susie Minshew '73 received a phone call with a very unexpected reward -- her class ring, lost more than 30 years ago, had been found.

Back up to 1992. That was when Tyler Rogers bought a $15 couch at a garage sale near TCU. As Rogers cleaned the couch, he felt a nail protruding from the wood frame under the cushions.

And then he felt something else -- a 1973 gold TCU class ring with S.M. engraved on it, hanging on the head of the nail. Rogers put the ring in a box and forgot about it.
Flash to 2004. The ring came up in a discussion with Roger's friend Vir Barritt, a TCU physical plant employee, who contacted the alumni office about the lost treasure. It was matched to Susie Minshew, who had misplaced her ring just after graduation. Minshew was surprised and delighted when she got the phone call.

"It still fits, by the way," Minshew said of her treasure with a single diamond inset. "The people at the alumni center were saying they don't make them as pretty any more."

New scholarships

The Arthur K. Berliner Scholarship Fund in Social Work was established this year in honor of the founder of the program in 1975. The $25,000 fund, gathered from alumni, staff, faculty and friends, will benefit social work students. Berliner retired in 1988 but returned in 2002 to teach social work ethics courses. The popular teacher was recipient of many accolades including Texas Social Worker of the Year and TCU's Mortar Board Preferred Professor.

The Hispanic Alumni Association is sponsoring a golf tournament to kick off fund-raising efforts for a new scholarship for Hispanic students. The tournament will be April 24 at Southern Oaks Golf Course. For golf tournament details, contact Gaby Garcia-del Castillo at 817-657-2300 or at gabygarcia72@hotmail.com. For information, contact Bobby Montes at 817-798-9187 or at Roberto_montes@countrywide.com.

Over there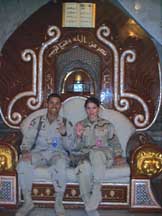 1st Lt. Joe England '02 and 1st Lt. Valerie M. Wallis '02 at Al Faw palace in Baghdad. Wallis writes: Hello Frogs! We had a couple exciting of days here in Baghdad. Geraldo Rivera was doing a story about the elections in Iraq and followed the troops around to the polling sites. If you saw the live airing of the "Geraldo at Large" coverage of the Elections, from the 42nd Military Police Baghdad Democratic Election Headquarters! then you saw us. If you missed it, here's a picture! Yay Frogs!" At bottom, Wallis stands with Geraldo Rivera.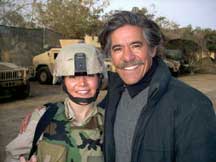 Briefly

Tuition increase and a new chairman
A $269 million budget that includes a tuition increase and a new board chairman were the highlights of the Board of Trustee's February meeting.
Trustee J. Luther King of Luther King Capital Management will lead the board as chairman beginning June 1 when John V. Roach will step down from the position he has held for 15 years.

Budget highlights include $2.9 million to support academic excellence, including 18 new faculty appointments to support the TCU Core Curriculum, which begins fall 2005; $2.7 million to strengthen financial aid (an 8 percent increase); $1 million to improve the student experience through residential and career services, and health and counseling center services. For the complete report, go to www.tcu.edu.
Winter graduation, faculty awards
Students from 45 states and 27 countries were awarded 694 degrees during December graduation ceremonies, which includes both fall and winter graduates. Baccalaureate degrees went to 553 students and 141 graduates earned a Master's degree. Latin honors were earned by 113 of the graduates.

Winners of the 2004 Deans' Teaching Award were Bonnie Blackwell, associate professor of English; In-Mu Haw, professor of accounting and Janet Kelly-Watkins, associate professor of education and director of TCU's Institute of Math, Science and Technology Education. Winners of the 2004 Deans' Research or Creative Activity Award are Claudia V. Camp, professor of religion; Gary W. Whitman, associate professor of music and Philip S. Hartman, professor of biology. Each winner received a $2,500 award from TCU. Stacey Floyd-Thomas, an assistant professor of ethics and black church studies for TCU's Brite Divinity School also was honored with two $3,000 awards -- the Louise Clark Brittan Endowed Teaching Award and the Catherine Saylor Hill Endowed Faculty Excellence Award.
Kudos
The Distinguished Service Award from the American Society of Limnology and Oceanography (ASLO) was recently presented to Professor Ray Drenner, chair of biology, for "breathing new life into the Education and Outreach efforts at ASLO." Drenner spearheaded development of an ASLO Education Web site (www.aslo.org) to promote education in aquatic sciences. The award is given only on occasions when the Board has been extraordinarily impressed by some one's efforts and accomplishments.

Three gold "Addys" were awarded to the Division of Marketing and Communication in February for advertising and marketing projects members produced. Sponsored by the Advertising Club of Fort Worth, the annual competition gathers the top products of advertising throughout Fort Worth. The awards were for the TCU Admission viewbook, an Admisson direct mail brochure known as "search," and a magazine ad titled "Think Tank."

Lt. Col. Robert Kelsey '72, a full-time instructor at TCU's School of Nurse Anesthesia, received the Meritorious Service Medal from the U.S. Air Force for helping the 701st Medical Squadron earn a 98 percent score in the health services inspection, the highest of all Air Force Reserve medical inspections for the year.

Art Ehlmann, emeritus professor of geology and curator of the Monnig Meteorite Gallery, was awarded the Harvey Lifetime Achievement Award at the Tucson Gem & Mineral Show for his work at with the Monnig meteorite collection. Harvey Awards recognize individuals who have made an outstanding contribution to the meteorite collecting community, and are named in honor of seminal American meteoriticist Dr. Harvey Harlow Nininger.

TCU Tomes
Reporting from the Front: The Media and the Military
By Judith Sylvester and Suzanne Huffman, '77 Ph. D.
Q: The TCU Magazine: What motivated you to write this book at this time?
A: Suzanne Huffman: One of my research areas is the practice of broadcast journalism. As we did in our first book, "Women Journalists at Ground Zero: Covering Crisis," Judith and I write about journalists and how they do their work in real time under extremely stressful conditions. Our hope is that students and citizens will learn more about how and what journalists really do -- and the risks they take to bring us the story of unfolding events as quickly and as clearly as possible. Real journalism is not easy work, and it takes a lot of grit to be a journalist these days. Imagine working at Ground Zero in New York, or on the battlefield in Iraq, or in the wake of the Asian tsunami. Yet journalists do this work and provide us with the information and images we carry with us.
Q: What was the most significant lesson you learned as a journalist through this experience?
A: Talking with these journalists reconfirmed our belief that it takes a lot of true grit to be a journalist these days. Many of the journalists we interviewed have a real public service motivation and work ethic. They want citizens to understand what is going on in order to make well-informed decisions within our democracy.
Q: What's your take on the question of media bias -- whether it's covering the military, politics, local news or the environment?
A: I believe bias is often in the eye of the beholder. It is true that some news organizations appear to have a particular bias, and unfortunately, some individual journalists are definitely ethically challenged. At the end of the day, I believe citizens need to gather information from more than one source -- not just listen to what one radio commentator or one editorial writer has to say. The U.S. is a diverse country. There are many points of view.
Q: Censorship during a war was once common and accepted. Now it is a dirty word. How do journalists now view it?
A: I believe true journalists instinctively resist efforts to control what they see, hear and write. There may be situations where journalists have to go along to get along, but I believe true journalists instinctively resist efforts to control them.
Q: How has being embedded with troops changed journalism?
A: I believe the embedded journalists were able to see first-hand battlefield action that would have been very difficult and extremely dangerous to see had they not been embedded. That said, many of the journalists were well away from where the bombs and bullets were actually hitting. Generally speaking, they were not able to interview Iraqi citizens to get their reaction to what was taking place in Iraq. I believe the embedded coverage from the Iraq war will raise expectations on the part of viewers to see this type of coverage in other conflicts.
Q: Embedded vs. Unilateral reporters-what's the difference?
A: Embeds were traveling with American troops and could talk about and show us what was happening with individual units. Unilaterals were on their own. NPR's Anne Garrels is one of the unilaterals we interviewed. She was based in a Baghdad hotel and worked with local Iraqi people to get access and interviews. What she was doing was extremely dangerous but gave us a sense of what the Iraqis had to say about what was happening.
Q: How have news outlets like CNN, FOX News Channel, MSNBC as well as news radio and Internet updates affected the coverage of the military?
A: The fact that we now have 24/7 live news capability means reporters and photographers have to work continuously to "feed the beast" of television. (That's what TV news workers call it.) While we can see and hear what is going on in real time, we may lose the time to reflect and think about what all this means. Sometimes it is only later that we can piece together the meaning of what we see and hear. I believe the embedded coverage allowed citizens to see U.S. equipment and troops "on the job" in a way they had not seen it in real time before.
Q: How is coverage of Afghanistan and Iraq different from the coverage of the Gulf War?
A: Coverage of the Gulf War was tightly controlled by the military. I believe citizens who viewed that coverage came away with a somewhat sanitized and "video game" view of the war -- bombs dropping from planes but no view of "on the ground" human suffering and property damage.
Q: International, National, and Local media outlets wanted embed slots. How did the allocation affect the coverage?
A: I believe a broad range of national and local media were able to secure enough slots for the reporters who wanted to go.
Q: AP, UPI, Reuters-news wire services have been used to feed information to networks, cable, print and radio. Seems parent companies are consolidating coverage more than before -- or perhaps that's just my local take. Has that always been true? Or is it the next connection as our collective world view is expanding?
A: I believe business interests are are driving the convergence of media. Media outlets that are owned by the same corporation are combining forces and perhaps reducing costs. This can lead to better coverage. We can see a report on television and then read the fine details in the newspaper or magazine. Then we can go to a website for the full text of reports or more video than could be shown in a particular news package.
Q: Journalists covering the military see events many would never encounter. How do such experiences influence their coverage as well as change the reporter? How do they disengage from such memories?
A: Journalists are human beings and citizens. Their job is to report a story as clearly and accurately as possible. What journalists see can profoundly affect them -- whether it's watching the space shuttle Challenger explode, or being a witness to an execution in Florida, or seeing citizens jump from the burning World Trade Center towers in New York, or seeing the ravages of the tsunami on the coastlines of Asia. Each person is affected individually and, in many cases, may change their career path or notions about life. It's not just journalists who see these things but "regular" citizens as well.
Q: What is your greatest hope for this book?
A: As we did in our first book, "Women Journalists at Ground Zero: Covering Crisis," Judith and I hope that students and citizens will learn more about how and what journalists really do -- and the risks they take to bring us the story of unfolding events as quickly and as clearly as possible. Journalism is not easy work.
Huffman's book is available at most major booksellers and online bookstores.
Contact Huffman at s.huffman@tcu.edu

Hardwater
By Steve Sherwood '04 (PhD)
Texas Review Press
Winner of the George Garrett Fiction Writing Award, Hardwater is a thriller that takes readers to the high left corner of Wyoming near Yellowstone. Sherwood, director of the William L. Adams Center for Writing, has fun with cowboys, Indians, farmers and a serial killer in this novel. Hardwater is available through major online booksellers or http://www.tamu.edu/upress.

Words of the True Peoples: Anthology of Contemporary Mexican Indigenous-Language Writers Vol.1: Prose
By Carlos Montemayor and
Donald Frischmann
University of Texas Press
Donald Frischmann, associate professor of Spanish and Latin American studies, is co-author of the first of three volumes dedicated to collecting the words of Mexican indigenous writers in their ancestral tongues as well as in Spanish. This volume contains narratives and essays by these writers, first in their native languages, followed by translations in English and Spanish. Features such as glossaries and text to trace the development of the language make the anthology accessible and interesting for readers seeking a greater understanding of Mexico's indigenous peoples. To buy, go to www.utexas.edu/utpress.

Prot U
By Eva Augustin Rumpf
Booklocker.com
Just about everything is out of kilter at Prot U. The powerful chairman of the board bullies the board and the milquetoast president has a misguided plan to improve the school's image. The novel's reluctant hero, who edits the campus newspaper, jeopardizes his future when he reveals the secret plan. Rumpf adds football fans, cheaters, gays, frat boys and the capricious Texas weather to color her first novel. To buy: www.booklocker.com
The Poydras Project
By Margaret Lawhon '79
TwoOnes Publishing
This thriller takes readers from the banks of Lake Pontchartrain to the isolated bioterrorist laboratories of the former U.S.S.R. and the glamour of Rio de Janeiro's Carnaval. Lawhon, a professional journalist in both broadcast and print media, uses her expertise as a former medical reporter to color The Poydras Project. To buy, go to www.twoonespublishing.com.
Catho Darlington: Lessons Learned in the Space Age
By Sara Marie Hogg '72
XLIBRIS
This fictional account of the author's childhood is a novel with a strong dose of humor. Catho Darlington is a quirky little girl growing up in a tiny Ozark community in the 1950s who must come up with ways to amuse herself. She goes from pigtails to pompadoured ponytail leaving a trail of humorous and heartwarming experiences. The author also designed the cover artwork as well as many pen and ink illustrations she retained from her childhood. To buy, go to www.xlibris.com.

New from TCU Press
The Ancient Southwest & Other Dispatches From a Cruel Frontier
By Michael H. Price and George E. Turner
TCU Press
From dinosaurs to Conquistadores, The Ancient Southwest, a dynamically illustrated collection of natural history and early-day recorded history, takes its cue from the tradition of storytelling in pictures. The narrative medium is the comic strip, applied here "to increase popular interest in geology," as one of its original contributors described the project. An enormously popular feature in the West Texas newspaper where it had originated more than fifty years ago, The Ancient Southwest has been painstakingly restored and annotated by the cartoonist and cultural historian Michael H. Price as a follow-through to a lengthy collaboration with the primary artist, the late George E. Turner.

To order, call 817-257-7822 or write tcupress@tcu.edu.