Brush with fate
Phillip Grace '64 (MBA '65) never had any formal art training. Good thing he didn't just sit on a unique idea.
By Rick Waters '95
Photos by Bill Petros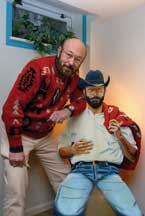 Neiman Marcus was still searching in 1990 for a "His and Hers" holiday gift when Washington, D.C., artist Phillip Grace '64 (MBA '65) strolled into the upscale retailer's Dallas headquarters to show off photos of his portraiture.

The portfolio was impressive, and had a twist: Grace immortalized his subjects as chairs.

Not since the early 1970s -- the year of the His and Hers life-sized mannequins that could be programmed to laugh at jokes and speak foreign languages -- had Neiman's mail-order division discovered such an eccentric, yet individualized gift gimmick for its world-famous Christmas catalog.

"The sit-down portraits had just the right touch of whimsy to make them perfect for the catalog," one executive said at the time.

For Grace, who was overseeing the family oil business in Wichita Falls from his homes in Texas and Washington, the catalog exposure had the potential to turn his part-time portrait painting into a full-time career.

Neiman's put him under contract: Fill all chair orders within eight weeks. And how many would that be? At $6,000 apiece and with 3.2 million Neiman's customers worldwide, Grace had no idea.

"At first I was concerned about the number of orders that might come in," said the 6-foot-4 lumberjack of a man, who traded in his business suits for typical artist's garb -- a T-shirt and shorts. "It could be as few orders as 10, or there could be 2,000."
Turned out to be about 40, but the job paid enough to launch a career of commissioned works, which he has continued for 15 years.

The chair persons, or GraceFolk as their creator calls them, come to life through the wizardry of trompe l'oeil -- a painting style that employs almost photographic realism.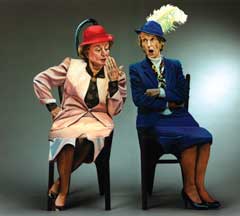 The process is painstaking. Subjects are photographed in the pose and costume of their choice. Grace uses a pencil sketch to match the shape of the silhouette, and he contracts with a friend who makes furniture to cut pieces made of wood. Next, Grace paints the pieces -- turning each one upside down "because the eye can fool" -- and eventually they are assembled into a chair.

A variety of characters have been immortalized thusly, from athletes and movie stars to CEOs and members of the Saudi royal family. He's painted two first ladies -- Barbara Bush, whose chair was first exhibited at the Smithsonian's National Archives and is presently on display at the Bush Museum in College Station, and Hillary Rodham Clinton, whose chair first appeared in the White House and is now on exhibit at the Clinton Museum in Little Rock.

Grace's non-celebrity subjects enjoy the most unusual costumes and poses. An avid feminist asked to be painted as the Statue of Liberty. A New York bond broker was depicted wearing tennis shoes and reading the stock pages.

It's the element of humor -- the concept of sitting on oneself -- that makes Grace's chairs appealing.

Early in life, what appealed to the future entrepreneur was structural design. His father founded an oil and gas production business, but young Phillip grew up wanting to be an architect.

Once enrolled at the University of Texas at Austin, it took three weeks of attending a nuclear physics course instead of freshman physics to discover that his dream would be a struggle. He did well in a pencil sketching class, but that didn't keep the dean from suggesting that he change his major.

"He told me the only thing I could do for an architect is sweep the floors," Grace recalled.
The next year, Grace transfered to TCU and found his niche in marketing. Fascinated by Neiman's flair for unorthodox publicity stunts, he chose the store for his master's thesis topic.

"Texas was wealthy but didn't have much pedigree. Stanley Marcus sensed that," Grace remembers thinking. "What he sold wasn't just goods, it was good taste."

After TCU and a stint as a protocol officer in the Air Force, Grace gravitated to politics. At 28, he campaigned for the Wichita Falls School Board and in 1969 made an unsuccessful run for a Texas state representative seat.

The exposure in the Republican Party eventually landed him a staff position in D.C., but after a series of unfulfilling government jobs, he returned to marketing and launched a teaching career at Georgetown and American universities, writing books and articles on marketing oneself.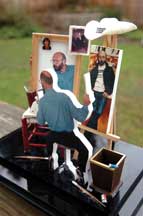 But without a doctorate, that, too, became a dead end.
Depressed and reeling from a divorce, Grace hit the road. His travels took him to Australia, where he found the inspiration to try art again.

"I visited the House of Parliament and was profoundly struck by this giant portrait of the Prime Minister," he said. "It was so regal and elegant. It was incredibly beautiful, and I knew right then that I wanted one for myself."

Once back home, though, he discovered how many thousands a commissioned portrait would cost.

"So I sat down in front of a mirror and started painting myself. And it was pretty good. But my friends would come by and say, 'Oh, Phil, that's so sad. You've posed yourself looking out the window in a darkened room looking so forlorn. The divorce must have been too much.' But that wasn't it at all. That's the way the Prime Minister was posed and I really wanted to have that portrait."

Then he painted himself with his children. And then with the women he was dating.
"I would even put their faces on the bodies of Revlon ad models. They didn't like that, but the point was that I was working on my technique and getting better."

Running out of live subjects, he began painting old childhood pals and friends in Washington from photographs. Before long, word spread that Phillip Grace was a pretty talented portrait artist.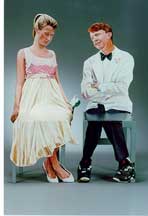 "People started coming by to see my work and offered me money to paint them," he said.
It was a new career, but a trip to Texas and that visit to Neiman's in 1990 gave Grace his canvas -- furniture.

"It seemed so obvious. All these years, most of my portrait subjects were sitting down for their paintings. I looked at a chair one day and thought that the chair itself looks like a seated person. So I took a picture of myself in a chair, and I took it to my furniture-making friend and asked if he could engineer this for me."

It wasn't an idea that Neiman's, the perfectly unconventional audience for a concept so avant-garde, could sit on.

Grace makes less than 10 chairs a year now. He's trying his hand at writing plays. He staged Heartstrings: A Valentine Fable at the French Embassy and has received positive press in Maryland, off-Broadway in New York and at summer theatre in North Carolina and Tennessee.

But his chairs will always turn heads.

Not long ago, a new neighbor unfamiliar with Grace's art called to tell him that the lovely woman who often sits naked by the back-door window might want to be more discreet.
Grace replied: "She certainly looks lifelike, doesn't she?"
Contact Grace at dukedewf@aol.com.
Comment on this story at tcumagazine@tcu.edu.