Queen of the block
Sandora Irvin makes her case for National Player of the Year. Her stats don't argue: 20 points, 12 rebounds, 2 steals, 2 assists and a whopping 4-plus blocks per game.

By Rick Waters '95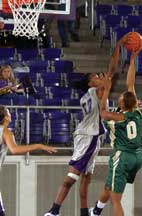 Her first game gave us a glimpse of what she'd accomplish: 22 points, 18 rebounds, 4 blocks, 2 assists, 2 steals. And after the game, opposing head coach Erika Ritter from San Houston State said it best, "Sandora Irvin was everywhere - she put up All-America numbers tonight. TCU's got a very special player on their hands. She just may break every record in the book."
Four years later, Irvin has made good on just about everything she set out to accomplish at TCU.
She holds holds nine school career records and seven single-game or season bests from points and rebounds to blocked shots and free throws made. This season, she added to her legacy by setting the NCAA Division I women's career mark in blocked shots in February. Three weeks prior, she established a new NCAA standard for blocks in a single game with 16.
But none of it is terribly surprising. Irvin was thinking about breaking records before she arrived in Fort Worth. Lonette Hall, a former assistant coach who recruited Irvin and now coaches at Paschal High School, would tell her over the phone and send her notes about how she could become the greatest player in program history. Associate head coach Larry Tidwell sent her a marked-up copy of the Horned Frog record book with Irvin's name in it.
They both knew that the tall, lanky kid from Fort Lauderdale, Fla., who was a USA Today High School All-American, would elevate the program to among the nation's best.
Elite programs like Tennessee, Connecticut and North Carolina State wanted Irvin too, and the history and tradition they could provide were tempting. But she wanted something else. She wanted to take a program ready to burst on the scene and take it to an elite level.
"She was the first national recruit we signed, and since then, good players have followed to TCU," said head coach Jeff Mittie. "She gave us instant credibility. Her signing opened doors for us that had never been opened. And then she went out there and backed it up on the court."
The Frogs will make the NCAA Tournament for the fifth consecutive year in March. Irvin has carried the team to four of them. She's also helped the program reach the 20-win plateau in each of her four years.
Irvin became TCU's first women's player to garner All-America attention. Last year, she finished as an honorable mention.
This season, no one doubts she will headline the team, and few would be surprised if she earns National Player of the Year in April.
"Every dream that she had has come true," said Hall, who remains a close friend. "Everything we talked about has come into her life this season."
But it's not been easy. "Going into every game, she has been double- and triple-teamed, and she is still putting up amazing numbers," Mittie said.
WNBA scouts have taken notice, saying that she could be among the top four picks in the league's draft this spring. "She's expanded her game to include better ball-handling and perimeter shooting, and that has made her even tougher to guard. She has always been a great jumper, which make her a fabulous rebounder and great shot-blocker, but now she can do more."
But more important to Irvin is to take the Lady Frogs farther than they've ever been in the NCAA Tournament. Four straight years they have fallen in the second round.
"Before I leave, I want to get us over the hump," Irvin said. "The individual stuff is great, but I'd rather see us make it to the Sweet 16."
Maybe she can have both.

MEN'S BASKETBALL
Post-season possibilities
Not even coach Neil Dougherty expected this. As the Frogs enter March, they find themselves in territory they haven't been in four seasons - closing in on 20 victories and in the thick of honest-to-goodness talk of the NCAA Tournament.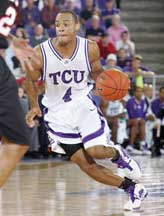 Remember the Big Dance? It's been eight seasons since the men of purple made the 65-team field, but this Frog team has clawed its way into contention and will have a legitimate gripe if its NCAA Bubble bursts.
The season's turning point came after the eighth game when junior power forward Chudi Chinweze - the Frogs' only real inside presence - was lost with torn knee ligaments.
Popular opinion was that the Frogs were finished. But behind the three-guard tandem of seniors Corey Santee and Marcus Shropshire and junior transfer Nile Murry, the Frogs have won with quickness and defense.
The three top the team in scoring at 13.8, 12.5 and 11.7 pointes per game respectively and are among the leaders in three-pointers.
"Not many teams really want to play us right now because we're difficult to guard," Dougherty said. "We play fast and spread out our opponent."
That will make them a factor in the tournament, either the NCAA or the NIT.
"Coach wants us to play with a reckless abandon, because we don't have anything to lose," Santee said. "We enjoy playing that role."
Even if it doesn't add up to a trip to the Big Dance, Dougherty admits this has been a special season.
"To go from 9-19 in Year 1 to 12-17 last season to almost 20 wins, I'm just really proud of the way these kids have played," he said. "We've earned this excitement. These kids are trying to get there the right way. And they believe they should be where they are, or even better. It's a ride they've taken me on, not the other way around. And it all translates into a change of perception and attitude in our program."
They're ahead of schedule.

MEN'S TENNIS
A winning combination
The Frogs begin 2005 on familiar ground - ranked 16th nationally and off to a fast start.
Led by eighth-ranked doubles duo Fabrizio Sestini and Rafael Abreu, the squad started the spring season 3-0 with victories against Texas A&M- Corpus Christi, UTA and BYU.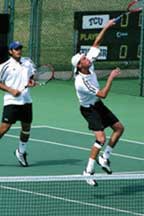 The Sestini-Abreu combination hasn't dropped a match yet, has rarely been tested.
They're also unblemished in singles. Sestini, a senior lefthander from Italy and ranked 34th in the country, is has held down the No. 1 slot without dropping a set. Abreu, a junior righty from Venezuela, is unranked in the No. 6 slot but also hasn't lost a set.
"They're both really talented singles players, but when you put them together, they've got very strong chemistry," said coach Joey Rivé. "Fabrizio has a powerful serve and is strong at the net, and Rafael excels at the return game. It's a tough combination to beat."
It's still early in the season, but the duo could bring TCU its first doubles title in more than two decades, and only second ever in program history. The last Frog combo to finish on top was Karl Richter and David Pate in 1981.
"That's a long way off, but they're playing well, and if you do that, anything can happen."

WOMEN'S TENNIS
Advantage Lady Frogs
Coach Dave Borelli has a feeling this might be a very special spring for the Lady Frog netters.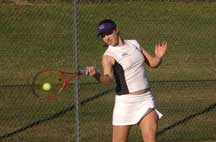 "I've said this could be a landmark year for this program. This is the first year I believe we can play against anybody," he said. "On any given day, we are a very dangerous team."
Just ask seventh-ranked Clemson and No. 28 Texas A&M. In February, the Lady Frogs scored victories against both in back-to-back matches. It's part of a perfect 5-0 start that has climbed the squad to a No. 14 ranking.
That pleases Borelli, who has set lofty goals for the squad. He wants them to win the Conference USA title and finish ranked in the top 20, which has not happened since 1981.
But he has good reason to think they can make it this time around, thanks to two transfers: Story Tweedie-Yates, who joins TCU from national powerhouse Stanford, and Helena Besovic, who came over from Ouachita Baptist.
Both have produced. Tweedie-Yates, a senior, is ranked No. 14 in the nation and is 15-3 overall in the No. 1 slot. Besovic, a junior and ranked No. 25, has won 18 of 24 matches.
"They're naturally hard workers, and it makes everyone around them work harder," Borelli said. "That's why I'm so optimistic."

FIVE QUESTIONS WITH ...
Darryl Anderson
head track coach
Former Arizona State assistant Darryl Anderson took over the reins of the Flyin' Frogs in November, built a staff and has gotten the program out of the blocks fast.
Q: How did the NCAA investigation affect your decision to come to TCU?
A: Well, I have experience with this kind of situation. When I was at Arizona State, we were under investigation and had probation and sanctions. We're going to be patient about dealing with them here, and we'll be patient in cultivating the kids about dealing with the sanctions. Anything beyond that, I can't control because I didn't have anything to do with it. I am just going to try and clean it up.
Q: What separated TCU from other coaching opportunities?
A: I have been coaching since 1984, so this is my 20th year. The farther along that I got in my career as an assistant, the number of schools that interested me as a head coach got smaller. For me TCU is a great opportunity because of its rich tradition. There are great expectations in the program and that is what motivates me to work hard.
Q: Will you still recruit international athletes?
A: TCU's had a lot of international kids. We'll continue to cultivate that tradition, but it's important to cultivate Texas as well. For the first time in my career, I am at a place where we can make a living with kids in our own state and area. This area is one of the best in the nation for track & field athletes.
Q: How has recruiting been?
A: I want TCU to be the school in the state that people go to for track. I hear people talk about Texas and A&M, but I want them to come here. Being a private school, TCU has a lot of special things to offer.
Q: What are your goals for this season?
A: Our focus this season will be to compete for a conference championship and continue to move the program forward. Overall, I am pleased with our effort. We are competing better now than we did when the season began, so we're moving in the right direction. But we still have a lot of catching up to do in terms of our training.