Notables

The ultimate benefactor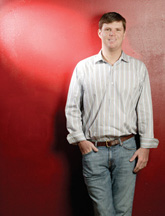 MBA senior Blake Rhodes '05 took the leap into the Internet search engine industry last year when he founded a company called IceRocket.com. His office is in the Dallas Mavericks' headquarters building in Dallas. So what's the connection between basketball and search engines? Mark Cuban, of course.
Yes, Rhodes' business partner is the same Mark Cuban who owns the Dallas Mavericks, founded Broadcast.com and had his own reality show, "The Benefactor," in last fall's television lineup. After seeing the success and efficiency of IceRocket.com, launched in April 2004, Cuban climbed aboard as a partner and investor.
For Rhodes, a communications major, timing was everything.
"I felt like that space was wide open for new players," Rhodes said. "There were things I knew were not being done and I felt like we could do those things."
IceRocket.com targets those in search of a user-friendly platform, with snapshots of each Web site on its results page, and traffic rankings to show users which sites are more popular. The company offers both free listings and paid listings, where his customers pay to be listed as sponsored results for top placement. IceRocket.com also offers a search specifically for blog Web sites.
"We are currently the only major search engine that offers that," Rhodes said, adding that he and Cuban both develop the ideas that put the site in a league of its own. Although Rhodes initially advertised by word of mouth, the Fort Worth Star-Telegram and the Fort Worth Business Press have since written features on the local entrepreneur.
Today, Rhodes employs a team of programmers and will assemble an advertising sales team in the spring in preparation for financial growth.
Rhodes' forecast for the next year includes selling advertising on the site as well as improving the blog search and its features. "I think over the next 12 months we will position ourselves as one of the premiere search engines," he said.
On working with the Maverick Man, Rhodes said: "Mark leads by example. He is such a great guy and a hard worker. I really think it drives everyone else to work just as hard. I can't think of anyone I would rather have as a partner."

A nose for business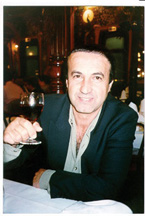 Life smells sweet for TCU alum Fares Lahoud '74. Drive down Fort Worth's Southwest Boulevard, and all noses will lead to his store, Parfumelle.
Lahoud's specialty perfume shop carries more than 3,000 fragrances from all over the world, particularly Europe. His store has been mentioned in most of the major fashion magazines. He and his staff receive calls from people all over the world, searching for a lost fragrance or a scent made just for them.
But if you had told the Lebanese native he'd be making a living using his nose, he would have laughed, considering he originally came to Fort Worth to become a commercial airline pilot. He was living with a host family, Dick and Edna Martin '53 (now deceased), who recommended he try TCU after his pilot career never got off the ground. He then changed his dream to becoming an ambassador.
"There were only six of us with an international affairs degree at the time," he said.
Following graduation, he returned to Lebanon with his fiancé and fellow Horned Frog, Nanda Barrett Lahoud '79. The two traveled to Paris to begin an export business there, but when the Parisians were no help, Lahoud found friends when he returned to the home of his alma matter. His export business here thrived, and one of the items he traded was fragrances.
"The exchange rate was so unbelievable," he said, "and I saw a niche market there and started bringing in fragrances."
Once he had children -- his son played soccer for TCU and graduated last year -- Lahoud decided to settle into the community and opened Parfumelle in 1984. His most successful move in the early days was taking advantage of the Giorgio! perfume craze. He purchased it retail from Bloomingdales, where the perfume was exclusively sold, added a $5 up charge, and made it available to local customers. Today, the store carries more than 3,000 lines of men's and women's fragrances, primarily European. But Lahoud prides himself on the store's largest commodity: knowledge.
"Knowledge is knowing your fragrances and how to prescribe people something," he said, explaining a unique perfume analysis service he offers. Fill out a questionnaire on his web site (www.parfumelle.com) and voila! Lahoud will personally choose six fragrances suitable for you.
Looks like in Lahoud's case, the nose knows.

Using the old noodle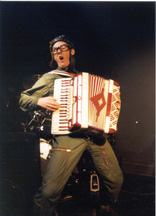 After debuting "The Cosmic Calamities of Henry Noodle" to sold-out houses at the New York International Fringe Festival in August, Tim McCanna '94 is now shopping producers for his sci-fi musical adventure. "It was sort of an experiment for us to see the show in front of a public audience for the first time. We found that adults loved it, young people loved it and even kids loved it. So we think it has a life out there somewhere," noted McCanna, who by day is a graphic designer.
The show follows the adventures of a kooky guy in his homemade spaceship, cruising around after the earth explodes, but it has a wider appeal than just Trekkies. "He's just this lonely guy in outer space looking for a friend, and everybody knows how that feels," said McCanna, who earned his master's degree in dramatic writing for musical theater from NYU.
McCanna has another musical on the shelf, but right now he's pouring his heart into "Henry Noodle" (www.henrynoodle.com).
In addition to his musical baby, McCanna and wife Trudi are expecting their first child in April. "People asked if we're going to name him Henry after Henry Noodle, but we opted not to," he said.
Now that's using your noodle.

Reality TV's virgin -- and proud of it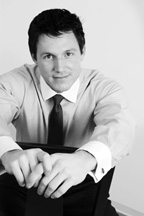 Everybody wants to fall in love, or at least meet someone intriguing. That's what Jason Illian '98 believes.
And it's part of the answer to the question why he followed through on a dare and tried out for realty television show "The Bachelorette." But the truth is, he never thought he'd make it.
A 29-year-old motivational speaker from Fort Worth, Illian went through six rounds of interviews, telling the brutal, honest facts: He was a virgin, like it or not.
"I thought that they would surely cut me the first time through, but they never did," he said. "When I made the final cut for the show, I wasn't going to change all of a sudden. I don't introduce myself as a virgin, but I'm not going to shy away from it either. It's who I am, but it doesn't define me."
He also felt the show would be a great platform to share his faith: "It's fairly commonplace to be sleeping with someone before marriage. I just wanted to exhibit an alternative to that culture. It's like my mom says, 'We treat our bodies like paper plates and not like the fine china God intended.' "
His honesty was good enough for bachlorette Jennifer Schefft, a 28-year-old account executive from Chicago, because he received one of 15 roses the first episode. But on the second, his forthrightness was his undoing.
No matter, he says. The experience gives him new material for the flood of speaking engagements that have come since January.
"The way we date today leaves something to be desired," he said. "It's all about who can kiss who first. Or who slept with who. Who was the fastest to get in bed. There's something more out there and I think it's worth talking about."

Rich family traditions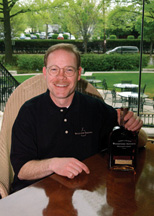 Kentucky is bourbon country and Chris Morris '83 (MA) is one of the reigning kings. Morris is the master distiller at Woodford Reserve, a small-batch bourbon distillery that dates back to 1812 and boasts the fastest-growing whiskey in the country. He is also one of only 10 who hold the distinguished Kentucky Bourbon Master Distillers title.
And like Morris' super-premium bourbon, master distillers are not made quickly.
"There's no coursework to be a distiller. You learn from practice, working as an understudy for a master distiller," said Morris, who worked under Lincoln Henderson, who was at Woodford for 41 years. "I had been identified years before as the person with the skill set, passion and history to be a Lincoln successor. It's not something you can do overnight. I've been in the bourbon industry for 28 years. I'm a second-generation distillery employee. Both my parents worked at Woodford Reserve."
Morris' bourbon roots are steeped in purple as well. While on assignment in the 1980s as a distillery sales rep in Fort Worth, he followed family tradition and picked up a degree from TCU. "We have a number of cousins who left Kentucky in the 1890s and moved to Texas and some of them went to TCU," he said. "I think I had relatives as far back as 1900 at TCU."

In tune with pop culture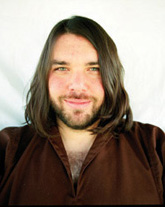 Clad in colorful flowing robes and a sort of big-band sound with '70s undertones, the 24-member pop band Polyphonic Spree is rocking the music scene -- in their collective way. And former Frog James Reimer '98 and his trombone are right in the thick of it.
Reimer joined the band four years ago (in time for the new group's fourth show, held at Ridglea Theater). And since the summer of 2002, it's been nonstop with shows domestic and abroad, their music in movies "Eternal Sunshine of the Spotless Mind" and the upcoming "Thumbsucker," and the band itself spotlighted in TV shows "Scrubs" and "Vegas."
Last spring the group toured with David Bowie. "He asked us to play a song called 'Slip Away' with him during his encore. So not only did I get to play the trombone with Bowie, we got to write the parts ourselves," Reimer said.
More recently the band has been in LA recording with composer/producer Jon Brion), and in December they performed at the Nobel Peace Prize concert for Dr. Wangari Maathai. In January while in New Zealand, the band played in the Big Day Out Festival.
"After that, it's a few U.S. dates, a few European dates and then summer festivals the world over. We're planning on recording a new record after that," Reimer said. "But most importantly, I'm getting married in March!"