More in academe
Climbin' the walls | Is this man lying? | Myths behind the blackboard | Sun, moon and culture | Selling from the heart | Uplifiting art |

Environmental warriors
Cutting through academic boundaries, the new Institute for Environmental Studies aims to ensure students know enough to fight for the planet -- no matter what their discipline.
By Jaime Walker Blanton '02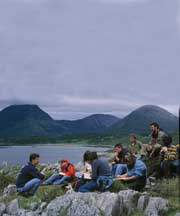 In a lab at Fort Worth's Botanical Research Institute (BRIT), graduate student Rebecca Repasky '04 analyzes and maps the distribution patterns of orchids growing in the Amazon rain forest. Her study of the flower's diversity and ecology is designed to convince the Peruvian government government to conserve the country's southeastern Andes-Amazon region.

The Amazon is miles from campus, but thanks to a partnership between TCU's new Institute for Environmental Studies and BRIT, one of the world's premier institutes for the conservation and preservation of botanicals, Rapasky and three other graduate students are conducting groundbreaking research about the ecology of a global gem.

"Being involved in preservation on this scale goes way beyond an individual thesis," Repasky said. "Through BRIT and TCU we are working on projects that could mean the survival of a species and save the future of this planet. That's a remarkable statement to be able to make as a student."

Repasky, a biology major, and her student colleagues at BRIT -- all environmental science majors -- are thrilled about the Institute, which was launched in the fall by the College of Science and Engineering.

The program's interdisciplinary approach allows it to be both an education program for future environmental scientists and a catalyst for embracing environmental stewardship across campus and beyond.

Mike Slattery, professor of environmental studies and the Institute's director, said there's an urgent need.

"Environmental issues are deeply embedded in politics, religion and ethics, and people share a number of biases. It's very complicated and more than just science," he said.
"My hope is that every TCU graduate can sit around a table after graduation and discuss and understand the interconnectedness and the driving forces behind the environmental issues of the day."

To accomplish this, classes like Principles of Environmental Science and the Environmental Stewardship Seminar cut across academic boundaries and fill TCU Core Curriculum requirements.

"Society needs more people who can address environmental challenges with a global perspective," Slattery said. "The scientific evidence for any environmental problem can always be analyzed to make it fit on either side of the argument. Being able to intelligently understand either side and come up with solutions is the key. Those skills are what we want to teach our students."

Reaching beyond campus boundaries is one way to do that. This spring three lawyers from Haynes and Boone LLP who specialize in environmental litigation are teaching an environmental law course.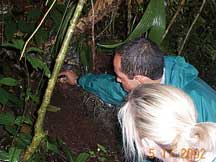 Attorney Ashley Duffie, one of the course instructors, said she sees such community partnerships as mutually beneficial.

"This is our opportunity to share what we know about the state and federal laws governing the environment with those students who we might one day call on to serve as expert witnesses," Duffie said.

"In our practice we work with many consultants and we know first-hand the importance of sharing technical expertise about the environment, both verbally and in writing, in well informed, practical terms. We have designed the course to address the real-life applications of environmental laws. That information is useful well beyond the confines of the classroom."

Provost Nowell Donovan, holder of the Charles B. Moncrief Chair of Geology, pushed for the creation of the Institute, saying that every student needs to be aware and responsive to environmental issues, no matter what field they major in.

"Take global warming," he said. "People of good will can use the same information for exactly opposite arguments. Science cannot yet give us the right answer in this area. So everyone needs to know the limits of our environment and show how the role of science ought to play out in the decision making."

The Institute will tackle issues ranging from environmental ethics, links between business and the environment, environmental education and the politics of environmental issues are being developed -- all with an eye toward helping people discriminate between good information and bad information, Slattery said.

"It's a form of critical analysis that we advocate," he said. "Our job will be to educate students to look beyond the particular arguments, beyond the particular environmental issues to identify the greater, global concerns.

"We want to teach students the tools they need to address those concerns in an informed, literate, balanced and hopefully articulate and thoughtful way."

Rapasky is saddened that so few understand the importance of paying attention to our environment and thinks TCU will serve as a place where dynamic understanding can prosper.

"We need programs like the Institute and BRIT to gather additional resources and open eyes if for no other reason than we owe it to the planet," she said.

Comment at tcumagazine@tcu.edu.
IIIInstitute for Environmental Studies degrees:
BS in Environmental Science:
Provides an interdisciplinary overview of environmental problems and ways to address them.
MS in Environmental Science
(either in geology or biology):
Grounded in the sciences and designed for those
who plan to work as a practicing
environmental scientist, researcher or PhD.
MA in Environmental Science:
For those who want to go into consulting or business, but not further research or a toward a PhD.
Masters of Environmental Management:
For those who will not work as environmental
scientists, but must be versed in environmental
requirements. Includes an internship component,
12 MBA credit hours and 18 credit hours in
environmental science with fieldwork.