A legacy of leadership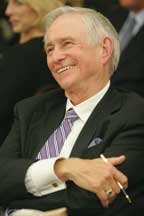 After guiding the TCU Board of Trustees for 15 years -- the longest tenure of any board chairman -- John V. Roach '61 stepped down from the board in April. His accomplishments were lauded by friends and colleagues during a festive farewell dinner at the Dee J. Kelley Alumni Center.
"Not only have John and Jean worn purple together, they have been partners with the entire University community on projects about which they care deeply," Chancellor Victor J. Boschini said. "For John, it is the business school and the sciences and TCU athletics. For Jean, it is the Greek program, the TCU KinderFrogs School which she led in founding, and her decades-long work for the TCU Alumni Association."
Under Roach's leadership, TCU's endowment nearly tripled and at one point during the 90s, topped the $1 billion mark.
A custom cowboy hat with a hand-etched sterling silver buckle, a silver TCU belt buckle and a TCU branding iron were among the gifts Boschini presented. A portrait of Roach painted by Stuart Gentling will be hung in Sadler Hall.
"John served with distinction, filling the chair with energy, insight and passion," said Chancellor Emeritus William E. Tucker '56. "The most important responsibility of a board chair is to be a resource, sounding board and confidant to the Chancellor. John did so for me with perspective, good judgment and unfailing encouragement. TCU is our university, and John and Jean have helped mightily to make us proud to say so."
Among Roach's accomplishments as TCU Board Chairman:
- The "1990s Project," which set the University's agenda for the decade.
- The $25 million Tucker Technology Center.
- Engineering program -- now ranked 39th in the nation among programs with the bachelor's or master's terminal degree.
- The Committee of 100 community leaders supporting Horned Frog athletics grew to more than 500 as the "Your Home Team" marketing effort was implemented, with Roach as chief strategist.
- The Next Frontier Campaign, which Roach spearheaded through the leadership-gift phase, topped $126 million.

Passing the torch
J. Luther King, Jr. '62 (MBA '66), a member of the Board of Trustees since 1992, will replace John V. Roach as the new President of TCU's Board of Trustees.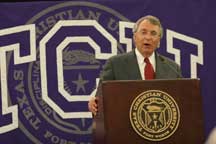 A chartered financial analyst, King is president and founder of Luther King Capital Management Corporation.
King is a member of the advisory board for TCU's Luther King Capital Management Center for Financial Studies and a member of the Neeley School's International Board of Visitors. In 1992, the TCU Alumni Association recognized him with the Distinguished Alumnus Award. King is a member of the Chancellor's Council, a Founder of the Addison & Randolph Clark Society and a Centurion of The TCU Frog Club.
Joining King as vice president of the board will be Clarence Scharbauer III '73. A trustee for 15 years, Scharbauer, a resident of Midland, is chairman of the board of the SBC Corporation and a real estate development firm, and president of Scharbauer Brothers & Co. The TCU Alumni Association honored Scharbauer as Valuable Alumnus in 1998.
The new leadership will host its first board meeting in November.

Tradition and liberation
The only way to build a future for the Black community is to remember that Black heritage is defined by the cross of slavery, James Cone '66 told participants at Brite Divinity School's inaugural State of the Black Church Summit in April.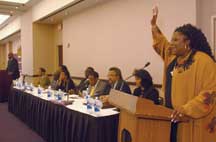 "Sometimes we tend to forget the bridge that brought us over," Cone said. "Remembering our heritage is the only way we'll build a future for our society, our children and our church."
Cone, author and distinguished professor of systemic theology at Union Theological Seminary in New York City, was one of six theologians who addressed more than 150 national leaders gathered for the summit, which was sponsored by Brite's Black Church Studies program.
Stacey Floyd-Thomas, assistant professor of ethics and Black Church studies at Brite, and the summit's moderator, turned the D.J. Kelley Center into a tribal council as she asked participants to imagine themselves in a West African community on Fort Worth soil. The panel discussed issues ranging from social sin and Christian responsibility to economic crisis and class struggles.
The Rev. Jackie Chambers '91 garnered applause as she spoke of the importance of Black women in the church. "If we are to bear witness," she said, "we have to admit that the majority of the people in the room are women."
Other Brite alumni participating in the summit were the Rev. Dr. Darryl Trimiew, former Brite professor and co-pastor at the Park Church in Elmira, NY., and guest of honor Rev. Albert Chew '77, of Fort Worth's Shiloh Missionary Baptist Church.

A journalist to watch
Robyn Kriel is going places. In March she was on the stage in Ed Landreth, presenting Bob Schieffer with a snap-brim fedora during the Schieffer School naming ceremony. In late May she was off to San Francisco for the National Broadcast News Championships of the Hearst Journalism Awards -- the "Pulitzer Prize" of college journalism -- as one of only 10 chosen nationally to compete. (Results were not available at press time).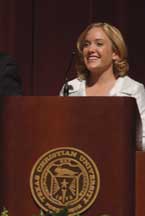 And in the summer, it will be back to her home in Zimbabwe.
Kriel, a senior broadcast journalism/musical theater major, made a mark in TCU history this spring by winning first place in the Hearst Journalism Awards Competition in the news/broadcast journalism division -- an award which included a $2,000 grant for the Schieffer School.
Kriel dreams of being an international journalist for an American news organization.
"I feel like I owe it to what I've seen in my life," she said of her upbringing in an oppressed country. "In my country, there's not a lot of freedom of speech. I've learned a lot about injustices and I hope I can make somewhat of a difference."
Kriel won the first competition with news reports on tailgating at TCU and the naming of the Schieffer School of Journalism.
Broadcast Journalism instructor John Miller says it's in her DNA.
"What makes someone good in broadcast journalism is a curiosity, a tenaciousness which she has, and the ability to present yourself well on camera," he said. "When one person has all those qualities, you have someone who will do well in the field."
The petite blonde with the precise British accent is a natural on camera, and her passion for telling stories is evident through the screen.
And it doesn't hurt to have a mother who was a television anchor for Rhodesian Broadcast Corporation, whom Kriel says made her listen to BBC as a child. "She is very poised and always taught me to speak eloquently and be concerned about current events," she said. "My mind just works like that."

Dramatic makeover
Theater-goers at TCU can now treat themselves to Milk Duds and a Coke during performances from the concession stand in the newly refurbished Jerita Foley Buschman Theatre lobby. Construction in the former University Theatre was completed in January, and although it lacks a few final touches, the theater sports a new and improved look -- and a new name.
The 3,000-square-foot expansion to the lobby includes four new faculty offices on the third-story. A large rehearsal room/acting studio shares the upper space.
"This creates an atmosphere for theater patrons that is more pleasant and professional," said theatre Chair Harry Parker. "And between performances, the lobby will be used as a public space for our theatre students to use on a daily basis."
At the grand re-opening in November, patrons will find new seats, ADA wheelchair spaces, carpet and paint. The first production will be "You Can't Take it With You," the theater's inaugural play in the late 1940s.

Up 'Til Dawn
TCU students partied all night in February, but it's not like you think: These students set their sights on raising more than $60,000 (which was last year's TCU contribution) for St. Jude Children's Research Hospital in Memphis, Tenn.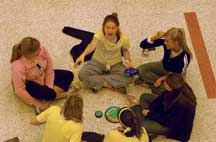 The party started in November when more than 200 students gathered for a mass letter-writing party to solicit family and friends to contribute to their cause.
"This year the letter writing was on Nov. 2, so we broadcast the election results on the big screen in the Student Center," said TCU student and UTD member Julie Pace. "A St. Jude patient came to speak at the event."
The St. Jude Up 'Til Dawn program came to TCU five years ago. Funds go toward operational costs for the hospital established by entertainer Danny Thomas.
Today, TCU is ranked 10th out of about 130 schools for fundraising for St. Jude and first for a school its size. Some 80 teams of TCU students hold various fund-raising missions through the year for St. Jude.
The efforts culminated at a Finale Event on Feb. 25 at the Rickel Building. Students jammed to the music of Green River Ordinance, climbed the walls (literally), had massages, or played in tournaments including X-Box, dodgeball, wallyball and basketball. Various local sponsors donated food and drinks throughout the night).

Marching to the Capitol
TCU students gathered in Austin at the state Capitol building with colleagues from 24 other state campuses for Student Day at the Legislature, a biennial event held in February.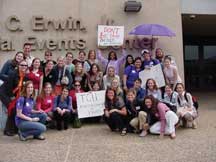 Nearly 60 social work students left Fort Worth to march to the Capitol, meet with their elected officials and discuss bills that affect areas of the social work industry.
Linda Moore, professor and chair of the Department of Social Work and former coordinator of the one-day event, delivered a charge to the audience of some 1,000 participants to go into the world to confront injustice and to act for social change.
"The whole idea is to help them understand the legislative process and that if we're going to be social workers, we have to be able to impact policy, because it affects our clients," she said. "They talked to legislative aides on the hill and for the students, it was really energizing that they could have an impact."
Student Day at the Legislature is sponsored by the Texas Association of Social Work Deans and Directors of Social Work Programs and NASW-Texas. For more information, go to naswtx.org.

A 'magic preservation' of books
The Mary Couts Burnett Library's fine arts section received an enormous boost after an alumnus and his daughter donated a collection of more than 8,000 volumes this spring.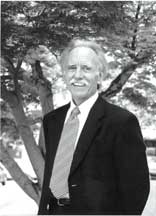 John R. Payne '63 and Elisa Payne donated an art and literary collection that includes books on art in the United States, Europe, South America, Japan and China. Other major subject areas include theater and the performing arts, and literary biographies and bibliographies.
Dennis Gibbons, collection development librarian, said it is an extraordinarily large donation. He and his crew will pore over more than 200 cartons of books, papers and periodicals to determine which materials best fit within the library's existing shelves. "It could be a couple of years before we search through the whole thing," Gibbons said.
Items in the collection include:
• 200 literary biographies and bibliographies on everyone from Hans Christian Andersen to Oscar Wilde
• 21 volumes of subject bibliographies with topics ranging from American sports to Victorian literature
• 770 volumes of Sotheby's and Christie's auction catalogs for book, manuscript and photograph sales from 1980 to 1990.
Payne, who majored in psychology and combined sciences at TCU, is a professional appraiser of libraries, archives and photographs. His appreciation for the written word was cultivated in the library where he worked as a student assistant, and he said giving books is rewarding.
"Books continued to be a central focus in my life, both personally and in my professional life," he said. "I agree with Thomas Carlyle who wrote, 'All that mankind has done, thought, gained or been: it is lying as in magic preservation in the pages of books.' "
Payne's most celebrated -- if not most painstaking -- career highlight was from 1993 to 1997 when he and a colleague completed the largest archival appraisal ever, the papers of President Richard Nixon -- a collection of some 45 million documents, 3,700 hours of tape recordings and other information.

England takes No. 2 seat at Pentagon
Gordon England '75, was named Deputy Secretary of Defense by the U.S. Senate in May.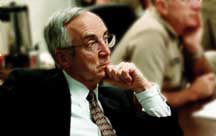 England fills the No. 2 position in the Pentagon after serving two terms as Secretary of the Navy. He is only the second person to hold this position for two separate terms. In between, he served as first Deputy Secretary of the Department of Homeland Security.
England will be the equivalent of a chief operating officer for the Defense Department, the world's largest organization with three million military and civilian personnel and an annual budget larger than the economy of many small countries. In his new role he also will supervise base-closings and a study which could determine the future of projects such as the F/A-22, joint strike fighter and V-22 Osprey. He will also be responsible for the reorganization of the National Security personnel system, which affects 700,000 government workers around the globe.

Lockheed Martin to fund engineering research
The TCU Engineering Department received a $25,000 grant from Lockheed Martin for a student-based research project on microelectromechanical systems (MEMS). The research will focus on developing tiny, self-powered devices that could one day support aeronautical applications, as well many other industrial, medical and commercial products.
"This grant will enable us to provide high quality research opportunities for some of our undergraduate engineering students, and ensure they are acquiring skills of value to high-tech organizations like Lockheed Martin," said Walt Williamson, engineering chair.
The grant will support two undergraduate students through next February in the first phase. Phase II is being planned, said Ed Kolesar, engineering professor and principal investigator for the project.

Horned Frogs sprout silver wings
The TCU Air Force ROTC gave flight this spring to a new chapter of a civilian organization that promotes the Air Force.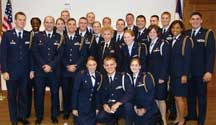 The goal of the new Silver Wings organization (formerly called Angel Flight) is to provide personal and professional development among its members, said Lt. Col. Wanda Echevarria, Silver Wings campus adviser.
"We'll concentrate on mentoring students from middle school and high school, making sure they're thinking about their future," she said of the new 10-member chapter.
The group named its chapter in honor of Deanie Parrish, a Waco resident who was one of the first women in history to fly a U.S. military aircraft. Last year's national Air Force ROTC conference called for all chapters to raise awareness for the Women Airforce Service Pilots (WASP), the first female pilots who served the United States during World War II. Echevarria met Parrish at the conference, and decided the timing was perfect to start a chapter at TCU. For more information about Silver Wings, contact the ROTC office at 817-257-7461.

Leadership and scholarship
Charles R. Jones '05, an Army ROTC cadet, earned the Superior Achievement Award from the Texas Society of the Order of the Founders and Patriots of America in April. Jones represents the only Army ROTC cadet in Texas to receive the award given for outstanding moral character, excellence in leadership and scholarship, and the first Horned Frog to ever earn it. Robert Devine, '74, (MA '76), above left, the Texas Society's state governor, said he was delighted to give the award to a fellow Horned Frog.


It's a small world
Poi balls were twirling, saris were swirling and curry was wafting through the kitchen as TCU celebrated its annual International Week in early March.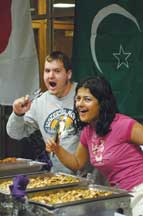 International Week this year, dubbed "It's a Holiday: Travel and Explore," recognized some 81 countries during the week as students "traveled" to their home countries, ate their favorite foods and learned about other countries' customs and traditions at the same time -- all while staying on campus. John Singleton, director of international student services, said it's a chance to present another aspect of TCU culture.
"Part of it is a hope to generate participation in international events, including ISA," he said.
Among the week's activities were Taste of the Continents, an international food smorgasbord for students and faculty; a coffee night held at Panther City Coffee Company where students played traditional and alternative music and read poetry; and the Saturday night banquet, which highlighted the celebration.
About 350 students filled the Student Center Ballroom for the banquet where students performed international dances, songs and paraded the latest world fashions. The Mondo Drummers of Fort Worth entertained the group, and an award ceremony recognized leaders in ISA.

Honors making history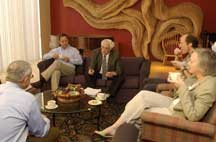 For the first time in TCU history, honors students processed en-masse in full regalia into Ed Landreth Hall for the 43rd annual Honors Convocation this spring. Thirty four students -- which included two juniors -- were inducted into Phi Beta Kappa, the honors fraternity. Political science major sophomore Beth Mayberry received the $2,500 Honors Scholar Award.
Stanley Engerman (below, center), Phi Beta Kappa visiting scholar, spoke about slavery in countries such as Brazil, China, Greece, Rome and of several major movements of slave populations in the 18th and 19th centuries.
Jodi Campbell, assistant professor of history, was selected for the Honors Faculty Recognition Award.

Ranch management alum receives BRIT award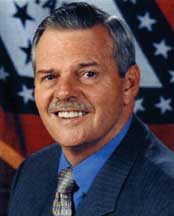 Winthrop "Win" Paul Rockefeller '74, lieutenant governor of Arkansas, was recognized recently by the Botanical Research Institute of Texas with its International Award of Excellence in Conservation.
In 1988 Rockefeller spearheaded the drive to raise $2.1 million in endowment funding for the TCU Ranch Management Program. This drive resulted in a new building, four endowed professorships and a large scholarship endowment.
Today, Rockefeller continues the legacy of his father who started Winrock Farms, located just northwest of Little Rock. The farm is a model for land reclamation, and responsible, sustainable agriculture.
Rockefeller joins a list of conservationists such as chimpanzee researcher Jane Goodall and Lady Bird Johnson in receiving BRIT's annual award.

Art from the heart
Nearly 200 local schoolchildren put paint to canvas for TCU's Kinderfrogs School in February. The Art from the Heart exhibit/contest at the Morton House Gallery showcased student paintings from six schools including KinderFrogs School, and raised $20,000 in the process.
For the contest, entries were displayed and divided by age. Each winner received a purple horned frog statue designed and donated by local artist Robert Carbell.
KinderFrogs student Ethan Spahr, below left with his father Aaron, placed sixth in Division I.
Some of the paintings are featured on note cards available at the Morton House Gallery and other boutiques in Fort Worth.
KinderFrogs School is an early childhood educational center for children with Down syndrome and a small number of typically developing children. Funds raised by Art from the Heart will go to the 70 percent of KinderFrogs students who receive financial assistance

A vision of empowerment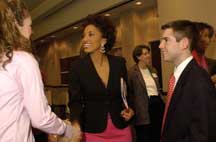 "CBS Morning Show" host Rene Syler told students to be thermostats, not thermometers at TCU's 11th annual Leadership Institute dinner in February. "One measures the temperature, the other sets the temperature. In order to be a thermostat, you have to know yourself, believe in yourself and be true to yourself," Syler said to 250 community members, civic leaders and students. This year, the evening's theme was "Plug into the Power of Leadership" and students sat down to dinner with civic leaders to discuss empowerment.
The Leadership Institute dinner offers an opportunity for students to meet and network with community leaders in various positions.

Over there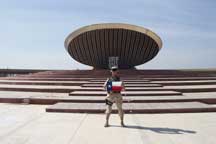 Major Troy A. Neasbitt '89 is serving with the U.S. Army in Baghdad Iraq, Coalition Forces, Ops and PSD team. He left Fort Hood last year where he completed a year as an Armor Battalion Executive Officer. His wife Shari, daughter Cheyenne, and son Alex currently live in Anna awaiting his return from Iraq in August. Neasbitt is shown here at the Tomb of the Unknown Soldier in the International Zone in Baghdad.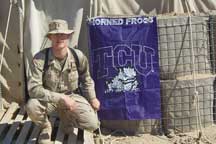 2nd Lt. Trent Colestock '04 is a field artillery officer in the U.S. Army serving at Camp Taqaddum Iraq west of Fallujah. He is operating under the 1st Marine Division and Army XVIII Airborne Corps. "He is another member of our armed forces that is proud to be a Horned Frog and proud to serve his country," writes Claire Long '04.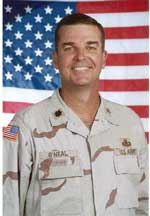 Lt. Col. David L. O'Neal '82 retired from the U.S. Army in May. During his career, O'Neal served in Korea, Egypt, Saudi Arabia, Bosnia and Kuwait. He recently completed 21 months deployment to Operation Enduring Freedom and Operation Iraqi Freedom. He and his wife Linda reside in Tega Cay, S.C.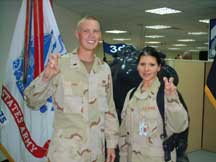 2nd Lt. Aaron Price, is a platoon leader in Signal. He writes that Camp Liberty in Iraq has a sports-themed dining facility. "As you can see from the picture, there is a missing flag. I would be proud to sit and eat while looking at our school colors." He and 1st Lt. Valerie Wallis are shown (left) in the camp headquarters. Write to Aaron at priceam@stewart.army.mil.

Briefly

New Greek scholarship
A new scholarship in honor of Susan "Suzi" Batchelor Adams, associate vice chancellor for student affairs and dean of campus life, was established in April. Adams has made significant contributions to student leadership for the past 25 years. In 1978, she became first female adviser in the country to advise both female and male organizations.
The scholarship will benefit full-time students who are members of a sorority or fraternity, maintain a 3.0 average, have completed 60 credit hours and have held leadership positions at TCU. The goal is to raise $1 million to endow two full scholarhships annually. To contribute, go to www.greeks.tcu.edu.
Brite winners
The following were recognized by Brite Divinity School during Ministers Week in February:
Dr. Charles H. Sanders '64, retired senior associate minister of University Christian Church was awarded the Distinguished Minister Award for Pastoral Ministry. He served as director of Brite's Pastoral Care Center from 1968 to 1974.
The Distinguished Minister Award for Specialized Ministry went to Belva Brown Jordan '86, dean of student life at Harvard University Divinity School.
The Kenneth L. Teegarden Award for consistent, faithful giving to Brite was presented to the Rev. and Mrs. Niel Climer '94 of Western Heights Christian Church in Garland.
The Distinguished Minister Award for General/Institutional Ministry was given to the Rev. Feliberto Pereira of Los Fresnos, Texas. A native of Cuba, he was a teacher and Christian pastor who came to the U.S. as a political refugee and started a church in San Benito, Texas, in 1970. Fourteen years later, he moved to another small church in nearby Los Fresnos where he remains today.
Kudos
Judy Alter '70, TCU Press director, received the Owen Wister Award from Western Writers of America for lifetime achievement, joining the ranks of other writers such as Mari Sandoz, A.B. Guthrie Jr. and Robert M. Utley.
Marilyn Tolbert '96 recently moved to the top rung as director of TCU's University Laboratory Schools, which include Starpoint and KinderFrogs School. She has held the position of interim director of these schools since 1994.
The National Science Foundation awarded a three-year grant to physics Chair Magnus Rittby and Pamela Marcum, physics associate professor, for their proposed physics and astrophysics research experiences for undergraduate sites at TCU. The funding, totaling almost $113,000, will enable TCU to host undergraduate students from other institutions over the summer months for the next three yearsr.

TCU Tomes
From Darwin to Hitler: Evolutionary Ethics, Eugenics and Racism in Germany
By Richard Weikart '80
Palgrave MacMillan
In this painstakingly researched work of intellectual history, Richard Weikart, associate professor of modern European history at California State University, explains the revolutionary impact Darwinism had on ethics and morality. His book concludes that Darwinism played a key role not only in the rise of eugenics, but also in euthanasia, infanticide, abortion and racial extermination, all ultimately embraced by the Nazis. To order, go to www.palgrave-usa.com.

Undercover White Trash
By David L. Kilpatrick '84
1st Books Library
David Kilpatrick '84 writes a novel that is politically incorrect, irreverent and bitingly satiric. In his second novel, he takes snobby advertising executive Edward Vincent Prescott III and immerses him in trailer-park land to study the blue collar society he both abhors and depends on as a target for his ad campaign. To buy: www.davidkilpatrick.com.
New from TCU Press
Dearest Virginia
By Gayle Hunnicutt '62
TCU Press
This collection of letters from the author's father to her mother is telling of both the times and of the love that connected Captain Lloyd Hunnicutt in the Pacific and his wife Virginia, who he left behind in Fort Worth when duty called. Author Hunnicutt moved to England and became a well-known British actress. She found the letters upon clearing out her parents' home, and eventually condensed them into a book. In addition to the letters, she contributed a lengthy memoir, rich with her memories of her parents and a childhood in Fort Worth, which she still considers her real home. To order, call 1-800-826-8911 or go to www.prs.tcu.edu.

A conversation with Sue Monk Kidd '70
The Mermaid Chair
By Sue Monk Kidd '70
Viking Press
After a whirlwind book tour and countless media appearances to promote The Secret Life of Bees, Sue Monk Kidd '70, began work on a second novel. She is now emerging from her cozy writing room on a South Carolina island to promote The Mermaid Chair, a story of self-discovery and relationships at middle age. Kidd recently shared some thoughts about her new book:
Q: The Secret Life of Bees was filled with religious icons. Does the new novel contain as many spiritual overtones?
A: In the new book, the main character is a Benedictine monk. I studied a lot of monastic spirituality along the way, and it's easy to draw on what you know. I didn't know anything about bees when I began writing The Secret Life of Bees. I had to do a lot of research.
Q: So, did you set out to write a book about Eastern religion?
A: The new book began with an image of a mermaid chair, but then I started to think about what I know. For an Episcopalian, I know a lot about the monastic world. It's a world I wanted to draw on -- a world that is unknown to many people and incredibly mysterious in many ways. I also could draw on the contemplative life and experiences that I value. There is a big thread of all of that in The Mermaid Chair. The book is about a 42-year-old woman who has at midlife a spiritual awakening -- it's her story about herself, her marriage and her relationship with this monk -- she falls in love with him. So the book explores midlife marriage, taboo relationships. It is very spiritual and powerful. I look at soulmates -- where that idea comes from, what it's about.
Q: There's an article that says, "Sue Monk Kidd was happily writing inspirational essays for Christian magazines, driving carpool for her two kids, and generally being a good Southern Baptist wife and mother when she found herself in the midst of a feminist awakening…" How has that awakening shaped your fiction?
A: My experience is seeded all through both of these novels. I think it is apparent to people who know me that there are certainly undercurrents [of feminism] in my fiction and that may be more so with the new book, The Mermaid Chair.
Q: Is the novel about your own spiritual, feminist journey?
A: It is almost impossible to separate out one's own history, but I am certainly not writing autobiographically. The truer it rings with the reader, the more they think it must be autobiographical. During my book tour [for The Secret Life of Bees], it was somewhat maddening -- in a way it's a failure to believe in imagination. I went all over the country, and inevitably people would say things like, "Did you have to kneel on grits as a child?" Of course I didn't! They think my father must have been cruel, but that's not the case at all. Fiction comes from a deeper sense -- you write out of a certain world view. But the facts, the events are not your life. The story in the Dance of the Dissident Daughter [Kidd's non-fiction account of her feminist awakening] flows very naturally into my work because it's part of my world view. The whole spiritual atmosphere to my novels also flows from equally important strong spiritual grounding in my life.
Q: What other currents run through both novels?
A: The Mermaid Chair all takes place on an island in South Carolina, with a circle of women. In The Secret Life of Bees, there was a hive of women, and I ended up with them again -- I couldn't help it. I wanted to explore the bond of women. Again, like Lily (the main character in The Secret Life of Bees), she falls into a community of women and wants to get home.
Q: Yet your characters seem unable to find their way "home."
A: Each must find a sustaining presence within herself -- she has to find a place I call self-belonging. She is searching for an inviolate commitment to herself. There is this place within women. The way we get to it is often a torturous, dangerous path. For most of us it's at least tumultuous. But it is certainly powerful. I never met a woman who set out to find this place within herself who said it wasn't worth it. To use a different image, it's a kind of marriage to oneself, with the ability to still be a partner. The message in The Mermaid Chair is that you can have both. And actually finding that primary commitment to oneself allows us to relate to one other in a much more beautiful way.
Follow Kidd's book tour via her online journal entries at http://suemonkkidd.com. Bees fans will also want to watch out for the movie version of the bestseller, set to begin filming next summer.