Blessings from above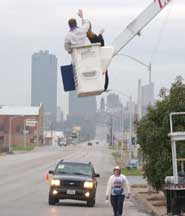 Runners in February's Cowtown Marathon received a shower of TCU blessings from above -- literally.
Duane Bidwell, director of TCU's Pastoral Care and Training Center, and University Minister Angie Kaufman bestowed blessings from a crane 15-feet above North Main Street. The reverends were in the air about an hour as more than 12,000 runners sped by.
Bidwell said it was such a positive experience that he'll get back in the crane next year.
"Acquaintances who ran the marathon told me afterward how much it meant to have the spiritual aspect of their race affirmed," he said.